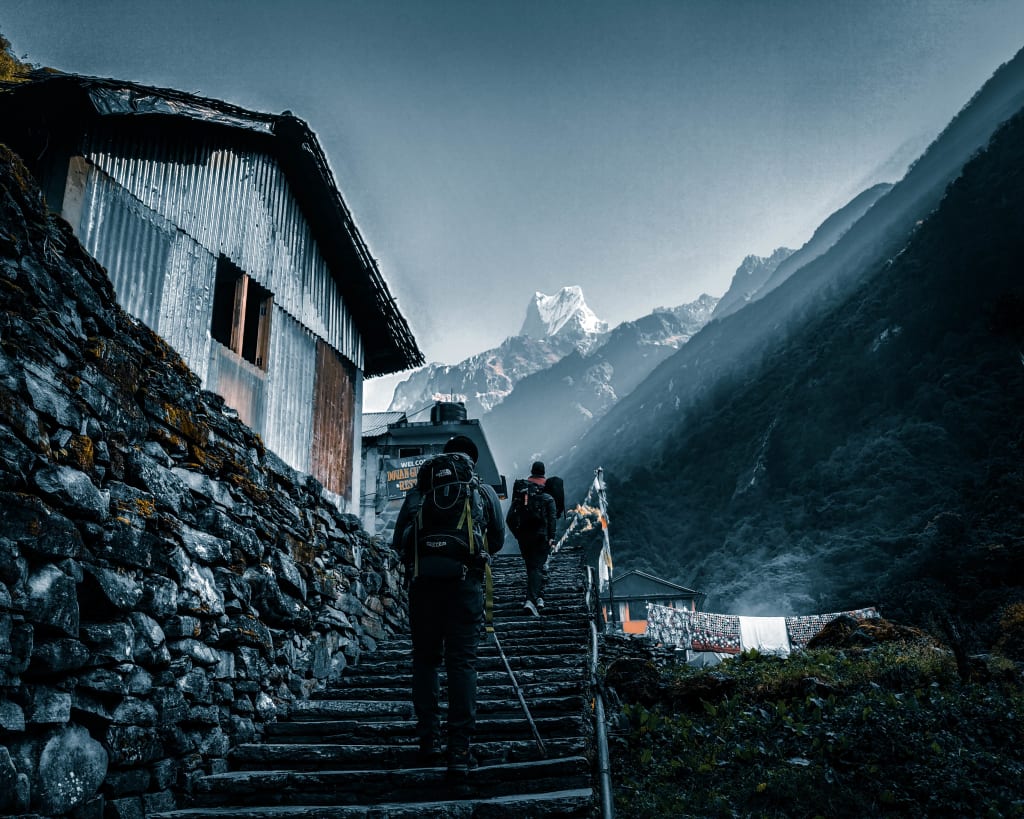 Trekking in Nepal is by far the most rewarding activity in Nepal. Although the long excursion to the deep Himalayas might be a complete package, some short treks assure even better experiences. When the debate is up for the best trek of Nepal, these short treks help to provide a selection for those with limited time in hand.
So what constitutes a short trek in Nepal? Any trek that one can complete in around a week is here. A Himalayan trek is in the bucket list of many travel-loving individuals. However, a push of motivation is required to start the journey. These short treks are perfect stepping stones for a much longer trek to follow here. Similarly, for mountain climbers as well as small Nepal trekking tours act as an adequate warm-up before the climb. To sum up, there is a treat for every king of trekkers here doing some best short treks in Nepal.
Trekking brings out joy. It is a balanced mental and physical exercise. Here are our top 10 best short treks to be a part of in Nepal. These trails and destinations provide you with an ideal alternative to the major trails of the Himalayas.
10 Best Short Hikes In Nepal 2021/2022
Ghorepani Poonhill Trek
Trek Duration: 4-6 days
Trek Difficulty: moderate
The Ghorepani Poonhill Trek has been one of the recurring names when it comes to short treks in Nepal. Trekkers of all grades and experiences enjoy the trek to the fullest. During the whole period, you can enjoy the best of the Annapurna region and more.
You will start this trek from Pokhara city. Pokhara, also an adventure capital of Nepal, will be an ideal starting point. You'll then take a short ride to Naya Pul for the actual walking portion. Most people end up subsequently in Ghorepani on their second or third day. Once here, the next day arrives with excitement as it is the hike-day to Poonhill. A well-managed trail takes trekkers to the viewpoint. Poonhill is one of the best places to view the Annapurna Massif and more. You have no rush so you can enjoy your time here. Reaching here is an achievement in itself at an elevation of 3210 meters. With a beautiful final destination, this trek also has a sound trek.
Another thing special about the Ghorepani Poonhill trek is that you can combine it with many other treks. The Annapurna circuit constitutes this segment but you'll have a lot of time to spare in this one. Similarly, many trekkers also combine with Ghandruk village. To sum up, the Ghorepani Poonhill trek takes the best cultural, natural, and scenic bits of lower Himalayas. Hence, we have it here as a perfectly well-rounded short trek in Nepal.
Mardi Himal Trek
Trek Duration: 5-7 days
Trek Difficulty: moderate
Mardi Himal Trek is a short trek taking you close to the beautiful Mount Fishtail (Machhapuchhre) in the Annapurna region. Not as popular as other trails here, Mardi is simply majestic. The best part of the trek is that the trail is fairly new. So, you can enjoy the wilderness and a better walking path at the same time. Mardi Himal trek also presents you with some of the best walks in Nepal.
The trail to Mardi starts on the outskirts of Pokhara. Phedi is the best point to begin your walk. After some easy hike lasting a couple of days, you will reach Forest Camp. Once here, trekkers can aim for Low or high camp depending on their interests. From High Camp, the real beauty of Mardi starts to clear up. Even at an altitude of over 4500 meters, you will have plenty of regions to explore. Witness a magical sunrise with the breathtaking views of Fishtail, Annapurna, Dhaulagiri, and other mountains. Similarly, you can choose a different trail to return doing a short circuit of Mardi.
If you are a beginner, then there are few treks better than the Mardi Himal trek. Your itinerary is very customizable to include rest days. Some even make the trek last over two weeks. Such is the beauty of Mardi Himal. For your ease, you can also plan shorter walking days. Be here to witness the hidden beauty of mountains of the Himalayas.
Pikey Peak Trek
Trek Duration: 5-7 days
Trek Difficulty: Easy
Pikey Peak Trek is by far among the most underrated treks of Nepal. It lies just below the Everest base camp trail. This itinerary sums up the culture and lifestyle of the lower Khumbu area. Similarly, with magnificent mountain views and landscape every day, trekkers love this trek. Easy walking days are key benefits of the trek. You will only go over 4000 meters for a day. Easy on legs, great on views in addition to the Himalayan charm, Pikey Peak trek is amazing.
Your trail starts from Dhap. The hill highway ride to be here is also memorable. After that, you have a good day walk to reach Pikey Base Camp. A relaxed walk with an energizing sunrise view will take you to Pikey Peak. At 4065 meters of altitude, you can have a 360-degree view over the sea of clouds here. The return is eventful as well from here. Passing through Sherpa settlements you can talk with locals. You will also know the culture and lifestyle of people here with the advancement of the trek.
Pikey Peak Trek allows trekkers to view the different sides of Mount Everest. In clear weather, one can have an unobstructed view of mountain ranges. These include Mount Everest (8848 m), Mount Makalu (8485 m), and also Mt Kanchenjunga. If you aren't able to do the Everest Base Camp trek or Kanchenjunga Circuit trek, this trek is a good alternative for you.
Gosainkunda Lake Helambu Trek
Trek Duration: 6-8 days
Trek Difficulty: Moderately difficult
Gosainkunda Helambu Trek is the closest trek from the Nepalese capital Kathmandu. This locally-travelled trail will take you to the religious lake of Gosainkunda at 4380 meters of elevation. A cultural tour of Helambu then completes the trek. Similarly, few challenging sections make this trek better for thrill lovers. One can stay in local teahouses and also enjoy being in the rural mountains of Nepal during the trek.
You can do this trek from any part visiting either Helambu or Gosainkunda first. Most travellers visit Gosainkunda and return to Kathmandu through Helambu. We also recommend you the same. Dhunche is the starting point of your journey. A bumpy but scenic road carved in mountains will take you there. After that, a couple of days walking mostly uphill trails will take you to Gosainkunda Lake. The lake is special with religious legends. Helambu awaits you on the second part with cultural treats to enjoy. Your trail now is also used by the locals and you can have a livelier walk here. Short treks in Nepal don't get much better than this.
If you want a spiritual break in the mountains with a less-crowded trail, this trek is for you. The views of Langtang, Gaurishankar, Shishapangma, and Dorje Lakpa mountains make this trek special.
Kathmandu Valley Trek
Trek Duration: 3-5 days
Trek Difficulty: Easy
The Kathmandu Valley Trek is perfect for beginners as well as culture-loving travellers. The trail is flat for most parts with also few magical hikes to complete. As the land of UNESCO heritage sites (seven in total), this trek is rewarding for all. Covering all the major hills of Kathmandu valley, you can have fantastic views each day. The best part of it is that you can select to stay in some high-end hotels or even community homestays during the trek.
Your trek will normally start from the Kathmandu valley. Here, you can also separate a day or two for exploring the major attractions inside the valley. After that, you can start trekking around from a fixed starting point. For ease, most people either start from Kakani. You will walk in Shivapuri National Park for a major portion of your journey. From here the major destinations include Bagdwar, Nagi Gumba, Nagarkot, Dhulikhel, and Panauti just outside the valley. You can also further elongate the trek adding Champadevi, Phulchocki, and Nagarjuna Hills as your secondary destination. Trekkers are amazed by the diversity and experiences even within a short distance from the bustling city of Kathmandu during the trek.
Rara Lake Trek
Trek Duration: 6-8 days
Trek Difficulty: moderate
Rara Lake is one of the biggest and one of the most beautiful lakes in western Nepal. Located in the rural half of the mountainous Mugu District, this trek takes you around this pristine lake. Rara Lake trek also introduces you to the diverse geography of Nepal. From plains to green hills you will walk in each terrain. From high rocky hills to the pine forest, each step here is also a new experience to treasure.
The 'Queen of Lakes' Rara is beautiful all year round. Your trek here starts from Jumla. A couple of scenic flights from Kathmandu via Nepalgunj will lead you to Jumla. The landscape now changes and a taste of rural lifestyle is unique to experience. You will also walk through the Historical Shinja valley. People believe the official Nepali language of present originated here. Once you reach Rara, the trek will find the meaning. Travellers love to extend their stay here and dive into the beauty of Rara.
A different approach to short trekking in Nepal, Rara can be one that can change your trek-habit for the better. Closer to nature and loving hospitality of locals. This short trek in Nepal is one that you shouldn't miss.
Chisapani- Nagarkot Trek
Trek Duration: 3-6 days
Trek Difficulty: Easy
Chisapani Nagarkot Trek is one of the most popular short treks near Kathmandu Valley. International and also domestic trekkers love this fantastic trail. Trekkers can start the trek from either Sundarijal or Chisapani and follow the trail. Chisapani Nagarkot Trek is a customizable trek. One can do it in a couple of days. However, most people love to extend their stay up to a week. Chisapani Nagarkot trek is a trek made to know more about the rural Kathmandu and nearby hills.
The first day is a relaxed hike from Sundarijal leading to Chisapani. Mulkharka is another place popular for visitors to stay. Once in Chisapani, people love to explore the surrounding attractions. The sunrise view is also amazing from a nearby cliff. Similarly, on the next day, you will follow a jungle path to Nagarkot. From this small hilltop village, you can enjoy an unobstructed view of the Himalayas in clear weather. Some people like to add Changunarayan temple in their itinerary once in Nagarkot. Nagarkot is also a chilled place to relax and celebrate the completion of the trek. To sum up, this trek is best to know the trail condition. Trekkers can also check their fitness for further trekking in the Himalayas.
Everest Panorama Trek
Trek Duration: 7-9 days
Trek Difficulty: moderate
Everest Panorama Trek is an outstanding trek in the Khumbu region. This beautiful trail leads to the Everest Base Camp. Many past trekkers also believe this trek as the best alternative trek for viewing Mount Everest. Many people do try to reach Everest but due to different reasons can't make it. This trek helps them to get the best of Everest from the luxury of a more-relaxed path. With many cultural and scenic components, it has a great following among travellers. Above all, this trek is more doable than others in the Everest region.
Several natural viewpoints mark their spot throughout the Everest Panorama trek. Similarly, you can have a relaxed walk with short days here. This trek is also popular amongst photographers. Starting from Lukla, trekkers spend some quality time in Namche Bazaar. They will also explore the major villages around here. Similarly, trekkers can do short hikes to some less travelled viewpoints in the lower regions. The trek ends at the Everest view hotel where you can relax and enjoy a breathtaking view of Everest. From here, you also have options to do a Helicopter tour over the Everest Base Camp. In conclusion, this trek is one to choose as a less effort and time inducing alternative in the Everest region.
Dhampus Village Trek
Trek Duration: 3-4 days
Trek Difficulty: Easy
Dhampus Village Trek is a short but rewarding trek near Pokhara. This trek is also a popular day-hike destination in Pokhara. However, combining it with the Australian camp and other beautiful villages, one can have a complete trek.
The trek starts from Phedi which is a quick drive from Pokhara. A local trail will then take trekkers to Australian Camp. Travellers love to stay here for the night even though the trek is short. Australian camp has an open Yoga session which also helps trekkers to tune their mind and body. The Gurung village of Dhampus is next. The hospitality here is second to none. Similarly, the cultural experience makes the journey worth it. The local cultural program is also a must to attend for additional delights here.
Dhampus Village trek has also been in buzz lately as an emerging ecotourism destination of Nepal. People often come here for a peaceful time to enjoy nature. Dhampus village trek with Australian Camp is also an ideal beginner trek. Therefore, if you are planning to do long treks in the Himalayas, try this pleasing trek too.
Langtang Valley Trek
Trek Duration: 7-9 days
Trek Difficulty: Difficult
Langtang Valley is one of the most popular trekking destinations in Nepal. The trek here is often a short one but people can do it in a longer period as well. For no-nonsense trekkers, this amazing trek is doable under a week. For normies, you can slip a few extra days. Above all, this trek gives trekkers some sublime experiences of trekking in the real Himalayas. After that, you will be confident enough to try any other longer treks in the Himalayas.
The Langtang valley trek commences from Syabru Besi. This iconic trail then takes you through many lively Tamang villages to reach the beautiful Langtang village. Post 2015earthquake this village have also been the main reason for travellers here. Additionally, the secondary visits to Kyanjin Gompa, KYanjin Ri, and Tserko Ri make this trek proper. Most importantly, you will not miss the magical views of the Himalayas. Langtang Lirung and Dorje Lakpa in a clear sky is also a sight to behold. Langtang valley trek is a trek that raises the quality of trekkers. Hence, choosing it is wise among the best short trekking destinations of Nepal.
In a short period, these treks can offer trekkers some fantastic memories from the Himalayas. Nepal is truly a gifted country for trekkers. These short treks in Nepal open up choices for family trekking as well. Make these sublime treks a part of your next vacation and add more to your travel journal.
-Short Glimpse Of trekking in Nepal: Outdoor Walks
Reader insights
Be the first to share your insights about this piece.
Add your insights