The wonky watermelons of Winkler Manitoba
I married a Mexican Menonnite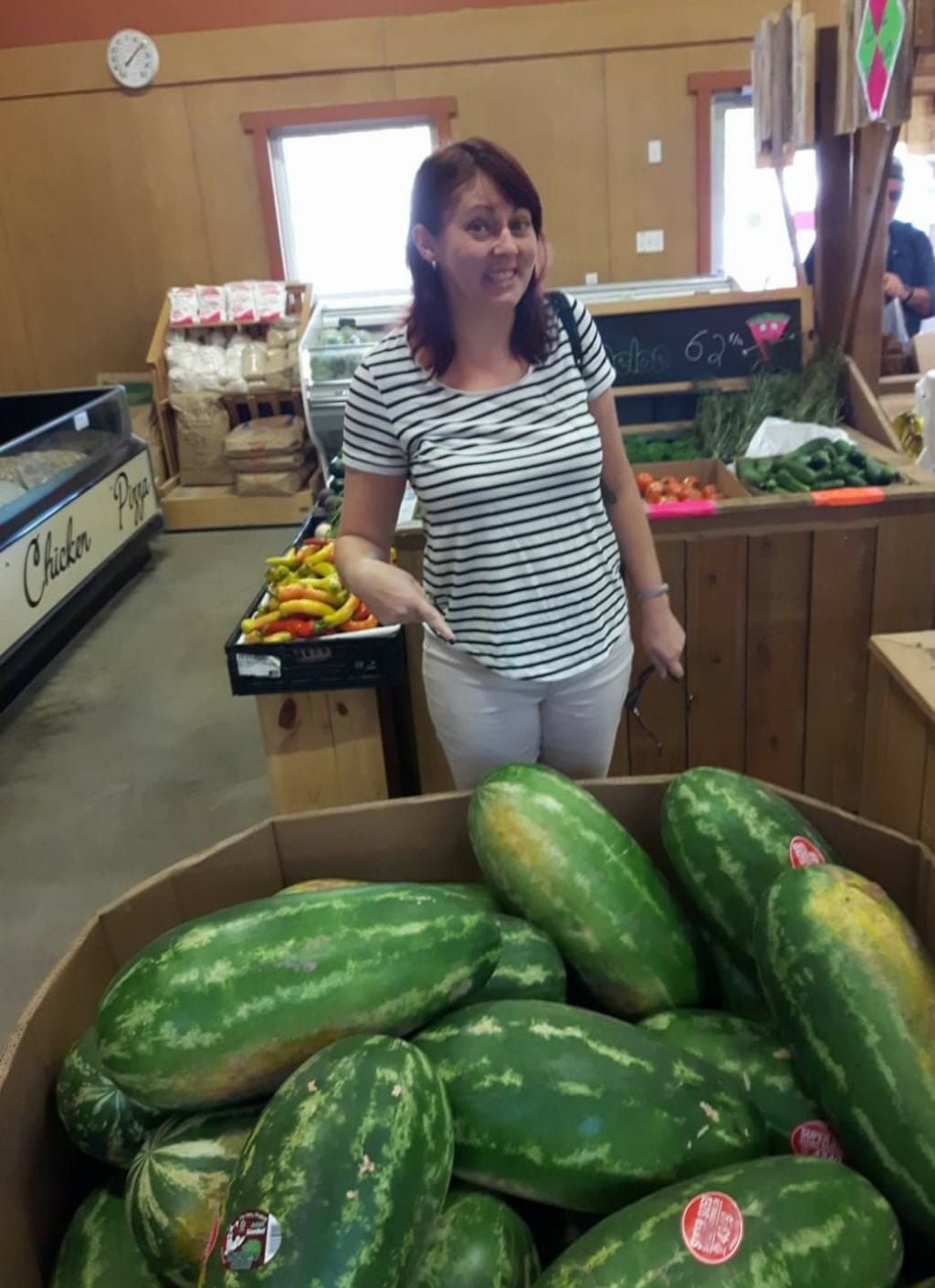 These are really them
If you are like me, the words Mexican and Mennonite just didn't go together. Kind of like tacos and bratwurst, yet to my surprise there is a great history of Mennonites from Mexico and I just happen to marry one.
When I met my soon to be wife in 2015, the culture she was raised in was foreign to me. I was a city slicker who lived in Calgary and she loves the country life. I guess opposites do attract. I grew up in the cities surrounding Vancouver, British Columbia before moving to Alberta and she, the small towns of Manitoba. If there's one thing I have always loved it's travelling to places I've never been, exploring new cultures and trying the regional food of these new places. So when she suggested we take a road trip back to where she grew up, I was more than eager.
Sharing this road trip adventure, we brought her daughter along as well. Seeing where mom grew up and going to the places that meant so much to her, was an experience no one wanted to pass up. Often times I reminisce on my younger days as well. The places I would go fishing, ramps we built to jump our bikes off of and places explored. So I can totally understand wanting to share that with people you love. It's part of who you are. I had travelled through Manitoba before but never slowed down enough to meet anyone and to enjoy what it had to offer. That was my loss, but now it was my joy to explore.
I can't recall ever having met any Mennonites before my meeting my Mrs. and if I was asked to describe the differences between a Mennonite, a Hutterite and an Amish person, I'd have to google it. I just knew they all were farming cultures. Amish shunned modern conveniences, Hutterites are who we bought very large chickens from and Mennonites spoke a form of German. I've grown a lot since then. The language of the Mennonites is called "low-German", whereas the German we are accustom to hearing is called "high-German". My wife only spoke low-German until she attended grade school. Her parents however, were fluent in English, Spanish and both Germans so having a conversation the kids didn't understand was simply a matter of picking your language. The communities we were going to visit were going to feel like we were entering a foreign country.
She was giddy with excitement as we hit the road. She had called ahead and made arrangements with relatives where we could stay and old friends we could go visit. Oh the watermelons she would tell me about. She boasted of their size and sweetness and how she couldn't get them in Alberta. If you've ever travelled to Manitoba, it's pretty flatland. Having grown up around Coastal mountains and the Rockies, I was now able to see incredibly far. Kind of like the joke of the guy who's dog ran away, you could see him running for 3 days.
As we arrived in the town where she grew up, we immediately had to go see her sisters. She had not seen them in years and so this was a must. We had only been married the year before, so this was family I had never met. The toll that age can play on a person meant that travelling for some family members was just not ideal. It was better that we go to them.
Within the first few days, we whizzed about town to see all the places of her memory. We went to a local restaurant called "Toppers" where they served authentic Mennonite cuisine. Walking in the front door, I was caught by how busy they were. Tables were filled with big burly men wearing flannel shirts, drinking coffee and chatting about who knows what. I usually like to eavesdrop but I couldn't understand the language. My only assumption was they were farmers on one of the rare days off they take. I had a similar memory of my own. I used to drink coffee at a truck stop where I once lived, so the ambience of big men sitting around chatting it up, was familiar. As we sat down and ordered our meals, my dear wife absolutely had to have the homemade chicken noodle soup. It was just like the one her mom used to make. Her mom passed many years ago, so this was like a step back in time for her. I had ordered a traditional noodle dish with a heavy white cream sauce. It was so amazing but rich. I couldn't help but blurt out that if I lived here, I would be very fat. Wow. It was so good.
After our meal, she went looking for where her parents were buried and when we found them, it was nice just to spend that time with her as she took the time to remember them. We drove by an old farmhouse they lived in for a while and she regaled tales of crossing farmers fields to get to school. Of a bull that used to live in the pasture and had chased her brother. When we did go back into the town, my dear went searching for one particular house she lived in. We did find it and boy was it tiny.
If you've ever gone for a trip down memory lane, it can bring joy to a heart, especially if the memories are good. She wanted to go inside but she was also hesitant. Her daughter and I encouraged her to go for it and she did. A small Mennonite woman came to the door. She didn't speak any English but she understood what she was being asked. With a smile, like many Manitoban's I had already met, she invited us in. This woman and her husband were the only ones living there and I'm sure they reflected the culture my wife knew all too well. Of course the first thing she says is how much smaller the home was than she remembered. Silly girl, of course it is, you were a child back then.
Pointing to different places in the home, we were told of how her mom would hide in the bathroom to smoke a cigarette, all the while denying she was doing it. The smoke coming out from under the door told the truth. The fridge where a toy monkey had sat on the top, where her father would goof around with it. The open kitchen where her mother spent many hours making family meals. She was a woman who did a lot of things from scratch. Making her own tortillas, making bread and soups from scratch. By today's standards, they were very poor, dirt poor even. They didn't have a television until she was twelve and she didn't grow up with any toys. Every animal was her pet and she took care of quite a few. She was incredibly close to her mother and when this life is over, I look forward to meeting this mother in law of mine.
Going up the stairs to the bedrooms, we got to see her old room. This is where she snuck a bottle of her dads cherry wine and drank the whole thing. She was so sick that to this day, she will not drink red wine. She showed us the extended roof under her window that she would even sneak out of from time to time. You could see just how happy she was. The woman who lived there now has no idea the joy she bestowed on my wife that day.
On one of our our nightly visits to old friends and familiar places, we had to stop by an old hangout called "The Chicken Chef" where we met with her friend Josie. I was under strict orders not ask if she had a band called the pussycats. She cut me off at the pass on that one, so I behaved.
Our trip was only to last for a few days, but she had to get a watermelon to take back home. We drove around town till we found the one store she remembered that had them. I'm thinking it was a co-op produce store. The store wasn't too big but apparently they had the best watermelons. These were shipped up from Texas and looked like giant suppositories to me. I kid you not. Next thing I knew, she was slapping these melons looking for the ripest one. That's when I called them wonky. Boy were they heavy. When I finally got one to a bathroom scale, it weighed in at a whopping 29 pounds. "I could eat a whole one by myself" she tells me. I didn't doubt her at all. Over the years since this trip, I've seen her consume may watermelons. Clearly her favourite by far.
Later that night, she had spoken with her brothers by phone and they wanted us to go back and get them a watermelon for each of them as well. That should tell you how good they are.
Taking the time to visit the memories of the person you love is well worth it. When we meet that special someone, they are not just the person they are today. They are a sum of their life experiences, both good and bad. When they enjoy fond memories and are wanting to share that journey with you, go along for the ride. The license plate in Manitoba says "Friendly" on it. That was certainly my experience. The small towns where people know each other gave it a real homey feeling. I learned from living in the big city, you can hide. People don't know you and sometimes they just don't want to but it is nice to feel safe. Knowing that your neighbours are there to help each other when needed.
Hopefully someday soon, we can make another road trip. Go see the sisters, the nieces, nephews and cousins, the old friends and drive by that old house again. Maybe stop by the diner for some good old fashioned fattening foods and not to forget to grab another wonky watermelon from that store in Winkler Manitoba.