The Scariest Places In The World
Some... You Can't Even Go To!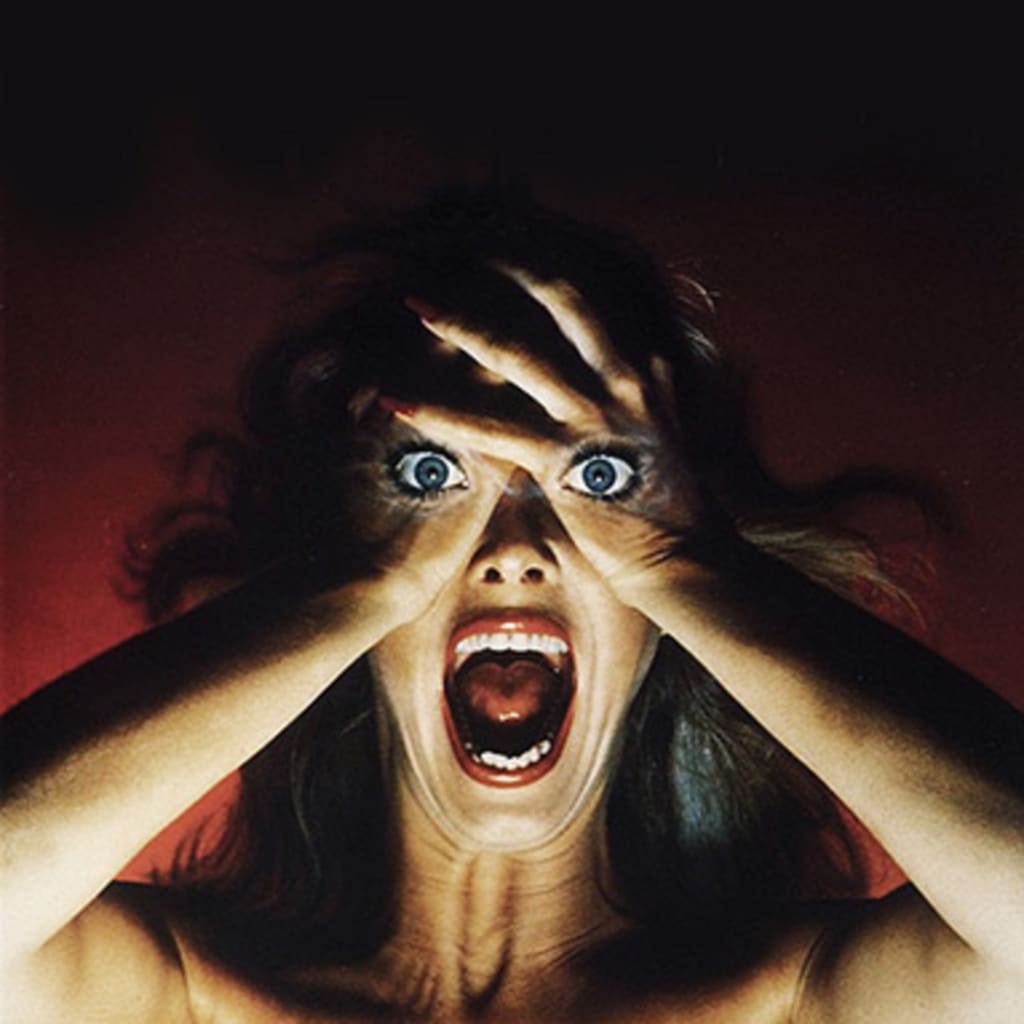 Halloween is right around the corner and with Covid, you're probably not planning a trip to some scary, haunted destination of horror...
But if you are, here's a list of the scariest, most haunted places in the world.
My advice?
Avoid!
Personally, I don't believe in ghosts... but learning about these places for this piece made me question everything. Part of me wants to go there just to see what's behind the curtain. Most of me says, "no, thank you!"
Some of these places are considered so terrifying, people aren't even allowed to go there. Like our first destination...
So, let's dive in, shall we?
1. Poveglia Island, Venice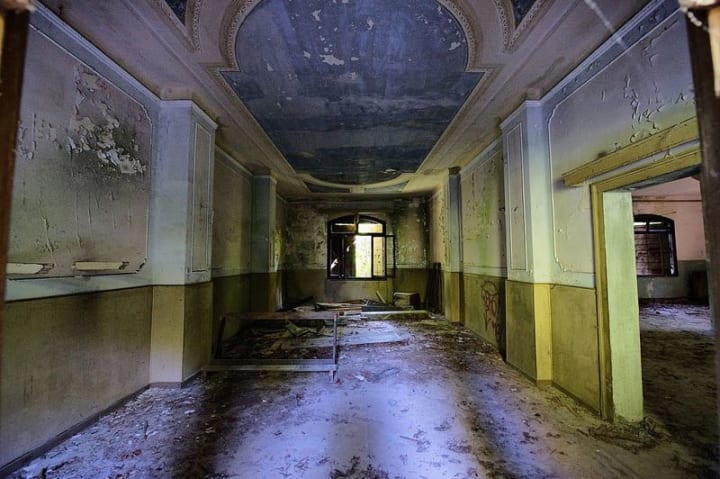 I've been to Venice. It's so ridiculously beautiful that once you step foot on dry land there, you think this place must have been created by Disney or something because nothing real could be that incredible.
But Poveglia Island... not so pretty. It's a tiny island off the coast of Venice that is said to most definitely be haunted.
The island was created to be a quarantine outpost for Venetians who were living with the plague. According to legend, 50% of the soil is actually human remains. In its more recent past, a sanitorium was also opened on the island.
Because why wouldn't you put a sanitorium on soil made of 50% dead people? Seems totally logical.
Today, it is illegal for any human to step foot on Poveglia Island but it can be seen from the shores of Venice.
2. The Queen Mary, Long Beach California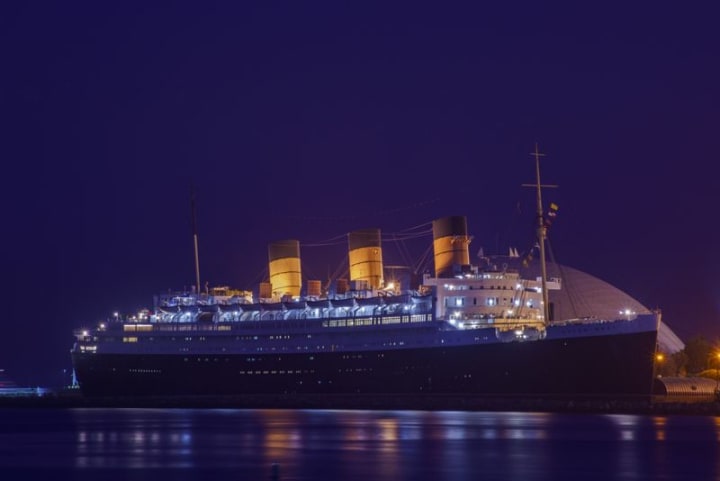 The Queen Mary docked for the last time in Long Beach, CA in 1967. The maiden voyage was in 1936 and in between, throughout her many trips across the ocean, the ship had over 50 deaths on board.
It is said that all of these spirits still roam the halls of the ship today. The ship has made several "Top Ten Most Haunted" lists over the years so they did the only thing one could possibly do in that situation...
They made it a hotel!
Yup, you can stay in the haunted ship!
It's said if you really want to see some spiritual activity the best place to stay is Stateroom B340.
3. Myrtles Plantation, Louisiana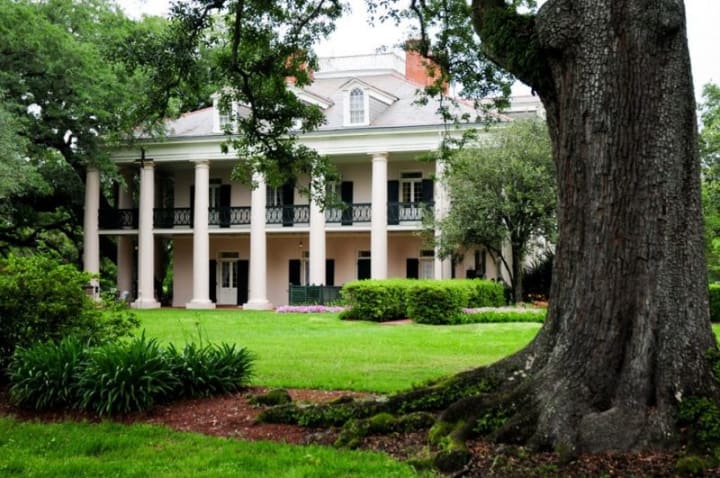 Featured on both Ghost Hunters and Ghost Adventures, and all paranormal investigation series in between... you may have heard of this plantation and it's sordid past.
Its ghosts have also been caught on camera, with the most famous photograph being of a slave girl named Chloe.
One of the creepiest parts of the plantation is the ghostly mirror. Visitors have seen handprints and drip marks appear on the glass. Not only that, but they're also impossible to clean.
4. Paris Catacombs, France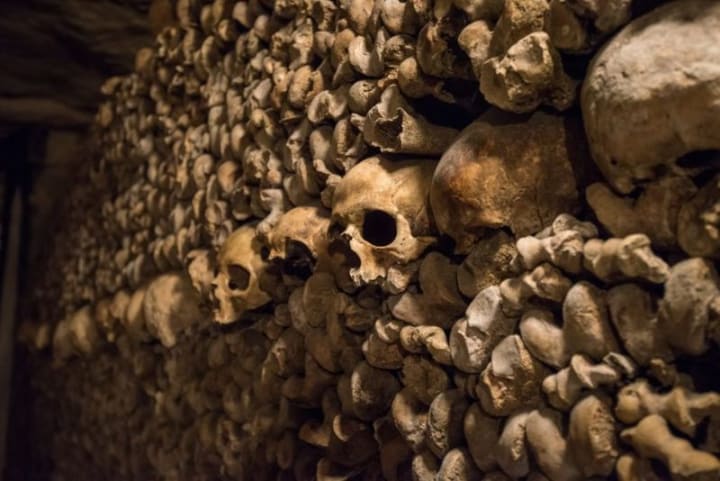 Paris is a hotbed of sprawling cemeteries that house the remains of famous souls, from Jim Morrison to Baudelaire. There is, however, a darker side to Paris' dead.
Originally Paris had only one cemetery, Les Innocents, in the center of the city. However, with time and its increasing role as a European hub, the cemetery walls literally burst with the weight of all the bodies. After this, Paris had to figure out a new place for its dead.
That place was the catacombs.
Beneath Paris, 200 miles of tunnels existed from limestone quarries that were used to build the city we know today. The bones of Les Innocents were shifted into the old quarries where walls of remains can be seen - and visited - to this day.
5. Isla de las Muñecas, Mexico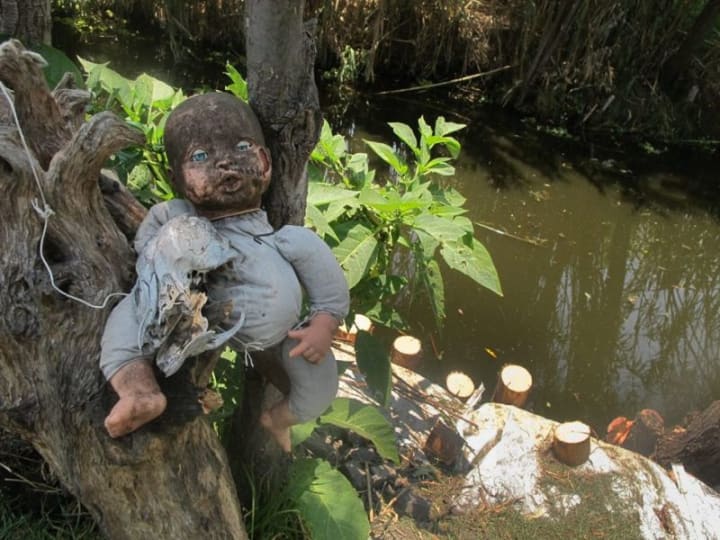 Is there anything creepier than dolls? How about disused dolls that hang from trees a metro ride away from Mexico City?
This disturbing island, Island of the Dolls, actually has a point.
Xochimilco, in Mexico City's suburbs, was once a center of agriculture. According to legend, a young girl drowned in the lake where the canals used to be. From there, a man named Don Julian Santana then dedicated his life to honoring this lost little girl. He left teddy bears and dolls on trees for her and eventually, they took over the whole island.
In 2001, Santana then drowned in the same area as he was sure the little girl had. He left behind all of the dolls that are said to contain the spirit of the girl... and maybe, now, also him.
6. Banff Springs Hotel, Canada
Banff Springs Hotel was built by the Canadian Pacific Railway, and is one of the earliest of Canada's grand railway hotels.
This haunting, castle-like hotel also has many ghost stories to its name. One of the hotel's most famous ghosts is The Bride. Her story dates back to the roaring 1920s; a bride, on her wedding day, lost her footing and fell down the stairs. Since then, she's been seen by plenty of staff and visitors on the stairs on which she died. Many say she's reliving those final moments and the wedding she never got to have.
If you check into Banff Springs, you might even get lucky and stay in one of the haunted rooms.
7. Leap Castle, Ireland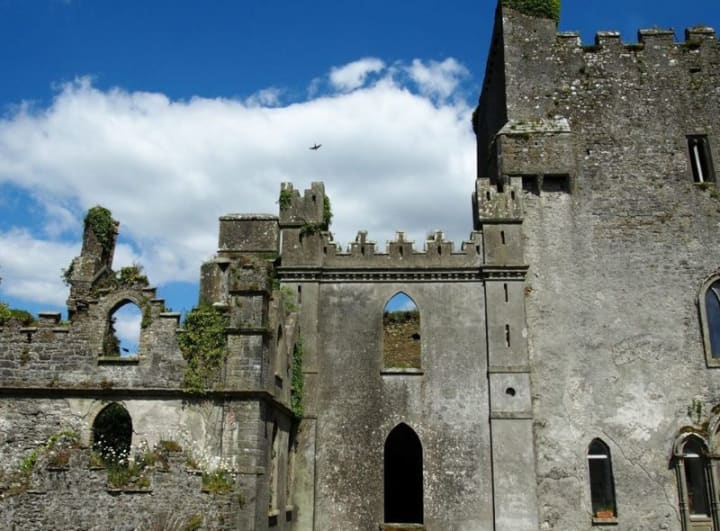 To experience a real castle, you've got to go to Europe.
Leap Castle in Ireland is one of those real castles. Its haunting history almost precedes its reputation. Leap Castle - pronounced "lep," is the most haunted castle in the world and one of Ireland's most haunted places to visit.
Built over the top of land that was previously occupied by druids, the castle has darker stories that we probably won't ever know about. In the 20th century, an oubliette filled with human skeletons was discovered in the chapel walls.
Could these be the ghosts that haunt its halls?
8. The Tolbooth, Aberdeen, UK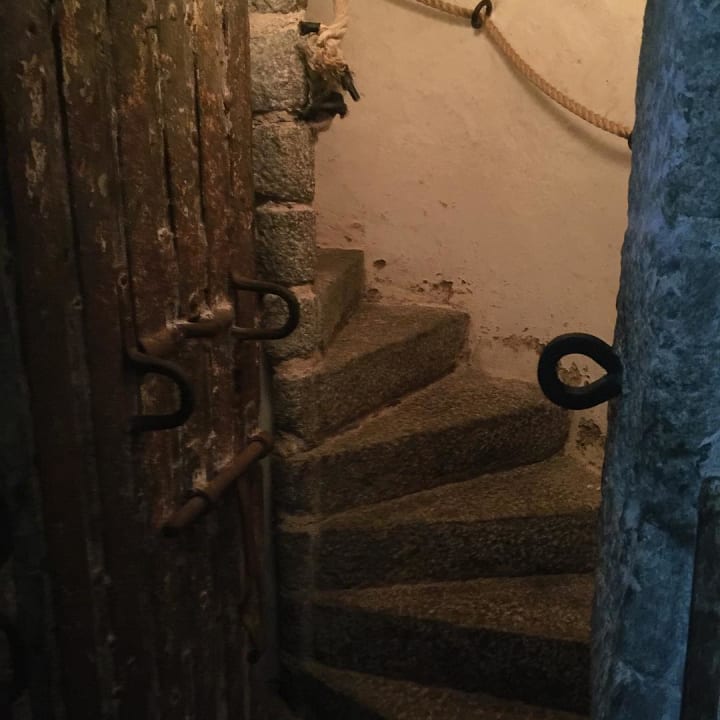 The Tolbooth in Aberdeen has a dark past, first as a prison to house members of the Jacobite revolution in the mid-1700s, and then to hold kidnapped children who were sold into slavery in the American colonies.
Among the stories of paranormal activity are the sounds of rattling chains, sightings of mysterious white mist, and a tight feeling around the necks of visitors.
Doesn't that sound like a relaxing vacation?
9. Pluckley Village, Kent, UK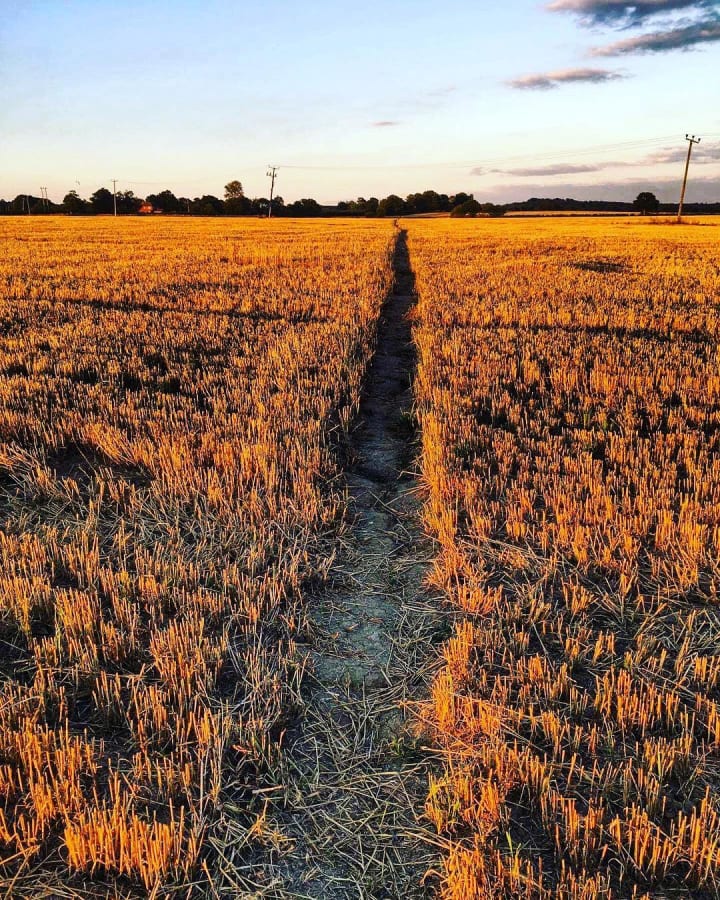 This village in Kent was once crowned the most haunted village in England by the Guinness Book of World Records, with an estimated 12-16 ghosts.
There's a highwayman who was stabbed with a sword and pinned to a tree and is said to haunt an area with the fitting name of 'Fright Corner'.
Look out for an apparition named The Red Lady who haunts the churchyard after dark.
10. Alcatraz, San Francisco, California.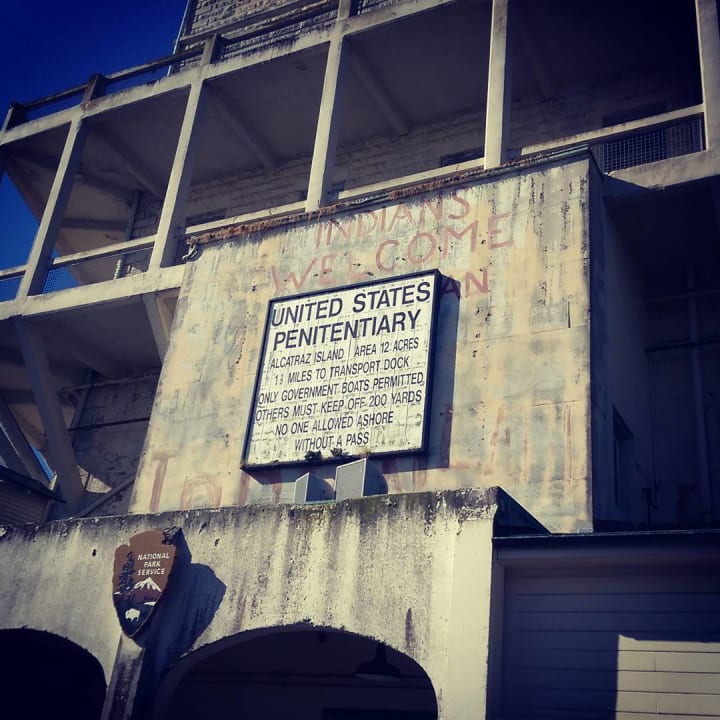 The infamous home to some equally infamous prisoners, including mobster Al Capone (no relation... I swear... really!), Alcatraz has had reports of paranormal activity from visitors, former prisoners and guards.
Leon 'Whitey' Thompson, a former inmate who later conducted tours of the prison, was waiting for a tour group in the 1980s when he claimed he saw a large, looming figure at the end of "Michigan Avenue", and swore it was the ghost of an inmate he had been friendly with called Johnny Haus.
Other visitors have heard crying and screams, and recently the figure of a woman was snapped through a cell window by tourists in San Francisco.
11. Aradale Asylum, Ararat, Victoria, Australia
A 'village within a village', the Aradale Asylum is a huge complex that opened in 1867.
Over 13,000 people were estimated to have died there, and not always due to natural causes. Tours of the site mention the ghost of Nurse Kerry who is supposed to haunt the women's wing.
The visitors have shared tales of unexpected sensations, being touched, feeling cold, drafts running through the building for no apparent reason and loud bangs from parts of the building that are unoccupied.
12. Bhangarh Fort, Rajasthan, India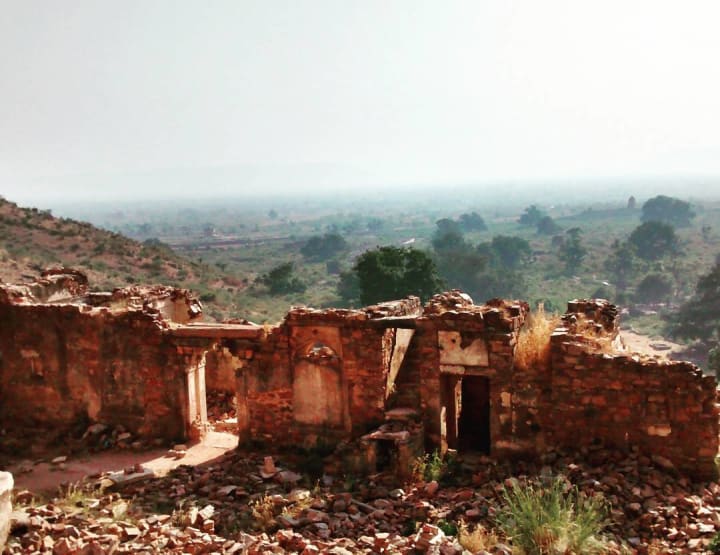 Also known as 'Bhoot Bangla' (the Fort of Ghosts), Bhangarh Fort was a small city made up of temples, gates and palaces at the foot of a mountain before being abandoned around 1783.
There are two stories that explain the fate of Bhangarh: a curse from a holy man who forbade the height of the buildings to be taller than his own. When one building cast a shadow over his own house, he is said to have cursed the entire town.
Another story is of a wizard who was in love with the Princess of Bhangarh. When the princess foiled his spell to make her fall in love with him, the bitter wizard put a curse on the city.
Today, it is said that anyone who enters the city at night will never come out again, and paranormal activity is thought to be concentrated around the Dancers' Haveli (Dancers House) and Jauhari Bazar (Marketplace).
13. Lawang Sewu, Indonesia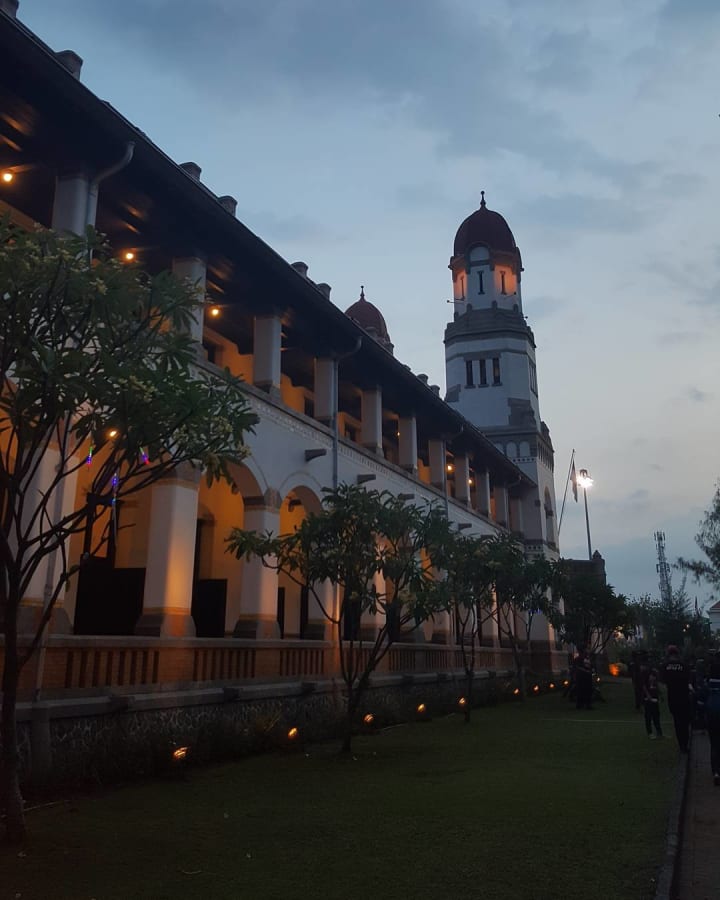 The name Lawang Sewu is Javanese and means "thousand doors", in reference to its architectural design. It was taken over by the Japanese in World War II who converted the building into a prison and the basement of building B was used for executions.
The ghost stories that people visit this place for include a ghost of a young Dutch woman who was said to have committed suicide in the building, headless ghouls walking about, and a kuntilanak (a vampiric ghost in Indonesian and Malay mythology).
14. Hoia-Baciu Forest, Romania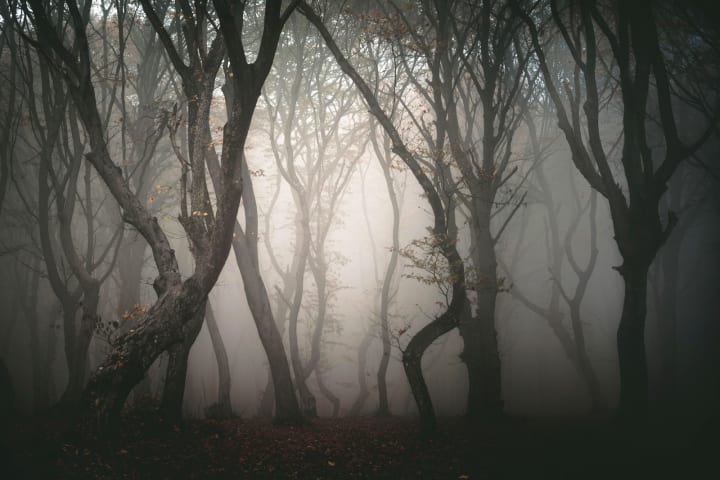 From the moment a military technician captured a photograph of a "UFO" hovering over the forest in 1968, Hoia-Baciu has gained paranormal notoriety around the world, with some believing it to be a portal that causes visitors to disappear.
Those who have passed through the forest without being zapped into another realm have reported rashes, nausea, and feelings of anxiety.
Known as the "Bermuda Triangle of Transylvania," the spooky curved trees that populate the forest just add to the eerie atmosphere.
15. La Recoleta Cemetery, Buenos Aires, Argentina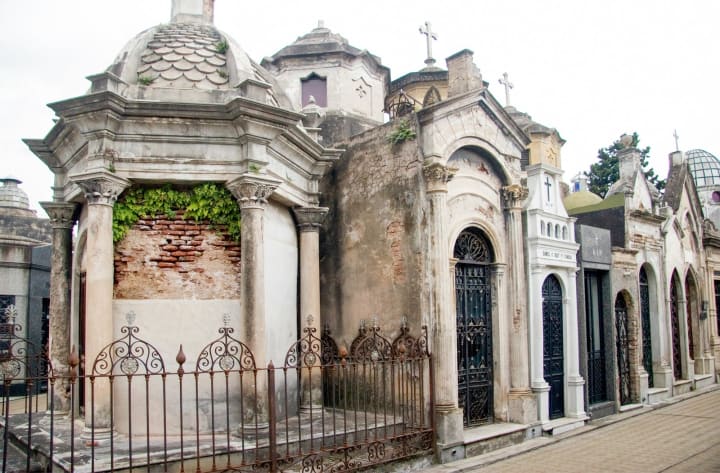 You don't have to be religious to be moved by La Recoleta Cemetery, which features thousands of statues, mausoleums, fairytale grottoes, and intricate tombstones, as well as the remains of Argentina's most iconic figure—Eva Perón.
The stone walkways and labyrinth of mausoleums are as beautiful as they are eerie, and Recoleta has a couple haunted legends of its own.
One of the most famous stories involves David Alleno, a former grave-digger and caretaker who worked at the cemetery for 30 years before killing himself.
Today, people report hearing Alleno's keys jangling as his ghost walks the pathways at dawn.
16. Jazirat Al Hamra, United Arab Emirates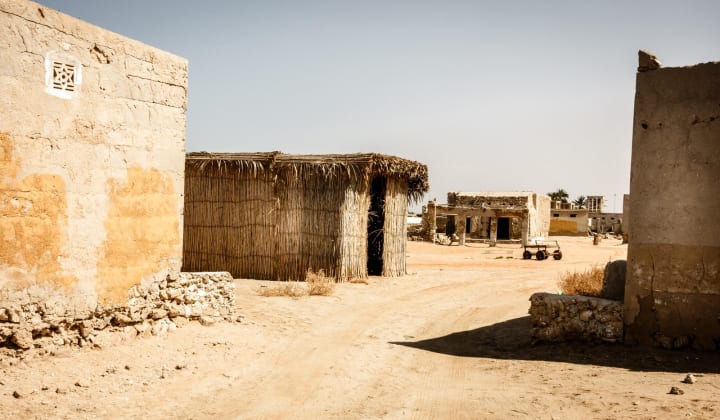 You'll find the nearly-abandoned town of Jazirat Al Hamra about 14 miles southwest of Ras Al Khaimah in northern UAE, located between a huge mall and a huge waterpark.
Established in the 14th century, the town grew into a thriving pearl fishing village in the 1830s before it was suddenly abandoned in 1968.
The town now consists of dirt roads, 13 mosques, and more than 300 coral-and-mud houses... and, of course, some resident spirits.
People claim that visitors are bound to experience strange noises and chilling apparitions, usually djinns (genies) in the form of animals.
17. Hill of Crosses, Lithuania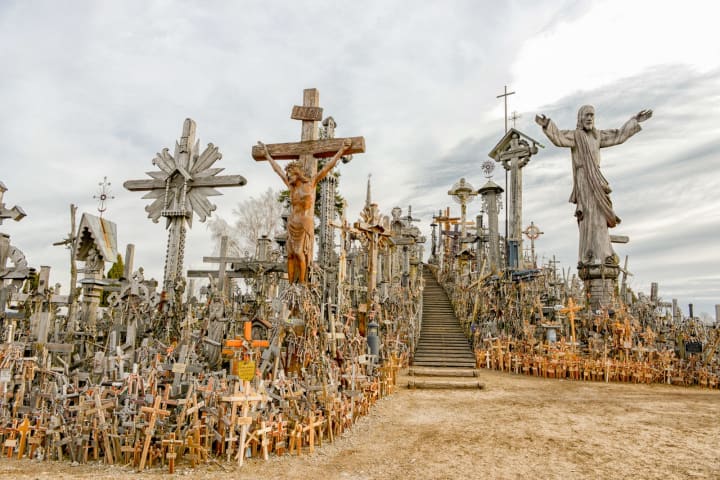 People have been placing crosses at this spot in northern Lithuania since the 14th century, and for various reasons.
Throughout the medieval period, the symbols expressed a desire for Lithuanian independence.
Then, after a peasant uprising in 1831, people began adding to the site in remembrance of dead rebels, and the hill became a place of defiance once again during Soviet occupation from 1944 to 1991.
While the hill and crosses were bulldozed by Soviets three times, locals kept rebuilding it.
There are now more than 100,000 crosses crowded together.
It is said that as the wind blows across the fields of rural Siauliai County, ornate rosaries clink against metal and wooden crucifixes, filling the air with eerie chimes.
18. Edinburgh Castle, Scotland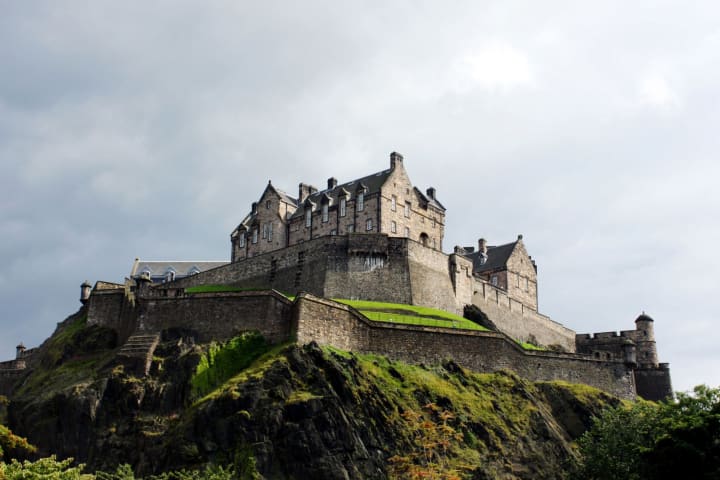 One of the biggest attractions in Scotland's capital city is also considered to be one of its most haunted.
With sections dating back more than 900 years, the historic fortress's ancient dungeons have led visitors to the castle to report sightings of colonial prisoners from the American Revolutionary War, French prisoners from the Seven Years War—and even the ghost of a dog wandering the castle's dog cemetery.
19. Obvodny Canal, St. Petersburg, Russia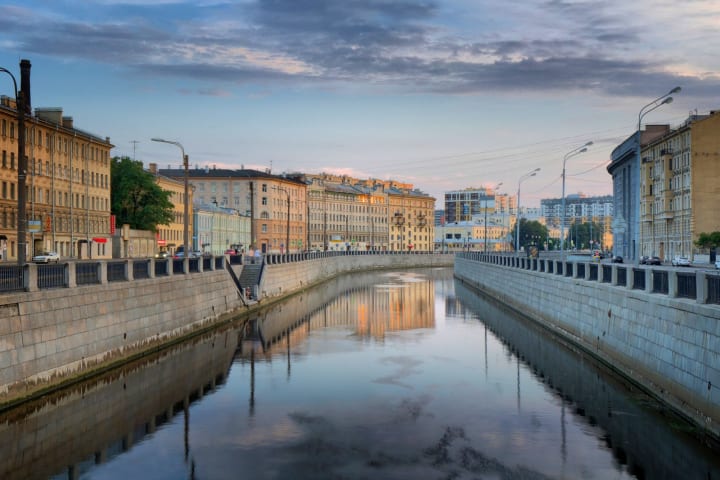 Running five miles through St. Petersburg, the Obvodny Canal goes by another, much more sinister name: Suicide Canal.
Ever since the artificial canal started being built in the late 18th century, strange events have surrounded the site, including construction workers complaining of headaches, sudden outbursts of violence, and, of course, suicides.
While most of the suicide attempts have been successful, people who have been saved claim they don't know why they jumped in the water, or that an invisible force pulled them off the banks.
Some claim that the force comes from restless souls lurking beneath the water, even claiming to see a woman in white floating just beneath the surface before suddenly disappearing.
So if you ever find yourself in St. Petersburg on a gloomy day, maybe stick to the sidewalks. Just maybe... hold onto something.
Talk about Foggy Waters!
20. Castle of Good Hope, Cape Town, South Africa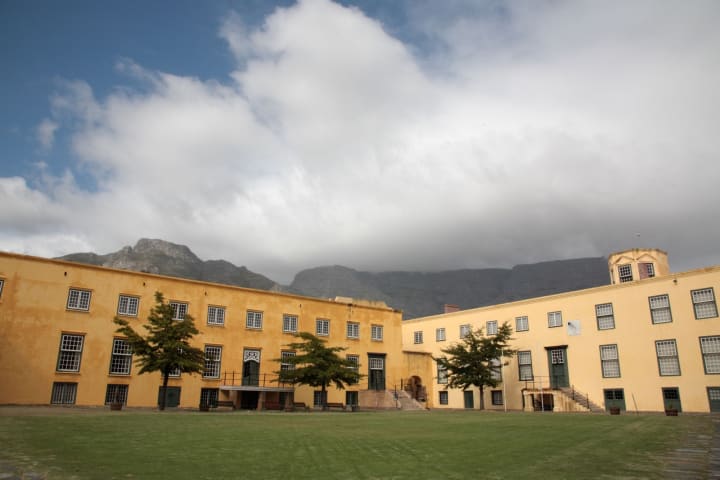 A sprawling building near the shoreline of Table Bay, the Castle of Good Hope dates back to 1666, making it the oldest colonial building in South Africa.
Originally built by the Dutch East India Company as a replenishment station for ships, the site also served as a military fortress and prison during the Second Boer War from 1899 to 1902.
Today, you can tour the fort's many rooms and buildings (including the gruesome torture chamber) but you might want to prepare yourself for a ghost sighting.
Back in the 1700s, Governor Pieter van Noodt condemned several men to be hanged to death; one of the men cursed the governor from the gallows, and van Noodt died of a heart attack later that day.
According to the Castle of Good Hope's official website, his ghost has been haunting the battlements ever since.
Travel with a friend! Happy Haunting!
list
A veterinary technician, writer and animal advocate from New York. Currently living in South Florida and desperately trying to escape. Runs on Starbucks and the love of her husband and 7 rescue animals.
Receive stories by Courtney Capone in

your feed