The Day I Saw Stephen King's House
Bangor, ME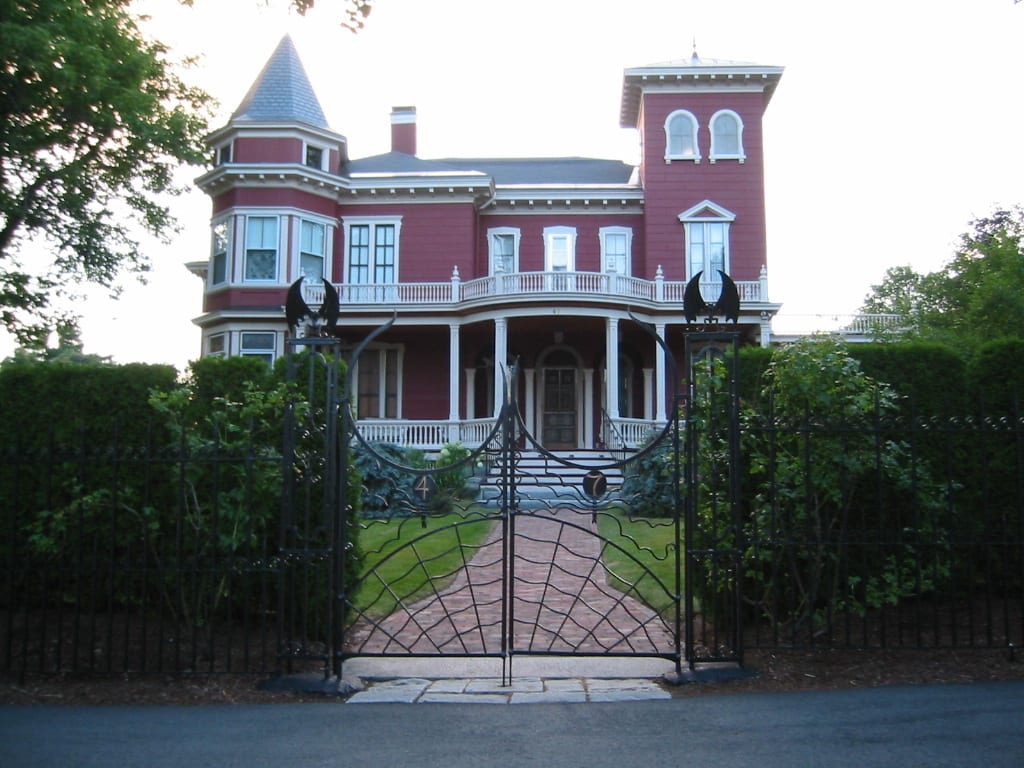 It was a cloudy, creepy October afternoon. My aunt, my grandpa and I were driving down to Bangor, Maine from St. Agatha in order to accompany my grandpa to the hospital for heart surgery. We left St. Agatha around 9:46 in the morning and stopped at my other aunt's to get brake fluid. We said our goodbyes and off we went.
I had never been to Bangor. Well, maybe once when I was a kid but I don't remember. I figured the drive was going to take two or three hours… not. We got there four hours later! The drive, however, was extremely nice. Miles and miles of thick forest and tiny towns that makes you question where they do their grocery shopping or if they have functioning Wifi. Finally, after one hour of needing to go pee, we found a Tim Horton's and stopped. Grabbing a white coconut doughnut and a coffee, we were off to Bangor, no more stopping.
I had a pounding headache and no Advil so I figured I'd close my eyes for a bit. I woke up and opened my eyes to the most magnificent homes I'd ever seen. Beautiful big and old New England style homes. I was in awe. I love houses, especially old ones and these were breathtaking. They were as beautiful as the next!
We finally got to our hotel. It was an old and somewhat creepy building but charming nonetheless. Our room, room 217, was small with two twin beds and a tv, the sink was outside of the bathroom which I found very odd but kept my comments to myself. We unpacked some of our stuff and freshened up (whatever that means, I just went to pee and wash my hands). And then, that's when I remembered I still had a headache. I wondered if Advils had magically appeared in my luggage but, to my surprise, there was nothing there…
And then it hit me! STEPHEN KING LIVES IN BANGOR! Oh my god. Stephen King. He's like… a magical creature who writes the creepiest shit. I had just watched the remake of IT last week with my boyfriend and we thought it was very well made. He's created so many movies and wrote so many amazing things that I would take me a whole separate story to praise him. I needed to figure out where he lived (in a none creepy way).
My aunt and I made our way to the lobby. I needed Advil and my aunt had a few questions to ask the lady at the front desk and I also had an important question: Where did Mister King live?!
No Advil. Fuck, what do I do now? Suffer.
But the front desk lady knew where he lived (and wrote his address on a hotel card). Oh my, was I ever excited! Here is this 26-year-old adult, begging her 70-year-old aunt to drive her to this house and chances are, Mister King isn't even home or won't even notice a weird fan outside… but nonetheless, off we went. (The house wasn't very far from where we were staying and close to the restaurant we were going to eat dinner at.)
We drove up West Broadway, I was bubbling with excitement. I was about to see where one of my favorite authors lived. It sounds silly but somehow you create a weird bond with someone (famous) when you see that they are normal human beings too and not some mystical being.
There it was.
Red. Huge. The most beautiful house I had laid eyes on. Stephen King's home. Where he wrote IT, The Shining, The Green Mile, Salem's Lot, 1922, Pet Cemetery and so many other amazing novels. I couldn't believe it. There it was. The only thing I kept on thinking about was, "Wow, I wonder what crazy and odd things he has in that house!" I was in awe.
I got out of my grandfather's car and my aunt took a picture of me standing in front of this marvelous house, in front of his black iron gates with iron bats, spiders, a dragon and a weird toad. I couldn't believe it, I still can't believe it (can you tell).
The entire time I was in Bangor, through the stress of my grandfather's operation and a big storm, the thought of seeing where these classic horror stories had been written kept a smile on my face. Needless to say, this road trip with my family was a good one and I will never forget the day I saw Stephen King's house.
*** P.S. — He's got a new film out on Netflix called 1922 based on one of this novellas, it's good. Go watch it.
family travel