The 10 Most Visited Parks in New York City
The ten most visited parks in New York City including the most visited city park in the United States. Combined over 100 million people a year visit these ten parks in NYC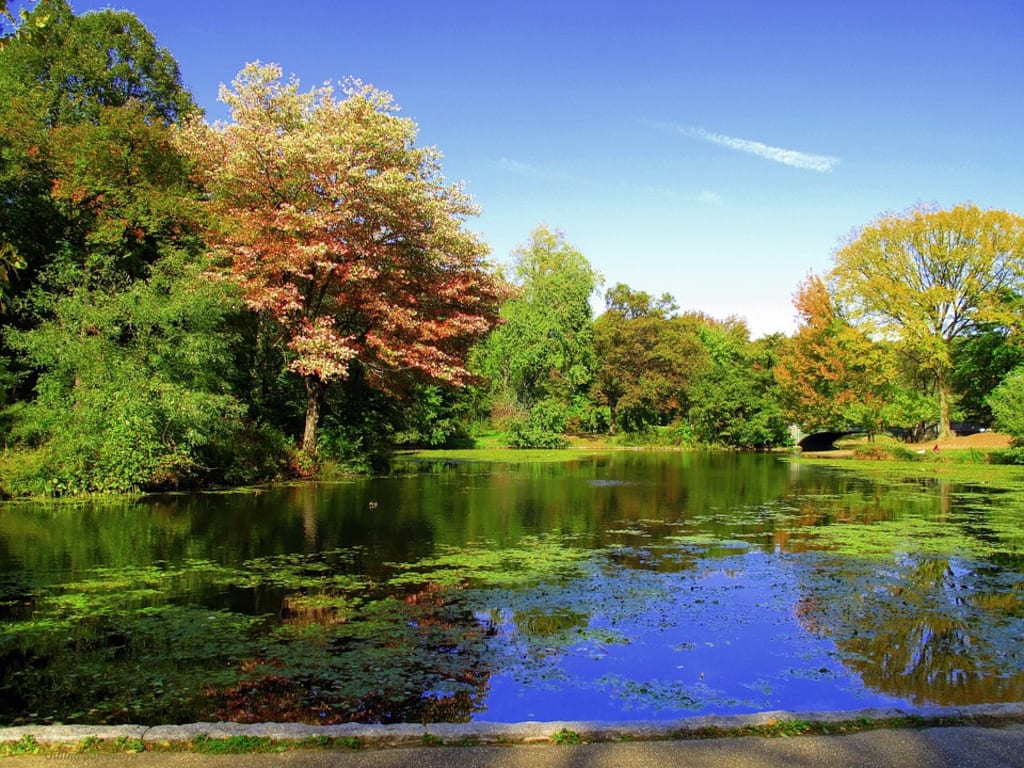 The most visited parks in New York City based upon the average number of visitors on a yearly basis. The most visited park in New York City is also the most visited city park in the United States, and all of these most visited parks in New York City rank in the top 50 most visited city parks in the country.
Combined these ten parks in NYC are visited by over 100 million people and tourists per year. All 10 of these parks are well worth a visit.
The 10 Most Visited Parks in New York City
1. Central Park—42 million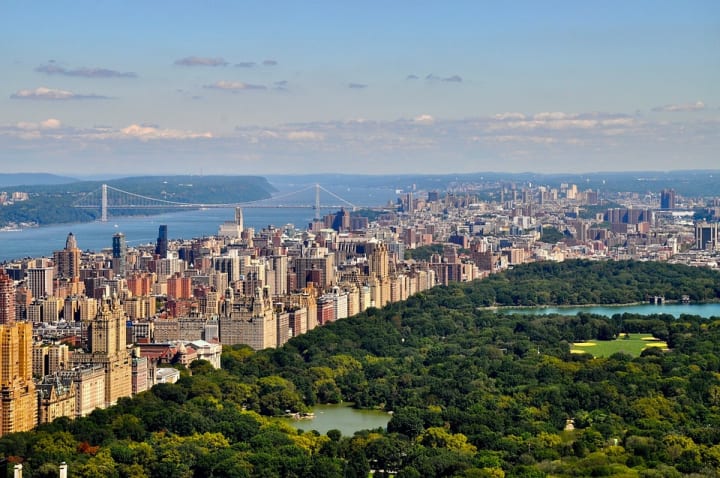 Central Park is the most visited city park in not only New York City but the entire United States with 42 million people and tourists visiting the park every year. Located in the heart of Manhattan, Central Park is 843 green acres in the middle of a sea of skyscrapers and hustle and bustle where tourists from the hotels in Manhattan as well as workers and locals can go to relax and enjoy nature.
2. Bryant Park—12 million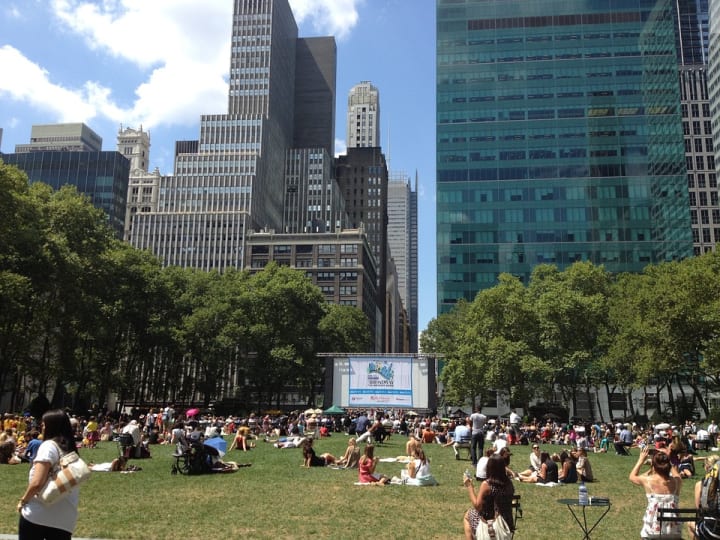 Bryant Park is located in Midtown Manhattan along Fifth and Sixth Avenues and 40th to 42nd street. Some 12 million people a year visit Bryant Park which contains the main branch of the New York Public Library as well as the Bryant Park Lawn which offers a lush green oasis surrounded by metal skyscrapers and asphalt streets. Concerts are held on the lawn and the park is near all the major hotels in Manhattan.
3. Prospect Park—10 million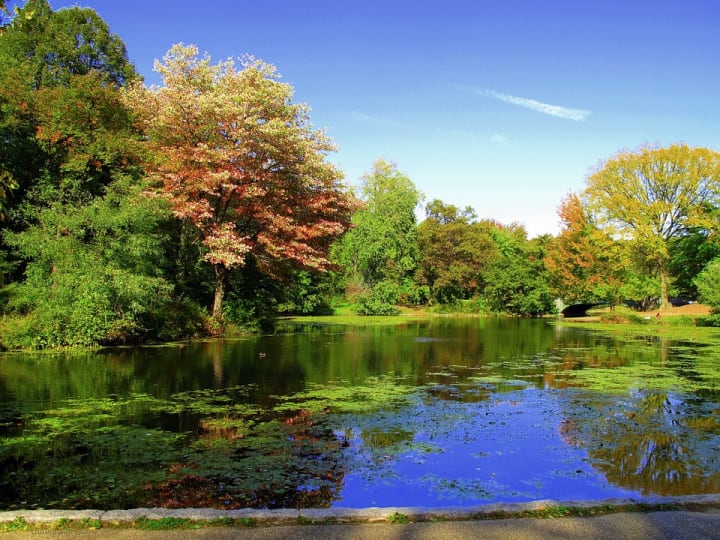 Prospect Park in Brooklyn is the third most visited park in New York City with some eight million visitors per year. Designed by the same people who designed Central Park, Prospect Park contains the only lake in Brooklyn, as well as a zoo, the Long Meadow, Litchfield Villa, a nature conservancy, the Boathouse, the Picnic House, the Prospect Park Bandshell where concerts are held and numerous athletic fields and walking paths.
4. Gateway National Recreation Area - 9.2 million

Gateway National Recreation Area is a series of parks located along the shorelines in Brooklyn, Queens, Staten Island and Sandy Hook in New Jersey. Some 9.2 million people a year visit Gateway National Recreation Area which is run by the National Park Service with about 8.5 million visiting the parks in New York City per year. Boating, sun bathing, swimming, hiking and camping are popular activities in Gateway National Recreation Area. Gateway National Recreation Area is the 4th most visited park in the country run by the National Parks Service.
5. High Line—7.6 million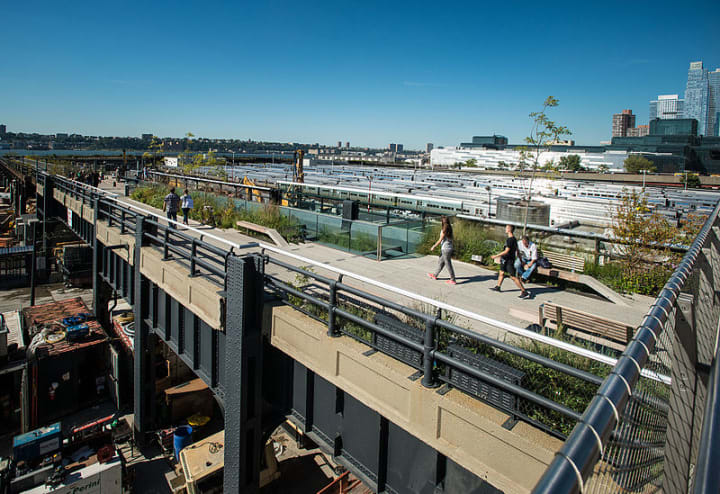 The 1.45 mile elevated park called the High Line which runs along old railroad tracks in Manhattan west of 10th Ave between Gansevoort and W 34th Streets is the fourth most visited park in New York City. Calling the High Line a modern success story would be a vast understatement.
6. Coney Island Beach and Boardwalk—7.4 million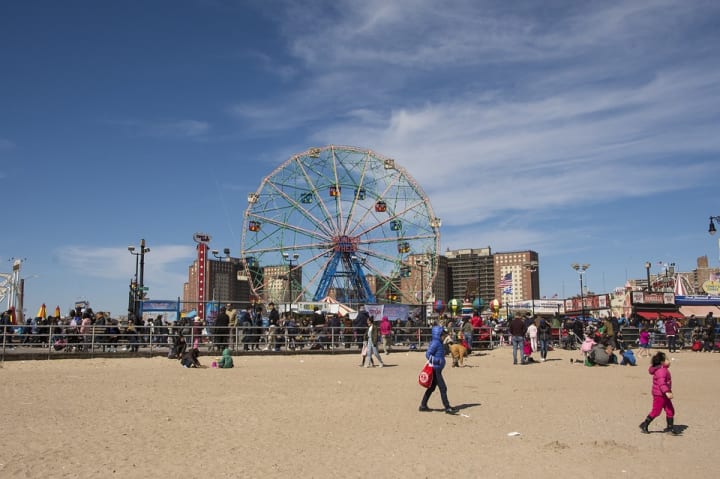 Some 7.4 million people visit Coney Island every year for the Atlantic Ocean beaches and famous amusement park rides. Coney Island is located on a peninsula in southernmost Brooklyn and has a long history as a popular tourist attraction in Brooklyn, New York City.
7. Rockaway Beach—5.5 million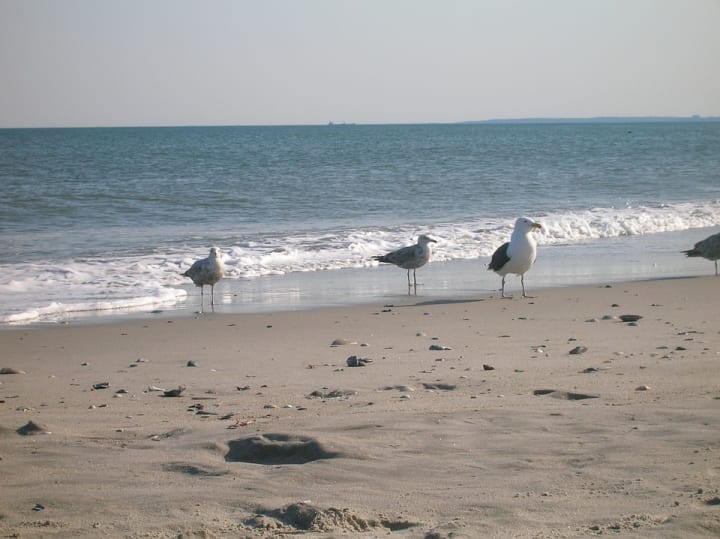 Rockaway Beach and Boardwalk are located along the south shore of Long Island fronting the Atlantic Ocean in Queens, New York. Some 5.5 million tourists and visitors a year travel to the area mainly because of Rockaway Beach which is the longest urban beach in the United States.
8. Statue of Liberty and Ellis Island—4.5 million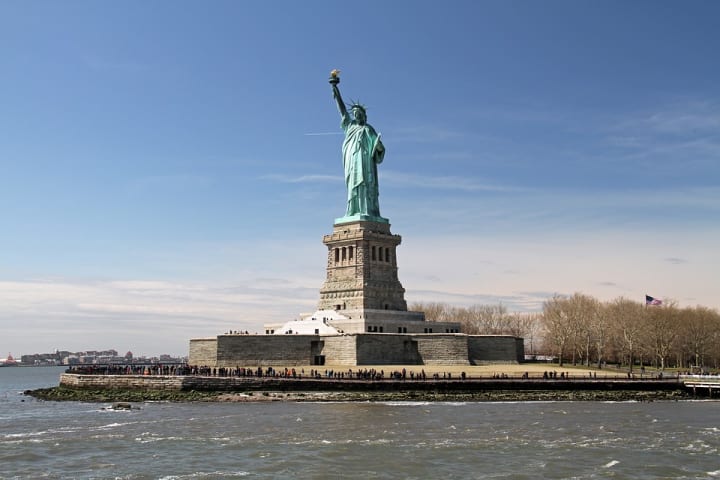 Located in New York Harbor some 4.5 million people a year visit the historic famous Statue of Liberty National Monument every year. To reach the Statue of Liberty from New York City tourists must take a ferry boat from Battery Park in Lower Manhattan. Ferry rides are also available from Liberty Park in New Jersey but for tourists staying at the major hotels in New York City the Battery Park ferries are closer.
9. Battery Park—3 million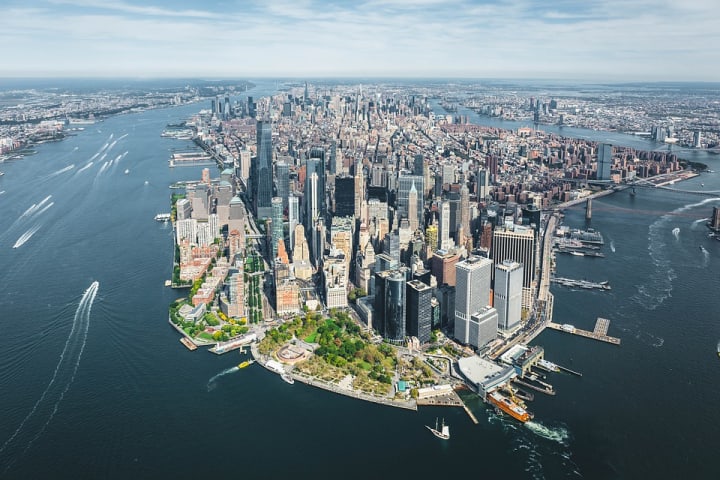 Some 3 million people a year visit Battery Park which is a 25 acre city park located at the southern tip of Manhattan facing New York Harbor. Battery Park is named for the gun batteries that have been placed at this strategically important location in the past dating back to the 1600's. All the green in the lower part of photo above is Battery Park.
Ferries to the Statue of Liberty leave from Battery Park which a great place for tourists, office workers or anybody to visit. This author's grandfather was an Army recruiting sergeant in Battery Park for a number of years in the early 1900s after fighting in Cuba during the Spanish-American War in 1898.
10. Riverside Park—2.8 million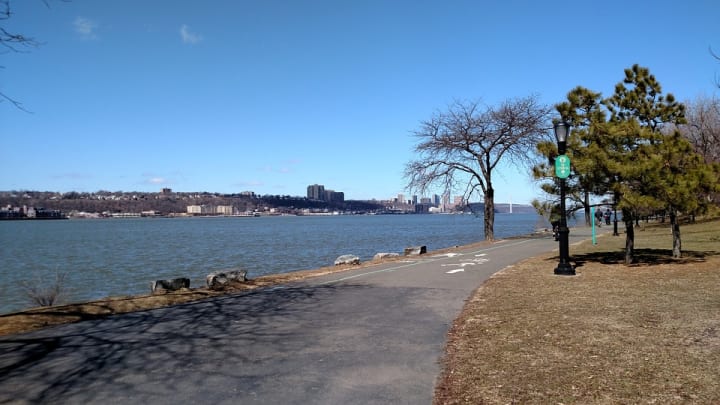 Riverside Park is located along a four mile narrow strip of land between the Hudson River and Riverside Drive on the Upper West Side of Manhattan running from 72nd Street to 125th Street. Located in Riverside Park is Grant's Tomb as well as the Soldiers and Sailors Monument and a Joan of Arc statue. Riverside Park has great pathways for biking, running, jogging, skating or just plain walking along the beautiful Hudson River.