Sydney City Night Tour | Things to Do & Places to Visit
Sydney harbour dinner cruise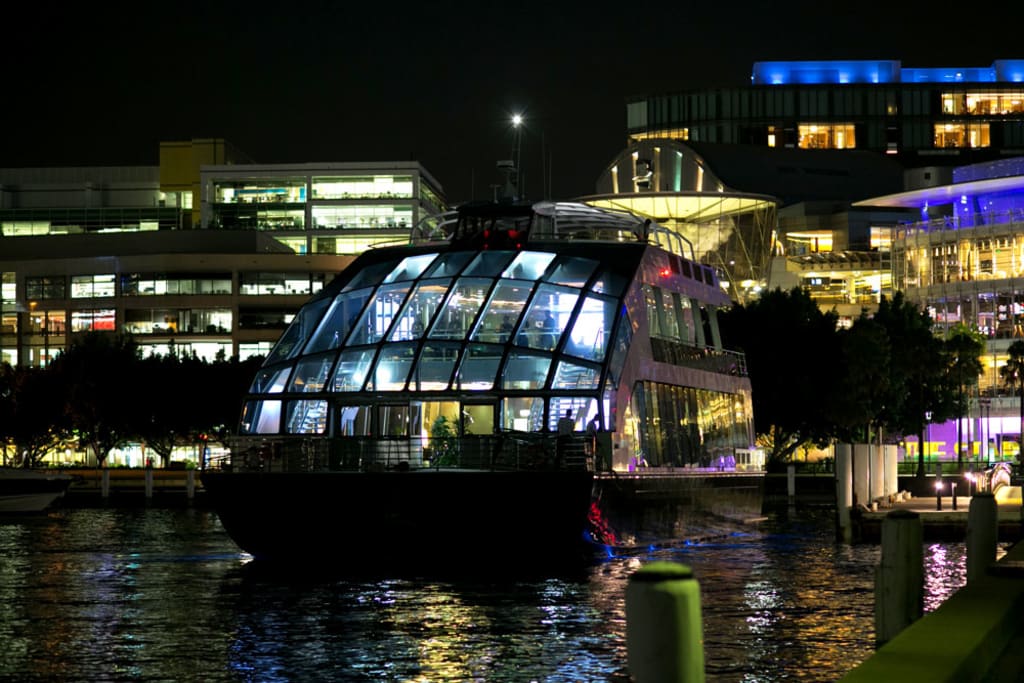 There's something about Sydney at nightfall that makes it all the more beautiful! Whether it's the Harbour Bridge, the Opera House or other prominent landmarks, these towering structures add to the radiance of the night views. If you're looking for ideas on how to spend a fun night in Sydney or take a night tour in the city, here are some interesting things you can do and places to visit.
Sydney Harbour dinner cruises
Enjoy a memorable dining experience at Sydney Harbour on board a luxury cruise that combines night sightseeing, dining and entertainment, all at an affordable price. These luxury Sydney Harbour dinner cruises have been a favourite choice among both the locals and tourists alike. A 3-hour luxury dinner cruise in Sydney will take you around the bright-lit harbour through a scenic route while you feast on a delectable dinner that is freshly prepared by experienced chefs on board. Hop on board the premium glassboat dinner cruise for an unmatched cruise dining experience in Sydney. With fully air-conditioned opulent interiors, this cruise is equipped with state-of-the-art amenities such as floor-to-ceiling glass walls, a spacious dining deck, mezzanine cocktail lounge, a SkyDeck with retractable roof, a modernised galley and more. With individual reserved seating and personalised waiting service, you are promised special attention throughout the cruise. If you didn't know, the dinner cruises in Sydney also have fully licensed bars on board that serve a selection of delicious drinks and beverages for the duration of cruise. Book your dinner cruise today!
Luna Park
Luna Park is a heritage-listed amusement park in Sydney that was built in 1935. Visit this iconic park at night for a spectacular outing with your loved ones. The park has a number of popular rides, food options, event spaces and more. Hop on board the Ferris Wheel to float up to 40 meters high above the harbour and get sweeping views of the Sydney Harbour Bridge, Sydney Opera House and other prominent areas including the park itself. If you're looking for some extra fun, you can head over to Luna Park's Big top, where you're sure to find something festive such as Big Top's versatile line-up of festivals, concerts, ballets and more!
Hot Dogs from Wolloomooloo
Sydneysiders love hot dogs, especially the one from Woolloomooloo. Take an evening stroll beside the harbour at Woolloomooloo to discover the famous little store that sells affordably priced pies, hot dogs, sausage rolls, wedges, pastries and more. You can find a cosy spot nearby the truck, overlooking the harbour to enjoy your treats with amazing night views. Many celebrities including Prince Harry, Frank Sinatra, Pamela Anderson, Richard Branson have visited Woolloomooloo for a taste of Australia's favourite hot dog.
Walk the Sydney Harbour Bridge
Sydney Harbour Bridge is one of the most iconic structures in the city and you can either climb the steel arches during the evening golden hour or simply take a walk through the pedestrian footpath for a refreshing night-out experience. You can begin walking from either direction of the bridge and it takes around 15 to 30 minutes depending on your pace. You are allowed to click photos. However, a camera with good night-time resolution would be needed for photos with good clarity. People who are too scared to sign up for a Sydney Harbour Bridge Climb, walking the Bridge's pedestrian cross might be a great way to get a good aerial view of the harbour attractions. The walkers get a wonderful eastern side view of the Opera House, The Rocks and Fort Denison.
If you wish to savour the essence of Sydney at its best, you gotta experience its nightlife! Head over to any one of the above mentioned places to have a fun night out with your friends or family!
formore: https://www.clearviewsydneyharbourcruises.com.au/