Sometimes Life is Literal Poop
Seriously, literal shit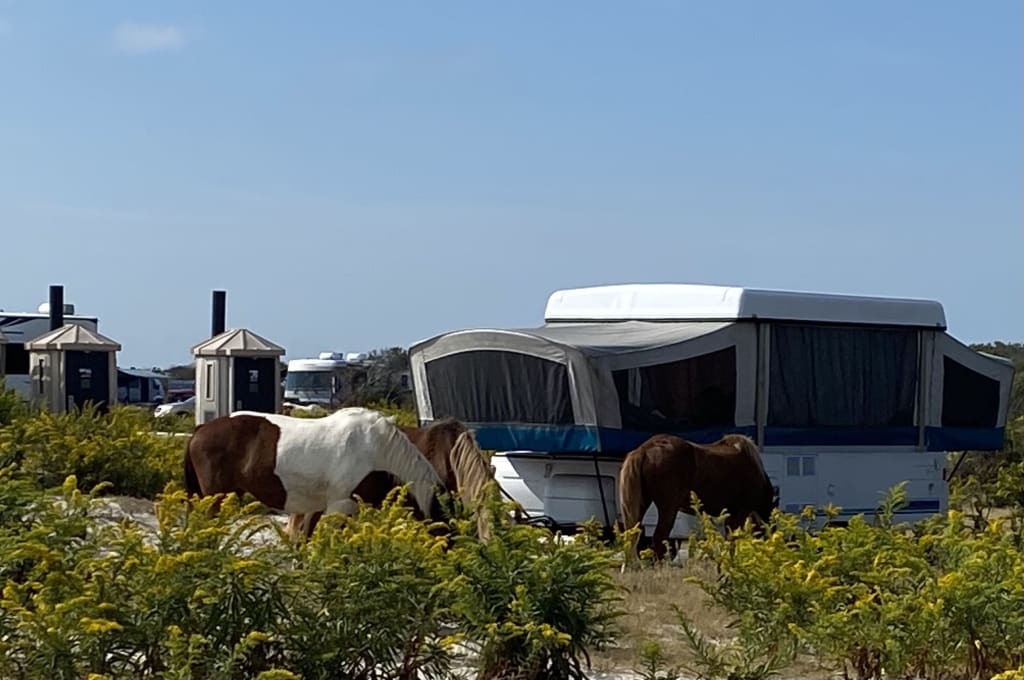 Wild Horses of Assateague Island grazing at the Oceanside Campground
Sometimes Life is Full of Literal Poop
I paused at the end of the long winding gravel driveway contemplating the farm I had chosen for the first night of camping in this new phase of my life. Due to a change in circumstance two years ago, I made the decision to camp across North America full time. I planned my new adventure over two years with budgeting, travel apps, and memberships, trial run rental campers, a few weeks here and a few weeks there. Today was the first day of my newly chosen lifestyle. I finagled a spot at a sheep farm in rural Maryland using my new Harvest Host membership which allows for free camping on farms, wineries, breweries, and museums. The driveway wound up a long sloping hill through several paddocks of fluffy white sheep. It looked perfect. And safe.
Until I backed into my spot and the odor hit me hard. I exited my Winnebago Campervan (Named Wilbur henceforth) and walking around the spot where I spied a large, and I mean large, pile of manure just beyond a nearby outbuilding. Like multiple tons worth. Huh.
I met up with the owners of the farm and purchased six eggs and a pound of lamb. They kindly informed me they didn't know the delivery was coming that day and asked that I park closer to the house - it may smell less. Well, I'm a farm girl from birth so I moved to a new spot, the smell lessened a little and I just shrugged it off.
Little did I know it became a theme for my first week of life on the road.
Wilbur and I took off early the next morning for Assateague Island National Seashore. Assateague (Assa*teek) straddles the Maryland and Virginia state lines. The northern part of the island is operated by Maryland State Park. The US National Park Service operates in the southern part of the island. I reserved a campsite on the ocean side of the campground.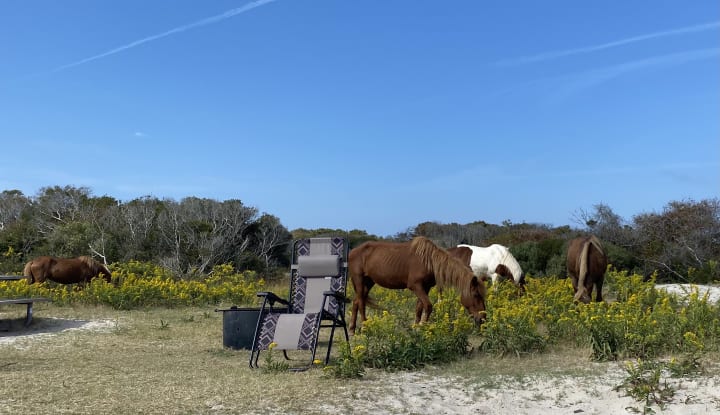 I mentioned I am a farm girl from birth. Well, I wanted to see the wild horses. Actual wild horses. Be still my little farm girl heart.
Local folklore describes the wild horses as survivors of a shipwreck. The most reasonable explanation is they were brought to the islands in the 17th century to avoid livestock tax. What is known is they are "feral." In other words, they were domesticated but are now wild. There are two herds on the island separated by a fence at the state lines. The horses roam in bands of two to 10 at a time.
So you may wonder, if I visit Assateague, will I see wild horses? How hard is it to find them?
Let me put it this way, you can't miss them. They are everywhere. When I first drove over the bridge to the park, there was a band grazing at the edge of the road.
My first morning there I was sipping coffee at my picnic table when I heard a whiney behind me. I turned and a band of six wild horses picked their way through my campsite. Quickly I slipped into Wilbur to grab my camera. I kept a good distance snapping photos. For more than an hour, they munched their way through my campsite, sniffing my coffee and staring me down with disdain.
The following evening I sat on a bench watching the sunset over the sound with the waves of the ocean breaking behind me and out of the trees burst a large band that thundered down the sand. The horses chased and ran not in a coordinated hive movement but a sheer powerful individual grace that resonated within my core.
For all the beauty of the island and the sheer majesty of the horses, there is one drawback. Horses leave presents. Lots of presents. Tiptoeing through the campground is a real thing. In fact, volunteers drive around the national park on a golf cart and scoop these presents off the road. Every day. This is a volunteer job. I really admire those volunteers.
This volunteer present removal seemed appropriate for the week. The first night I woke up to a terrible stench in my van. Sniffing, I investigated my toilet. Nope, it was ok. Stepping outside I realized the wind had shifted and the latrine smell was drifting my way. Huh. Better pick a better spot next time I visit.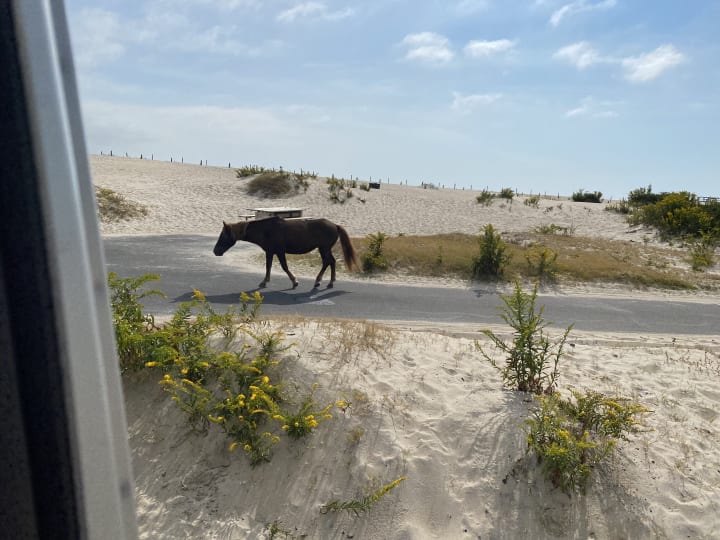 On my final day, I sat on the bench overlooking the ocean. Grey clouds were massing along the horizon. The wind was picking up yet I felt no chill in the air. Only the crisp scent of ocean salt and sand. I reflected on my first week of visiting Assateague Island and the recurring presents, smells, and mounds of poop that kept plaguing my first week of travel. I came to one conclusion, this lifestyle requires flexibility and acceptance.
Yes, life is full of shit. Literal shit - you can't get away from it and we all experience it.
But you if look beyond it, you can find beauty.
About the Creator
Author, mother, grandmother, and former teacher - Annie Taylor has three decades of writing in a variety of forms. She has written manuals, speeches, books, and sales brochures. Annie travels the US in her RV obsessively writing.
Reader insights
Be the first to share your insights about this piece.
Add your insights