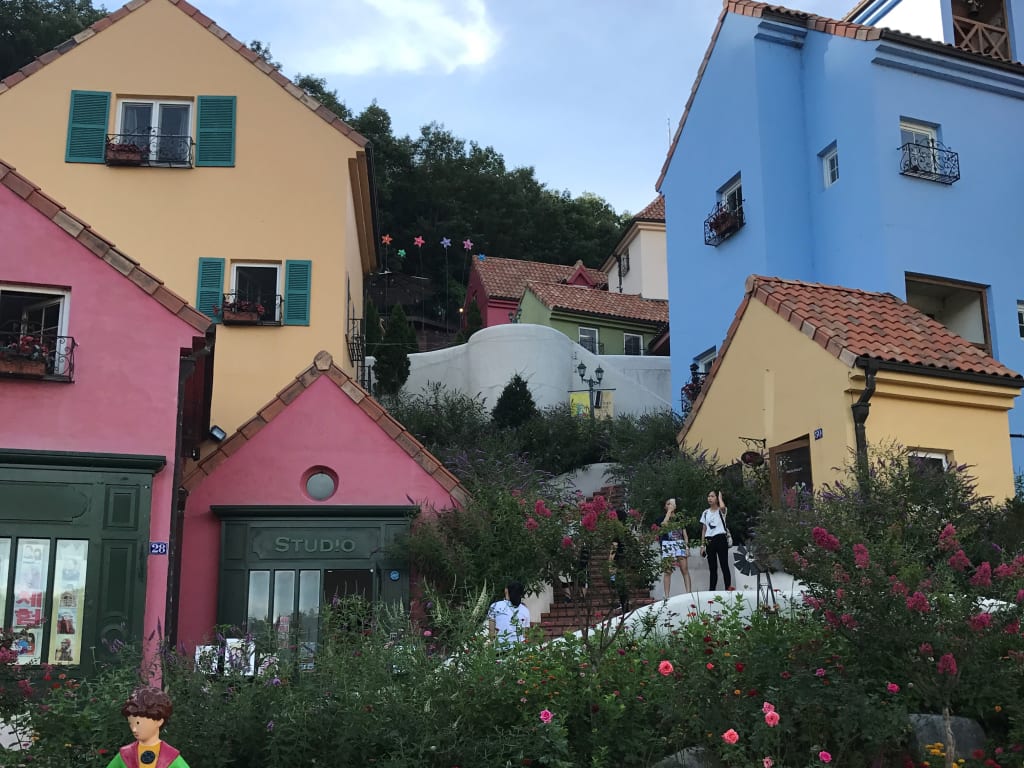 Petite France
As per tradition, my family took our great big summer trip back in August. We did not take a direct flight to Seoul from San Francisco. We went from San Francisco to Manila, and then we went to Seoul from Manila. It was about a four-hour plane ride.
We took Cebu Pacific since it was a short trip and very cheap. Seriously, it was cheap. Since it was a budget airline, I didn't expect much. I just wanted to get there. To be fair, Cebu Pacific was better than expected. They offered rice meals on the plane that you could buy à la carte, but you could also bring your own food from the airport. The staff was welcoming and immediately helped any passenger within seconds. There is no in-flight entertainment. However, the flight crew held a trivia game about halfway through the flight. For every question answered right a Cebu Pacific merchandise product was given.
We landed at Incheon Airport and took an airport bus to our hotel. It was about an hour away, but I did not mind at all. The change from Incheon to Seoul was amazing. It turned from nothing but grass and water to bright lights and the biggest LED screens I have ever seen. Entire sides of buildings were just LED screens.
We went to several different areas in Seoul:
Myeongdong
Gangnam
Hongdae
Dongdaemun
Itaewon
I'll be honest. All we did, which you can tell from my pictures, is shop and eat. If you like beauty products, I was able to get 20 face masks for only 10 US dollars from Etude. It was insane. My entire family came back with a hand-carry suitcase just for face masks.
For food, we barely ate at restaurants. The street food is enough to go on. They are unique, affordable, various, and everywhere. Check out some of the street food we found at Myeongdong below!
On the topic of culture, Koreans are very disciplined and organized. They are also very helpful. When we got to Seoul, we realized our bus dropped us off at the wrong hotel. They had dropped us off at the T-Mark Hotel, but we were supposed to go to the T-Mark Grand Hotel. It was like a 10-20 minute walk, but my mom has knee problems. The receptionist told us a taxi would be hard to come across since our distance won't give the taxis driver much profit and it was almost 11 PM. So, we went down to the subway station.
The subway stations in Seoul have got to be in the top three best transportation systems in the world. The trams come every 5 minutes and you know when one is coming since they alert you with 2 different songs depending on which direction you're going. Anyway, when we got to the train station, we thought we could use our credit cards, but the machines run on cash. We hadn't exchanged money yet, so we went to the information desk. We had difficulty understanding one another and suddenly he left. It turned out, he had gone to the next station that we needed to go to and informed them he was sending us to the station without a ticket. He came back to us and escorted us to the next station, then told us how to get to the hotel with a very detailed handwritten map. Throughout the trip, every time we seemed lost, a Korean citizen would stop and help us without us asking.
Bonus:
We took a tour with K-Tour Story to Nami Island and Petite France. It's about two hours away, but totally worth it. If you're going to Nami Island, bring your comfiest walking shoes. The island is best known for being on a Korean Drama, but the Island also has tons of history and stunning walking paths.
Petite France is a getaway from city life. It's entirely based on the French children's story, The Little Prince. I highly recommend this to everyone going to Seoul. You don't need to spend more than two hours here, which is why it's linked with Nami Island on the tour.