Running out of Water While Hiking 5 Miles Away from Civilization
I had to hitch-hike and got rescued by a friendly German family
Lake Bohinj, Slovenia
While traveling the beautiful country of Slovenia, I had the pleasure of spending almost a week hiking the Julian Alps. I based myself at a hostel by Lake Bohinj, and stuck on my hiking boots each morning to go and explore the wonderful scenery that was around me.
On one of the the days, I had my route planned from my hiking guide, Walking The Julian Alps of Slovenia. I knew the distance, and with my trusty guide stacked away in my bag to help direct me through every twist and turn along the way, nothing could go wrong — or so I thought!
Making mistakes
I started the walk and headed towards a small alpine village that I would pass on the way called Stara Fuzina. My plan was to stop off at the local supermarket to grab some food and two litres of water before heading off into the mountains.
When I got to the supermarket, it was closed. Shit! It was Sunday. When you're traveling, it's really hard to keep track of time and it never registered with me what day it was. All I had with me for hydration was a 500ml bottle of high quality H20 which was already half empty. I needed a top up.
One great thing about Slovenia is that there's fresh water taps scattered about some parts of the country. I knew there some near Lake Bohinj. As I still hadn't left the village, I had faith that I was bound to come across one on my travels. Thankfully I did, and so I filled up my small bottle that I trusted would get me through the hike, perhaps naively.
Veering off track
Walking through Stara Fuzina, I remembered speaking with a lady who worked the desk back at the hostel. She recommended that I should go to Vogar lookout while staying in the area, a spot where the paragliders took off and there were amazing views over the lake. To get there, she advised that it was simple and easy — walk through Stara Fuzina and keep going straight until you get there. You couldn't get lost, she said.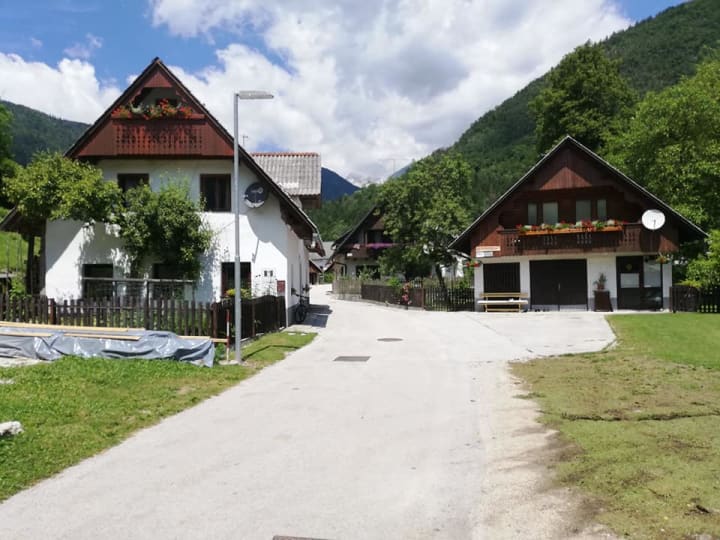 At this short stage into my hike, I reconsidered the path I would take. Given the fact that I had a water shortage, I made the last minute decision to play it safe and head to Vogar instead. It sounded short and easy, and with the views that the lady talked up, appealing too.
En route to Vogar
Once I made it out of the village, a path emerged that would take me up to my destination. Although I hadn't looked up the book to see exactly how far it would be, it looked just as the woman had advised — follow the path and you can't get lost.
She was right. I didn't get lost. But the path seemed never ending. It literally was a road that just kept spiralling round and round, for miles and miles. I checked my Garmin and I seen I was three miles in. It was kind of boring really — I couldn't really catch any nice scenery. All I could see as I dandered along were a bunch of trees blocking my view, and I wasn't exactly hiking through nature quite the same way I expected. I had a forest hike in mind, but instead it was basically just an uphill road that I found myself on.
It was 30+ degrees Celsius and the sun was heavy. Being the Irish guy that I am, you can bet that I was beginning to burn like a lobster, and melt like an ice cream that had been left out of the freezer. I ran out of my small supply of water and continued on.
The fear started to kick in
Although I had tried checking Google Maps on my phone a few times, no signal could be found and I was left in the dark about how much further I had to go. Fear started to kick in a bit, and I was already starting to feel the effects of dehydration. A few cars had drove past, but not many. They must have been other tourists wanting to go catch the view. At this point, I really had wished I had just rented a car.
I knew that the fear was probably just a combination of the tiredness and lack of water — though I was starting to get a little scared that I might pass out if I didn't get a top-up soon. At this point I had walked five miles and I wasn't for hiking any further.
Hitch-hiking for the first time in my life
I decided the only way out of this was to hitch-hike. Screw it — there's a first time for everything. Although it felt a little uncomfortable sticking my thumb out for any cars that drove by, I knew the chances were I wasn't going to get kidnapped and buried behind a bush.
It wasn't too long before a jeep pulled up. It was a family; a couple with three kids in the back. They opened the door, while the man driving smiled and signalled to jump in. I don't think things could've got any more awkward as I edged in past between two of the kids to an empty seat in the middle.
The dad couldn't speak English and so one of the children, sitting in a row by himself who appeared to be the only one who could speak my native tongue, translated. We chatted briefly, and we didn't find out much about each other apart from that I was Irish and they were from Hamburg, in Germany.
I was happy that they were nice enough to pick me up and rescue me from my own stupidity that might have left me blacking out otherwise. I started to ponder, "I really hope there's a tap up here. There's bound to be, sure the paragliders take off there. They'll make sure there is for them. Wouldn't it be even better if there's a restaurant".
I made it to Vogar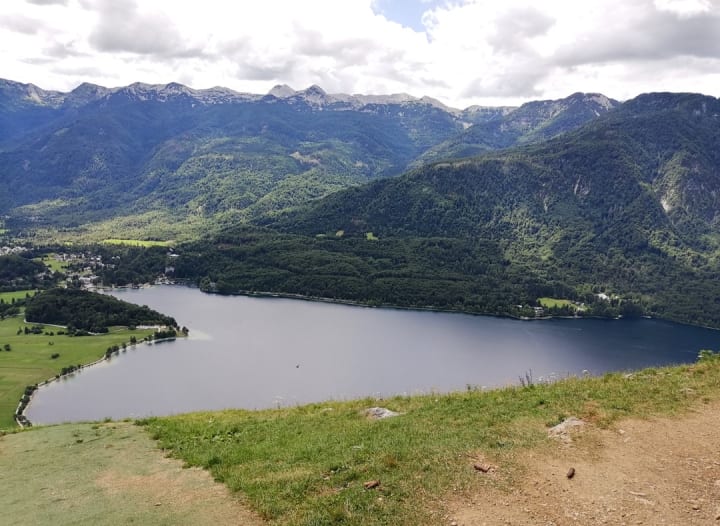 After passing a sign that said we had 5k to go (I'm glad I didn't have to walk that still or I could've been in trouble), we made it to Vogar lookout. Finally! And there was a tap. Perfect, I could get a refill.
The father did know some English it seemed and parted me with, "Good luck", which was still debatable at that pointed if I needed. I was starting to get hungry. But as I turn around the corner to the lookout, guess what else I see? A restaurant. Boom! I've hit the jackpot. I caught the stunning view, took a break and sat drinking my water for a bit, then went and grabbed some lunch — Carnolian sausage with buckwheat and sauerkraut. To me, I earned it and it was delicious!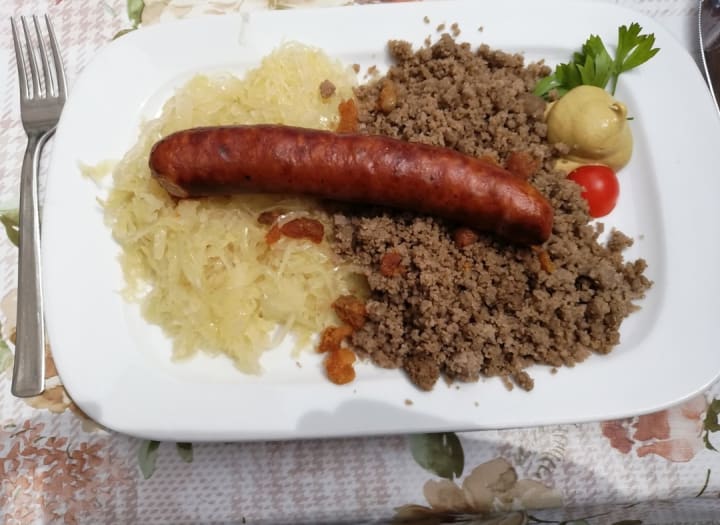 Homeward bound
I polished off my reward and was absolutely satisfied. It was just what I needed to recharge the batteries, especially if I had the long walk home. I guess I could just hitch-hike back down again? That wasn't such a bad idea now.
I did notice at the lookout point that it was right beside the forest, so I decided to go and check it out and see if that was a plausible route home. I met a few English guys who told me that it led right back to Stara Fuzina, where they started their climb up, the same as me. At that point I didn't even care that I had clearly taken the long route (I guess the hostel lady forgot to tell me to turn left and head through the forest..). I was just happy that I knew it wouldn't be too long before I was home again.
Home at last, home at last. Thank God almighty, I'm home at last
When I arrived back at the hostel, my feet were cut to pieces as I had only begun breaking the boots in, and my hips and knees were slightly sore. But the awesome thing about about hiking round Bohinj is that the lake makes for a good recovery bath. I took a plunge, and regardless of the freezing temperature, it served me well and I felt better for it the next day.
I can assure you a few things I learned from this hike, that I won't take for granted in the future:
I'll always make sure I've got a plentiful supply of water on board
I'll only take a route that I've pre-planned when hiking in a foreign country
Hitch-hiking is a great tool whenever you've found yourself in a bit of a navigation pickle
activities
Weight Loss & Nutrition Coach. Fitness junkie. Solo traveler. Dark chocolate addict. My Weight Loss Course: app.mastermind.com/masterminds/31006
Receive stories by Warren Patterson in

your feed