Reasons to Visit Port Aransas This Summer 2022
The splendid beauty and the peace of Port Aransas vacation rentals offer some convincing reasons to visit Port Aransas this summer in 2022.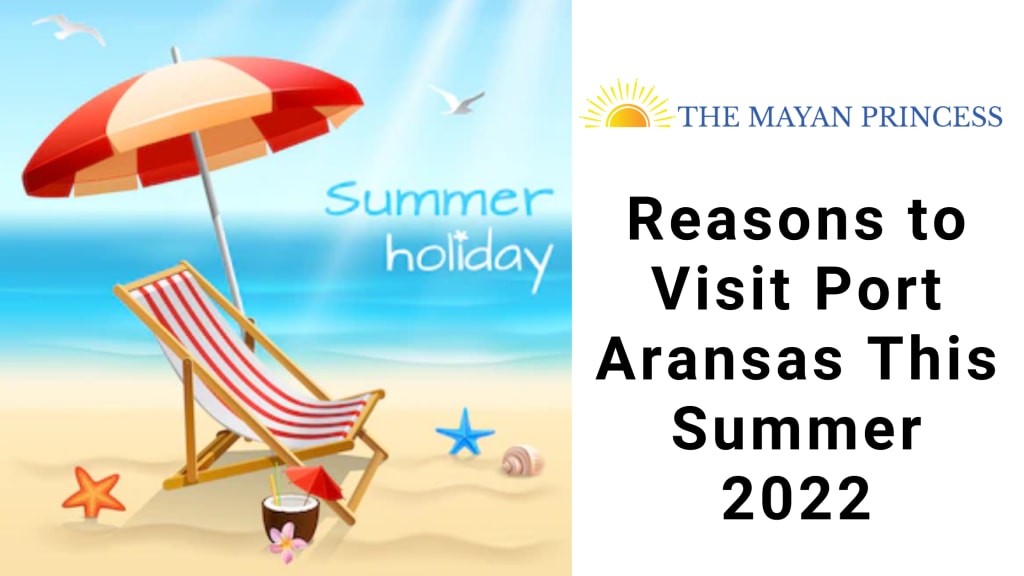 Introduction:
Summers are the perfect time to visit Port Aransas! The weather is hot, but the beaches and attractions are still worth visiting. As you ride yourself through the sandy shorelines of Mustang Island, you will get amazed by the natural beauties and wildlife sightings. A visit to this beautiful island in the coastal bend region of Texas is a must-do activity for summer travelers. You will get mesmerized by the endless adventurous activities and attractions that the island offers.
One visit to this rare yet beautiful town, "Port Aransas," will make you come back for more. The residents here are always hospitable and will make you feel welcomed. Along with this, the charm of the small town will keep you occupied for the entire day. So, here is a list of reasons why you should visit Port Aransas this summer!
A Classic Beach Town:
Everything which a man is looking for in a joyous and perfect beach holiday can be found in Port Aransas. The town offers white sand beaches, great seafood, dolphin watching, etc. However, if you're looking for something more adventurous, Port Aransas' wonderful beach has you covered. There are plenty of opportunities for fishing, swimming, kayaking, birding, etc.
You Can Never Get Bored- There is Always Something Going On!
Port Aransas is a vibrant town with always something going on. There are various music festivals, art walks, and other special events. You can find out what is happening during the time of your visit by checking the town's website or by asking around when you get there. Many event options are available, from the fishing tournament organized on the Texas Gulf Coast to the year-round Port Aransas Art Center's First Friday events.
Very Easy To Get There:
Port Aransas is undoubtedly located on an Island. Hence, it will be pretty time-consuming if you opt to visit by driving. You need to travel a four-hour drive passing through Texas's three major cities: Houston, San Antonio, and Austin. However, if you are looking for a shorter road trip, flying into Corpus Christi would be your best bet. From the airport, it's only a 20-minute drive to Port Aransas.
Numerous Accommodation Options As Per Your Preferences:
There are numerous accommodation options on this never forgettable Island. You can find everything from luxury resorts to RV parks and camping grounds. If you are looking for a place to stay on the beach, then look into one of the many Port Aransas vacation rentals available.
It is soothing to stay at the beachfront houses, which offer a fantastic experience of watching the waves crash against the shore from your porch or balcony. Even the Port Aransas beachfront house for rent will provide you with a place to stay right on the beach.
Read the tips on sharing the vacation rentals when you come for your holidays.
The food is incredible.
The Texas Gulf Coast is world-famous for its abundance of fresh seafood. So if you're a fan of seafood, you're in for a treat when you visit Port Aransas. There's something for everyone to enjoy, from fresh Gulf shrimp to local catches like redfish and flounder. And don't forget the oysters! You can find some of the best oysters in the state at various restaurants in town.
Can Go Fishing and Cooking!
The Port Aransas beach visit during summers is all about fishing. You can go for a walk on the beach, bird watch and swim and enjoy your fresh catch of the day. The restaurants here will cook it for you without any problem. The 40-year-old iconic restaurant Seafood and Spaghetti Works will prepare the caught fish from the bay and serve it with a smile. Along with this, there are plenty of other local seafood joints to choose from.
Perfect Blend of Food and Family Gathering:
The place is like a heaven for both: award-winning food made by world professional chefs and the perfect getaway for those who want a memorable family gathering. For those who constantly crave food with a view, the options are endless with a waterfront location on the bay and the Gulf. And if you want to spend some time with your family in a fun and relaxed atmosphere, there's no better place than Port Aransas.
Black Marlin's shrimp and grits and crawfish and shrimp and maque choux etouffee from the award-winning culinary team will make you feel at ease. And for dessert? The gooey caramel cake with a scoop of ice cream from the locally-owned Sweetberry's Ice Cream will please everyone in your group.
You'll feel like you've stumbled onto a hidden gem.
Port Aransas is a little bit of everything: fishing village, beach town, and artsy community. With its laid-back vibe, an array of family-friendly activities, and top-notch restaurants, it's no wonder this "hidden gem" keeps charming visitors year after year.
Much More To Do Than To Make Sandcastles:
Apart from enhancing the sandcastle skills, the place has an offer for almost every person. You can enjoy playing golf on the 18 – hole course, watching dolphins and other marine life while kayaking on the bay, riding horses on the beach, or taking a nature walk. The place has all for an adrenaline rush seeker to a calm vacationer.
Can Visit Other Nearby Famous Places:
The USS Lexington Museum is a decommissioned aircraft carrier turned into a naval aviation museum. Admission is free, and kids will love exploring the restored aircraft, cockpits, etc. Plus, it's just a 10-minute walk from the heart of downtown Port A. Afterward, cools off at Schlitterbahn, the award-winning water park with rides and slides for all ages.
The Final Word:
If you're looking for a summer vacation spot full of surprises, check out Port Aransas, Texas. This charming coastal town has something for everyone, from endless outdoor activities to terrific seafood restaurants. Also, don't forget to enjoy the nightlife and music scene!
Henceforth, there are almost negligible chances to miss the visit to Port Aransas in the 2022 summer; with all those convincing reasons mentioned above, you ought to include it in your list of summer destinations.