Quarantine diary: South Korea
What it's like to quarantine in South Korea's government facility for 14 days
The current date is August 18, 2020 and I am on my 12th day of my 14 day mandatory quarantine in South Korea.
The procedure
Quarantine may seem a bit intimidating at first, I felt this way even before I landed, but it is going quite smoothly. From the moment you land at Incheon Airport you must go through a temperature screening and turn in your documents regarding arrival. The documents include a health questionnaire, notice and agreement for mandatory 14 day qurantine for all who enter South Korea, agreement to restriction of activty for 14 day quarantine, and notice for quarantine assessment app download. The other documents are standard customs claim and information about stay.
It is also reccomended and sometimes required for you to have a South Korean phone number for the government to contact you with, whether it be a friend, family member, or your own phone.
Depending on whether or not you have a visa, your quarantine can happen two possible ways. However, some rules apply for both visa and non-visa holders.
You cannot leave your designated quarantine location, even just outside of the room. (If at a government facility hotel)
You must submit daily temperatures and symptoms on the self diagnosis app.
If you live with others during quarantine (applies only to visa holders) you are strongly advised to use a single room and separate bathroom from others.
When you come in contact with others always wear a mask.
Long term visa holders
People who arrive with a long term visa will quarantine at their own residence (excluding hotels) for 14 days and everyday submit a self diagnosis on the government app via smart device. After 3 days, the person will call the government office and be assigned a facility to visit for COVID-19 testing. Depending on that result, you can either proceed with quarantine or be immediately transferred to a hospital for treatment and official confirmed patient quarantine.
Non-visa holders/short term visa holders (me)
Once you go though all levels of security at the airport and receive an entry confirmation from customs and a quarantine certificate, you are guided to board a government shuttle bus to the designated quarantine facility. Your quarantine facility is chosen at random by the government the day you land in South Korea, so do not try finding one on your own. There are many people to ask for help, so do not let the stress get to you.
Side note- I can enter SK with no visa because I hold an American passport, USA and SK have a passport agreement to let in American visitors for under 90 days with no visa.
My experience so far
Once you arrive at the quarantine facility (all of them are a type of hotel designated only for quarantine) you get a temperature check, your luggage sanitized, pay the fee, and check-in to the hotel. All of the government workers speak English and Korean and were very helpful to me and the other arrivals. They are also always wearing CDC hazmat suits for safety. The stay for non-visa holders is at your own expense and can differ slightly from hotel to hotel. My total cost for the 14 days is $1,420 including 3 meals a day everyday for my stay.
Breaking any of the rules during quarantine can result in deportation, visa revocation, or any other appropriate punishment by law.
After receiving a nice bag full of Korean snacks, I went up to my new home for the next 2 weeks.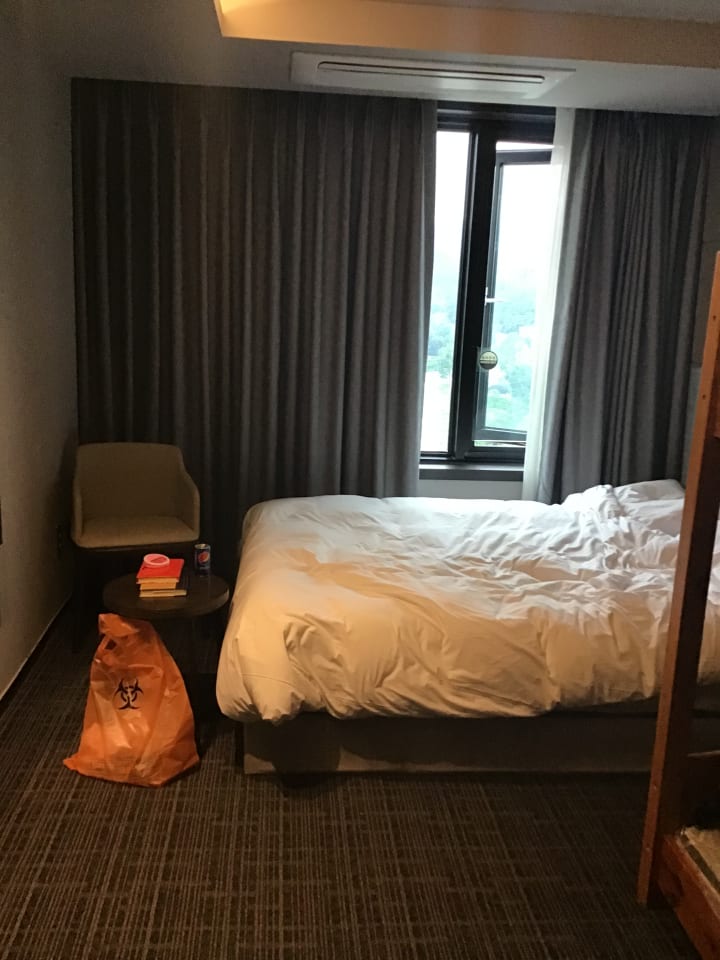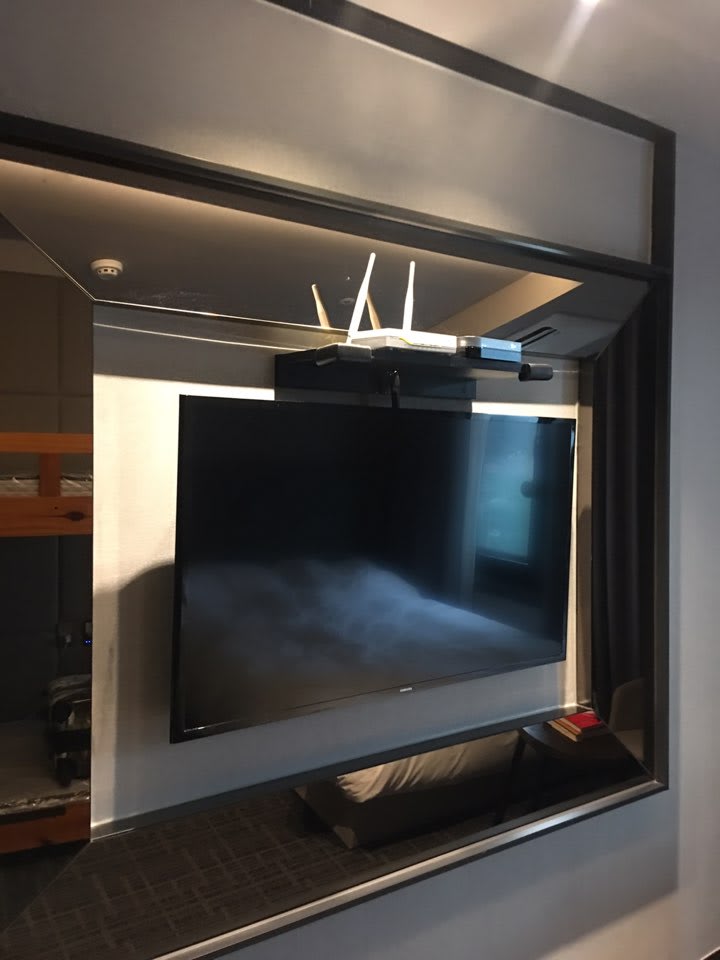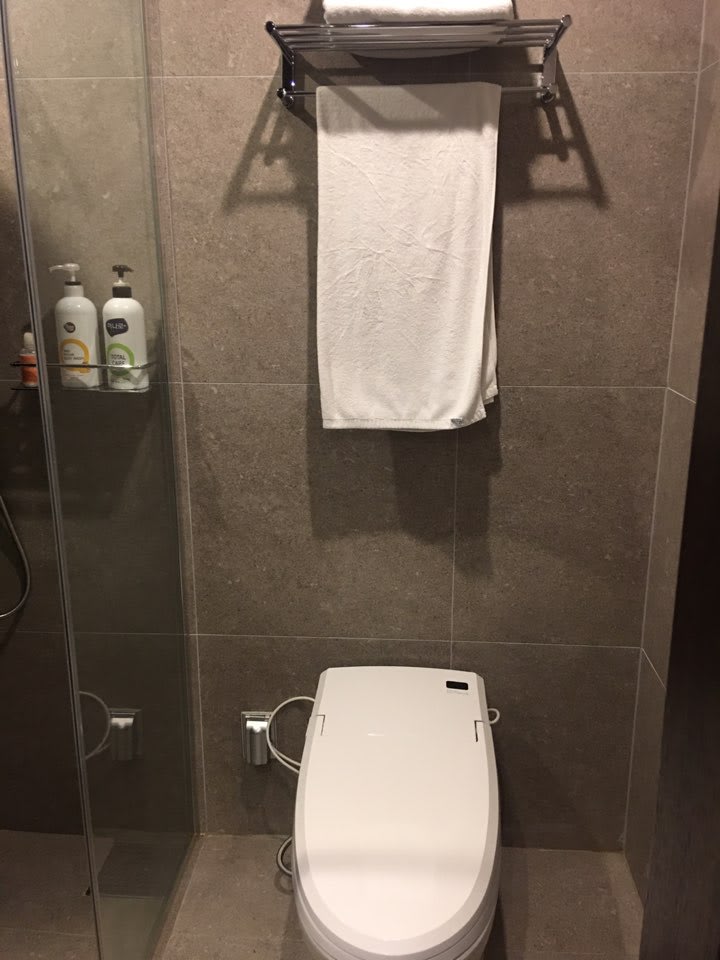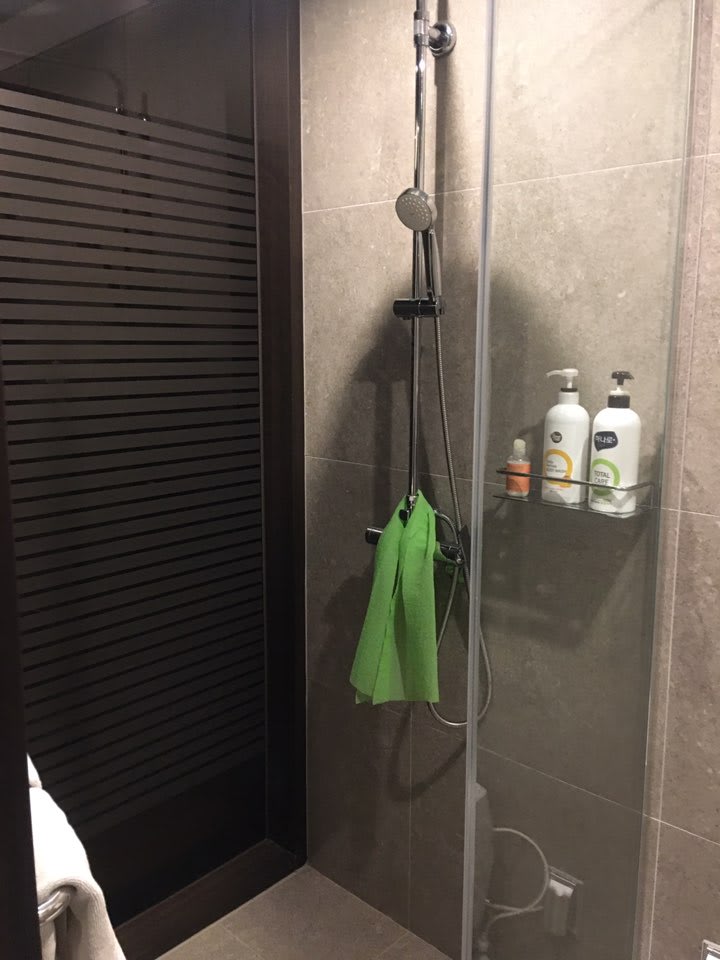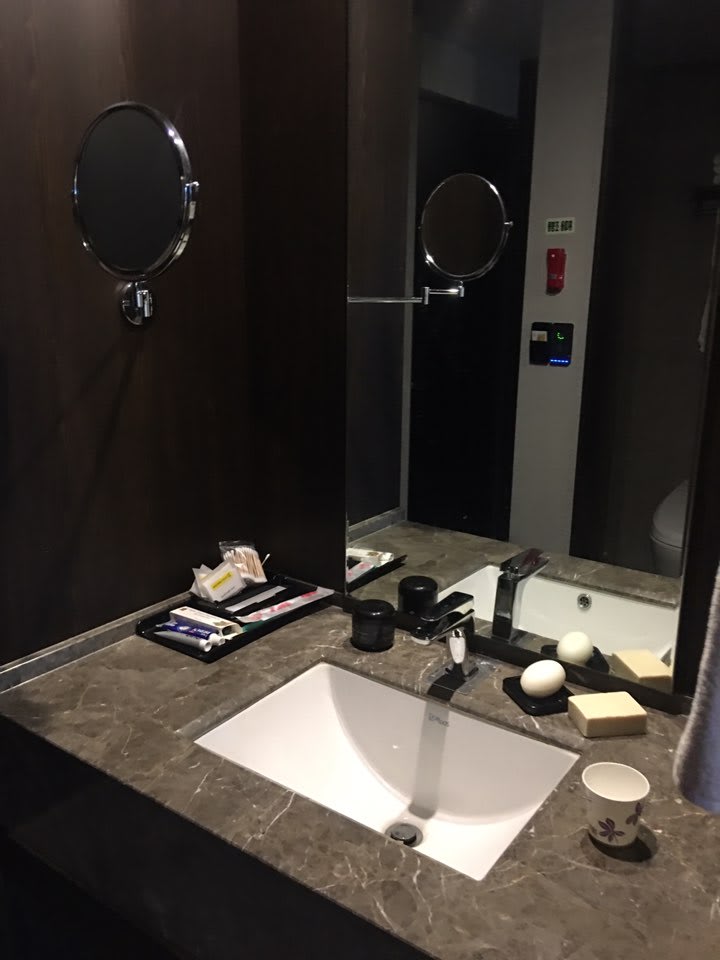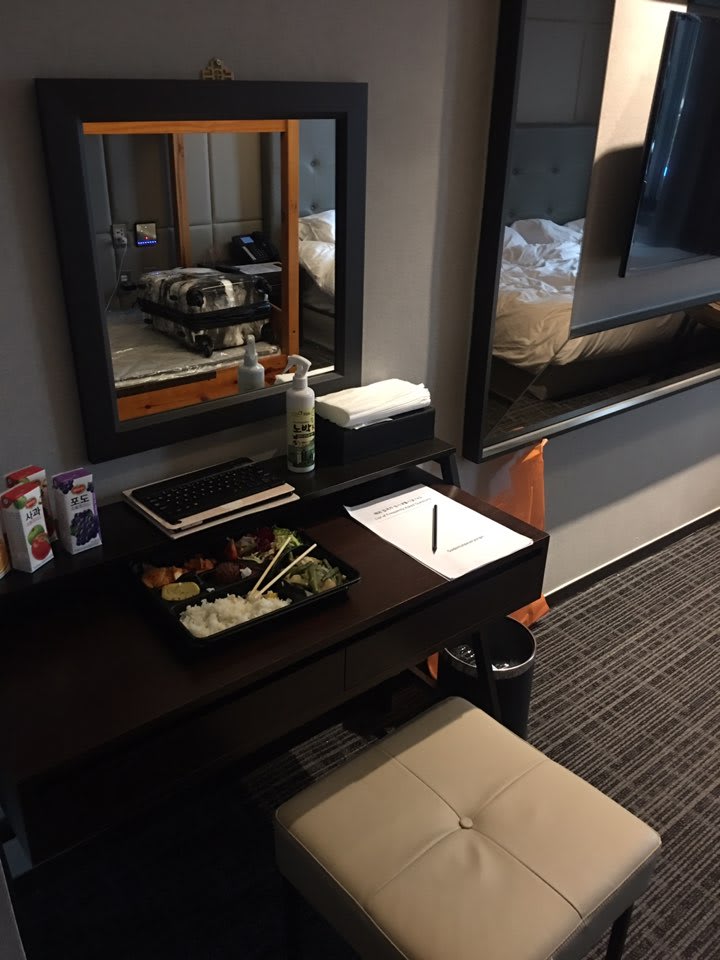 Amenities
The room was already filled with a few essentials such as a 750 ml bottle of shampoo and 750 ml bottle of mango scented body wash, which smells divine. I was also given 10 filter face masks, 2 pairs of slippers, a bath scrubber, toothpaste, toothbrush, two 2 L bottles of water, and a bottle of hand sanitizer.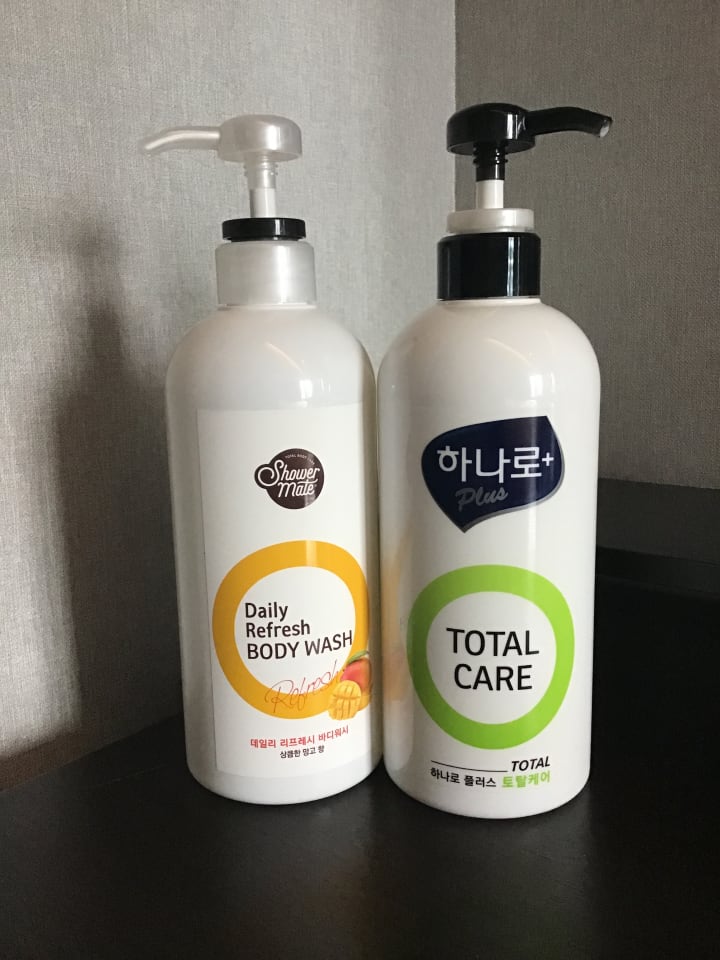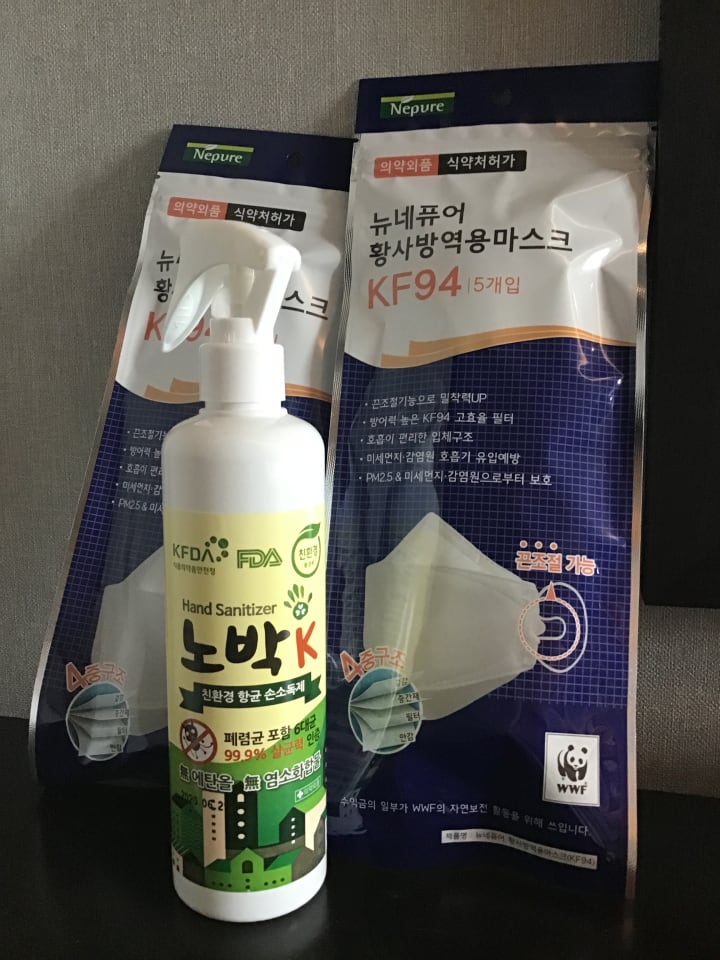 Everything smells quite nice and as for hotel amenities I was given 6 towels, and 4 rolls of toilet paper. However, if you need something all you have to do is call the hotel management and ask for more!
Daily procedures
Everyday before mealtime an announcement is given over the intercom for every room notifying that the meal has been delivered. When you open your door to get the food bag, you must wear a mask.
So far my breakfast is fruit, yogurt, a sandwich, rice porridge, random snack, and 2 bottles of water with a tea bag.
Lunch has been diverse and I have gotten curry, japchae, baked potatoes, soups, and bread plates. All come with side dishes like kimchi, rice, a boiled egg, and salad.
Dinner is similar to lunch but they always include a random convnience store type snack like choco pie.
While you cannot choose your exact food plan, at check in you can choose a vegetarian option, meat option, or tell the staff of any allergies you have. The menu may not always be your favorite, but the facility addresses that because it is a temporary facility they try, but cannot meet the demands of every guest. I highly recommend bringing snacks.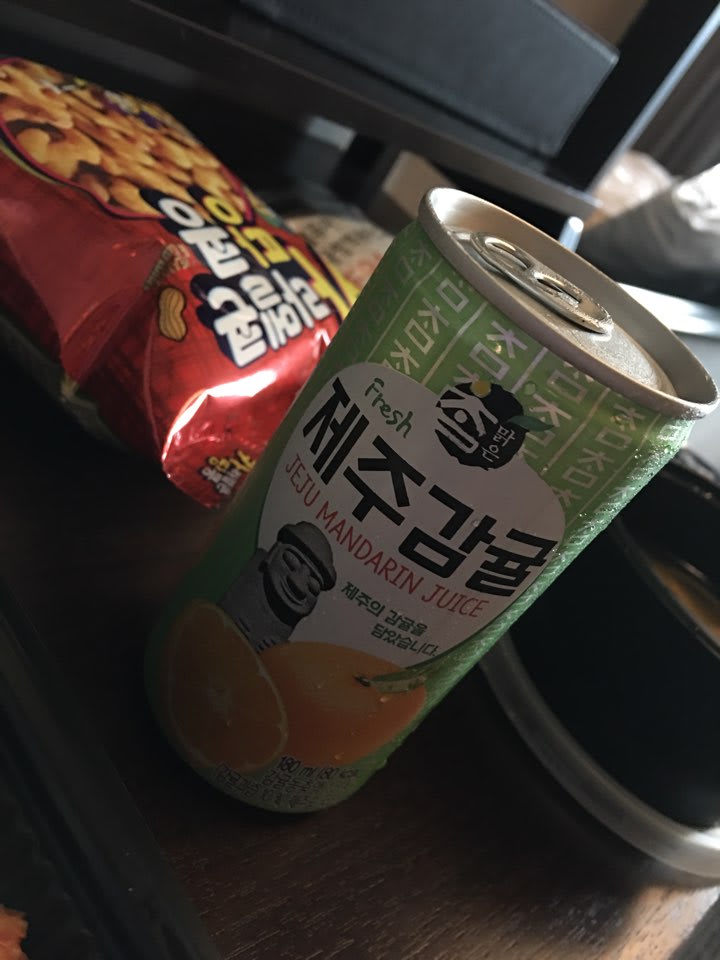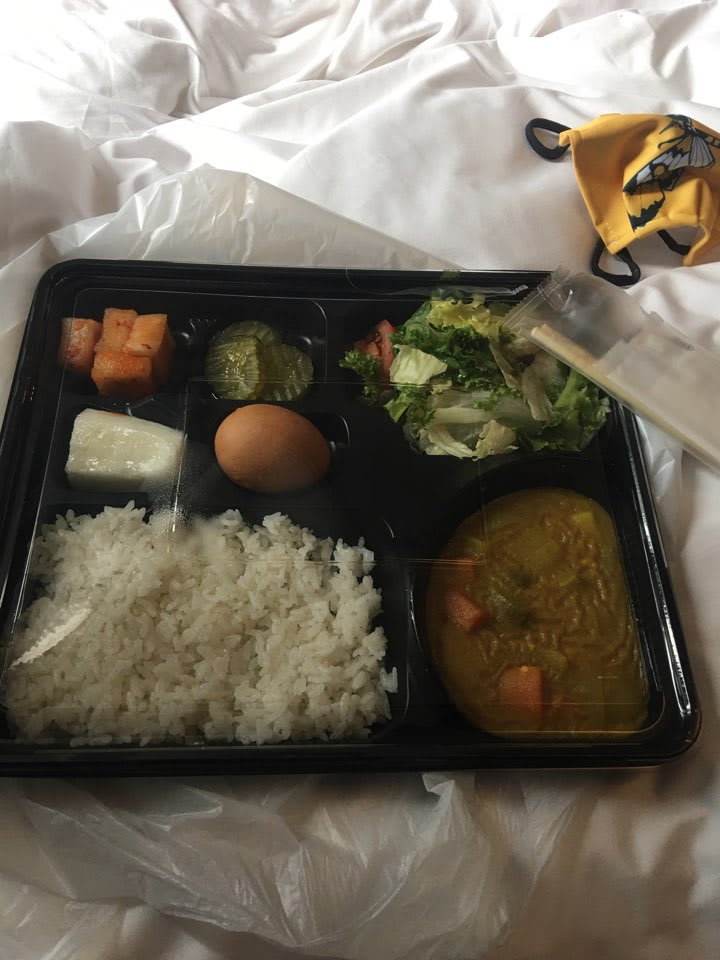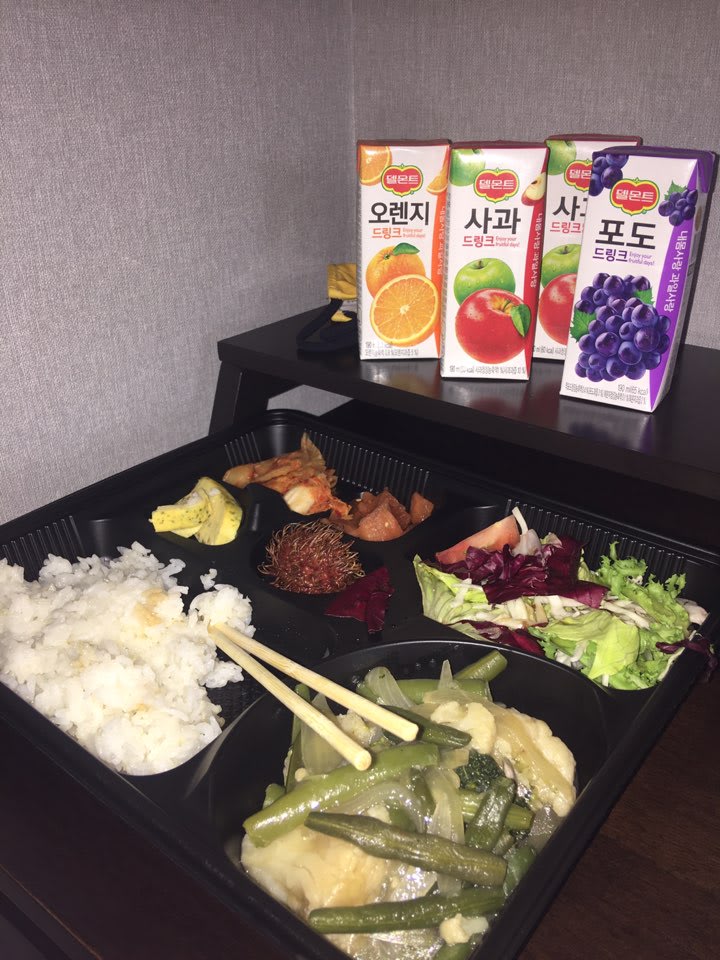 Trash disposal
You are given 14 orange hazard waste bags for garbage during your stay, and everyday the garbage is picked up at 9am outside of your door. You must spray it with disinfectant and wear a mask when you put it outside your door.
In addition, every morning a friendly government worker in a hazmat suit checks your temperature so you can enter it into the self diagnosis app. You are also given a personal thermometer.
At some facilities on the first, tenth, and fourteenth day of your stay you will get a free COVID-19 test. They do the throat and nose test, and while it is not fun, it wasn't as bad as I expected. Your results are ready the next day, but you will only receive a call if your results were positive.
Outside of the facility I have seen 6 ambulances ready to assist if needed. The premises is also patrolled by police officers 24/7 to make sure no one leaves or enters the hotel unless authorized.
Things to enjoy during quarantine
Since leaving your room is strictly forbidden, you must find ways to entertain yourself during this stay.
My room has a TV with an array of prepaid channels. Chinese and Korean dramas, Korean and Japanese variety shows, Travel shows, history channels, and adorable English teaching channels.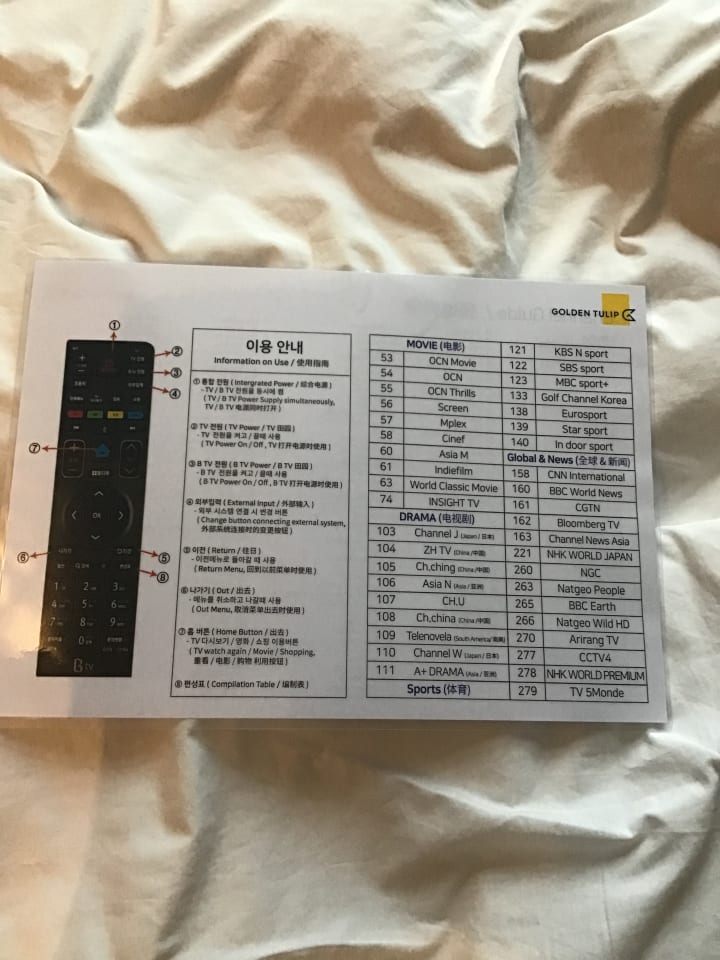 So far I have tried to stay preoccupied with calling my family, studying, and watching plenty of dramas. In case those become unentertaining I made sure to bring a few books, and exercise. Another plus is I have a nice window view of the mountains and good opportunities for people watching. Overall quarantine is a nice experience to prepare for my stay and recover from any jet lag.
Leaving quarantine/extra services
On the day you leave you have 3 choices of transportation. A quarantine taxi to your destination, a free shutte bus to a subway station, or a friend or family member can pick you up in a personal vehicle.
After quarantine, if you develop any symptoms of COVID-19 you can call a government official to escort you to a hospital for testing. The Korean government also has a mandate to give free masks to foreigners at their respective embassies.
Final thoughts
Although South Korea's procedure for incoming visitors may seem like overkill, I am grateful for the precautions they take against protecting citizens. They are taking great lengths to welcome visitors to South Korea all while keeping in mind the health of their own people. If other countries followed the example of South Korea's quarantine procedure, I believe we could all tackle this pandemic much better. As an American, I see much more attention going towards problems that aren't related to how severe USA's cases of COVID-19 are and it is disappointing. I hope with many good quarantine stories like mine and good sense from the government, one day America and other countries can implement tight rules against infectious diseases as well.