Postcards from Italy
Lessons I have learned from traveling in my own country
Lido di Camaiore, shot by me
The pandemic ruined the plans I had for this summer. I was supposed to visit Paris, I was waiting for that moment with so much excitement, but I had to cancel. After some initial disappointment, I started planning my vacation in my own country: Italy.
Rightfully so, all the people reading this must be thinking, "You live in Italy, and you're complaining?" The truth is, I've never properly appreciated Italy. Sure, even I can recognize the richness of our cultural heritage and the deliciousness of our food, but I've never been able to appreciate my country because I live in it. I always see everything with the same eyes, I don't get to discover new cultures, I rarely try new foods, and I feel like I've already visited the best areas and there's nothing left to explore.
This summer I went back to Tuscany, which is without a doubt one of my favorite regions of Italy. I've always loved it, and I have made so many memories in Tuscany due to the fact that my family and I have been there every summer since I was in diapers, but because of that, I've always tried to avoid the usual vacation. I have a pressing need to see something new, and I thought this year was the time to leave Tuscany, if not forever then at least for a while, but COVID got in the way.
That's how I found myself in the same house as always, with the same people, in a little town called Camaiore. I was very surprised to see more tourists than locals. While Tuscany itself is a very popular destination, Camaiore is so small that it seems unlikely to choose it as a destination for a trip to Italy. I was wrong. It has the perk of being twenty minutes from the sea, while at the same time being surrounded by mountains. One thing that was easy was to appreciate is definitely the climate. We didn't need air conditioning, and in the evenings it was breezy enough not to suffer from the typical heat. We reached peaks of 49 degrees Celsius in Italy this year, but that area barely reached 32 degrees during the day.
I invited my closest friends, and we went on a food tour. We spent the day at the beach (we even got drenched in rain, but that's another story) and ate out for the five days of their stay in my house. There's no need to even mention places where you can eat well because it's impossible not to enjoy traditional Italian food.
I was there for two weeks, and anyone who knows me knows I'm not a beach person. I like to keep busy, and spending the whole day on the sunbed bores me. I'd much rather visit a city, which is why I spent two days in Lucca.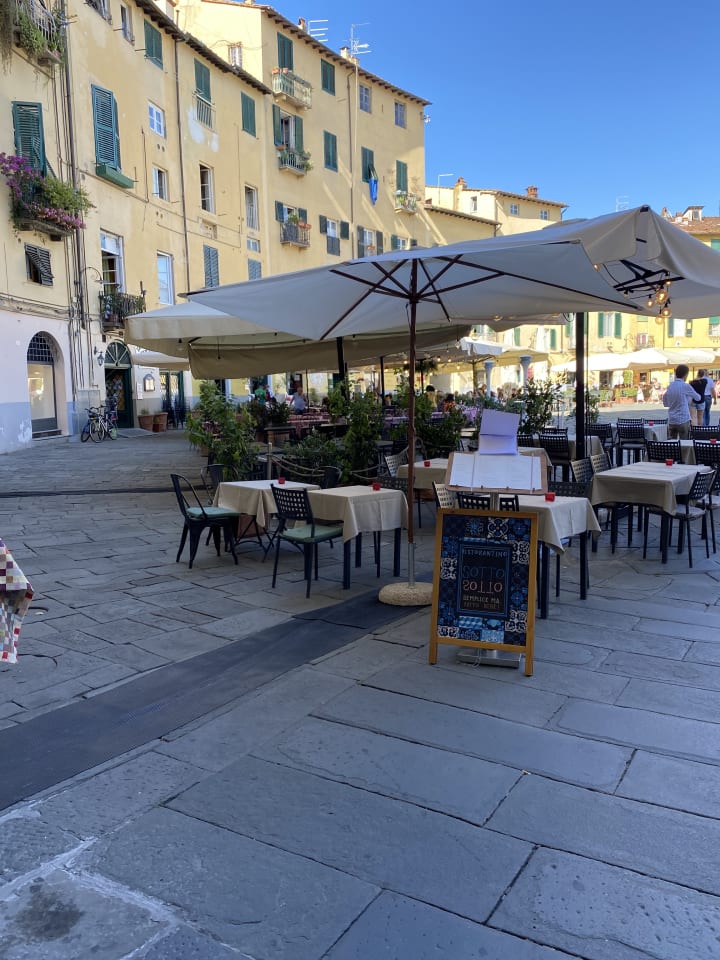 It's one of my favorite Italian cities, one of the most chaotic, always full of visitors among its narrow streets. Surrounded by massive walls, Lucca is perfect for those looking for a city where you can eat good food and stroll through well-provided unique stores. I recommend visiting during Lucca Comics & Games Festival, Italy's largest comic book, animation, and gaming festival, which takes place between October and November each year, and hosts international and local artists. Even if you don't love comic books or fantasy imagery, there's an activity for everyone, from the youngest to the oldest.
After two weeks of good wine, sushi, and focaccia, as a respectable fitness lover, I decided to spend five days in the mountains with my father. I asked him to book everything, as long as we saw a new place and had the opportunity to exercise and be surrounded by nature, and we saw the Dolomites for the first time.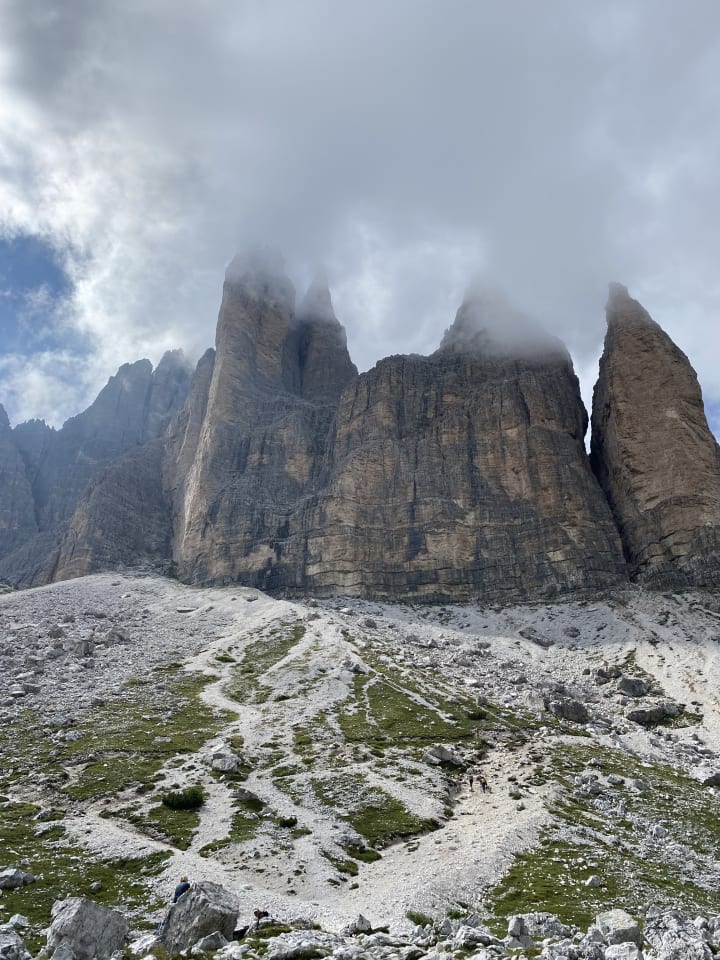 The Dolomites are a collection of mountain groups in the Eastern Italian Alps. There are so many things to do depending on the season. Since we couldn't ski in the middle of summer, we bought hiking boots and went on long hikes in the woods. There is nothing that clears the mind like a walk in nature. We saw the Three Peaks of Lavaredo, visible only from a certain angle. After practically climbing a mountain for three hours, my feet were crying and my knees were starting to give out. I was convinced I wouldn't complain, but I couldn't help it. There was no way I could stop, and once we got to the top, I thought about how good it was for me to have chosen that destination. I pushed my limits, proved to myself what I could do, and got a spectacular view and a cold beer out of it once at the top. What more could I ask for? I certainly didn't think the same after the seven hours uphill on the mountain bike, because after two tears and one too many protein bars, the only thing I was thinking about was putting my comforter on and getting a good night's sleep.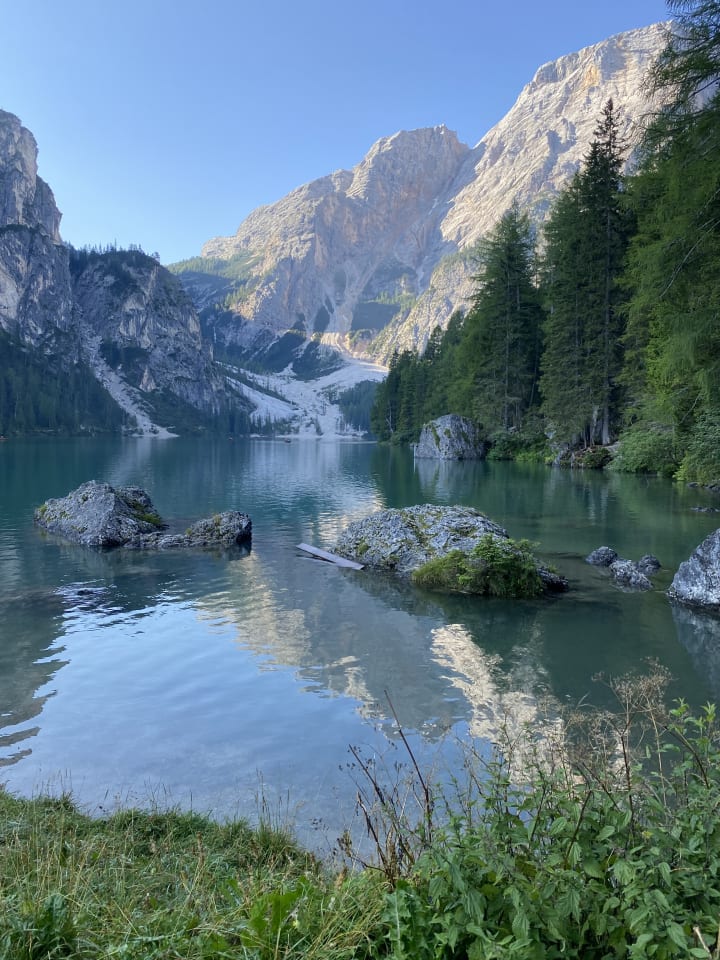 Another stop worth mentioning is Lake Braies, one of the most popular stops in Italy and known worldwide for its fairy-tale scenery. It's a little piece of paradise in the Dolomites where you can even rent a tiny boat and cross the lake.
To do something different, we tried canoeing. Not on Lake Braies, but on a river. It was definitely a chance to bond more with my dad and to keep moving, and it's proof you don't necessarily have to leave your country to do something you've never done before.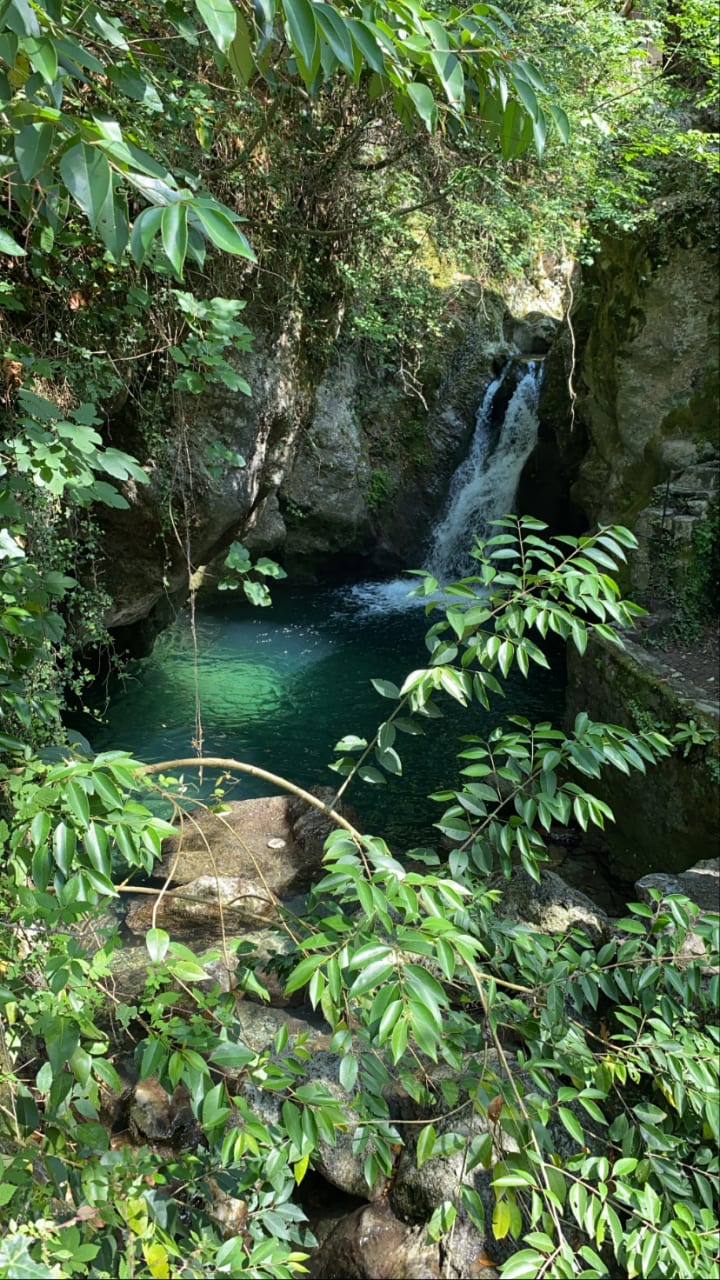 I missed a trip to Paris, but I gained new insights into myself and a view of my country with new and different eyes. Traveling to your own country opens your eyes to everything we take for granted. We all live in a place that has so much to offer, and we are often so busy worrying about our future travels that we forget to enjoy where we are. Life may take us to different countries, and I assure you that you will regret not making the most of where you live when you are no longer there. You don't have to worry about the language barrier, and you'll be able to make human connections more easily.
Traveling to your own country not only helps the economy, which surely needs help after the pandemic, but it also helps your economic resources, because not moving by transportation undoubtedly helps you save money. I have finally understood what makes Italy special, and although my thirst for knowledge will always take me abroad, I will never again miss the opportunity to travel in my own country and I will see vacations in Italy as a great gift. Then again, beauty is in the eye of the beholder.
europe
Communication major & writer. Travel and fashion enthusiast. Lover of every form of art.