Ontario in the Eyes of a Small Town East Coaster
Site-seeing, surprising a good friend, and my very first traffic jam, all in one momentous trip.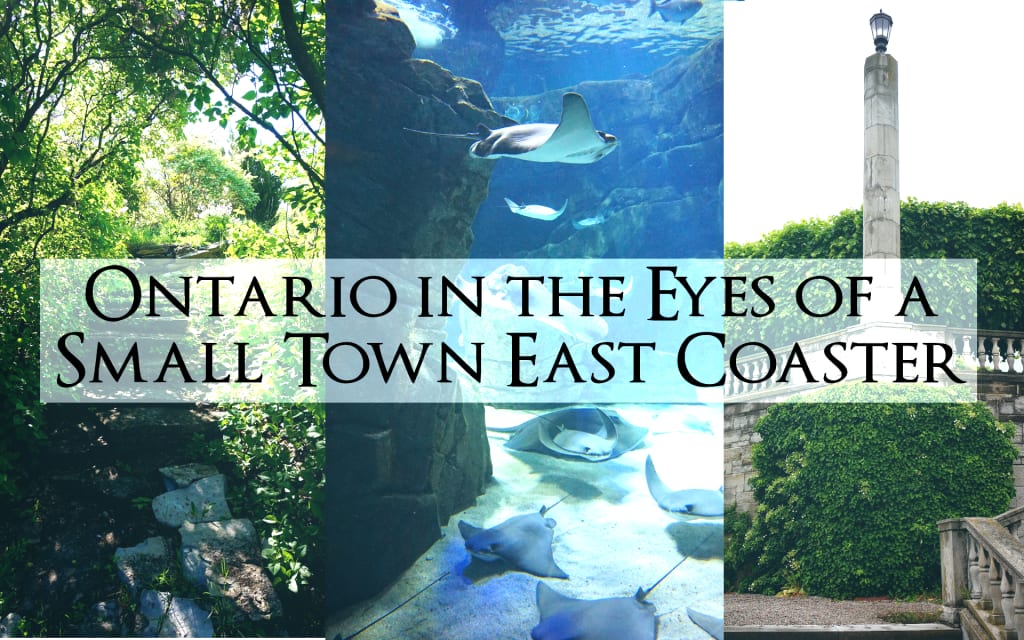 Photos by Rachael Arsenault
The train didn't jostle or rock as much as I had expected – but, then again, I had no point of comparison. My best friend sat at my right, my husband was across from me, and scenery of an unfamiliar province blurred passed out the window to my left.
That was June of 2019. It was my first ever train ride. One of many firsts on a very momentous trip.
For one thing, in my (at that point) 26 years of life, I had never left the Maritimes. For those unfamiliar, the Maritimes refers to a region of Canada comprised of three provinces: New Brunswick, Nova Scotia, and Prince Edward Island. I was born and raised on PEI, lived several years in New Brunswick, and visited Nova Scotia a few times, so those provinces are familiar territory to me. But outside of the Maritimes? Not so much.
Less than a week before that train trip, I crossed the Quebec-New Brunswick border for the first time. My husband had pulled over to the shoulder of the highway so I could hop out and take a selfie with the Welcome to Quebec sign in the background, proudly sticking my tongue out and squinting against the sun. I was just a few hours into a very long trip, and all too excited to see what the rest of the week would have in store.
Kingston
After more than sixteen hours on the road, we arrived in Kingston, Ontario to surprise my best friend for her birthday and Master's degree graduation, which fell on the same week.
(Her complete shock when we walked into her celebratory dinner was totally, absolutely worth every minute of stress and discomfort on that long-ass drive.)
Kingston was definitely different from anywhere I had ever lived before, though it certainly isn't what would conventionally be considered a "big city". It wasn't even the biggest city I had visited at that point (that honour went to Halifax, Nova Scotia). But Ontario is a lot different from PEI or New Brunswick, and I felt that difference as I passed the days around the city. Stores were different. The mall was enormous. Traffic was scarier. And I was very much aware that I was in a new, unfamiliar place.
But it was a beautiful place. And a nerdy place! That was something that definitely struck me about Kingston and helped make it feel a little more comfortable; there were so many places to buy comics and D&D minis and other nerdy paraphernalia (including Barcadia, which – yes – is a bar/arcade combo), and the atmosphere of a geeky space doesn't change much from place to place, at least not in my experience. We bought dice and researched local game nights for my friend, and returned to those stores more times than I can count in our short, week-long visit to the province.
Between my phone and camera, I snapped literally hundreds of photos of the Barriefield Rock Garden, Fort Henry, Martello Alley art gallery, and the various historic stone buildings and spooky alleys that littered the city. We visited countless cafes, puzzled our way through a nerdy-themed escape room at Improbable Escapes, and laughed ourselves silly over blacklight mini-putt.
(Let it be said right now: The people you travel with are far more important to the enjoyment of a trip than where you actually go.)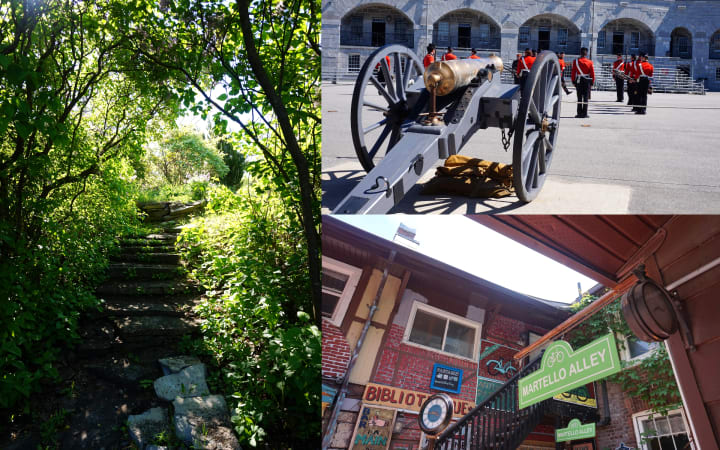 But we were in Ontario. We had driven over a thousand kilometers to get to that province, and we would be remiss if we didn't take advantage of our proximity to other, bigger cities.
So, sitting in a parking lot after eating Five Guys for the first time, I booked a set of train tickets and bus tickets for the next leg of our journey.
Toronto
My first introduction to Toronto was Union Station. And oh boy, it was a lot.
I'd never encountered any kind of station or airport or depot where it was possible to get lost before, and it had always seemed like such a strange and daunting concept when I read about it in books or saw it unfold in movies. But I understand now.
One of the exits from Union Station led right out to the CN Tower and the Ripley's Aquarium, which were our next two destinations. The CN Tower because… Well, why not? It's considered one of the essential sights for any tourist visiting the city. And the aquarium because there are only three Ripley's businesses in Canada: A museum on PEI that my husband and I had already visited, another museum in Niagara that we planned to hit the next day, and that aquarium.
We were, thankfully, able to escape the maze of Union Station and find our way to the CN Tower, at which point I experienced my first ever metal detector search. Between that and the train station, it kind of solidified that I was in an actual, for real big city.
The Tower was crowded, which I expected, but the crowd didn't overwhelm me, which I was surprised by. The one thing that always terrified me when I thought of going to big cities was how, well, big they are – there's so many people, all congregating together in one place. But I guess there's different types of crowds. Growing up in Charlottetown, there was one type of crowd that I was very well accustomed to: tourists. And the people flooding the CN Tower that day definitely qualified as tourists.
(I should also note, to be fair, that we hadn't gone to the Tower at peak business hours. If we had shown up earlier in the day, maybe the crowd would have overwhelmed me; I think it's lucky that I didn't have to find out.)
The Tower itself was beautiful, especially the view from up top. Seeing the city laid out before me made it seem big and small all at once, everything shrunk by our altitude but still definitely bigger and taller and more than anything I had ever seen before. Probably the tallest point I'd been to before that was the top of a lighthouse, and all I had to look out over at that time was the endless, crashing sea.
City sprawl and sea sprawl are definitely worlds apart. Personally, I prefer the sea.
Our next stop was the aquarium, which is… hard to describe. For one thing, I was my first time at any kind of aquarium, let alone one as massive and incredible as the Ripley's Aquarium. For another, there's just this atmosphere to the space that makes it feel separated from reality, like its own little pocket dimension flooded with wavering, blue-tinted light and surrounded by all sorts of undulating and slithering and floating creatures. Time didn't have the same hold in that space. I could almost forget when I was and where I was and why I was.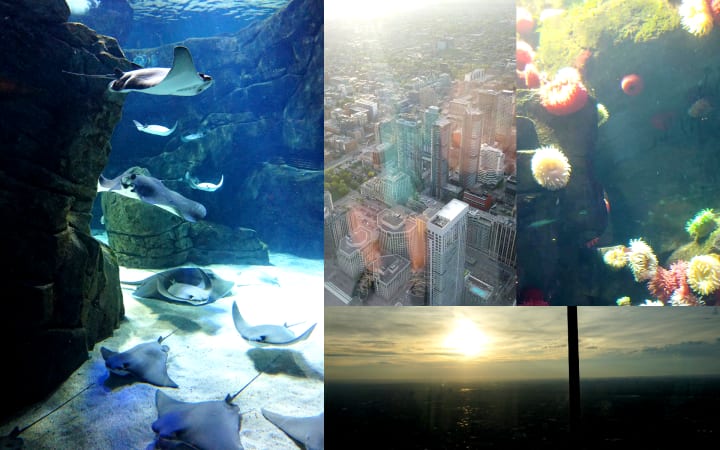 But, eventually, we had to leave.
The rest of the evening was uneventful. We got dinner, slept in a hotel room, I almost got run over by a cop car while crossing the street at a green light – you know, normal big city stuff. Nothing to write home about.
But the morning – the morning brought a new adventure.
Niagara Falls
We travelled to Niagara Falls by bus, and that was a lot more familiar to me. I'd bused to various places in the Maritimes over a dozen times; the difference of provinces didn't actually change much.
It was raining when we arrived, so we had a long, wet walk from the bus station to the waterfall. Which, honestly? Was fine. Of all the days for it to rain on our trip, this was perfect timing. It wasn't like we were planning to stay dry on the boat tour.
The road leading down to the dock for the Hornblower was steep, lined with tourist traps, and incredibly busy. But, again, this was the kind of crowded I knew. My husband, my best friend, and I quickly found parts of our original itinerary flying out the window as we realized how much there was to see and how little time we had to do it – our bus back to Toronto left in just a few hours, and not even two hours after our return to the big city, we were scheduled to catch a train back to Kingston.
But we had two clear priorities: the Hornblower boat tour past Horseshoe Falls, and the Ripley's Museum.
There was a long wait in line to get onto the boat, and my best friend and I recorded videos of ourselves laughing and cheering and chattering excitedly about the coming boat ride, already getting doused from the spray of the falls even from a distance. We had all prepared for this part of the trip by carefully sealing phones and other electronics in bags, putting on our raincoats, and doubling up with the ponchos provided by the boat tour itself.
The boat, when it left port, made a slow circle through the water, and every inch we moved closer to the massive waterfall intensified the spray, until we might as well have been standing naked in a hurricane for all the protection our rain gear offered us. We were freezing, soaked to the bone, and absolutely laughing our asses off.
(It occurred to me that I also, potentially, technically crossed into the US during that tour, but it's hard to really say.)
Taking on the falls first was definitely a good choice, not only because it gave us ample time to wait out the line-up, but also because it meant we had a chance to dry off a bit before we had to sit through another long bus ride.
The rest of that afternoon brought us to a few attractions lining the street near the Hornblower. The Ripley's was the focus, but this one wasn't quite as awe-inspiring as the aquarium, in large part because I had visited one of their museums before. We had lunch at the Hard Rock Café, surrounded by more music memorabilia than I could wrap my head around, and popped into a kitschy gift shop to buy postcards and a snow globe – which my husband promptly broke immediately upon exiting the store. Such is his luck.
But of the unplanned stops on this short portion of our trip, I think my favourite one was also the most accidental.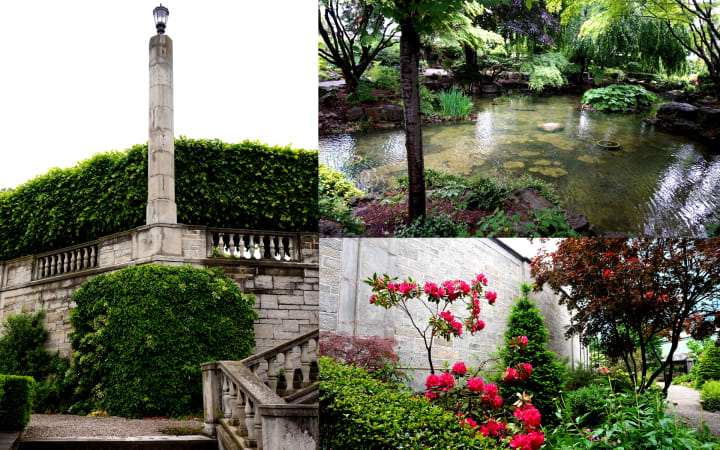 Tucked away not even 200 meters from where we caught the Hornblower boat tour was a magical little oasis called the Oakes Garden Theatre. Filled with lush foliage, beautiful stonework, and even a small pond, the quiet, quaint little space felt a million miles away from the hustle and bustle of tourists. This was the only time during our visit to Niagara Falls that I wished the rain would stay away – I would've taken hundreds of pictures here if I could have.
But, unfortunately, the rain did return. And more importantly, we had to return – first to Toronto, then to Kingston, and then finally all the way back home.
Toronto (Reprise)
Though we returned to Kingston for a bit after this, I'm considering this very brief stop in Toronto the grand finale of the trip.
Our first sign that something was wrong was on the outskirts of the city. Our bus had slowed to a crawl. I found myself obsessively checking the time on my phone. I worried there had been an accident that was holding up traffic, but my husband and my best friend and I all agreed that this was probably just typical city delays – it was right around supper time, after all, which sounded like prime time for rush hour.
Eventually, we crawled forward into the city itself. The streets were packed. I kept thinking we were about to clear whatever traffic snarl was tying us up, but we would only cover maybe a hundred meters before completely stopping again. This lasted over an hour.
It took a very, very long time during that wait before anyone in my little nerdy group realized what day it was, and why traffic was so especially bad. There was a Raptors game that night. No, not a Raptors game – the Raptors game. The #WeTheNorth, final game of the season that everyone had been raving about for weeks.
And we were stuck in traffic, the clock ticking for us to catch a train that absolutely would not wait for us.
(It occurred to me that I was stuck in my first ever traffic jam, but that was, unfortunately, one first I could have done without on this trip.)
When the bus finally reached the depot, we had about half an hour to spare. There was no time to get supper. No chance to visit local bookstores or comic stores like we had suggested earlier in the day. But that was fine: We had 30 minutes to cover what would normally be a fifteen-minute walk. But the sidewalks were just as packed as the streets.
We made sure our bags were secured and hugged close to our sides as we pushed through the crowds, rushing toward Union Station as fast as we reasonably could. (And I did my best not to think about how long it had taken us to find our way around inside the station upon arriving to the city, and what that might mean for actually making it to our train on time.) All around, people were cheering, people were yelling, people wore Raptors caps and jerseys and carried flags. Car horns blared – there was the sickening crunch of metal as one car tried to shove another car forward in the gridlock, road rage taking hold. An ambulance siren wailed; I caught sight of it in the distance, lights flashing, just as trapped as the rest of traffic, no one able to move out of its way. When we hurried across crosswalks, there was barely enough room for us to squeeze between cars, and my heart pounded in my throat as I wondered if the angry drivers trapped in this traffic would crush my legs as thoughtlessly as they crushed someone's bumper.
Finally – finally – Union Station was in sight. We had ten minutes to spare.
(Thankfully, finding our point of departure was far easier than finding an exit had been when we arrived the previous evening, and a train delay meant we even had time to pee before boarding.)
Oh, and for one final, "small town girl in the big city" moment? While waiting to board our train, the floor under my feet started to rumble and shake, and for a few, bewildered seconds I wondered if Toronto experienced earthquakes.
Then it clicked: Toronto has a subway. I was feeling a subway train drive by underneath me.
Maybe, next time I venture out into the wild world of big cities, I'll actually ride a subway. But for now, I've experienced enough firsts to last me a good long while.
canada
Rachael Arsenault is a Canadian author with a BA in Sociology and Native Studies. She's a hippie at heart, a D&D nerd, and a pun enthusiast.
Amazon: https://www.amazon.com/-/e/B01GK8F672
Instagram and Twitter: @rachaellawrites
Receive stories by Rachael Arsenault in

your feed