Guides
New York City: The Big Apple for a Small Bite
A Guide on Visiting New York City on a Budget and the Top Five FREE Things to Do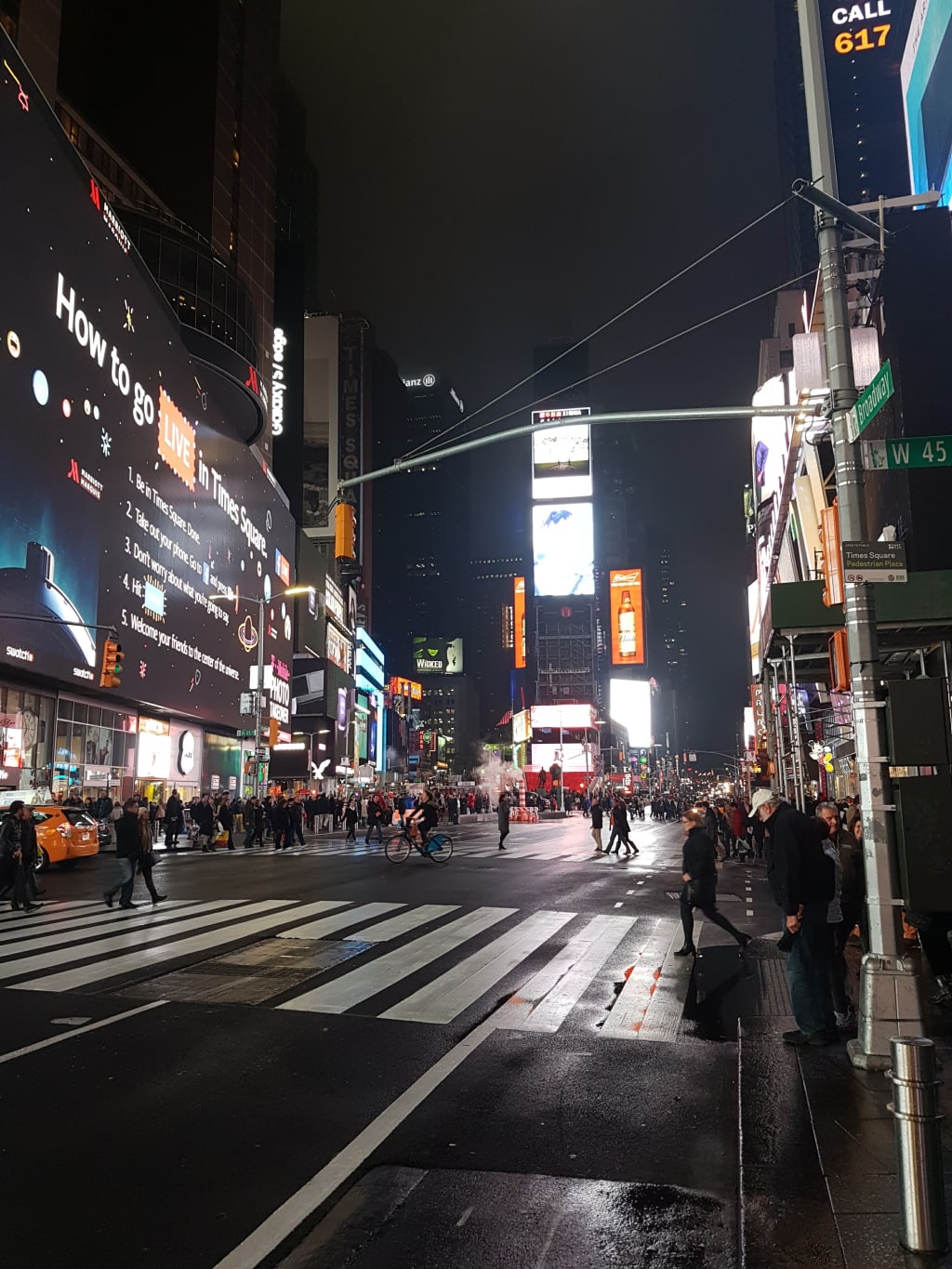 Times Square, New York City.
New York is the dream destination for many people, but often is perceived as out of their price range and unfeasible. With bright lights, thousands of high end shops, beautiful parks, and the famous New York hotdog, it is clear where the desire to visit this vibrant and amazing place comes from.Visiting New York, although extremely popular, is often put off because of the perceived cost of visiting the city. However, booking a flight to NYC for the week does not have to break the bank at all, and if planned well, can fit in to most budgets.
Where to stay?
Besides flights, the biggest expenditure of the trip will undoubtably be the accommodation, with websites such as airbnb.com and booking.com offering low cost accommodation across every part of the city. Depending on the traveler, the ideal budget accommodation would be "hostels," with many hotels in Manhattan offering dorm rooms (same sex or mixed) for an incredibly affordable price.The Blue Moon Boutique Hotel in lower Manhattan, which is only a few subway stops from Times Square, offers a five night stay in a mixed dorm room from £289, whilst hostel prices for five nights start at as little as £180 (booking.com). Areas in New York make a huge difference on your stay in the Big Apple, as some subway lines close at an earlier time which can leave you stranded and paying for a taxi. Staying in Brooklyn or Midtown enables you to stay out later and spend less time traveling on the subway, which gives you more time to explore the city.
Cheapflights.com or skyscanner.com should be every budget traveler's go-to sites for booking flights to any destination with regular low price deals to popular destinations like New York's JFK airport. With flights starting around £340 for a round trip ticket and even changing the game offering finance options on flights. Traveling to NYC for five nights with flights and accommodation for just over £500 could now make people's dream holiday become a reality.
Where to eat?
You have managed to save and budget in order to book flights and accommodation for your stay in New York, but surviving and keeping well fed in such a large, expensive city can seem like a daunting challenge. Food and drink is everywhere in New York, with coffee shops, delis, street food, restaurants, and pizza shops, it is easy to get carried away and blow the budget on the first big dinner.
For a budget traveler in NYC, dollar pizza shops are readily available, with the slices being bigger than the plate. This saves a lot of money on food by utilising these shops and prioritising experiences and exploration over high cost meals. Of course, a night or two in a restaurant won't completely break the budget; however, you are able to save more money by looking out for coupons and promotors (usually in times square) which can cut the price of the bill by as much as 50 percent.
Something that always gets overlooked on a lot of trips is breakfast, cutting costs that can be avoided is key if sticking to a budget. Hotels often come with the option of breakfast, usually included in the price or for a small extra fee. Filling up first thing in the morning starts the day well and opens up a full day of exploration, whilst staying full till lunch time or a midday snack. It is said that breakfast is the most important meal of the day, and in a city like New York, you need plenty of energy to see everything it has to offer.
What to do?
The first thing anyone should do when they step foot out of their accommodation for the first time in New York is head to the nearest subway station and get themselves a seven day subway pass. For around $35, it is well worth the cost, and makes traveling around the big city effortless.
Separating the city up into sections for each day is a key way of making sure that you have enough time to see all the sights and not missing anything along the way. If you are on a budget in NYC, then not to worry, some of the best sights to see are completely free or very affordable. Comedy clubs in New York, usually located in or around Times Square, can be a great way of having a night out whilst keeping it cheap. There are lots of ticket sellers on the streets who are able to give a good price for show tickets and can easily be haggled with. Comedy clubs usually require a minimum number of drinks to be ordered (one or two) and for alcoholic drinks, can be expensive, but soft drinks are around $5.
Times Square and Central Park are in close walking distance of each other and are both completely free. You will be able to spend at least a full day in this area, with beautiful views of the city from Central Park in both winter and summer. Both places are never free of entertainment in the form of street performers, which are to be sure to keep you occupied. Lower Manhattan also offers a lot in terms of free sight seeing. Here is a top five list of the best free things to do completely for free in NYC:
Top 5 FREE Things to Do in NYC:
Times Square: 24 hour bright lights, street performers, street food, and the biggest shops you will ever visit. The Times Square experience is a must, for anyone visiting this city.
Central Park: Summer or winter, Central Park offers beautiful views, and a relaxing break from the busy streets of the city. Central Park can easily occupy a full day or more.
Brooklyn Bridge: A beautiful example of awe-inspiring architecture, and a historic landmark of New York. A main photo point for thousands of tourists.
Ground Zero, One Wold Trade Centre: A breathtaking memorial park for the tragic events that happened September 11th; a moving experience for all. The option to pay to visit the 9/11 museum, which is worth the experience.
Staten Island Ferry: A free ferry, sailing past the Statue of Liberty taking you to Staten Island, with spectacular views of the whole skyline of the city along the way. For the best views, go in the evening and see the lights of the city light up the night sky.
The fact that there is so much to do in New York for completely free means that five days at least can be filled with sights and exploration of the "city that never sleeps" without spending a penny. Of course, depending on your personal budget, certain paid activities are available depending on your personal interests and fear of heights, and it is advisory to pre-book, as there are usually available discounts.