My Top 5 places to Put on Your Bucket List
Exploring the world isn't just for Dora...!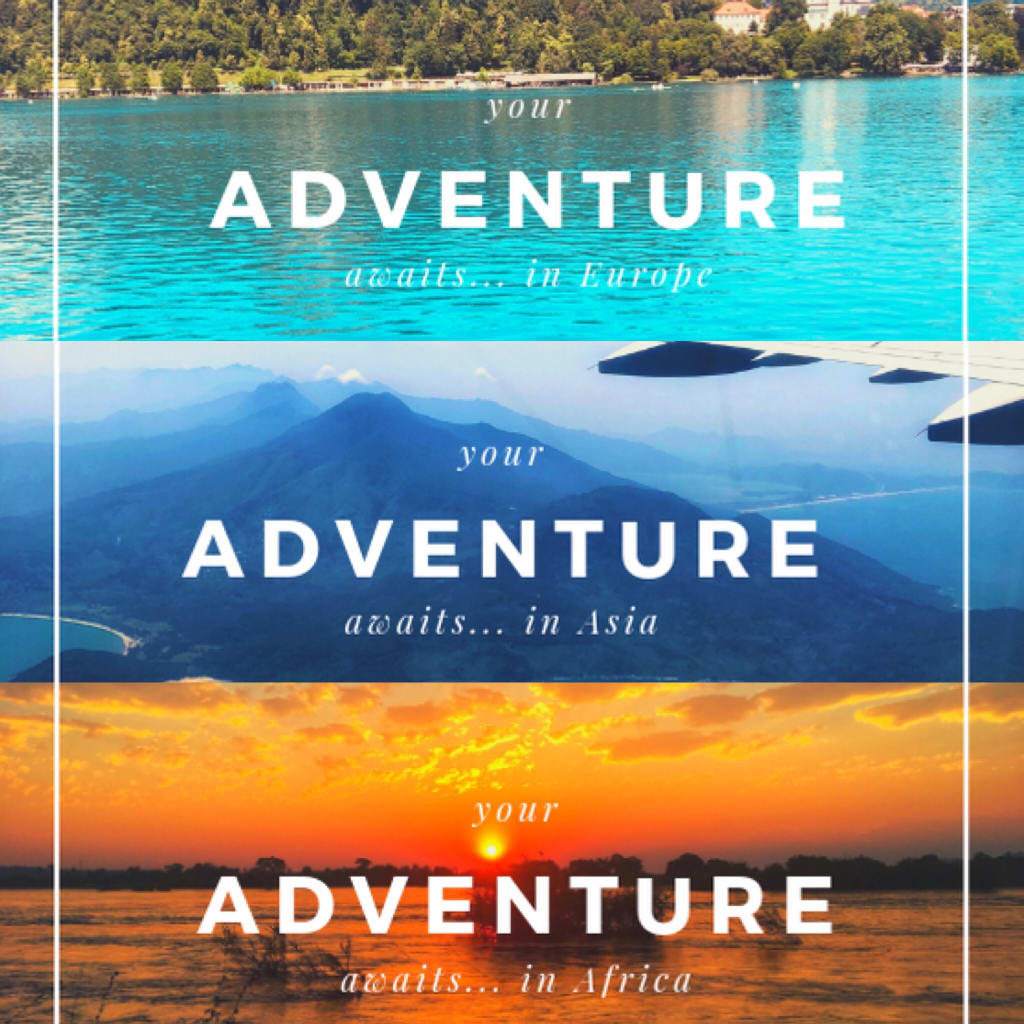 Europe...Asia...Africa and hopefully more to come!
As I am only just counted as an adult (20), you may be thinking, why on earth do you think you know enough about this planet to tell me where I should spend my money visiting? Fair enough, I would reply. However I've now been to 30 countries, and in the last few years, in particular, I have found my passion for traveling, reading about places to visit, and spending more than my student loan can cope with on travel. It's a passion. It's an expensive hobby. It's something that makes my life spectacular.
I personally have a bucket list of places I want to visit, but I can't really give any first-hand knowledge about those places. FYI they do include South Africa, Peru, Canada, Australia, and Serbia. Hopefully in ten years, I'll be able to recommend each of them, but for now, here are five places I'd highly recommend you visiting!
1. Victoria Falls Zambia/Zimbabwe
I'm starting with a bang, because this is one of the most breathtaking places I've ever been to. I went traveling around Eastern Africa, and followed my boyfriend's advice that this location was a MUST. We went in April, meaning that the amount of water there was more than in the peak dry season. This meant that several activities you can do at the waterfall, such as swimming in the pools and water rafting weren't safe to do. Therefore I'd probably recommend going in the dry season, from May to October. Nevertheless, the view of the falls was incredible enough that it's worth going no matter when you manage to get there.
River Zambezi (leads up to the falls)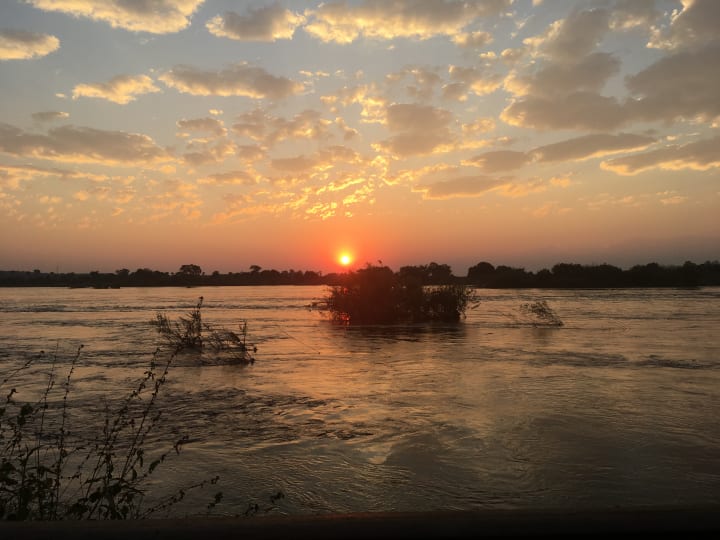 Here are some quick facts about it from my own brain, and from this website.
Victoria Falls is the only waterfall in the world with a length of more than a kilometre, and a height of more than a hundred meters
The Falls themselves 28/05/17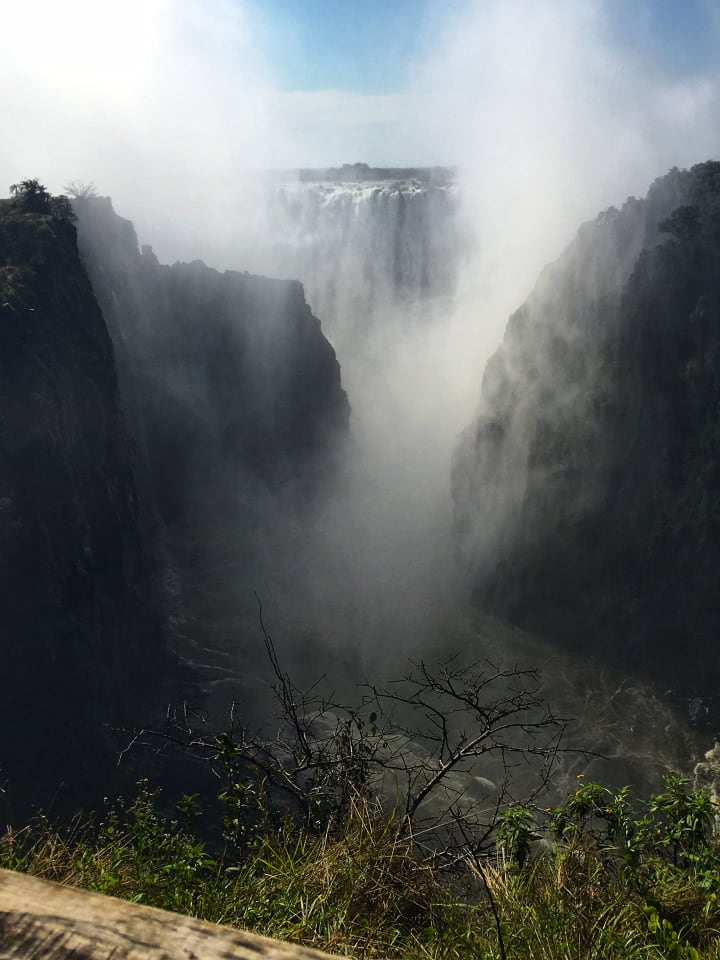 The noise of Victoria Falls can be heard from a distance of 40 kilometres
In the dry season, you can swim in pools near the edge of the falls, called devil's pools
You can visit the park from Zambia or Zimbabwe
You can take part in activities such as white water rafting, bungee jumping off the bridge nearby, zip lining, swimming and hiking around it.
There are loads of monkeys around the falls, on the paths you can walk along
2. Lake Bled, Slovenia
As part of interrailing, I visited Lake Bled, which honestly exceeded our expectations completely. A beautifully blue lake with a castle-like building in the middle, I could've stayed there for weeks. We did go for a dip in the lake—not for the faint-hearted, despite it being July! It was refreshing, to say the least! There are beaches and viewpoints all around the lake, and lots of activities to do too, such as Canyoning, boat trips, and horse riding.
Lake Bled 16/06/18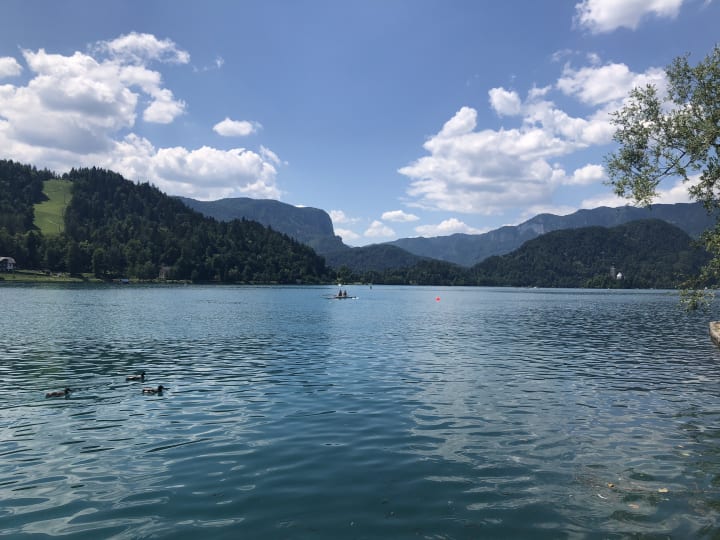 Here are some facts about it (from my memory and this website).
It takes about 1 hour 10 to get to the lake by bus
It's free to walk around!
It was formed from a glacier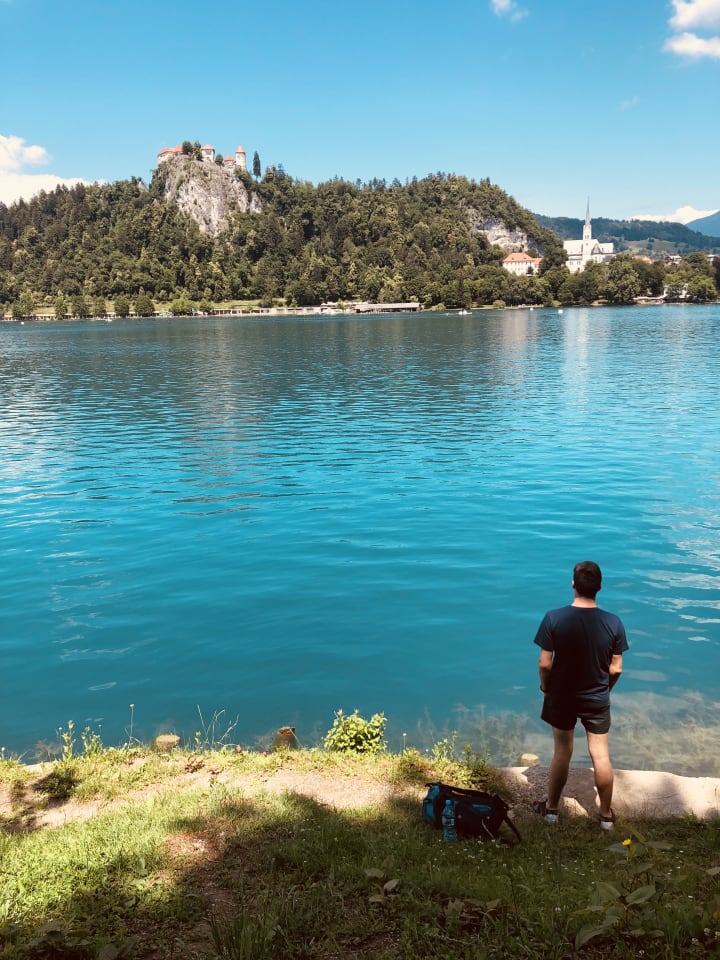 It is 2120 meters (6,960 feet) long, up to 1380 meters (4,530 ft) wide
There's a castle overlooking the lake called Bled castle
In the middle of the lake on an island (of sorts) is the Church of the Assumption, which makes the lake even more "instagrammable" due to the greenery surrounding it, and its bell tower.
3. Ko Samui, Thailand
An island found off the Eastern coast of Thailand, Ko Samui is a vibrant, yet relaxing paradise. Suitable for all ages, but especially for younger people who enjoy going out for drinks on a night and dancing—as the nightlife is (from experience) very fun. The beach was, however, the best part. Gorgeous sand and the water was so warm and beautiful to look at too. There is so much culture in Thailand, and Ko Samui is no exception. You can also island hop to the other nearby islands, such as Ko Pha Ngan (where the full moon beach parties are too!)
If you don't want to party, this island has plenty of other activities to do from visiting the big Buddha and the fisherman's village to watching ladyboy cabaret shows and relaxing on the beach!
Walking along the beach at sunset 18/04/19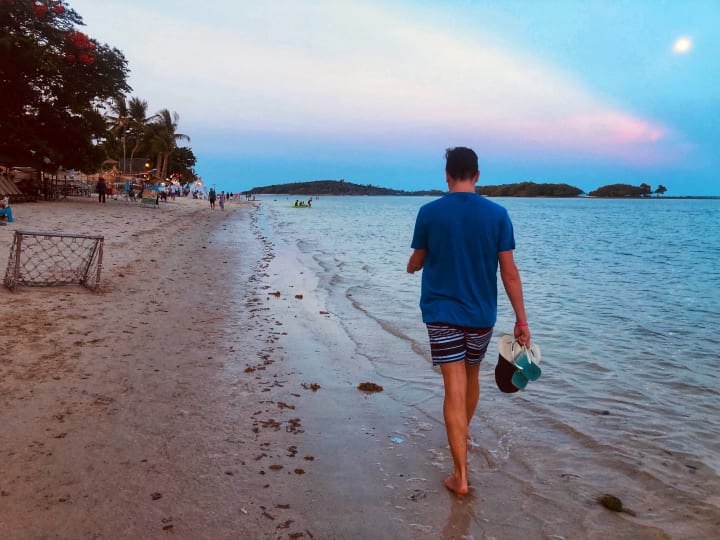 Some facts about Ko Samui (thanks to this website).
The busiest place for tourism/nightlife in Chaweng
Green Mango club is brilliant for a night out, especially if you like dancing
Nightlife in Chaweng!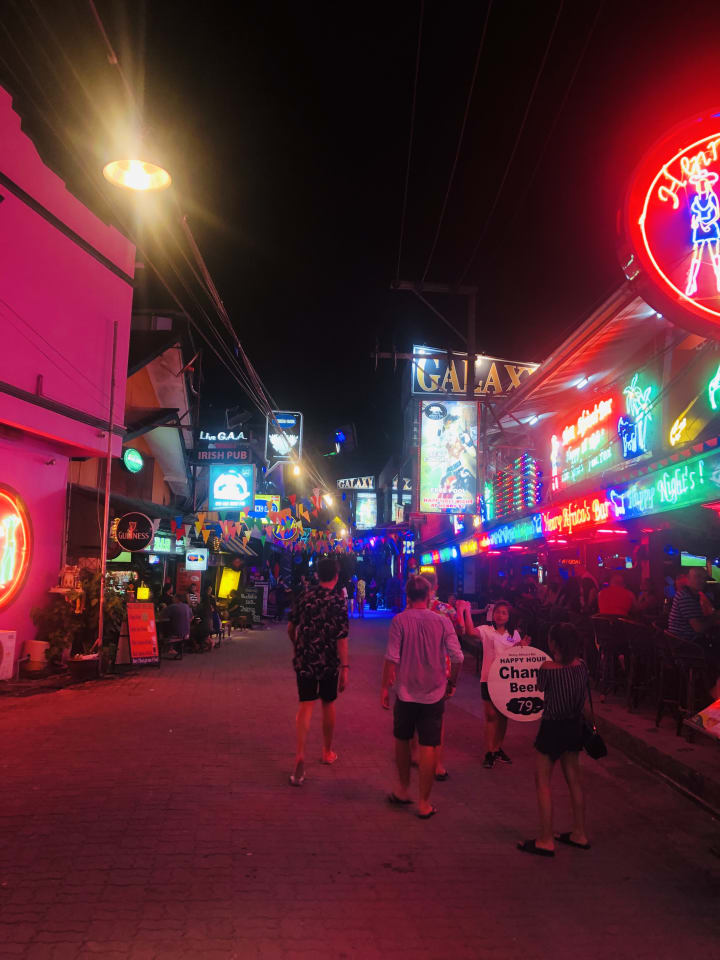 Ko Samui has an annual event called Samui Regatta, which is a sailing competition with competitors coming from surrounding countries such as Australia and Singapore.
There are four waterfalls to visit in Ko Samui
You can go diving there with whale sharks
Best weather is in February/March, so get your flights booked!
4. Angkor Wat, Cambodia
A famous UNESCO World Heritage site, Angkor Wat translates to the "city of temples," located in Siem Reap, Cambodia. There are many temples surrounding the Angkor ruins (it stretches over 154 square metres). Despite the 40 degree heat and 80+ percent humidity, walking around the main temple (seen below as the typical "Angkor Wat temples") was just incredible. There is also so much history and culture linked to the site, so having a tour guide would definitely be worth it! Handy hint: get a "tuk-tu" from temple to temple, because of the heat and distance!
Famous view of Angkor Wat 28/03/18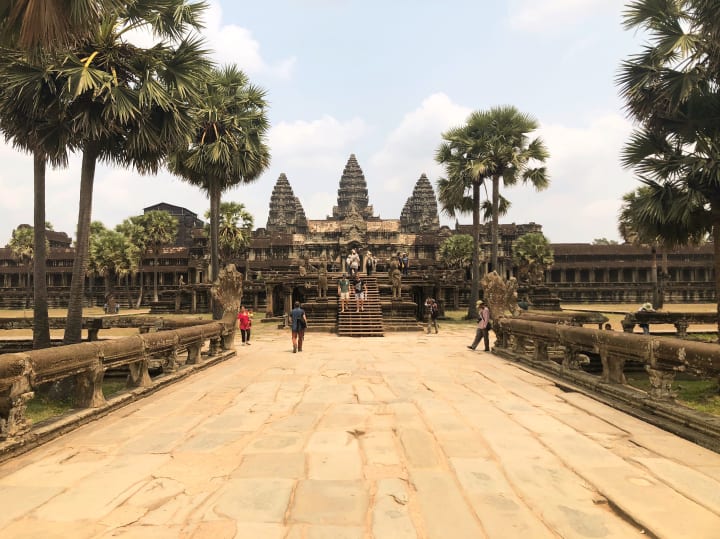 Inside the temple, there are lots of places to pray to Buddha as seen below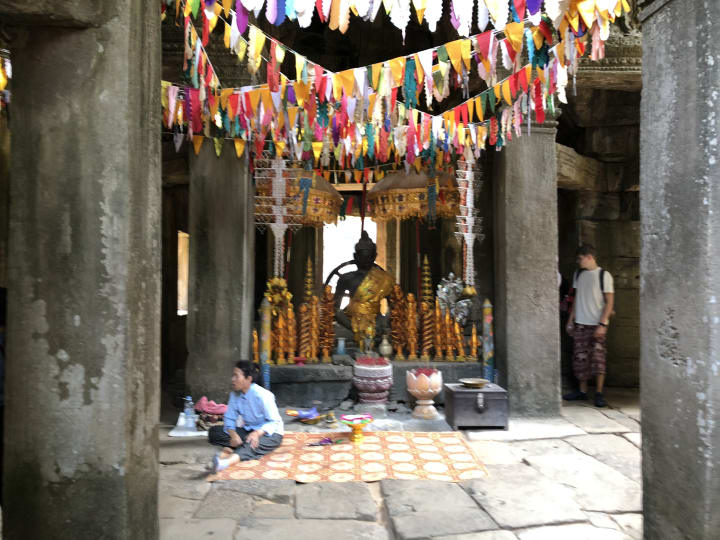 Here are a few fun facts, thanks to this website.
New temples in the Angkor ruins are found every year!
Angkor Wat is the reason that over 50 percent of tourists visit Cambodia from international countries
Originally the temples were based upon the Hindu religion, however, it was converted to Buddhism in the 13th century, and they are still used by Buddhists today.
A single day pass to the temples costs US $37, and from experience, it is a full-day activity, which requires lots of ice cream and water breaks!
5. Singapore, Singapore
This is very different in terms of the pull of this location, which wasn't because of the culture or beautiful natural landscape. My favourite things were the gardens of the bay and Spectra—the light and water show—both of which are man-made to some extent. Usually, I prefer natural wonders, but there was just something amazing about Singapore, with its great looming buildings and creative sculptures.
I'd recommend the following activities, which fall on the cheaper side of activities to do. If you are willing to spend a bit more, there's plenty of malls, hotels, and experiences which cost more: including visiting the famous Marina Bay Sands (see photo below).
Marina Bay Sands Hotel: famous for its shape and rooftop infinity pool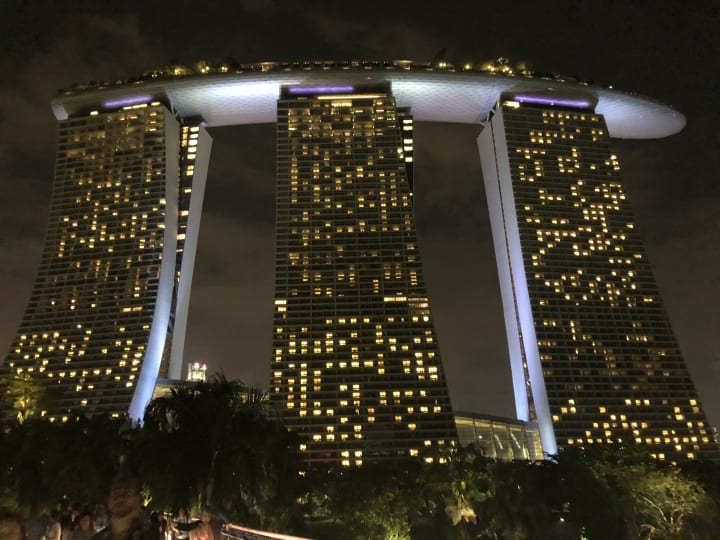 1. Visit the Gardens of the bay (free to walk around, can pay for certain activities)—has a free musical performance which is definitely worth visiting
They play music and there's a light show, suitable for all ages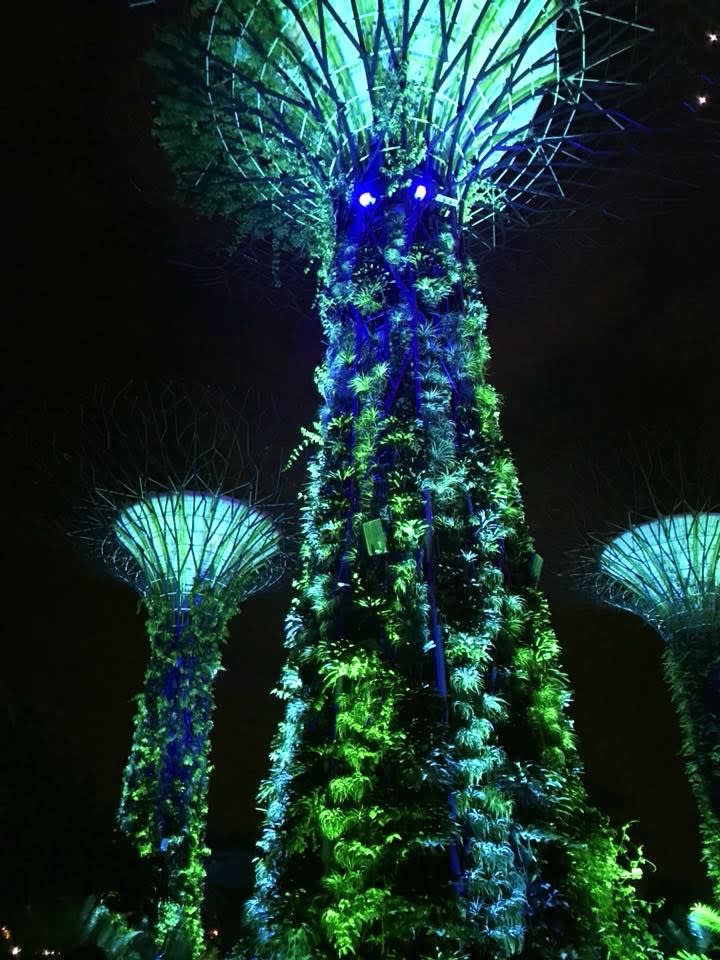 2. Watch Spectra (the light and water show held by Marina Bay Sands hotel), which is free to watch, but make sure you get there early for a good spot!)
3. Singapore Botanic Gardens which is free apart from the orchid gardens, and is a refreshing change from the bulky city around it.
4. Visit Sri Mariamman Temple, which is a national monument and is free to visit but absolutely beautiful.
Hope this inspires you to travel a bit in the near future! Will be posting more travel content soon.
Lots of love.