Meeting the Bats in Austin
A Night Out in Austin, Texas
Thousands of bats emerging from South Congress Bridge
I recently moved to Austin, Texas and I am really looking forward to discovering everything my new hometown has to offer. Watching the bats flying out at night has become a very popular thing to do in the summer time and I didn't want to miss out on the experience.
Bats in Austin?
I would never have guessed it, but a million and a half bats live under the bridge on Congress Avenue downtown, making it the largest urban bat colony in North America. They stay in Austin in the warm months of the year before they fly back to Mexico. Females come to Austin to give birth and they emerge at dusk to go hunting for insects, offering an impressive show so make sure you bring a camera. These Mexican free-tailed bats, also known as Brazilian free-tailed bats, are incredibly fast (up to 60 miles per hour) and although we did see someone with a drone, I would probably leave mine at home for this event!
I heard it depends on the weather, but you can see them every night from March to October. They usually fly out at the largest number in the end of July and beginning of August.
The Best Place to See Them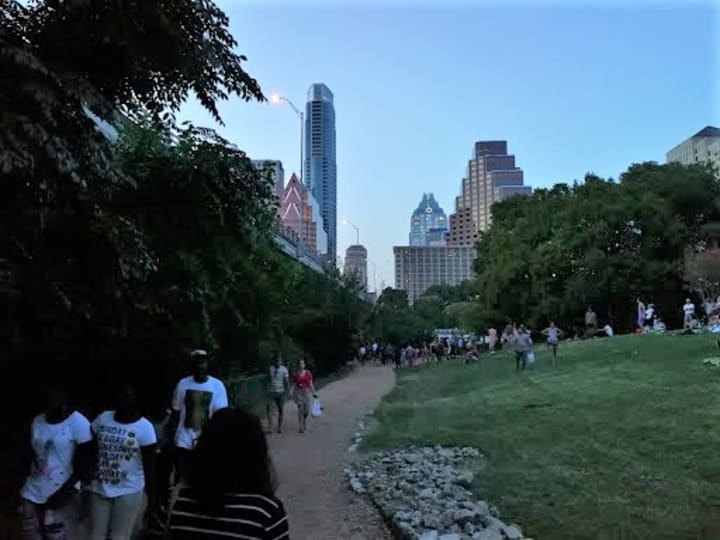 You can't miss the crowds waiting on the bridge facing East every night, right before sunset. It is a great spot to watch the bats and enjoy the view over the river. Make sure you are on the right end of the bridge though. The first time that I went with my husband, we were standing on the North end of the bridge and all the bats emerged from the South end of the bridge, close to the Statesman Bat Observation Center. We were at least able to see the endless flow of bats flying from afar.
We had to go again and made sure that we had a better view. We went to the small park located between the Bat Observation Center and the river (the Observation Center's viewing area). As soon as we arrived, we could already hear all the bats waking up. We watch them as they started to swirl under the bridge, before flying out for a good 15 minutes around 8 pm. Apparently, there were already fewer bats on this mid-August evening than a couple of weeks earlier, but the dark cloud forming above the river was still impressive to see. If you are like me, you will also love enjoying a nice sunset.
Traffic in Austin is always pretty bad so a trip downtown requires a little organization. You can find several covered parking lots nearby for $10. The Observation Center, across the street from the famous big bat sculpture, remains the most convenient parking option right by the bridge, for $6 for four hours.
Make It a Night Out Downtown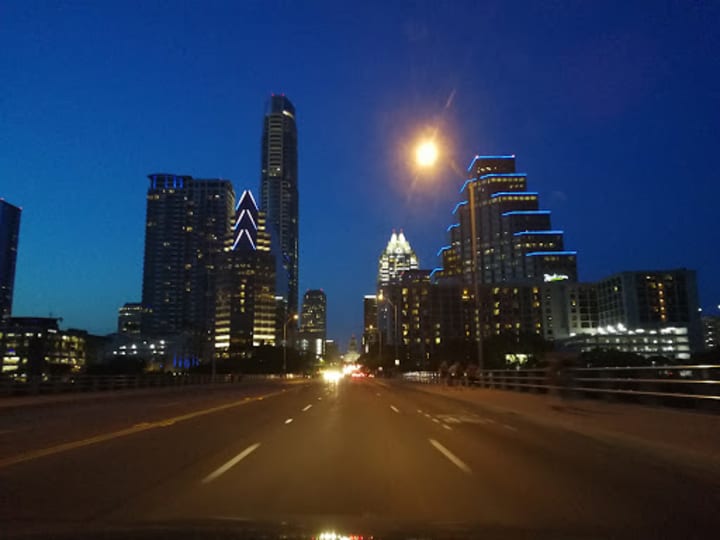 We took the opportunity of being downtown to go try out some food trucks that Austin are also famous for. We went to the nearby Picnic - Food Truck Park on Barton Springs Road where you can find several food options and good atmosphere.
Between restaurants, bars, and live music, there is also a lot to do on 6th Street located a few minutes away from Congress Avenue Bridge.
Some activities are available as well to enjoy the downtown area and watch the bats, like boat rides or kayaking tours if you like being on the water. You can also rent bicycles and ride along the river.
Watching the bats is definitely a fun experience to have when in Austin. While I'm sure I will be back next summer, go ahead and add it to your own summer bucket list!