Koh Tao, Thailand, Part I
A trip we're sure to never forget.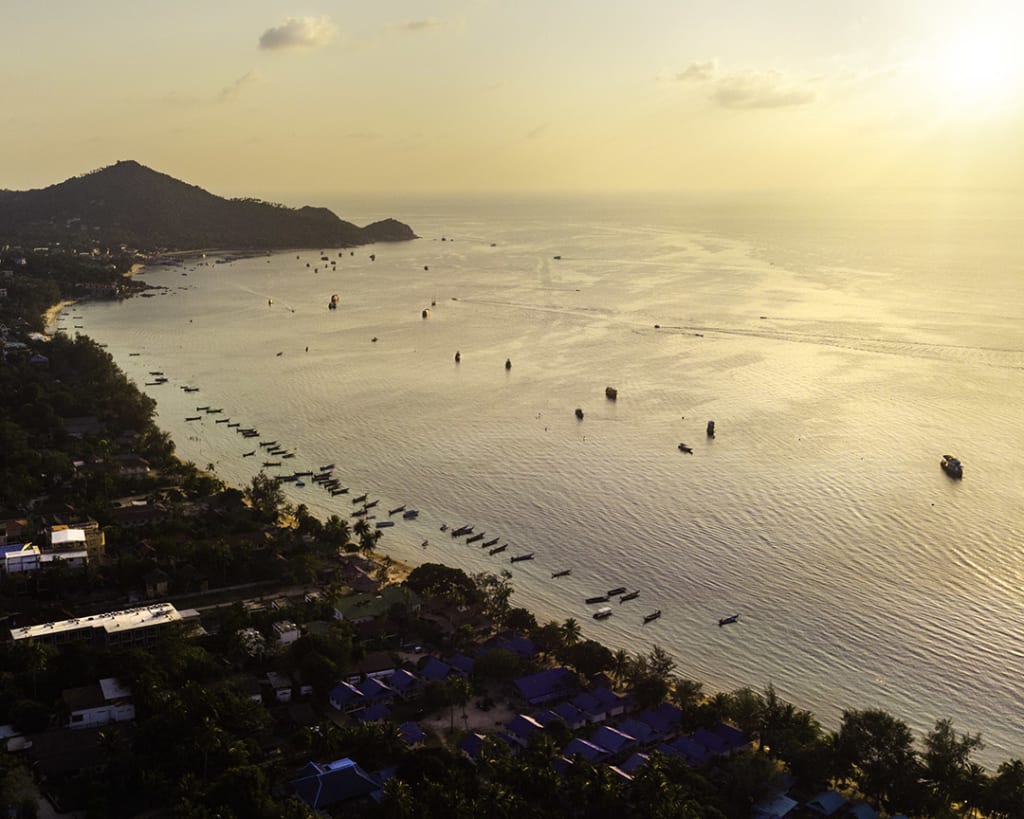 Sunset Ariel View of Sairee Beach, Koh Tao.
Ko Tao (also often Koh Tao; Thai: เกาะเต่า, pronounced [kɔ̀ʔ tàw], lit. ''Turtle Island'')
This year I made a dream of mine a reality, and I hope to one day return to that dream, on the magical island of Koh Tao, in the Gulf of Thailand. Surrounded by white sandy beaches, incredibly complex coral reefs, world class diving, absolutely bonkers local cuisine and a vibe that is slow to wake up in the morning and late to go to bed at night, Koh Tao truly offers it all.
Stretching a mere 21sq km, you can traverse the steep, hilly terrain across the entire island in just a few hours. Good luck though, as you hike you will encounter an abundance of hidden gems, making the trip sure to last you all day and keep you coming back for more. If hitting the steep inclines by foot isn't your jam, Koh Tao is famous for its scooter use and if you dare to saddle up, an exhilarating ride along with the legendary Koh Tao Tattoo may follow, heed this as a warning.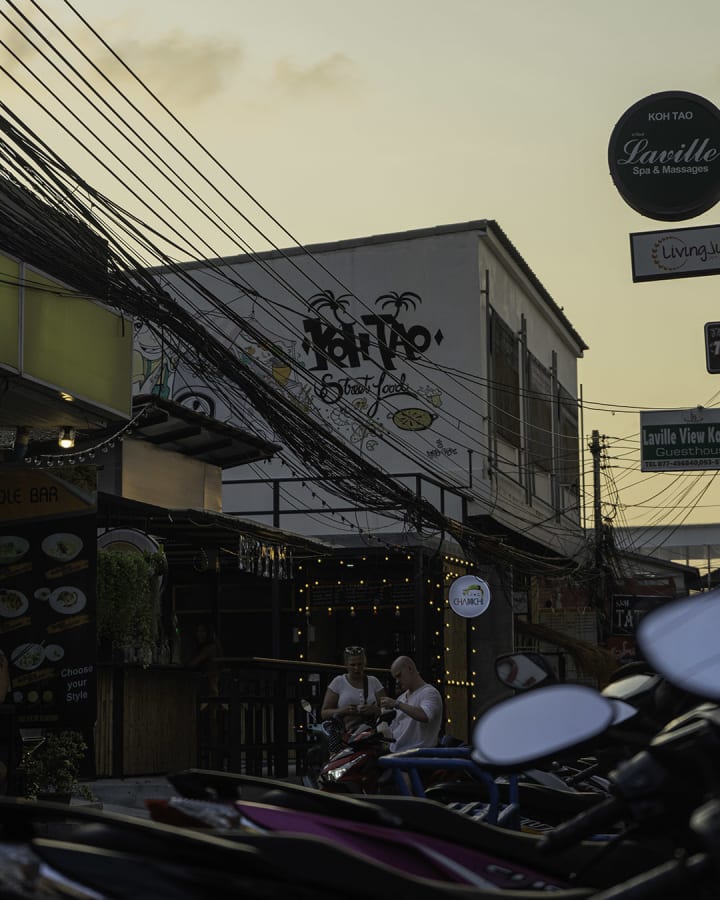 A sincerely quiet island with few inhabitants, as little as 1500 locals call this place home. It has only been lived on for a short period of time and in just the last 20 years it has become a mecca for scuba diving and tourism, this has shaped the landscape and brought a fantastic array of establishments from hotels and restaurants to hostels and Airbnb's.
Along these winding paths and tiny streets you find local cuisine, smiling Thai locals, stretches of white beach, fresh fruit smoothie stalls and water as warm as the air but clean and clear and blue, for the most part. We did encounter trash on multiple beaches and the effects of this are always haunting, all you can do is play your part.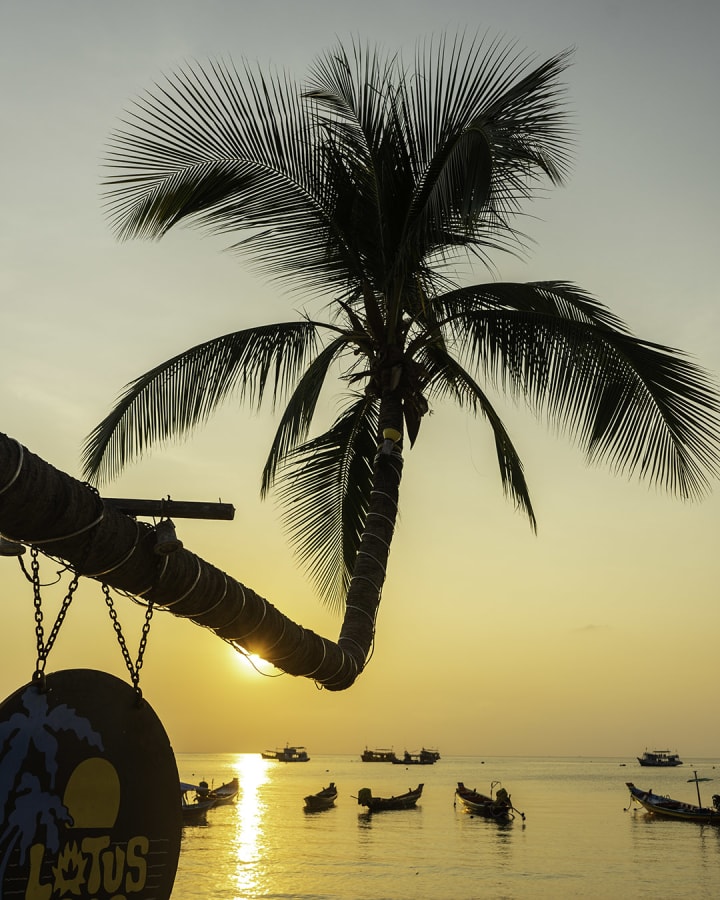 To get to this paradise you have to put in some work. You must first make your way to Surat Thani, normally this means flying in to Bangkok and catching a second flight to Surat Thani or taking a shuttle bus down the coast. Be aware, the shuttle bus is a chunk of change cheaper but the 8 or so hour bus ride will be long and arduous and usually involve waking up at the break of dawn. If you make the trip the same way my partner and I did then this is the route you will take, the bus is treacherously long, especially after you have flown for some 20 hours or so to get to Bangkok. When you arrive in Surat Thani you will need to make your way to the harbor where a ferry will take you out into the Gulf of Thailand, bound towards your dream location, just another 3 hours away. As you cross the water you will spot countless micro islands and local fisherman making their way to each owns closely guarded fishing secrets.
The first thing you will see as you approach the islands is a large hump sticking out of the horizon, this is where the name Koh Tao comes from, which stands for Turtle Island. As you close in and the island begins to take shape you will notice Koh Nangyuan, three of the tiniest little islands you've ever seen, just a mere 500m from the larger island of Koh Tao. A thin white slice of sand connects these three and the walls of each island house some of the best diving in the world. Your ferry will then pull in to Mae Haad pier and your some 35 hour journey will be soon coming to an end. The palm trees, the blue water, this dream is becoming a reality.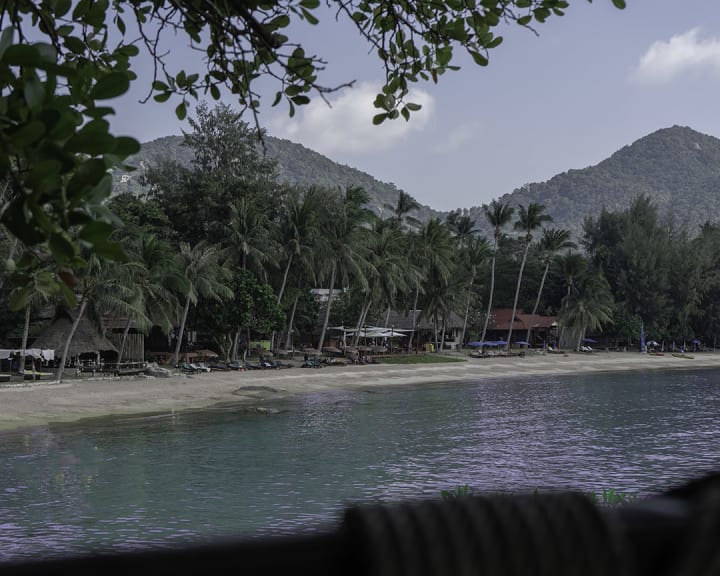 As my sandal hits the wood of the pier I make a promise never to wear anything but sandals ever again, there's something so soothing about the lack of cage that is a normal shoe prison. We stop at the very first bar, some 20 meters from the dock, sit down on creaky wooden chairs, order a couple tropical cocktails and relished in the moment. We did it, we were here. Now on to our hotel to set up camp and settle in to our new home.
A short taxi ride, a couple of phone calls when we got lost, the help from a lovely laughing Thai local and we were in the back of a second pick-up truck making our way down a dusty road, past a small poor shack village towards where we inevitably, and forgive me for thinking this, thought we were going to end up skinned alive and sold on the black market. Thankfully, as you can tell by the tone of the story, this did not happen. Instead, we ended up pulling in to a brand new apartment block which would be our private getaway. The owner of the new building informed us that the room we booked had not yet been stayed in and we graciously thanked them for their kind hospitality and made our way inside. A stunning, modern apartment equipped with stone features, air conditioning, private balcony overlooking a forest canopy and a few small farms, a kitchenette and more awaited us inside. Far, far better than the pictures we had viewed when booking the property just 24 hours prior to arriving. That's right, our first hotel reservation had contacted us just one day before our trip departure date and informed us we had to pay double the price!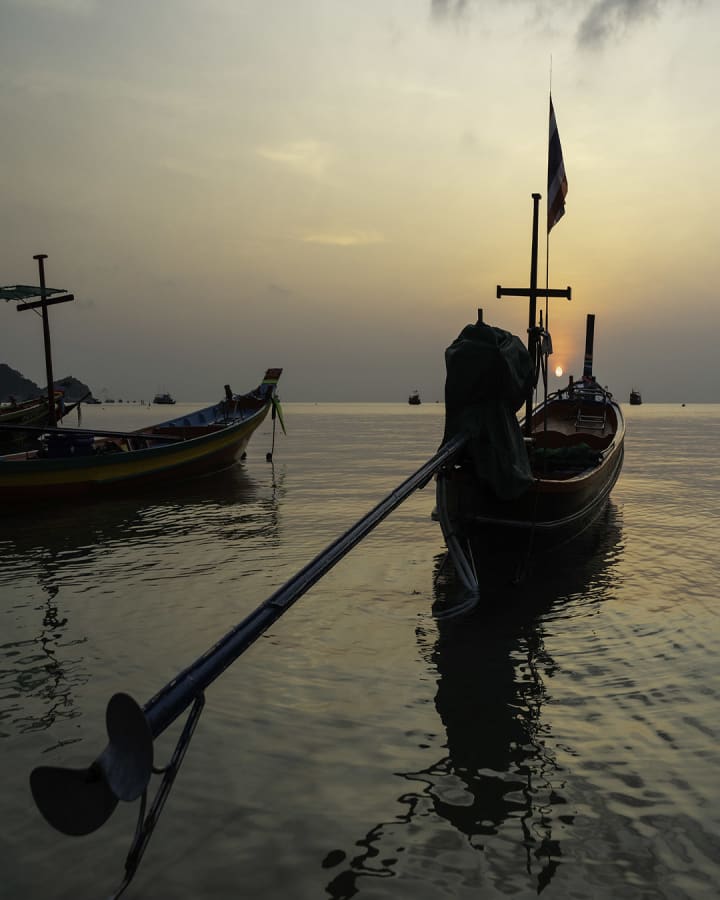 After a little bit of communication with Airbnb, the host themselves, and some time researching the background of shady scams such as this, I cancelled last minute and scoured the web for something new. With hardly any time to spare we found a new listing under the name Dr.Banana's Hotel. Double the price of our original booking but with double features and lacking in the shady, dodgy goings on of the previous place, we sucked it up and booked the room. It came in at a low price of around 600 Canadian dollars for a 30 day stay.
This is where the trip truly begins, where adventure meets the unknown, where google can't help and paper maps get you around. This is what you came for. This is what you need. Only the hands of fate themselves know what comes next.

Robert Webb
I am a freelance writer and podcast host. I enjoy discussing culture, society, life, death, drugs, philosophy, travel and self-help.
Listen to the podcast below.
https://anchor.fm/robert9541
See all posts by Robert Webb →