I Am Adventure
Based on a 10-Day Trip to the Peak of Mount Kilimanjaro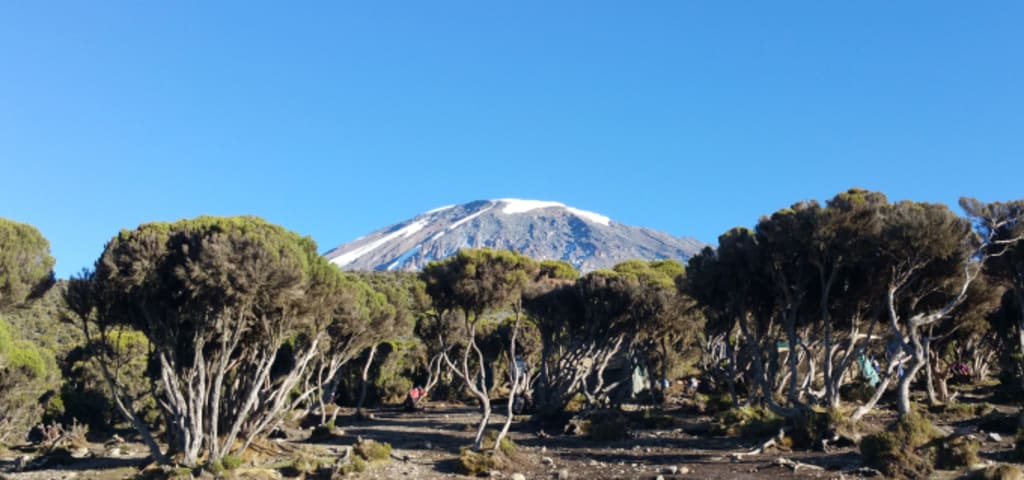 I am adventure.
For many of us Millennials, life is a little complicated. We're that "still-figuring-it-out-whilst-pretending-to-look-like-we've-got-it-sorted" generation and in the midst of being suffocated by all the Valencia-filtered Insta posts and the incessant motivational quotes I think we lose sight of adventure. Real adventure.
My recent trip to Mount Kilimanjaro re-calibrated me and really put things back into perspective. The 8-hour flight home presented me with the opportunity to share my experience, my thoughts, and shed some light for those looking to do the trek — albeit on the back of an empty Kenya Airways' sick bag.
However, before we begin, let me tell you a little bit about myself. This should provide some context;
My electric heater is my first love.
'Hanger' is a frequently felt emotion — something I take very seriously.
And I LOVE sleep.
In other words, I don't cope well at all being cold, hungry or tired in that exact order, so after all the advice and all the horror stories it really did sound like a trip to Mount Kill-a-Man-jaro.
We had no idea what to expect, to the extent that — in true Indian fashion, we genuinely mistook Mount Meru for Kilimanjaro whilst drifting by on our flight. In tourist talk, that's pretty much like mistaking Big Ben for the Eiffel Tower. But after a long flight and an 8-hour delay in transit, the next morning we finally set off.
The team were amazing. The 14 of us were the self-proclaimed #TeamTortoise (tortoise pronounced 'torr-toyyze' *insert Indian turban man emoji*). This was soon to be heard echoing against the valleys of Mount KJ almost as a bat signal. My mum and my childhood best friend were also part of the team — both of whom are avid outdoorsy people and my success on the trip is most definitely attributed to them both. Also, FYI — I later went on to receive the title of 'Chic Tortoise' whilst my mum got 'Glamorous Tortoise' so the Modha ladies really did keep it real.
We took the Lemosho route over 7 days, each day different to the previous. This was most clearly depicted through the varied physical landscapes; from Montane forest to desert-like heat, which evolved into an alpine desert, then into moorlands, finally developing into summit glaciers, and then slowly reverting back to the lush tropical forest on our descent. The length of time spent trekking on a daily basis varied from 2.5 hours to 13 hours but an average day looked like this...
06:00: Wake up. Add two layers of clothing to the existing four. Use all strength humanly possible to stuff the sleeping bag into the duffel. Step out to see the most beautiful view. Communal teeth-brushing time. Breakfast – pancakes, omelettes, porridge, toast. Diamox time. The last bit of faffing about before the walking begins. 08:30: the walking begins. 08:31: The uncles start with their jokes. 09:01: Two minute loo break courtesy of our good friend, Diamox. More walking. More laughing. Another loo break. Someone yells 'TOR-TOYZE' through the valleys. Another yells 'TOR-TOYZE' in response. Loo break. More walking. Lunch – soup, rice, vegetables, banana chips, fruit. Group selfie before we set off again. Waddle along some more. More laughing. A couple of selfies en route. Reach camp five hours later (literally). Soak feet. Popcorn and biscuits. Place bets on tonight's flavour of soup. Chill, aka pointlessly unpack and repack bags in anticipation for tomorrow. Briefing for tomorrow. Dinner – soup, rice, vegetables, pasta, fruit. Diamox time. Head to our tents aka unpack and repack again. Faff about some more. Loo break. Get ready for bed. Add yet another two layers of clothing. Loo break. Spend 20 minutes getting into the sleeping bag. Spend another 10 minutes recovering from being out of breath from getting into the sleeping bag. Two hours later, another loo break. Repeat for 7 days.
What about showering and the rest of it? No shower for 8 days, and the hole-in-the-floor toilets stressed me out for weeks prior to the trek, but when push comes to shove, you just get on with it (pun intended). Very quickly we'd all get to know about each other's quirkiness, habits and functions, and soon forget how to use a normal loo.
The views were absolutely stunning. Imagine looking down at a real-life version of Google Earth at night, which is partially covered by clouds that occasionally illuminate with lightening. Behind you stands the majestic peak of Kilimanjaro and what's left of its luminous snow caps. Then to look up and see a sea of brightly lit stars above. What I find absolutely incredible is that the stars you see above you were created millions, even billions of years ago. Many of those stars no longer exist, but you're looking at a view which sees them as they were back in time. How amazing?! But let's save the science lesson for next time...
Come summit night, the night which we trekked to the peak of Kilimanjaro, now that was a surreal experience. We began walking at 23:25, me wearing approximately 9 layers of clothing (though, that's only three more than a normal day) seeing only a long weaving line of head torches up above at the mountain's 40° incline. We slowly plodded along, each step no bigger than the other, due to the thinning air and growing altitude sickness.
Altitude Sickness, can I just say, you heartless witch. Just imagine exceeding the irreversible tipping point of your alcohol threshold, the one where you know you're going to need a tactical chunder in the next 5-7 mins to feel the slightest bit human again in order to carry on with your night out. Yup, that. Just without the chundering. For 8 hours straight. And ain't no amount of water or cheesy chips gonna help you at this time of need. At this point, hyperventilating pretty much became the normal way of taking in the good ole O2. Between 03:00-06:00, water froze in our camel packs. I'd have estimated the temperature being -10°C, but with all the layers on I felt like Blobby traipsing through the Sahara.
If I'm honest I can barely remember the walk, I can only remember the stunning view. I swear I could see the curvature of the Earth, but apparently no one else could see it. I googled it and turns out someone else had the same hallucination.
06:20: We reached Stella Point (5756m) just in time for sunrise and mum and I embraced and cried. Sobbed. For 5 minutes straight. All that hard work, months of preparation and anticipation, we had made it. I was so proud of her. Of us. We were only an hour away from the highest point on the world's highest free standing mountain. We slowly walked up to Uhuru Peak (5895m) and reached by 07:30. We had done it. Suddenly all life shot back into me.
And just like that, within an instant, it was over. Soon we were descending and back where we had started. A few days later, I was reunited with my beloved heater star-fishing in my double bed, but things weren't the same again; I feel as though I have ascended some level of consciousness since.
Of course it was tough, it was a continuous mix of emotions; excitement, bliss, feeling defeated at times, fatigued, ecstatic, yet bittersweet, knowing this trip wouldn't last forever, but the overruling emotion was a sense of freedom.
Shout out to the incredible guides and porters who were awe-inspiring. Carrying everything we needed on their backs and heads, departing the previous camp after us and reaching the next before us. Full of laughter, attending to our every need, patiently taking us up Mount Kilimanjaro and bringing us back down safely.
So this is my message to say, do it. Get out there, climb a mountain or three, or even just get out. Explore. Never have I laughed as much as I had that week, not only did we cope with the bare essentials, we thrived. I had the time of my life. And ever since, I have a new found appreciation for life, nature and time, because it waits for nobody. It's adventure that awaits...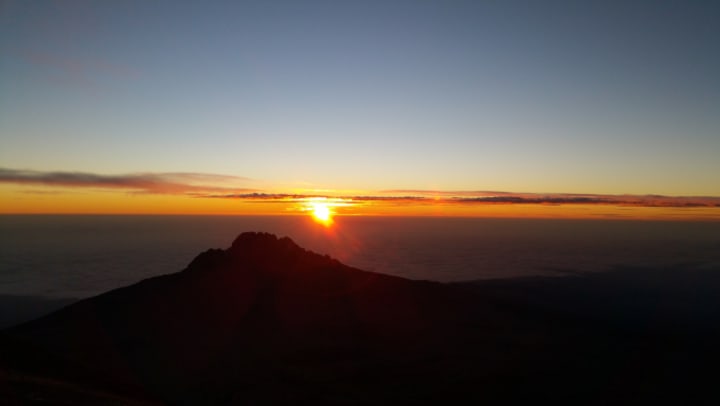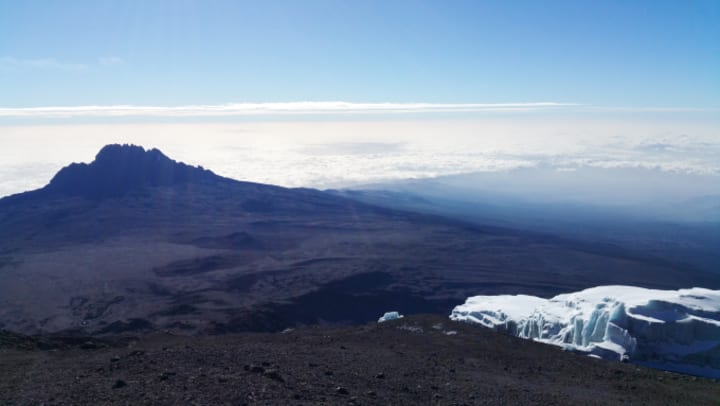 africa
Writer | Model | Avid-Traveller | All-Round Busy Bee
www.ashamodha.com