How Not To Do A Hike
From someone who didn't know how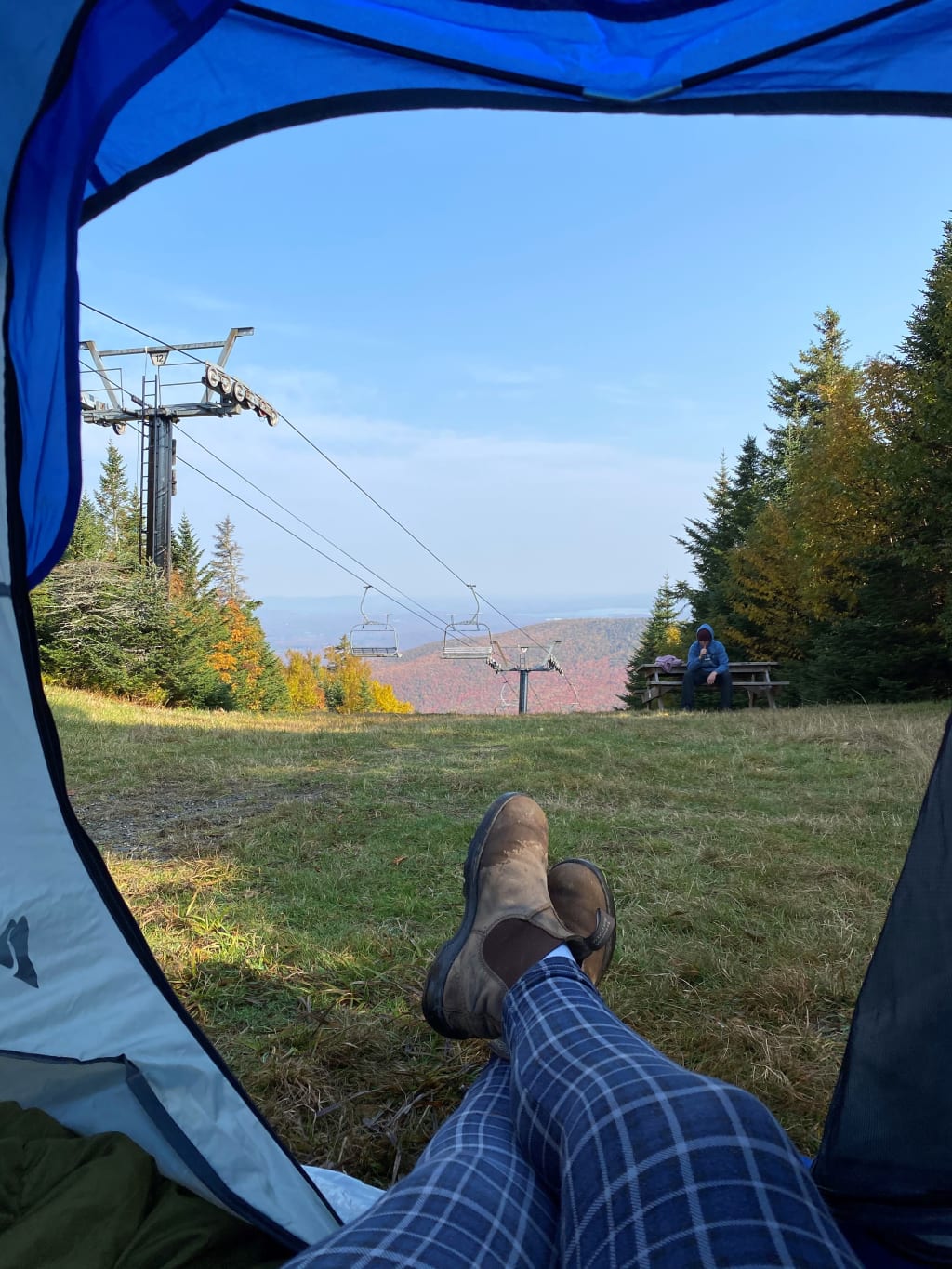 The view from our tent, including an exhausted Noah on the bench.
This was our first year living in Quebec and we loved it, minus the fact that we didn't speak French, that's a different story (literally, I'll be writing it in a few days). I had just seen a "Montreal Blog" post about camping at the top of a mountain, Mont Sutton to be exact, and how beautiful it is with the fall leaves. This sounded dreamy, a nice brisk October evening, setting up camp at the top of a beautiful orange and red colored mountain, roasting marshmallows on the fire while taking in the gorgeous view. We were in, I booked our camp site and I was really looking forward to going and then Noah asks "how do we get up there?". This for some reason wasn't even a thought that had crossed my mind, realistically it was maybe the first thing I should have considered but nope I just imagined roasting marshmallows and looking at pretty leaves. As I read through the website to find this key information I came across the words "an hour and a half walk up the mountain" it seemed a bit intimidating but I had no doubt we could do it.
The day of the trip, we drive approximately an hour and a half until we arrive at the base of the mountain around 3:00pm (keep that time in mind), it was beautiful already. We gear up with my rucksack filled to the brim, a backpack (again filled to the top) and our tent bag and start taking pictures to document this amazing, fun, journey we're about to go on (….hahhahaha). We start the trek up on a flat gravel road for about 20 minutes, maybe there was a slight incline but not much, we thought this was going to be a breeze. We're probably around the 30 minute mark when we notice a map up ahead, we take a look and notice we are far from where we want to be and it appears to be extremely up hill. We take a break and have some water, did I mention we thought one tiny bottle of water each would be good enough for this "hour and a half" up hill hike?
We continue on our journey up the hill, and at this point I'm going to start calling it a mountain because it was insane, it was so steep that we were pretty much holding onto patches of grass to keep us from falling backwards. I had never really done a hike before, especially not up a MOUNTAIN so I was not prepared for this AT ALL, and I think Noah was in the same boat. Our bags were super heavy, digging into our backs, we had run out of water already, and I did not wear the proper footwear so I had major blisters, and we had no idea how much longer this hike was going to take. We are probably an hour into the hike and we noticed we hadn't seen any other people for quite a while, it was starting to become a bit of a worry to us, especially since we didn't even really know where we were going, there was one map at nearly the bottom of the hill and that was it. I also have a huge fear of bears so I'd been on edge about a bear encounter, with bear spray sitting in the water bottle pouch ready to be torn out at any moment.
A long time had passed, I want to say nearly three hours at this point, we are both physically exhausted, super dehydrated thanks to me thinking one bottle of water was enough, it was starting to get dark and we weren't even sure if we were going the right way. We really had not thought any of this through, just the fact that the leaves would be pretty and we'd be eating marshmallows. We decided to take a break and see if we should turn back or keep going, it was a hard decision to make because at this point we had become a bit worried but already gone so far. Noah decided he was going to leave me with the bags and run up a bit to see if we were getting any closer to the campsites. I was anxiously waiting for him to return as I hear a rustle in the bushes next to me, "this is it" I thought, I grabbed the bear spray ready to take action, when I noticed it was an older gentleman hiking down. I asked him if the campsites were ahead and he said yes probably 20 minutes. I sighed with relief and instantly called for Noah to come down so he could take the heavy bag and we could finally get to our campsite.
It was nearly three and a half hours into our "hour and a half up hill hike" when we found our campsite. The view was absolutely stunning, the prettiest place we had camped thus far, but it was hard to enjoy when we were exhausted, dehydrated and sore. I immediately ran to the main camp to grab some water since we had been dry for over two hours. Noah had decided to take a long awaited rest, flat out on the grass until I arrived back. Once we felt a bit back to health, we decided to set up our camp and try to enjoy the experience as much as we could. We did in fact get to roast marshmallows, take in the gorgeous view, and tried to communicate with the other campers who were all francophone. We were happy to hear that we were not the only ones who found this hike tremendously challenging and not what we expected at all. We found ourselves saying to each other throughout the night "was this really worth it?". Now writing this story a year later I can say, it 100% was. It was a lot of things; a challenging hike, a struggle, a learning experience, a gorgeous view and most of all, an awesome memory to share!