Henna Meditations While Embroidering With The Ancients
A Touchstone of Home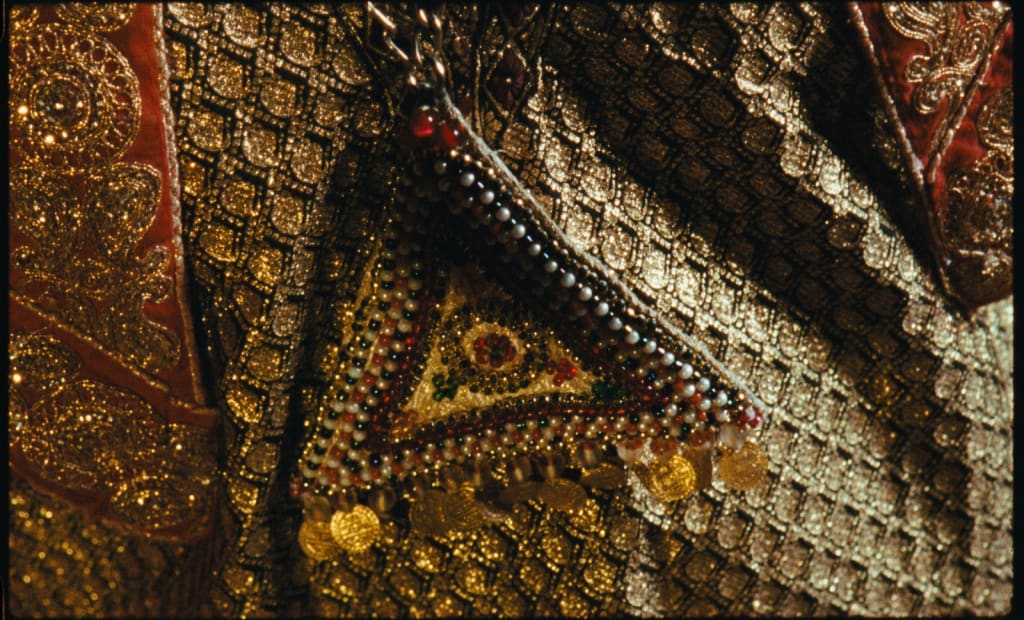 Yemeni Embroidery [Vogue.com, "The Ancient Beauty of Yemenite Wedding Ceremonies, Up Close"]
Henna Meditations
Once a month, I lay out a blanket and a sit down to greet the sun on my balcony. I start to massage the henna after it's overnight marinating session, preparing it for application.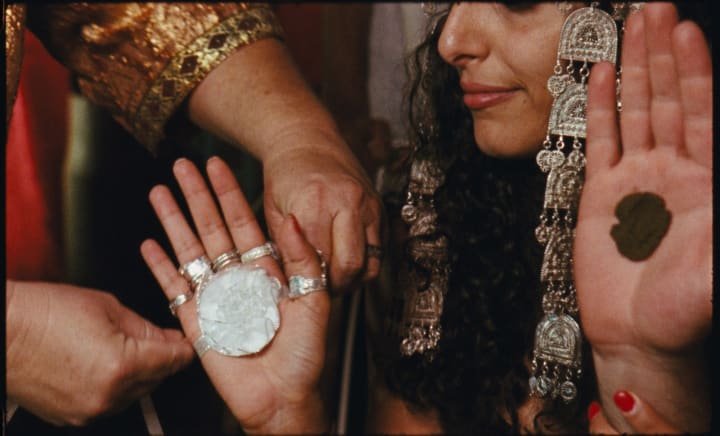 I am immediately transported. I am in Yemen in a lot of grass behind my home. A home I can only do justice by dreaming about. I start dipping my fingers in the henna and drawing a circle in the palm of my hand. Then without any thoughts in between, I draw a circle on my other hand. I start to build my henna sun in the middle of my hands. My fingers are stained with the deep blood red of the earth's clay. With that, I dip my fingers into the henna and apply a traditional henna nail polish on the tips of my fingers and nails.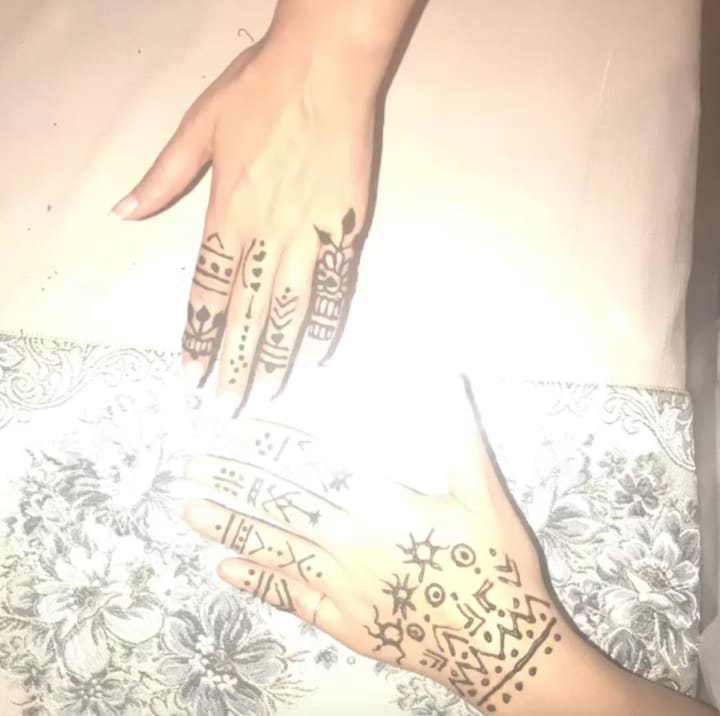 I sit in silence for an hour while the henna settles into my fingers. And I am brightened. Time flies by before I am ready to immerse my hands in water and be renewed with red-stained skin.
Skin-Dipping
Dipping my toes back into home. An ocean I haven't waded in since I was a baby. That's how long it has been since I've been home. Yemen is the place I call home in a way that you call your mother when you feel the need to be soothed. It has been 26 years.
All I know of Yemen are my mother's expansive ways of expressing her love for her heritage. She sings of the ways the women work their hands in such fine details. Even down to the way their fingers meticulously craft and fashion fabrics that ultimately represent the heart of my culture.
I have such a deep desire to connect to all the feminine mystical ways that these women work with these ancient crafts and adornments. And that's exactly what I've been doing. I could no longer allow the concept of home to elude me.
Embroidering With The Ancients
Recently, I've started to work on the beading and getting my fingers acclimated to creating this tapestry of home. A work of art that molds together a new design. Something that I can hang on my wall. Something so large that it captures the heart of those who can see the meaning behind each bead, each stitch, each cross.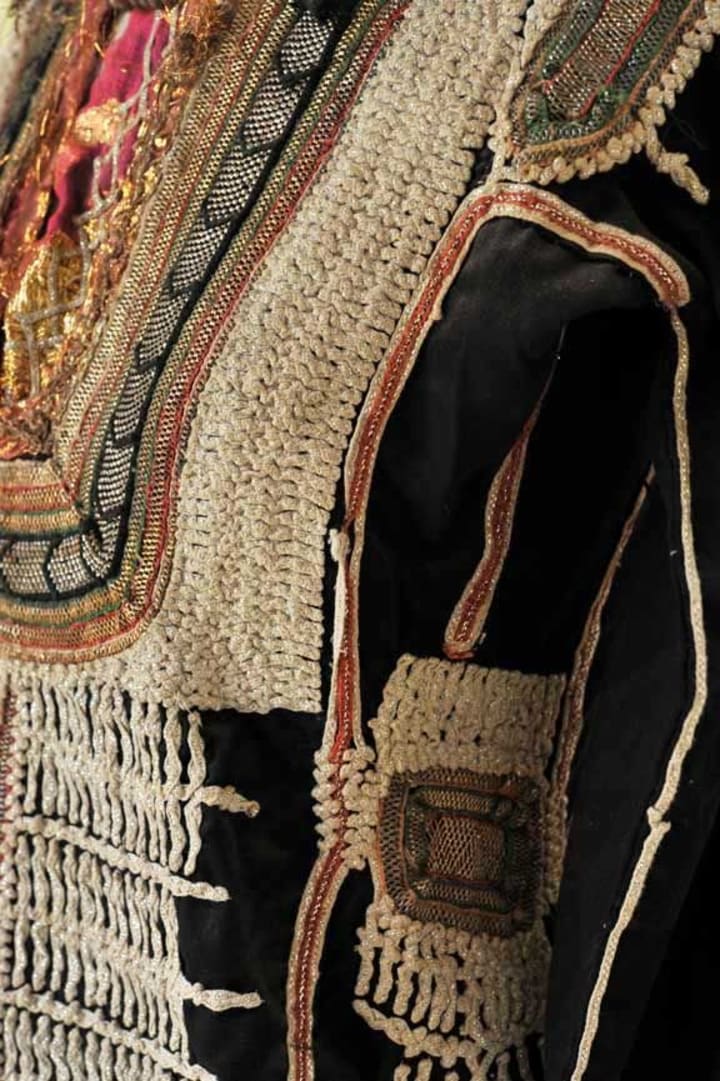 The design you see is known as one of the many different designs in traditional Yemeni embroidery. It is traditionally stitched into the anklets of pants and wrists of dresses as well as the chest, neck and shoulders.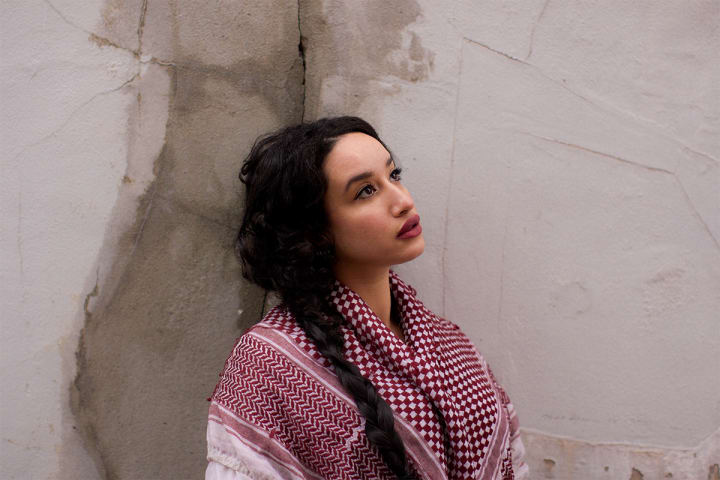 While this design is much more tame, I'd love to claim that I made this shawl, that I hand stitched each patch. I won't. This was gifted to me by my brother who lives in Yemen!
So as a way of accessing that connection, I intend to also weave this pattern into the tapestry. Through weaving all the designs into one master-piece tapestry that beckons to be touched. A literal touchstone of home.
The Call Home
Through my monthly henna meditations and novice yet ambitious embroidering, I am reminded of my lineage. I am reminded of my relationship to the land that housed me as an infant. And for this, I am grateful -- to be able to share this artful craft and meditative space with you all.
As the sun's rays come to a day's end, a feeling washes over me you wouldn't believe. The sun shines on us all without judgement or reserve. And this is a reminder. A reminder that one day I will be reunited with my land once again because you can only stay away from your lover for so long before she calls you back.
I hear her calling now actually. This time she speaks of precious stones and silver. Perhaps she's beckoning me to create jewelry for the adornment of skin. So for now, I will settle into skin-dipping until I can know Yemen's shores again.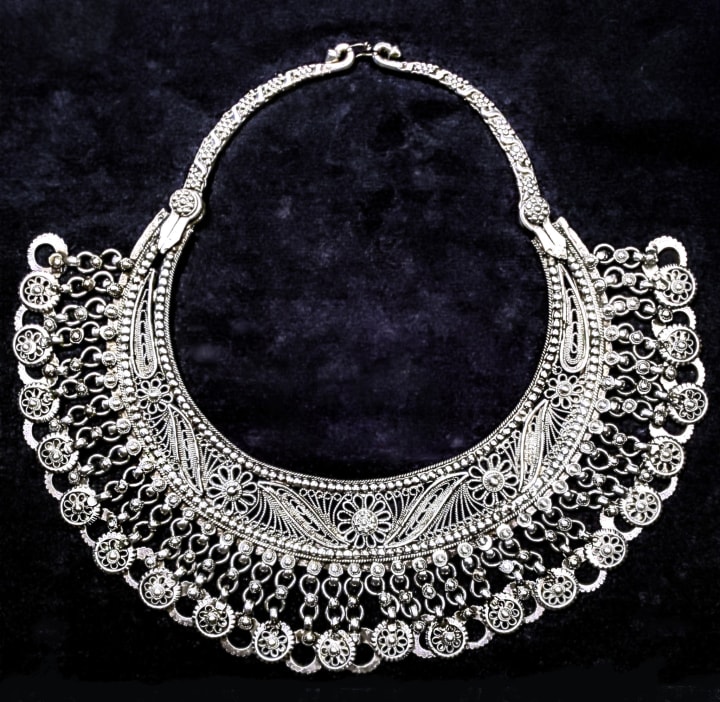 culture
Author.
Sharing creative stories and paths to self-knowledge.
Find me on Youtube.
https://linktr.ee/halanuman