Golf is a Sport for the Sophisticated but We Play Anyway
When we travel, we golf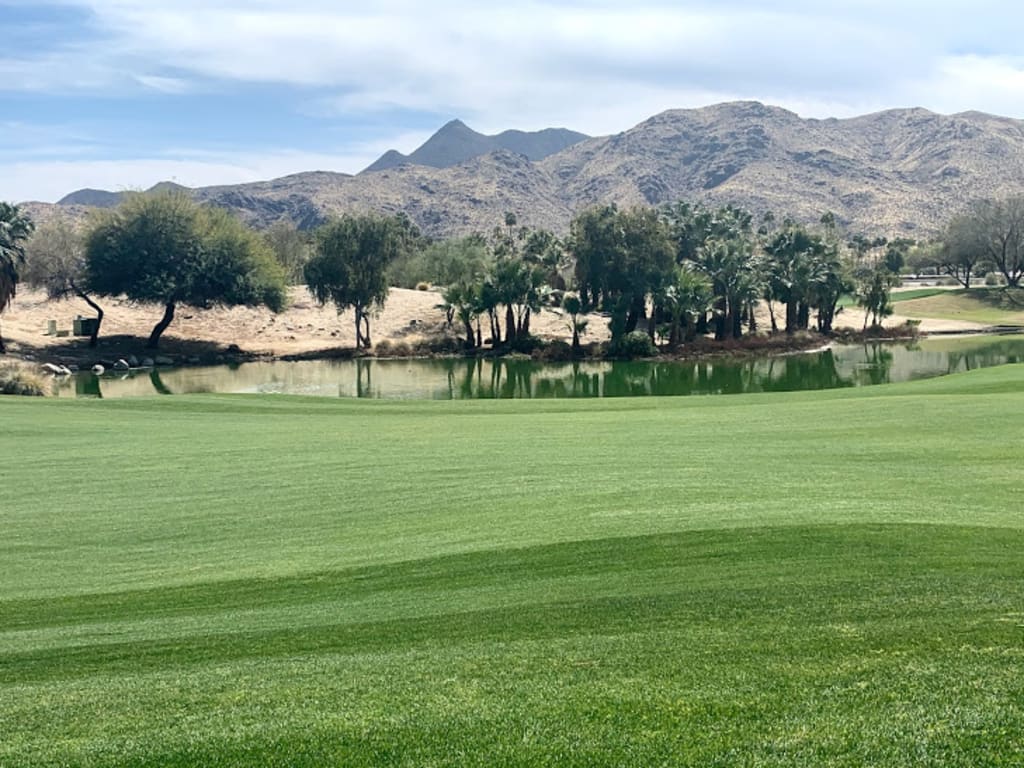 Image from author's photo album — Palm Springs, CA
Golf is a sport for the elite and sophisticated, but we play anyways. We've learned how to look appropriate so we can gain access through the front gate. Dressed in hats to shade our faces, collared shirt for him, golf skirt for me. Appearance can be deceiving because once we approach the greens our behaviors and skills take the class out of the sport.
My husband taught me to golf a couple years ago, a humous experience that still brings tears of laughter, but I love the sport because of the environment. I keep my iPhone handy to take pictures and appreciate the sights when time allows. Randy probably loves to play with me as there is little competition. On the other hand, he may hate playing with me because there is little competition. Either way 'til death do us part.
A golf course thrives with life and as we travel around the country, we constantly encounter sights that spark excitement. Last week a squirrel crawled onto the cart and stole a pistachio while Randy was putting. We turned one corner to witness the ground move with wild baby rabbits, 14 running around in one patch until they sensed our presence. As an Idaho native, road runners were a new sight and required me to do a quick internet search to see how fast they can run, 18 miles an hour!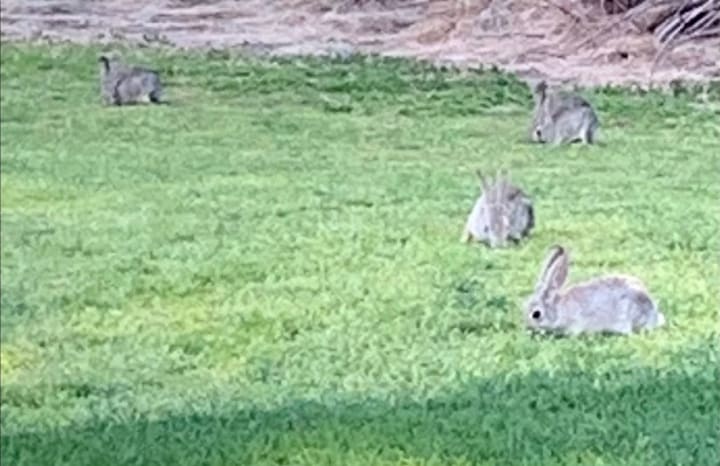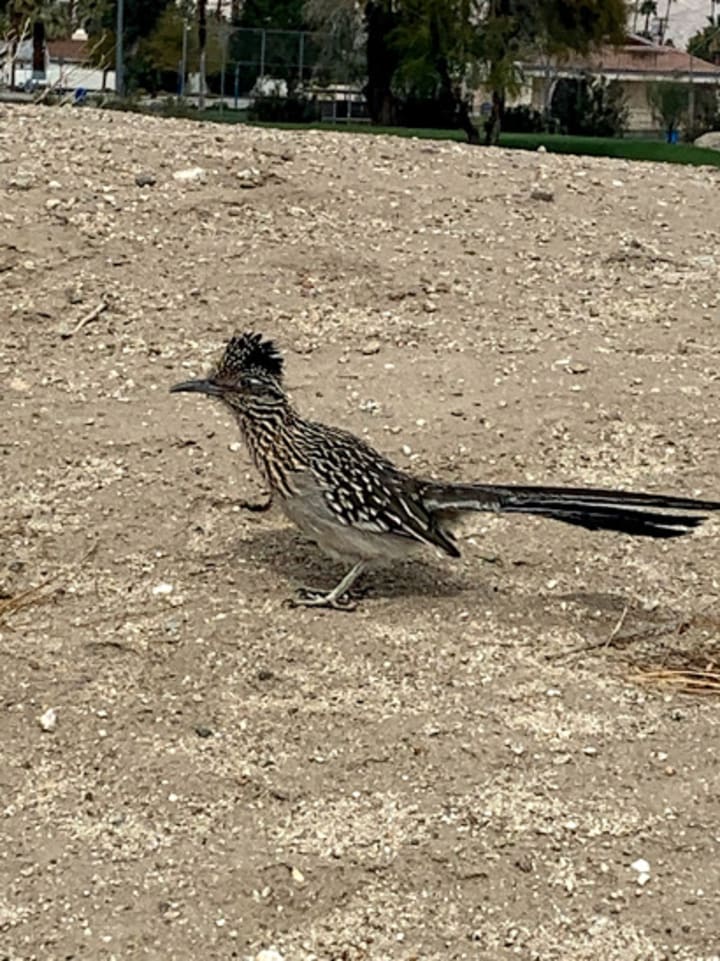 Quick note to dedicated golfers. We are respectful and follow golfing etiquette. It is common for us to let others play through and not to interrupt the pace of play. So with that stated you may now relax and laugh without feeling the stress that I am sure was knotting your neck and shoulders.
A couple months ago, we taught my sister-in-law to golf, increasing our pleasure because of the company and the opportunities to laugh — I mean offer encouragement. In my case, I enjoyed listening to her cuss her husband, Nick, by brother. She says all the things I have wanted to say for years. In truth, I also enjoyed observing her love of the game and her skills steadily improve. I took of picture of her best shot. Look closely.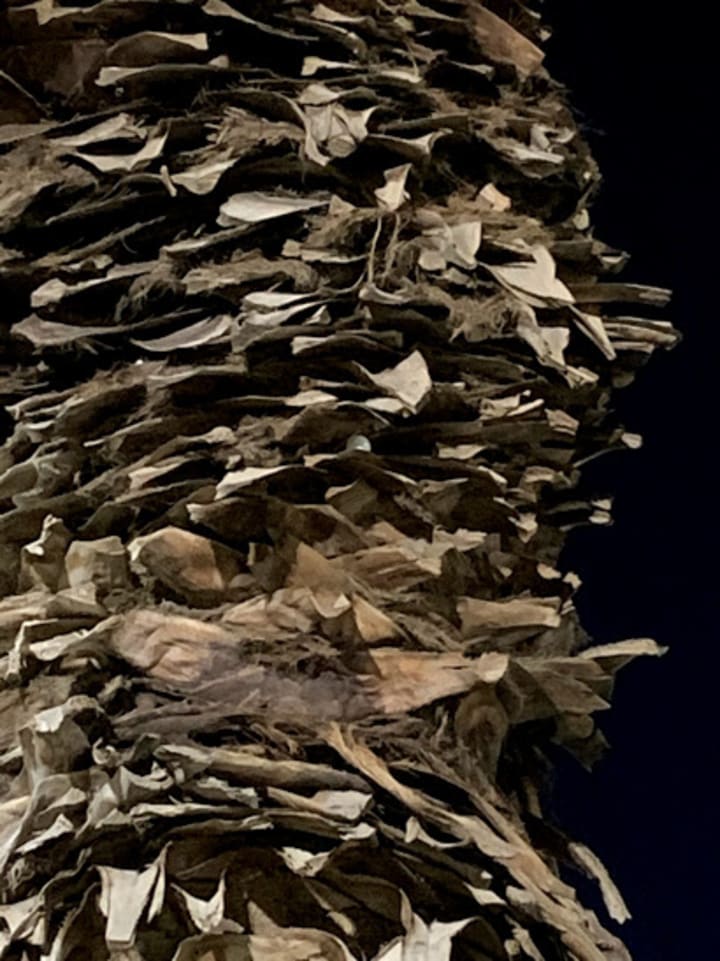 Ultimately, it is my brother who keeps us in stitches. When he tees off, we always watch to see where the ball lands and nothing surprises us anymore. Luckily no windows have been broken but several have been bruised, roofs have been pelted, and once he hit two trees in one shot. A person has to be talented to do that! I have started closing my eyes when I know somebody else is watching so I can listen to what the ball hits. It has helped us find the location many times.
There are many terms one must learn to sound intelligent on the course: par, birdie, eagle, mulligan, slice. Last week I learned a new one, dick out. Apparently, when a man hits from the tee box and doesn't make it past the woman's tee box he must perform an unzipper. This happened. Nick topped the ball and it rolled a few feet down a hill. I thought that was funny but what followed cracked me up. Since it did not go the distance, he was told to hit his next ball with his pants down. He did. My husband simply shook his head and between chuckles said, "I heard about that for years, but I've never seen it done!"
Poor Randy, a talented golfer, patiently waits for us to hack, miss, and swing again repeatedly. Often he walks the edge of the fairway and picks up lost ball buried in the bushes. Once he pulled out his ball retriever and fished half a dozen ball out of the pond while he waited for us to catch up. I think he is going to give them to Nick since he seems to lose the most.
I typically focus on other people and tell their stories. However, if you want to hear about my golf experiences, including when my pasties fell on the ground, read this.
Love the journey!
If you enjoy what you read, join us as I share our travels, golf experiences and laughter. These stories are available on myFB page RVing in Retirement.

Brenda Mahler
Stories about life that inspire emotions - mostly humor.
Lessons about writing based on my textbook, Strategies for Teaching Writing.
Poetry and essays about the of art of being human.
I write therefore, I am.
See all posts by Brenda Mahler →