Guides
For the Love of Sedona
Where Restlessness Brought Me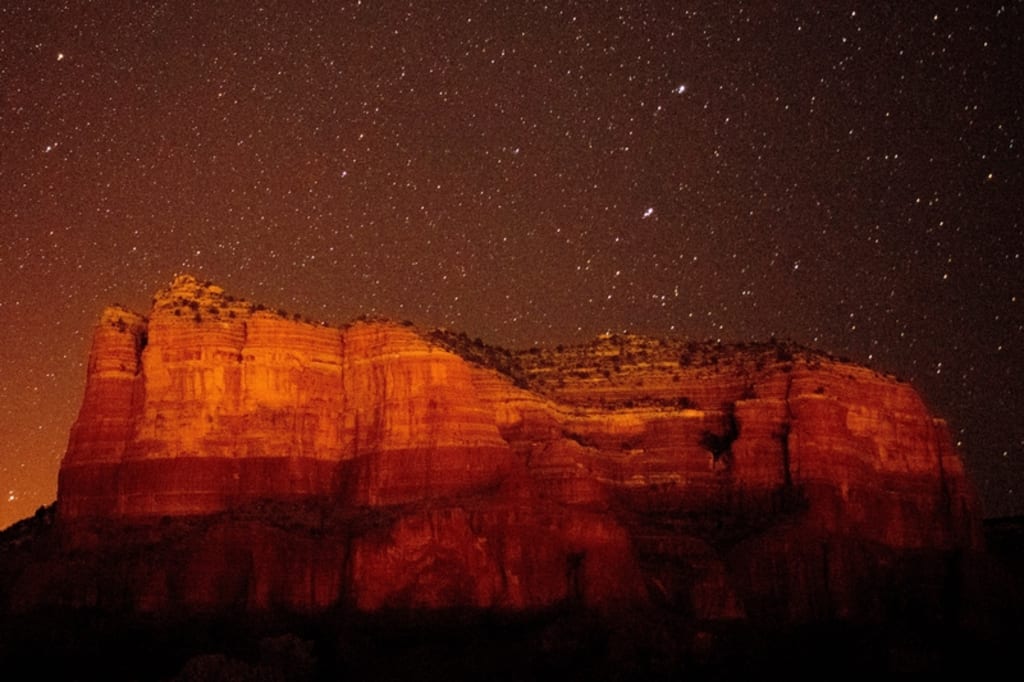 I first discovered Sedona about four years ago during a time in my life I refer to as the Great Restlessness, followed a few months later by the Great Escape which inevitably led to the Great Awakening.
When you visit Sedona, you will understand that last one.
Most of my life I imagined living anywhere I was not actually living. I am a restless wanderlust with an incurable yearning for adventure which I blame on my military brat lifestyle growing up.
I had been living in Montana for four entire years when every cell in my body began rebelling. For someone like me, four years is an awfully long time to stay in one place. It was the time of year (winter) when cabin fever feels like a terminal illness and I think I will die if I breathe one more lung full of cold air. I was dreaming of colorful and warm get-away places. In my mind, I was already selling our house and belongings in anticipation of our move. Most people have a desire to visit other places but often times I take it to the next level and just go ahead and move. My motto: Why visit when you can move? My husband was unaware of my plans for us to live in a hut on the beach in Mexico and was a tad bit alarmed that I had gone to such great lengths planning how it was entirely possible. It wasn't, but I was desperate. Although he agreed that we needed a change, he wasn't quite ready for such a drastic one. We decided that I would find a beautiful, colorful, warm place to explore and go from there.
After spending endless hours searching for the perfect magical place located in the U.S., my searches kept bringing me back to Sedona, Arizona. I discovered that Sperling's Best website is a great matchmaking tool for people and places and I credit Sperling's for introducing me to Sedona.
I had never heard of Sedona. When I thought of Arizona, I envisioned deadly hot, flat, dry, ominous desert days being very thirsty and an occasional shoot out in the desert. I certainly hadn't envisioned what I discovered. I was absolutely amazed by Sedona's exceptional beauty. How did I not know a place like this existed?
A couple of months later, we found a cheap flight to Phoenix, rented a car, and drove to Sedona for a few days.
Sedona is, in one word, enchanting. We were there for five minutes and I didn't want to leave, ever.
My face hurt from smiling. Sedona is the kind of beautiful that leaves you speechless—especially when you've been existing in the dark and cold for months. I was reminded of a secret magical kingdom where castles rose from the glittering red earth, climbing to the enormous vast sky. I live in what is considered Big Sky Country, but Arizona's skies are bigger!
In three days we just camped, hiked and explored the red rocks spending one day and night in Flagstaff which is about 30 miles north of Sedona.
Our three-day excursion was not nearly enough time to explore even a speck of what Sedona and the surrounding areas had to offer. But it was enough time for us to decide we needed to return.
Three months later we packed our little car full of everything we would need to survive camping for a month. We found an incredible place to camp at Wet Beaver Creek in Coconino National Forest, which is approximately 35 minutes from the city of Sedona. We choose a spot right next to a beautiful creek flowing through red rocks and wild forest. It was truly a dream spot. We bathed in the creek and I practiced yoga on the giant flat rocks resting over the water and awoke to breathtaking scenery every single morning. I almost forgot we were sleeping in a tiny tent. Interstate 89 is close by so it was an easy drive into the surrounding areas like the Village of Oak Creek, Sedona and Westfork. During that month, we explored Bell Rock, Boynton Canyon, Airport Vista, Cathedral Rock, and many other world-famous trails. Because we were on a budget, we rarely went out to eat, preferring instead to purchase food at the natural grocery store in Sedona. Our goal was to embrace simplicity and connect to nature and each other.
Sedona was the perfect place to do just that and camping in October was easy and budget friendly!
We explored other cities, making our way to Flagstaff, Tuscon, and Bisbee. We wanted to get a *feel* for different areas to help us decide where we might want to live, but there was no question that Sedona stole our hearts.
Eventually our adventure came to an end and it was time to return home and make some decisions.
Five months later, we moved.
Sedona and the surrounding areas are incredibly beautiful. It is a mystical, colorful land pulsing with vibrant energy where hidden treasures and exciting adventure awaits!
Here are some of my favorite adventures in and around Sedona.
West Fork Trail
West Fork Trail makes everyone's favorites list! This hike is a fairly easy hike suitable for almost everyone and is a MUST. There is a $10 park fee but it's entirely worth it to experience the luscious nature as you wind your way through Oak Creek Canyon surrounded by beautiful nature. Wading streams with stepping stones, snake through the entire six- mile hike! You will not be disappointed!
Montezuma Castle National Monument
Located in Camp Verde (40 miles south of Sedona), this is a beautiful, self-guided tour of ancient Sinagua dwellings. Entering the dwellings is not permitted, but they are clearly visible from the sycamore grove below. Guides are available to answer questions and offer cultural education. I learned the different ways plants were used for medicine, food, and religious ceremonies.
Bell Rock
My personal favorite! Located in the Village of Oak Creek, Bell Rock is a popular hiking destination, suitable for all skill levels depending on where you hike. For example, Lower Bell Rock is great for everyone requiring very little rock climbing as it is located at the base of the enormous rock. As one ascends the face of the rock, increased skill level and strength is necessary as the climb intensifies and some areas are dangerous. It is not for the faint of heart. We climbed as far as we could go, only to get stuck in a thunderous monsoon with lightning at our feet as we ran down! But the view atop was glorious! I don't recommend doing this hike in a storm if it can be avoided.
Boynton Canyon
Amazing. Amazing. Amazing. If you enjoy beautiful, diverse scenery and wildlife sightings, you will love it. Beautiful ironwood, desert flowers, rich red rocks, towering trees and soft sand, make this a gentle fairy tale hike that everyone can enjoy. It does get a little rocky in some areas, but is easily navigated. This hike should only take a few hours but it took us eight because we forgot our light source and had to rely on my mother-in-law's ancient cell phone to guide us step by step. Warning: always bring a light source! Don't assume someone else has one.
Full Moon Drum Circles on Cathedral Rock
I discovered this phenomenal event only after having lived there for almost a year. I don't think everyone knows about it, but on the night of a full moon, people gather at a flat clearing atop Cathedral Rock to welcome the full moon with drumming, music, singing, and dancing. Breath taking. Our last night there, we hiked down by the light of the full moon.
Our month-long excursion proved to be an enlightening, inspiring, spiritually, and personally transforming experience—so much that we relocated the following year. We have since moved back home for a while, because as much as we love the area, living and working there proved to be an entirely different experience for us. But I highly recommend Sedona to anyone searching for a truly unique, adventurous, and inspiring experience. As for us, we will continue to experience Sedona in the way that brought us the greatest joy-camping, connecting with nature and exploring!
america

Catherine Radke
I am a freedom seeker through and through with deep gratitude for the adventures, love, laughter and chaos life brings my way. I believe in the power of intentionally creating an amazing life-because that's what we have to do to get it.

See all posts by Catherine Radke →