Down Under the Manhattan Bridge Overpass
A trip around the world can lead you back home to love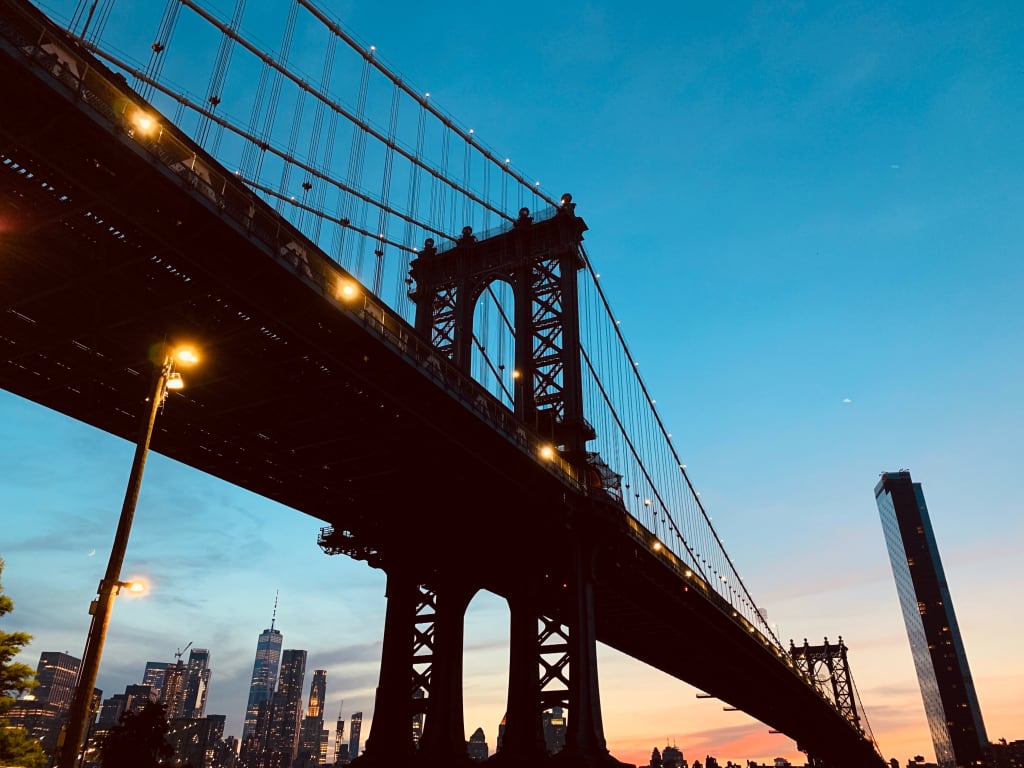 "Your skin is so soft," Mrs. Elkin said while rubbing her fingertips along the light beige-colored skin on Agatha's forearm. Agatha set a dinner plate in front of the elderly woman and smiled at her. Mr. and Mrs. Elkin are her favorite residents at Menorah Center Nursing home. Agatha likes to watch them hold hands while teetering into the dining hall every day. Mr. Elkin always pulls Mrs. Elkin's chair out, then waits for her to nestle into place before he pushes her chair in to secure her close to the table. His right-hand shakes whenever he holds a spoon to his mouth to test Mrs. Elkin's soup in order to make sure it isn't too hot for her. They hold hands while exiting the dining hall after every meal.
"Agatha?" Mrs. Elkin asks. "Do you have someone special taking you out today?"
Agatha spent the entire day trying to ignore the fact that it was Valentine's Day, but the dining hall plastered with hearts cut out from red and pink construction paper made it hard to overlook.
"You spend far too much time here with all of us old folks," Mr. Elkin mutters.
"You ought to be out and about with someone special today. Surely, a young, pretty girl like you must have a boyfriend," Mrs. Elkin says. She must have noticed the glum expression run across Agatha's face. "That's alright dear, love will find you." Mrs. Elkin gently takes Agatha's hand into her own.
Agatha hated it when people asked her about her love life or lack thereof. She never had a boyfriend; she didn't even have any close friends. She was only six weeks old when a state social worker dropped her off at the foster home. Her parents were listed as unknown on her birth certificate. She couldn't even begin to guess where she had originated. Agatha never thought much about how alone she was since she had been that way her entire life.
"I'm ok," Agatha says, as she pours Mrs. Elkin another glass of sparkling cider.
"You don't look ok," Mr. Elkin said. He's never been one to mince his words, and despite the stroke he suffered two years ago, he was still quite sharp.
"When you're finished with work today, stop by. You can spend Valentine's Day with us," Mrs. Elkin says.
***
The first thing Agatha noticed in the Elkins suite was the slate blue walls covered with photos of the happy couple.
"It's like traveling through a time machine," Agatha says.
She marvels at photos of the Elkins at the Berlin Wall, the Great Barrier Reef, Machu Picchu, the Eiffel Tower.
"You've been everywhere in the world!" Agatha exclaims.
"We were both born and raised in Sheepshead Bay, not too far from here," Mr. Elkin states.
"When we got married we promised each other that we weren't going to stay in Brooklyn for the rest of our lives like everyone else we knew. We wanted to see the world. So we did." Mrs. Elkin explains while opening a small black notebook. "We went to so many places we started to forget, so I began to make a list of all the places we've been to."
Agatha sifts through the pages of the aged notebook. The leather cover on the front is worn, while the back cover is plastered with an array of colorful postage stamps from all over the world. The dog-eared pages are filled with descriptions of cities, names of people, addresses, phone numbers, restaurants, museums, sketches of faces, rough outlines of buildings.
"Where was your favorite place to visit?" Agatha asks.
"Underneath the Manhattan Bridge," Mr. Elkin declares without any hesitation.
"What? Of all places, why?"
"That's where he proposed," Mrs. Elkin says with a warm smile. "I'll never forget it. He brought his portable radio and Sinatra started singing to me. Then he got on one knee and proposed. We danced the whole night away."
"The Q train was roaring above us," Mr. Elkin chimes in.
"That didn't matter, it was as if we were the only two people there. We haven't been back since that night."
"I would give anything to go back there and propose to you again," Mr. Elkin says then presses his lips against his wife's cheek.
***
"Quick, let's go!" Agatha whispered. She felt like she was smuggling the Cullinan diamond from the Tower of London when she rolled Mrs. Elkin out of Menorah Center. The wheelchair sitting in the hallway outside their room had a squeaky wheel, but they managed to escape without getting caught.
"I'm coming." Mr. Elkin mumbles. He insisted on walking. When Agatha looked back, she saw him trailing behind them. By the time Agatha situated Mrs. Elkin into the back seat of her sky blue pinto, Mr. Elkin had managed to open the back door and join his other half. Agatha connected her phone to her car radio, and Louie Armstrong's You Go to My Head played from the speakers. The lovebirds cuddled in the backseat while Agatha drove through Williamsburg, past the Navy Yard, then straight to the Manhattan Bridge. When they arrived it was dark, but the luminescence from the orange-yellow streetlights beamed off the sidewalk like city candlelight. Agatha sat on the hood of her car and enjoyed a cigarette while watching the Elkins dance to Frank Sinatra's All My Tomorrows. She helped Mr. Elkin bend onto his left knee right before she took a picture of the young lovers as he proposed to Mrs. Elkin again.
***
"You're fired!" Kevin Kelly roared as soon as Agatha walked through the doors of Menorah Center with the Elkins by her side.
"I'm so sorry," Mrs. Elkin yelled as a security officer escorted Agatha out of the nursing home.
"Don't be!" she replied. "That was the best Valentine's Day I've ever had."
Two months after Agatha was fired she got a call from her former manager at Menorah Center.
"Mrs. Elkin passed away," Kevin said. "She left something for you."
Kevin was standing in the lobby next to Mr. Elkin when Agatha arrived. The first thing she noticed was Mr. Elkin's eyes. The light that flickered behind his hazel pupils had disappeared. His eyes were like smudged charcoal and she could see tears waiting to burst from beneath them.
"She wanted you to have this," Mr. Elkin says as he handed Agatha the treasured notepad. "We both loved having you in our lives."
Agatha reached into her purse and handed Mr. Elkin a 4x6 print of the picture she took from that magical night. The tears that were welling underneath the widower's eyes surged like Niagara Falls. Mr. Elkin's body felt cold as Agatha hugged him. His arms were stiff around her and when he turned to leave he wobbled to one side. Kevin had to grab his forearm to keep him from falling.
Agatha left Menorah Center with Mrs. Elkins notebook clutched to her breastbone. She returned home, opened the antique jotter, and read every single page. When she reached the last page she was surprised to see a note addressed to her from Mrs. Elkin.
Dear Agatha,
By the time you read this, I will be gone. I've had a wonderful life and I'm so happy to have met you when you're just starting yours. I pray that you find love. I pray that you see the world.
Agatha turned the page and gasped when she noticed a check made out to her for $20,000 wedged in between the final page and the back cover. The next day Agatha packed her suitcase, tossed her inherited black notebook into her purse, took a cab to John F. Kennedy airport, and set out to see the world.

Noro Otitigbe
Noro Otitigbe is an author, poet. She holds a bachelor's in Communication Studies from New York University.
Otitigbe has been published in Poets & Writers Magazine, Medium, and midnight & indigo Literary Journal.
INSTAGRAM: @noroskoo
See all posts by Noro Otitigbe →