Buried Treasure
Opening Windows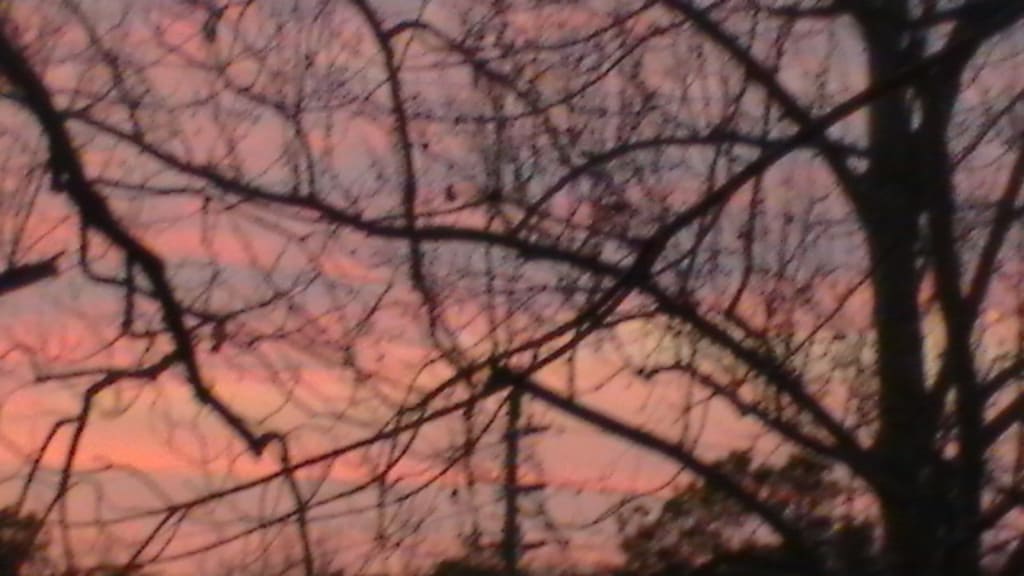 A beautiful Crabapple tree that had graced a corner of my garden for fifty years, dropped its leaves this past winter, but sprouted no new leaves come spring. I was faced with the arduous task of removing it to plant something new.
Three days into the task of removing the stump, I heard a clank as my shovel slid into the dirt at about three deep. I knelt down, felt around with my hands till I found whatever it was, took a hold of it and wiggled it free. I brushed away the soil and to my surprise, was a bottle wrapped in plastic. I climbed from the hole and sat and lay it on a small table to inspect my find.
I slowly removed it from its plastic cocoon, and soon I held a bottle of Merlot vintage 1960. My memory sparked of a time I sat on this very bench and table sharing a bottle of Merlot with a young lady I met that afternoon. I pur- chased this bottle of Merlot, a Petrus from Pomerol, France with hopes to share when we met again.
March 27 th 1968 A casual walk in the park would become one of the most stimulating days of my life. I heard a voice, I turned to look and there stood a bright eyed, sandy haired, young woman with a lovely smile. She asked how far it was around the park. I told her it was a little over a mile and before I could say another word she said, that sounds perfect. She asked if I'd like join her for a walk around the park and I shyly nodded and said, sure.
We walked idly, chatting about little bit of everything and a whole lot about nothing, and enjoyed a few laughs. Soon I was captured and enraptured in her presence as the world around us faded to shadows and whispers. Her smile, bright eyes, facial expressions, and the way she gently touched my shoulder when she laughed, penetrated my shell and I was slain.
I heard, heads up! I turned to see an overthrown baseball coming our way and I caught it after a single bounce. I threw it back to an awaiting glove, and resumed our walk. The unintentional interruption had broken the spell and I realized our walk around the park was quickly coming to an end. My heart sank and I attempted to stall our walk so I could savor the moment a while longer.
I lived across the street from the park and had been working on a little garden where I could escape and relax. I re- membered a bottle of Merlot my great-aunt had given me when I graduated. My thoughts were coming faster than my mouth could work and I stammered as I ask her to come see my garden. She stood very quietly for a few mo- ments and seemed to gaze into my soul. I grew nervous and assured her I wasn't ready to say, goodbye. She smiled and said, ok.
I showed her around my garden before we took a seat at the small table, and I explained it was a work in progress. I didn't want to bore her talking about my garden, so I quickly changed the subject. I knew her name was Marsha I knew she was senior at Rice university and was here on spring break visiting with her sister. I knew her major was economics, she played piano and violin, and I knew she loved horses, but all that is superficial. I wanted to know her core essence, her hopes, and her dreams. I quickly asked her about her family to give her the lead in our conversa- tion.
Maybe fifteen minutes into our chat I interrupted to ask if she'd like something to drink. Again, she quietly studied my face as if to question my intent. I have lemonade, soda, tea, a bottle of Merlot, and of course water. Slowly she smiled and asked, Merlot? What vintage? Embarrassingly I admitted I didn't know, and that my great aunt gave it to me two years earlier when I graduated from SMU. She smiled, her eyes lit up and she asked, and you'd pop the cork for me? I'd love nothing better and it would be my pleasure came flowing from my lips. She simply smiled her eyes lit up and I knew.
I brought out the bottle, two glasses, and popped the cork. For a while we got lost but presence shortly found us and pulled us back in. She looked at her watch, and stood up, saying, I gotta go. I have a plane to catch in the morning. Things started happening fast and I was doing my best to keep up. Can I see you again, I asked? Maybe, I'll be com- ing back for my sister's wedding in May. You know where I live, and I'll get the best vintage of merlot to celebrate was the last I said before she bid me farewell.
Friday morning May 3 rd just as I was walking out the door heading for work the phone rang. I answered and it was Marsha, she looked my number up in the directory. Told me she would be flying in that afternoon and asked if she could stop by later. Sure, I responded, that would be nice. I went work with beautiful images dancing in my head.
That evening as I preparing to leave a couple of co-workers came to my office door and I knew from their long faces something was wrong. Then one spoke and said, there's been an accident. I shrugged and asked what kind of accident. There been a plane crash in Dawson, TX I was told. Took a few moments before it hit me and had I been home I'd have screamed so loud heaven could hear me.
The drive home seemed long and lonely. I took the bottle of Merlot out to my garden and sat in silence. A part of me wanted to smash it, I thought of giving it away, but I could do neither. I didn't want this bottle haunting me so I de- cided to bury it deep in my garden and find a plant to place there as a memorial. I chose a Crabapple tree.
Now fifty-two years later, again I sat looking at this bottle of Merlot. This time I hear a voice ask where did you get that. I looked up to see my wife of fifty years. I smiled and told her it's a long story. She said I've got all day and sat down.
I shared this story I had kept hidden for all these many years and she sat listening intently. Feeling poured out I had never revealed to anyone. Once everything had spilt out and I was empty I sat quietly peering into my wife's eyes.
The longest time before she spoke. Did you think I wouldn't understand? Life happens and every window opened to us will always be a part of us. Sometimes those windows close soon after they open but the memory is yours to eter- nal. This moment you have privilege to glimpse through that window and cherish that memory.
What are you going to do with the bottle, she asked? I admittedly hadn't given it thought. The bottles been waiting far to long she said with a wink. I think Marsha would be disappointed if you didn't open it with remembrance, she added. I sat dumbfounded. and felt a hint of hesitation. What better than sharing that memory together, she added. When was the last time we sat out here in the garden having a glass of wine and watching the sunset, she asked? Never, that I can remember, I said. That's too long she told me. Let me know and I'll get us a corkscrew and a cou- ple of glasses she said. she arose and stood patiently awaiting my reply. I slowly nodded OK.
She returned and waited for me to pop the cork. I eased the corkscrew into the cork and slowly pressed the levers while watching it slowly open to release its long-held captive. I heard a gentle whisper and the cork was freed. I reached for my wife's glass and slowly poured half a glass before pouring my own. I sat the bottle down and wrapped my hand around my glass. My wife picked up her glass and raised it saying, Marsha, this is for you and she clanked her glass against mine. We each took a sip and the years had been kind to this old Merlot.
We sat watching the sun disappear beyond the horizon, sipping our hidden treasure, and giving thanks for all the open windows old and new.
literature
I am retired and at last free to write and express openly. No matter how much I edit I always find errors once submitted. Everyday I swear to give up this writing experiment only to start over the next day.