The majority of Nepal's landscapes are distant and difficult to reach by road or plane. It requires days of walking to reach such locations. Over time, these unbeaten trails became popular trek destinations, attracting more than 300,000 tourists a year.
Trek Seasons in Nepal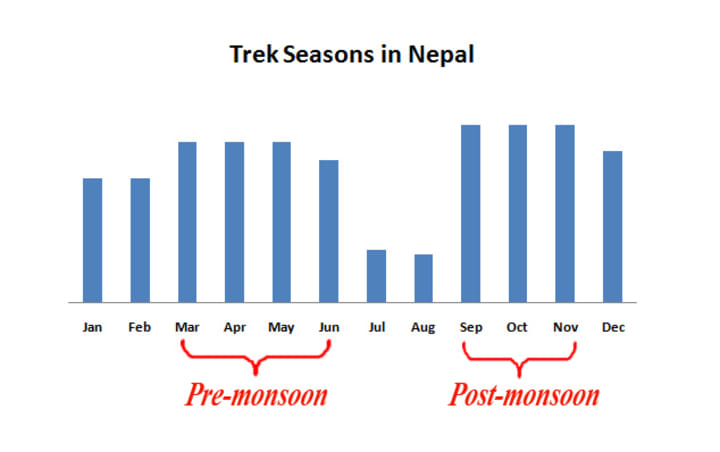 One must understand the varying weathers in Nepal, more importantly, the weather in the region where you are planning to trek. Most of the time, the success of the trek depends completely on weather conditions.
The regular flight to Lukla (Khumbu) from Kathmandu is often obstructed by bad weather causing delays while flying to and from the region, moreover ruining substantial time for trekking.
Pre-monsoon (Spring)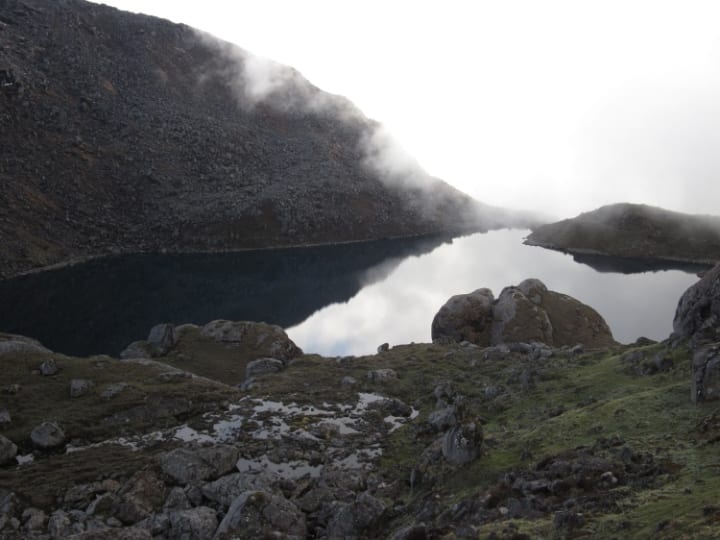 Pre-monsoon in Nepal lasts from Mid February to the beginning of June when the Spring is in full blossom. The beginning of pre-monsoon tends to be chilly as winter fades away and spring pushes in, however, the latter part provides favourable weather for trekking: Sunny, clear and warm.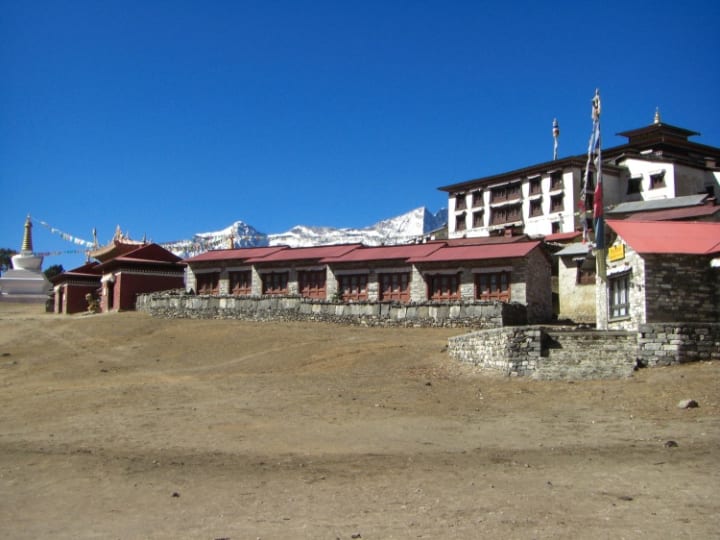 At this time, different species of flowers and plants blossom on the high hills, giving radiant and vibrant texture to a simpler landscape.
Snow at higher elevations melts away during pre-monsoon, clearing paths for crossing high mountain passes and trekking farther distances.
Due to a moderate influx of tourists, the flight and accommodation costs are inexpensive.
Less traffic in the region gives more time to explore the hidden landscapes of the Himalayas.
Chances of any flight obstructing due to bad weather are rare. Best weather is guaranteed!
The temperature in the upper hill and lower mountains reach about 16 - 23º C (61-73º F).
Days and Nights are warmer, therefore, keeping extra warm clothes or such isn't needed.
Post-monsoon (Autumn)
Post-monsoon in Nepal lasts from September to November (the Start of the season differs almost every year. Sometimes, rain continues throughout September or mid-October causing a delay of Autumn season). The monsoon clears away pollution and dust from the atmosphere, therefore, offering a clearer view of the sky and the mountains. Generally, this season starts with Autumn and ends with Winter at the bay.
At this time of the year, tourists arrive in numbers of thousands -just to trek in northern regions of Nepal. Annapurna alone receives more than 50,000 trekkers during post-monsoon.
With the large influx of tourists in a region sometimes it gets tougher to get proper accommodation, however, the ordeal is worth every penny you spend as the experience collected from the trek is unforgettable.
Days tend to be warmer and nights are colder.
Chances of any flight obstructing due to weather are higher, however, this condition generally applies to Lukla only.
Flight costs and accommodations tend to be somewhat expensive.
The temperature in the upper hill and lower mountains reach about 15 - 24º C (59-75º F).
A sleeping bag is compulsory while trekking on popular trails.
Carrying warmer clothes is essential.
Weathers in Nepal
Spring (Mid Feb - Mid June)
Spring in Nepal is a time of joy, with a clearer sky and flushing meadows. Different species of plants blossom during Spring, making high heels look colourful and vibrant. Even many different species of birds make their miles-long journey to Nepal, making this season favourable for bird watching.
Rhododendron, the national flower of Nepal, blossoms during Spring -introducing colours and sharp texture on simpler hills of Northern Nepal.
The warmer days melt most of the snow from high passes, giving more open areas to trek and explore.
Monsoon/Summer (Late June - Mid September)
The Indian subcontinent is popular for its Monsoon rain, attracting romantic reckonings from tourists, filmmakers and writers around the world. In Nepal, the high hills and mountains become inaccessible due to heavy rainfall. It sees only the smallest flock of adventure travellers making their way in Nepal.
Summer and Monsoon go hand in hand, accompanied by hot days/nights and incessant rainfall. Trek trails tend to be uncrowded at this time, however, bad weather and rain can cause many accidents.
Rainshadow areas in Nepal; Upper Dolpo, Mustang, Jomsom etc, are least affected by monsoon rains. It can be a favourable season to trek in these regions.
Autumn (Mid Sep - Mid Dec)
Autumn is a time of celebration in Nepal! During the Autumn, both Hindus and Buddhists celebrate Dashain and Tihar, which is a lavish feast. It also marks the beginning of favourable trek season "Post-monsoon season" which lasts till late November
Winter (Mid Dec - Mid Feb)
Winter in Nepal can be colder. Upper hills and mountains remain foggy and cold, attracting a lesser influx of tourists in the region, however, many who can cope with chilled weather can still trek in the region.
Reader insights
Be the first to share your insights about this piece.
Add your insights