Bentonville: Mountain Biking Capital of the World
Hundreds of miles of world-class dirt ribbon trails crisscross the Ozark Mountains of Northwest Arkansas.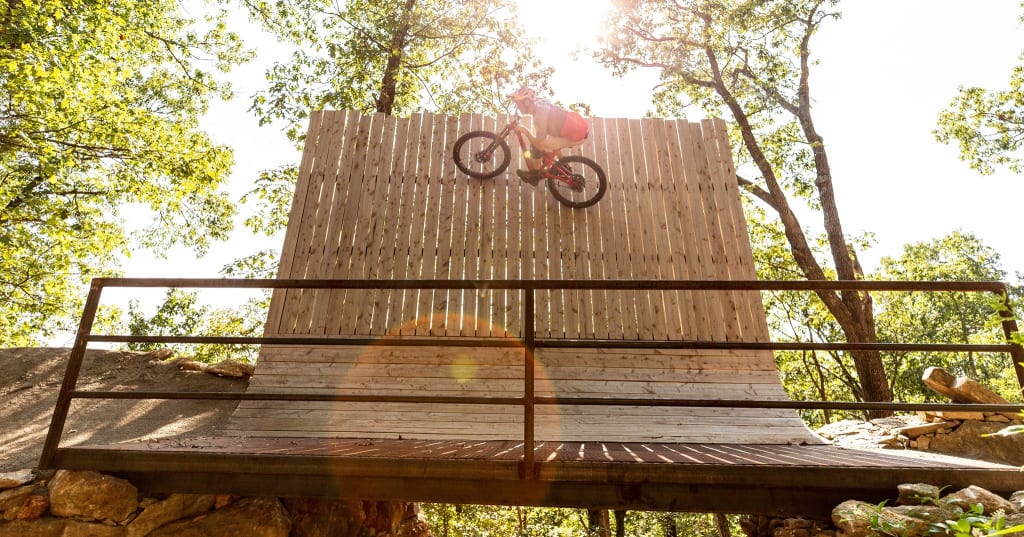 Image from OZ Trails
The secret is out: Bentonville, Arkansas is quickly becoming known as the mountain biking capital of the world with more than 100-miles of trails in and around the city, as well as direct access to another 250-miles of trails throughout the Ozarks of Northwest Arkansas. These trails offer riders of all skill levels access to breathtaking scenery as they enjoy challenging rides, cool obstacles, and rugged terrain in what can only be described as a mountain biking mecca for riders of all types.
First, the city of Bentonville provides mountain bikers with world-class trails that riders can easily enjoy year-round. Furthermore, the city is home to several mountain bike festivals that attract riders from across the U.S. (and the world) to compete on both city and regional trail systems:
Coler Mountain Bike Preserve
Slaughter Pen Mountain Bike Park
Northwest Arkansas OZ Trails
In addition to these world-class mountain bike trails, Bentonville's streets are very bike-friendly as well. Therefore, it's quite common to see families out casually riding around town - especially near the downtown area where there are lots of restaurants, coffee shops, food trucks, and museums. The city is also home to several bike shops - like Mojo Cycling and Phat Tire - that sell and rent bikes. (Their friendly staff are more than willing to answer your questions on bikes, as well as offer helpful advice on trail conditions and recommending rides based on your skill level).
In addition to a bike and helmet, a good bicycle repair kit can also come in handy on these trails!
Coler Mountain Bike Preserve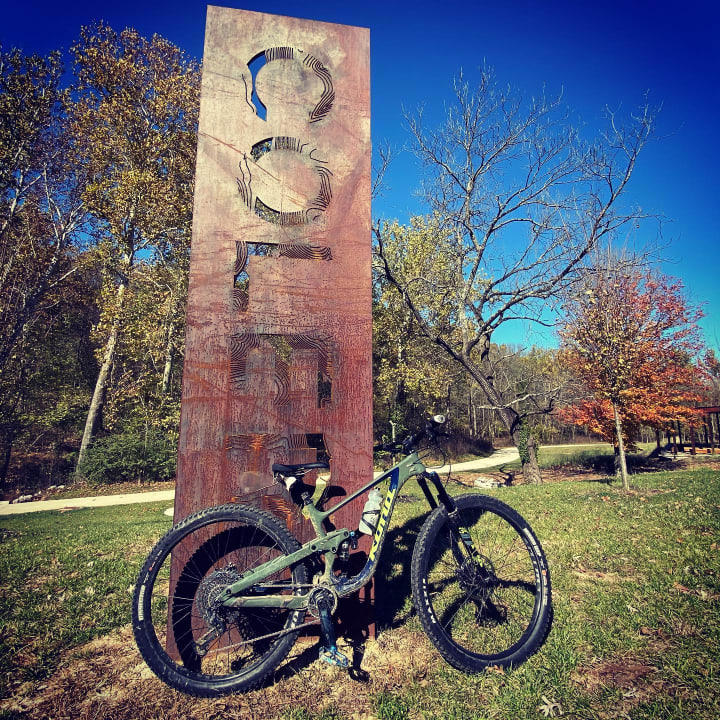 You are probably familiar with nature and wildlife preserves. Well, Bentonville offers riders a one-of-a-kind experience at the Coler Park MTB Preserve - located just west of downtown. This epic bike park features 17-miles of premiere trails that can accommodate riders of every skill level. In fact, the trails at Coler Park are divided into two sections known as Westside and Eastside. Westside is geared toward new riders or those who want an easier ride. Eastside is where the advanced and professional riders go to try out their latest tricks.
As a world-class mountain biking destination, Coler MTB Preserve pushes the envelope when it comes to experiencing high-quality dirt ribbon trails:
Challenging Obstacle Courses
Flyover Trails
Jump Features
Multiple Jump Lines
Technical Downhill Lines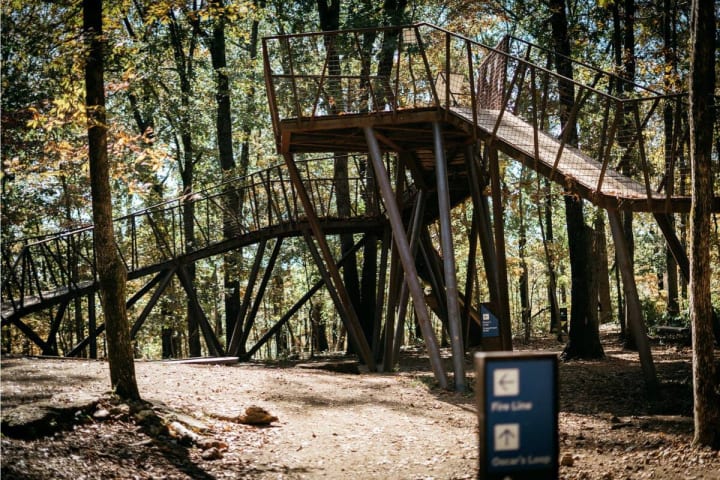 In addition to these challenging obstacles, you couldn't ask for a more beautiful place to ride surrounded by the scenic Ozarks of Northwest Arkansas. Furthermore, the park connects directly into the Northwest Arkansas OZ Trails for hundreds of miles of additional natural-surface trails.
Another really cool feature of Coler MTB Preserve is that they allow tent camping - which can be fun after a full day of riding. (You just have to reserve a campsite ahead of time). Coler Park's facilities include restrooms, showers, a community fire pit, and wooden platforms for tents. There are also lots of nearby dining options.
Slaughter Pen Trails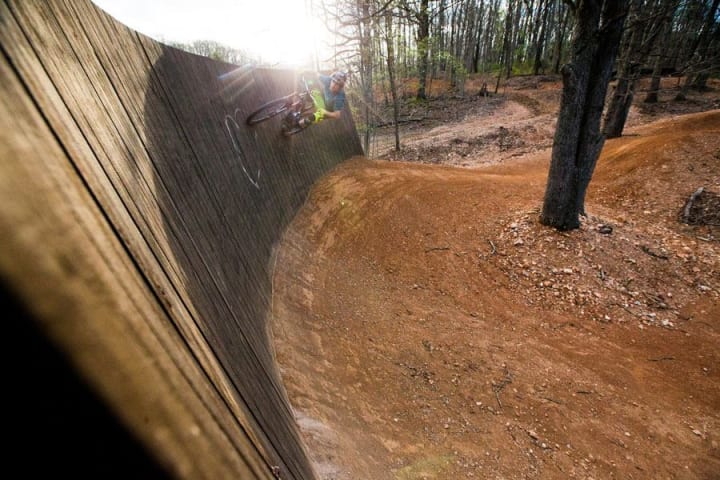 If you are looking for a bit more of an urban mountain biking experience, the Slaughter Pen Mountain Bike Park features more than 40-miles of natural-surface trails that crisscross the Northwest Arkansas Razorback Regional Greenway along the northside of Bentonville near the Crystal Bridges Museum of American Art. In fact, if you are an art lover, Crystal Bridges grants bikers free admission to the museum!
The Slaughter Pen Mountain Bike Park is really more of a giant network of trails that range in difficulty from beginner to advanced:
All-American Trail
Medusa Trail
Scott Allen Alley Trail
Seed Tick Shuffle Trail
These individual trails are connected by connector trails that take riders to different areas of the park. A lot of riders describe Slaughter Pen as a mountain bike destination that offers something for every rider:
Flow Trails
Large Berms
Numerous Jumps
Premiere Obstacle Courses
Technical Rocks
Wooden Bridges Over Creeks
The best part about the Slaughter Pen Mountain Bike Park is that new trails are being built on a regular basis. Therefore, if you have visited the park before, there's a good chance that you will find new trails and obstacle courses.
You can easily access the Slaughter Pen trails at several points along the Razorback Greenway to just to the north of Crystal Bridges. Plus, you can directly access the OZ Trails run through Bella Vista.
Unfortunately, Slaughter Pen doesn't allow camping like Coler MTB Preserve. However, there are nearby campgrounds just to the north in Bella Vista - like Blowing Springs Park.
Northwest Arkansas OZ Trails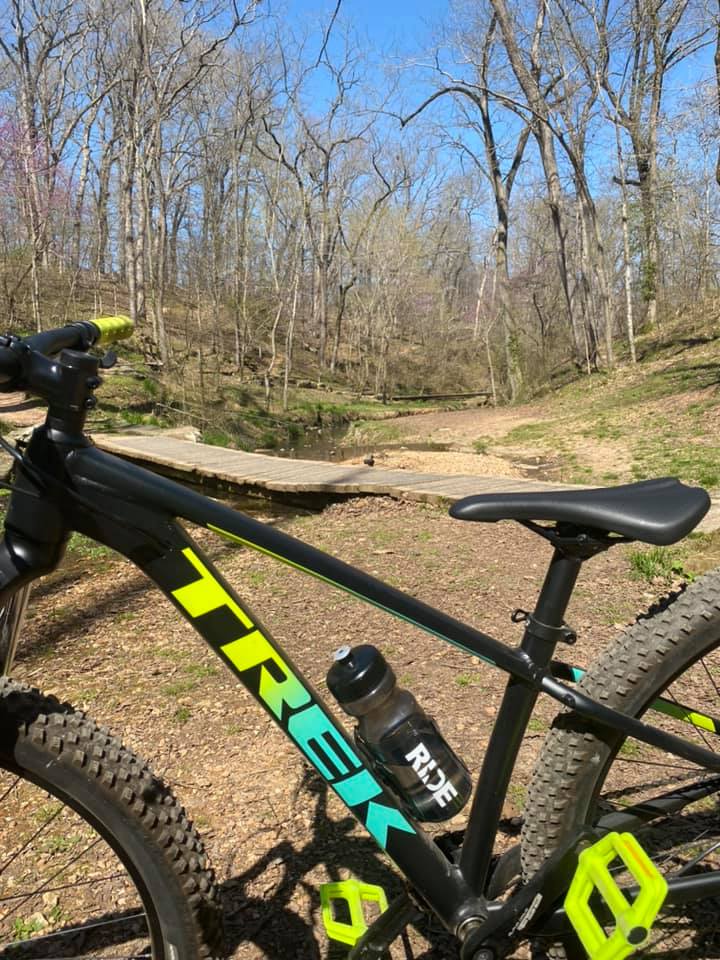 If the city of Bentonville doesn't have enough mountain bike trails for you, then you are in luck, because the NWA OZ Trails feature more than 250-miles of pure dirt ribbon (heaven) for riders to enjoy.
Like Slaughter Pen, the OZ Trails are a network of several regional trail systems maintained by the following cities in Northwest Arkansas:
Bella Vista
Bentonville
Rogers
Lowell
Springdale
Fayetteville
If you are really into outdoor recreation, the OZ Trails are the perfect way to take in the scenic beauty of the Ozarks of Northwest Arkansas. For example, the Bella Vista Back 40 takes riders through deep valleys, across streams, over bluffs and hillsides, along the edges of steep cliffs, and under thick canopies of trees. Plus, you can get a really intense workout! Since it's easy to spend several hours enjoying the trails, a lot of riders use hydration backpacks to keep them hydrated.
Since Bentonville is home to so many world-class mountain bike trails, it's no wonder that the city has gained the moniker of being the "mountain bike capital of the world." Whether you are a professional rider or a newbie just getting started, you can find the perfect trail based on your skill level in Northwest Arkansas.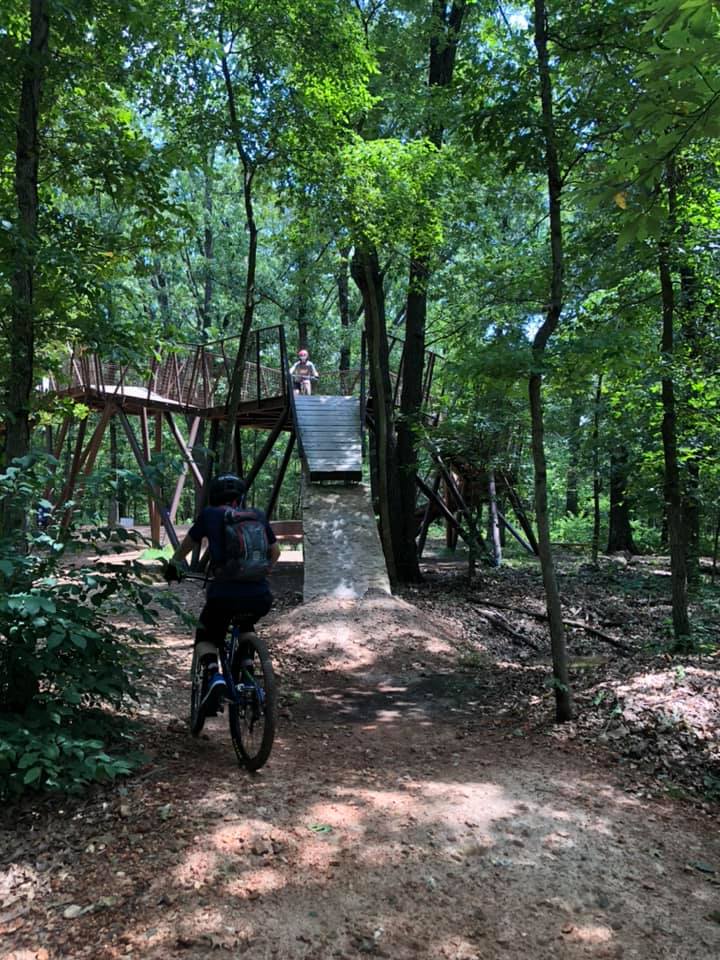 If you have never had the privilege of mountain biking in Bentonville before, then you should plan a visit soon to experience the mountain biking capital of the world for yourself. No matter your comfort and skill level, you can find the perfect trails for riding! Even better, if you love beautiful scenery, then you are going to love the scenic beauty of the Ozark Mountains of Northwest Arkansas.
Disclaimer: Post contains Amazon affiliate links.