Around the World in 80 Books
No Passport Required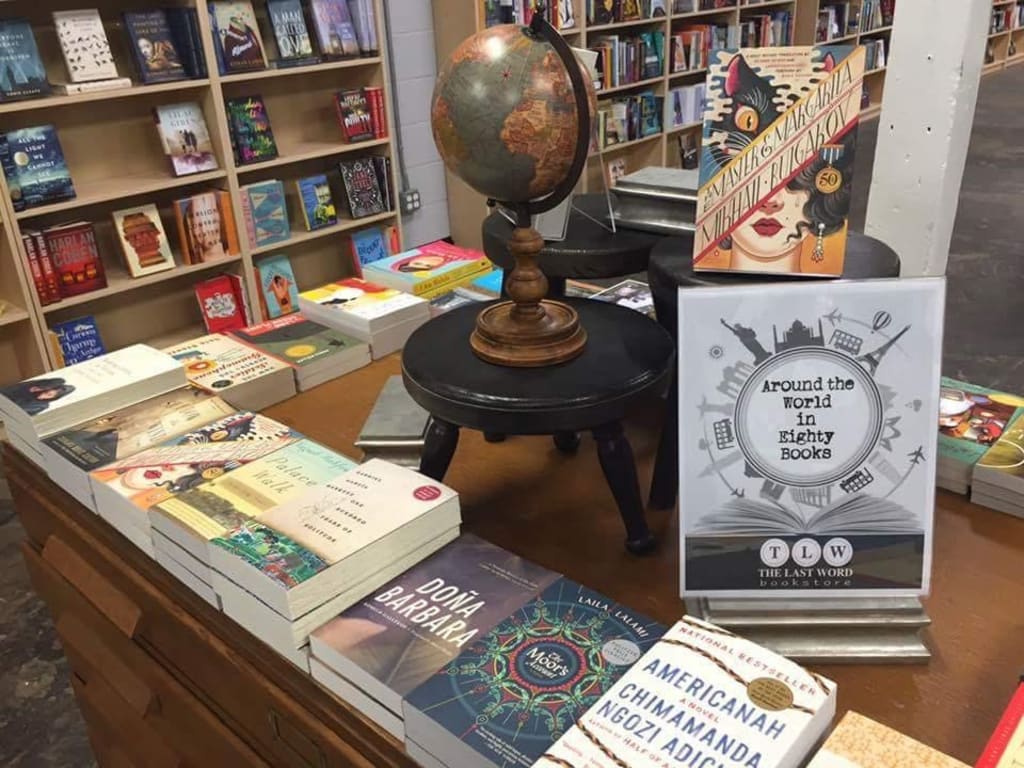 We all know that books have a unique ability to transport us places we would otherwise never be able to go. Sometimes, as in the case of fantasy and science-fiction, they transport us to places that never existed until the author put them down on the page. In other cases, they can take us back in time to the Second World War, to the Renaissance, or to the fall of Troy. There are any number of great travel books that can show us pictures and descriptions of countries we may never see during our lifetime.
One of the best ways to expand our often narrow view of the world is to see it through the eyes of someone else; someone from a different country, a different culture, a different background than we've ever been exposed to. Fortunately, today we have works in translation available that we never would have been able to find even a decade ago. This availability of books in translation invites a challenge that all readers should take: Around the World in 80 Books.
I really wish I could claim credit for this idea (and the allusion to the Jules Verne novel), but I can't. I actually found it during an online search, and there are multiple lists like this out there. But I liked the idea so much that I used it as a focal point when opening a bookstore in 2016. We made a list of 80 books, one each from a different country, and encouraged people to travel through reading.
Now some of you may take exception to the idea that you don't read internationally, for lack of a better word. Maybe you have read a few books by authors not native to your own country, but how many came (if you're an American) from outside Western Europe and Russia? I would wager that the majority are probably by Americans, with of course the classic British novel thrown in for good measure.
Speaking of "classics," that would be the category many of the books we read from Western Europe fall into. Cervantes was a great author, but he's been dead for 400 years. Alexandre Dumas may be the best known French author, but he's been dead for 150. We won't get much of a window into the world we live in today from either of those great men, no matter how much you may love "Don Quixote" or "The Count of Monte Cristo."
Far better that you read the Cemetery of Forgotten Books series by Carlos Ruiz Zafon (the best-known Spanish author since Cervantes) or any of the great novels, many of them quite short, by Patrick Modiano, the best French author living today. Modiano had been writing for decades, and yet was completely unknown to Americans until he won the Nobel Prize for Literature a few years ago. In the past, it typically took winning a major international award for an author's books to even be translated into English because there just wasn't a market for them. Today, however, there is a booming market for these books, and any number of publishers both large and small have imprints specifically for works in translation.
One of the best is Deep Vellum Press. Deep Vellum began as both a bookstore and a publisher before splitting off into separate organizations a few years ago. They have published such diverse titles as "Voroshilovgrad," by Ukrainian author Serhiy Zhadan and the "Trilogy of Memory" novels by Sergio Pitol, one of Mexico's most acclaimed writers.
Another great publisher of international fiction and nonfiction is Europa Editions. They brought out the bestselling "My Brilliant Friend" by Italian author Elena Ferrante, and currently have over 80 titles in their World Noir collection for those of you who love crime fiction with an international flair.
Some of my favorite books in translation in recent years are "Severina" by Guatemalan novelist Rodrigo Rey Rosa, "The Curious Case of Dassoukine's Trousers" by Moroccan author Fouad Laroui, and "Suspended Sentences" by the earlier-mentioned Patrick Modiano. I'm not to the 80-book destination yet, but I am loving the journey.
So what exactly is the Around the World in 80 Books Challenge? It's pretty simple actually: compile your own list of 80 books from 80 different countries and start reading. I can suggest titles like the ones I've mentioned earlier, as well as others like "My Name is Red" (from Turkey) and "Norwegian Wood" (from Japan), but part of the fun in the exercise is looking up books on your own and finding ones that speak to you rather than having something assigned to you. Any Google search of "books in translation" or "books from Tanzania" or "best foreign authors" will give you a good place to start. You can also check out the titles on the Deep Vellum and Europa Editions websites.
Make yourself a list with the title, the author, and the country and travel that list in whatever order you like. If you've never read Gabriel Garcia Marquez's "One Hundred Years of Solitude" but have always wanted to, make that your choice from Colombia. If you have read it, find a different Colombian author. Be aware, however, that many international authors, particularly from South America, are far more political than even American authors have become in the years since the 2016 election. But that can be a very good thing as well, and can help with expanding the worldview I mentioned earlier.
For example, you can read any number of textbooks about the Spanish Civil War, but you won't get the feel for it you get when reading Carlos Ruiz Zafon's novels. You may also find that some of these books expose you to historical events you knew nothing about. "Armenian Golgotha," a memoir by Armenian author Grigoris Balakian, can be a hard read at times, but it does tell us a lot about a genocide that happened in the 20th century most people know nothing about, this time from the perspective of one who lived through it. Some of these books are also just laugh out loud funny because the authors had to use satire to get their work past the government censors.
Whether the books you choose are political satire, magical realism, or just straightforward fiction, one thing you'll find in all of these works in translation is that they are great stories, either that you've never heard before or told in a way you've never heard them told. In a time when xenophobia seems to be running rampant, these books can help you get to know someone that you might not otherwise know and help you gain a different perspective on things you see in the news. Read books by an Israeli and by a Palestinian, by an Indian and a Pakistani; what you'll find is that we are all a lot more alike than you've been led to believe, at least in the ways that really matter.
The best thing about traveling around the world in 80 books is that you don't need a passport, don't need to buy an expensive plane ticket, and are not deterred by the ongoing lockdowns various countries face as we struggle to get the COVID-19 pandemic under control. All you need is a comfortable chair, a cup of coffee, good lighting, and a great book. Let's get traveling.

Paul Combs
I'm a writer, podcaster, and bookseller whose ultimate goal (besides being a roadie for the E Street Band) is to make reading, writing, and books in general as popular in Texas as high school football. It may take a while.
See all posts by Paul Combs →