A Cross-Country Road Trip in the Making
Why am I doing this? I don't even know how to read a map.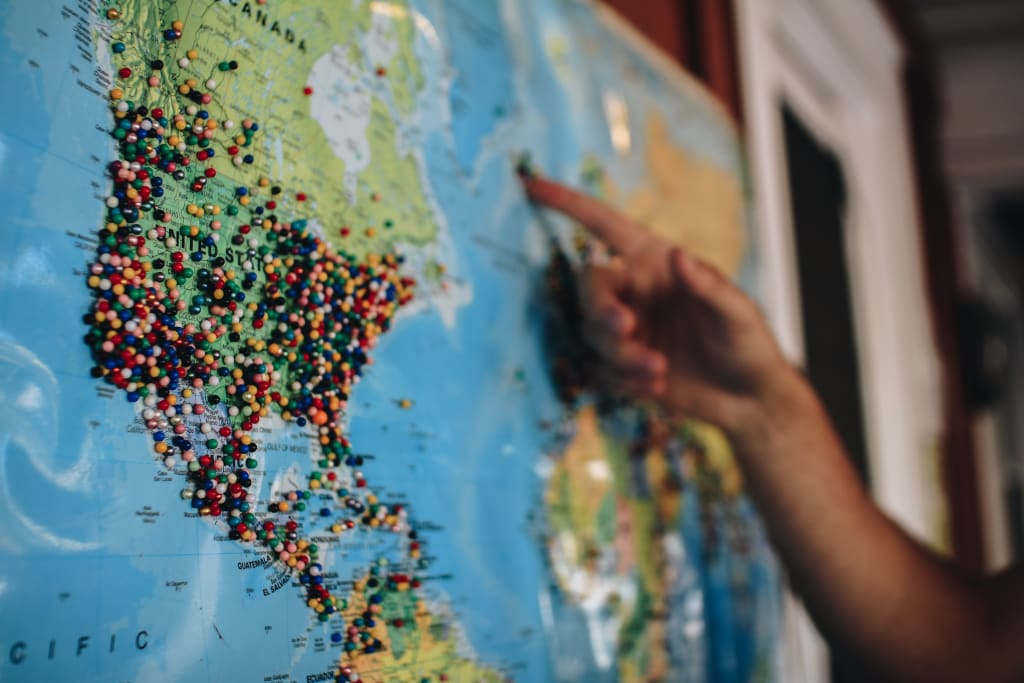 Currently, I would be able to add 10 to 15 pins to the map (give or take a few more on the Eastern hemisphere thanks to a trip to China back in 2014).Photo by Kelsey Knight
Last weekend, I visited relatives in Georgia with my family to take a break from the 9 to 5 routine. The trip was a great time to kick back and relax, yet I was still on my feet with a few new additions to the family.
There were many things that made this trip special: meeting important people in my grandmother's life, hanging out with my new cousins (once removed, if we're being technical), ignoring all of the stressful thoughts that pervade my mind on a day-to-day basis.
But what really stood out about this trip was the lack of a schedule. There was no pressure to be anywhere at a certain time. It was just catching up through conversation. This led to the discussion of a particular topic: travel.
The question, "How many states have you been to?" was easy to answer, but left me anxious for more. Social media provided no help with the endless stream of vacation photos from friends and people I've never even met.
So far, I've been to six of the 50 states. That's 12 percent of the entire country, and only one doesn't reach the Atlantic Ocean. I didn't include any states where I had a layover in either, because there's only so much sightseeing you can do in an airport.
Twelve percent is more than some people, but there's an urge for more; to see more. I have always had a sense of security in the places I stay, which is a reason why traveling seems intimidating. There's a division between comfortability and curiosity that I struggle with quite often.
Staying where I am is unsettling, but so is venturing outside my house.
There is a time in everyone's life when they have the urge to veer from their present state of affairs. This summer has blessed me with the amazing opportunity to explore my own backyard that I've ignored my entire life. When something is so close to you, it's easy to take it for granted. I've been able to see more of Charleston than ever before, and I've enjoyed every minute of it.
This summer has only reinforced my yearning to travel across the country. Sure, international travel sounds appealing for a future trip, but the United States is like an even bigger backyard. There's so much to explore, and I don't want to end up sitting in a rocking chair, wondering why I didn't get in my car and drive.
At my age, my parents had traveled across the country and made memories they continue to tell at dinner. Following in their footsteps is a new and somewhat spontaneous plan. They support this idea of mine, as long as I have a car that will last the trip, and then some. We're currently working on this first step.
I don't exactly know how to go about this, but any college student or newly uninformed parent of a child can resonate with this problem. I don't know how to read a map, and have minimal knowledge on cars. But a trip requires preparation, and when the time comes, I'll be ready (I think).
The goal is to head west after graduating college. This gives me two years to get my bearings together, and maybe convince a few friends to come with me on this journey. You'll be coming along too, because I will make sure to document this through writing and video. Any and all advice from expert travelers is appreciated.
I'm normally one to start off with an idea, and then pull the plug on it. You'll be sure this dream won't fade until I'm on the road, heading toward the Land of Milk and Honey. Or at least that's what I call it.
(Written July 2018, updated June 2019)