60 Seconds of Pure Enjoyment! Sippin' on a Coconut with a Hole & a Straw. .
One of the simple pleasures of the PURA VIDA Lifestyle here in Costa Rica!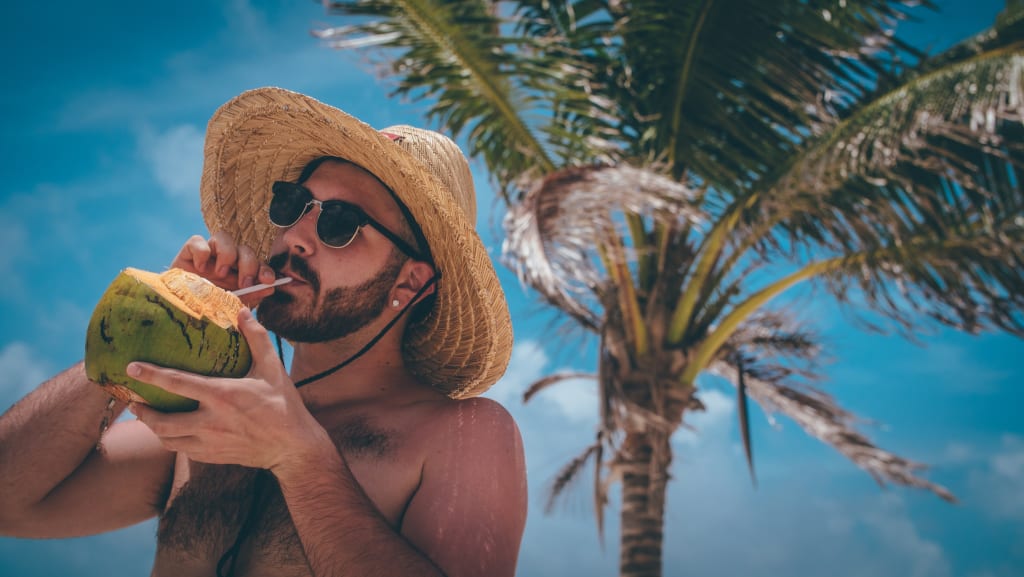 What can you buy for a dollar or less? We have a suggestion!
So many adventures here in Costa Rica. Imagine all of the joy that so many people have experienced either on vacation or living here. Costa Rica is a magical place. . actually, one of the happiest countries on the planet. And our job is a very important one. . to simply SHARE with you the hundreds of stories that we collect from friends, family & clients! We only hope that you connect with one of these events and that it may be the catalyst for you to visit or even move here. The PURA VIDA LIFESTYLE is special and once you understand it, THERE'S NO TURNING BACK.
One of the many things to enjoy here in Costa Rica. . a green coconut with a hole in it. . insert the straw and smile while you're sipping! For less than a dollar, you can set yourself up to have a life-changing experience!
I know that's hard to believe, but allow me to explain myself. . Let's learn more about "pipa"! It's a staple here in Costa Rica. . a "GO-TO" moment that will totally CHANGE YOUR LIFE for the better.
At last count, Costa Rica has over 23,192,298 coconuts growing high in the palm trees. . in every corner of this beautiful country. And for every coconut picked, there's ten more ripening on the vine for our enjoyment TOMORROW! So, the good news is that we'll NEVER RUN OUT OF COCONUTS!
What can we buy for $1.00 in February of 2022? Even chewing gum costs more than that now. Maybe a cup of coffee? A postage stamp! Perhaps a song to download. . a scratch-off lottery ticket! Not too much, I'm sure you'll agree! That's what makes buying coconut water, called "pipa" here in Costa Rica that much more exciting. You'll get at least 15 or 20 strong sips and your body will say, "THANK YOU" for your efforts. It will stimulate your 'pleasure' area of the brain and your 4 HAPPY HORMONES. . Dopamine, Serotonin, Endorphin & Oxytocin will flow with unlimited, reckless abandon!
There's a little performance that goes along with ordering up a PIPA in its natural state! The street vendor starts by picking up the coconut out of his cart with his left hand. . he draws his scary-looking, razor-sharp machete out of his sheath on his belt and he slices one end off the coconut until a little hole appears. He will then reach for a jumbo straw, stick it in the hole and hand it to you with a smile on his face and a twinkle in his eye! At this moment, your life will change for the better. . FOREVER! Your eyes will light up. . a smile will form on your face FROM EAR TO EAR and the world will stop for about 60 seconds. I've seen many people finish the first one and order another! Now, that's for those of you who want to push the envelope. . to live on the edge of insanity! Because pipa is the life-blood of PURA VIDA and it's something that you must experience!
You're invited to visit our websites at www.costaricagoodnewsreport.com & www.costaricaimmigrationandmovingexperts.com
Also, please enjoy our over 1,700 episodes of our "Costa Rica Pura Vida Lifestyle Podcast Series". We are found on all major podcast venues, including iHeartRADIO, Spotify, Apple Podcasts, Google Podcasts, Radio FM, Anchor, Podchaser & many more. Simply search our name online and enjoy!
If you like what you've seen here, please share this story link with others in your social media. . your friends and family. . anyone who may have an interest in learning more about Costa Rica! We would appreciate your support and PROMISE to continue to bring you LOTS OF GOOD NEWS about one of the happiest countries on the planet, Costa Rica! We're NEVER GOING TO STOP!
central america
About the author
Costa Rica is a magical place. Since November, 2002, when I first visited this country, I have been in love with the people, the culture, its biodiversity, the food. . everything about it makes me happy! Now I share my excitement with you!
Reader insights
Be the first to share your insights about this piece.
Add your insights