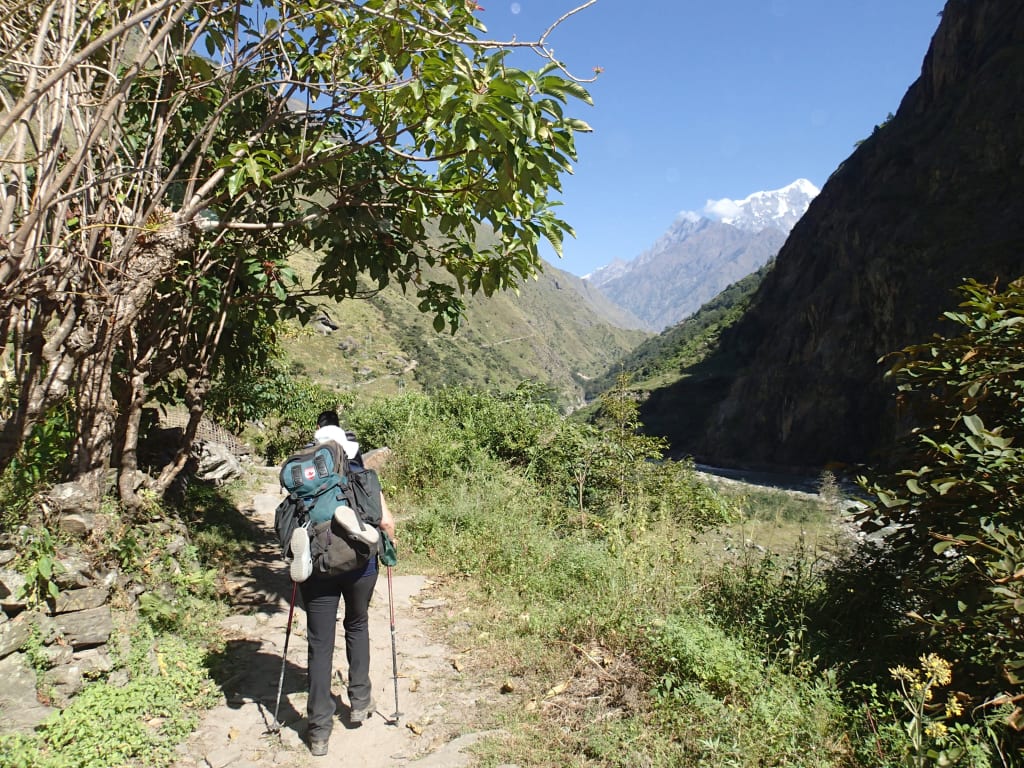 Nepal is one of the underrated destinations in the world for family vacations. With so many activities and places to visit, you can easily plan your whole holiday here. You can expect both luxury getaways leading towards the authentic local experiences here. An Ideal family vacation manages to balance adventure and relaxation. Your trekking vacation in Nepal manages to do just that for you. Traveling as a solo or couple is fun but the joy of family vacation is priceless. So gift your family with the dazzling vacation they deserve in Nepal.
Trekking in Nepal is one of the best family vacations available in Asia. Have you ever dream of spending some magical times in the breathtaking lap of nature? Well, it is time to make that dream come alive. Trekking vacation is a Journey into the Himalayas. Each day treat you to fantastic views. Each segment has some magnificent stories and memories for you and your family. Here we present you with 11 spectacular family vacations in Nepal.
1. Poon Hill Trek
Trek Duration: 4-7 days
Difficulty: Moderate
Best for- The cultural experience and views from the lower Annapurna region
Poon Hill trek is one of the most popular treks in the Annapurna region. Almost the perfect family vacation, all the factors are great here. A bit more than hiking, the natural and cultural delights are packed here. From the top of Poon Hill, you can have a fantastic view of Annapurna and Dhaulagiri Massif. This is a break to admire the beauty of nature and the Himalayas. You can very much expect these excitements on a family vacation to Poon Hill.
General Itinerary
Day 01: Pokhara to Nayapul and trek to Ulleri (1960m, 6-7 hours)
Day 02: Ulleri to Ghorepani (2874m, 5-6 hours)
Day 03: Ghorepani to Poonhill and back, Trek to Tadapani (2610m, 5 hrs)
Day 04: Tadapani to Ghandruk and a cultural break (1940 m, 3 hrs)
Day 05: Ghandruk to Nayapul via Kimche (4 hrs)
The best part for you is that this trek starts and ends in Pokhara. After the completion of Poon Hill Trek, your family can enjoy some adventure activities here. Paragliding, Zip flyer, kayaking, rock-climbing, and ultra-flights are some of your options here.
2. Nagarkot Chisapani Trek
Trek Duration: 2-3 days
Difficulty: Easy
Best for- Sweet teahouse trekking experience ideal for beginners
Nagarkot Chisapani Trek is best for guiding your family towards trekking. This trek is popular among both international and local tourists alike. It is easy but amazingly fruitful. Just outside the bustling Kathmandu Valley, the trail is diverse and pretty doable for all. Another important thing here is that there are two primary destinations to look forward to here.
Nagarkot is a hilltop village with a sublime view of the Himalayas. Chisapani on the other hand is a bit more into rural Nepal. Combining both you can get a comprehensive teahouse trekking experience here.
General itinerary
Day 01: Kathmandu to Sundarijal drive (45 mins), Trek to Chisapani (4 hrs, 2115m)
Day 02: Chisapani to Nagarkot jungle trek (6 hrs, 2195m)
Day 03: Nagarkot to Changunarayan hike (with Bhaktapur exploration) and return
You can add a few days and do some fantastic side trails in this trek. Trying the Newari Cuisine in Changunarayan is a must-do here. Also with plenty of villages in between, you can try some organic delicacies as well during the Nagarkot Chisapani Trek.
3. Mardi Himal Trek
Trek Duration: 5-8 days
Difficulty: Moderate
Best for- Magnificent views of Mount Fishtail (Macchapuchhre) and the Annapurna range
Mardi Himal Trek is an example of a trail giving a fantastic Himalayan experience in a short period. There are few better short treks than Mardi in Nepal. The views and scenery are sublime and are majestic throughout the year. You have a major advantage here. Trekkers can plan an itinerary from a few days to a couple of weeks for Mardi. So, you have no rush here. According to your family trekking experience, you can sketch your vacation.
General Itinerary
Day 01: Drive to Kande, trek to Deurali (4 hrs, 2200m)
Day 02: Deurali to Low Camp (6 hrs, 2,900m)
Day 03: Low to High Camp (5 hrs, 3585m)
Day 04: Trek to Mardi Himal BC (3 hrs, 4500m), BC to Middle Camp (4 hrs, 3200m)
Day 05: Middle Camp to Siding village by different trail (6hrs, 1,750m)
Day 06: Trek to Lumre (3 hrs) and Drive to Pokhara (2 hrs)
Mardi Himal Trek is a family-friendly trek in the Himalayas. It ends back in Pokhara where you can rest and relax furthermore. There are many underrated segments to spend some more time and enjoy nature with your family.
4. Pikey Peak Trek
Trek Duration: 5-7 days
Difficulty: Easy
Best for- Fantastic views and cultural experience in the lower Everest region
Pikey Peak Trek is a lesser-heard trail in the Everest region. It simply showcases a different side of Mount Everest. For a family vacation, it is ideal due to the diverse landscape and peaceful trails. The views of Everest, Makalu, Kanchenjunga, and Lhotse with other breathtaking peaks will wake you up every day. The sunrise view from the Pikey peak is simply magical. With a few other fantastic side trails to explore Pikey peak trek can be a noteworthy vacation in Nepal.
General Itinerary
Day 1: Drive to Dhap (7 hrs), Trek to Japre (2 hrs, 2920 m)
Day 2: Japre to Pikey Base Camp (6 hrs, 3640 m)
Day 3: Sunrise hike to Pikey Peak (4065 m), Trek back to Loding (7 hrs, 2515 m)
Day 4: Loding to Junbesi (5 hrs, 2675 m), Visit to Thubtenchoeling Monastery
Day 5: Trek from Junbesi to Taksindu (5 hrs, 2960 m)
Day 6: Taksindu to Phaplu (6 hrs, 2459 m)
Day 7: Flight from Phaplu to Kathmandu (30 mins)
A picnic-like experience in the mountains with a cultural bonus of the Khumbu region, Pikey Peak has it all. The drive or flight to the starting point of the trek is also amusing. After completion, you can relish the beauty of Everest with a comprehensive trekking experience.
5. Everest panorama Trek
Trek Duration: 5- 7 days
Difficulty: Moderate
Best for- Alternative trail to the Everest Base Camp Trek treating magical views of the Everest.
The Everest Panorama Trek is the best fit as a shorter alternative to the Everest Base Camp Trek. Perfect as a family vacation you will cover the fantastic attractions of Everest here. Similarly, it is a luxury substitute for the trails going higher in the Everest region. You will stop at multiple viewpoints to enjoy the views of Everest during the trek. With easy trekking days and more time to spare you are guaranteed to have a wonderful time on this trek.
General Itinerary
Day 1: Flight to Lukla (30 mins), Trek to Phakding (3 hrs, 2160 m)
Day 2: Phakding to Namche Bazaar (5 hrs, 3500 m)
Day 3: Acclimatization
Day 4: Namche to Everest view hotel and Khumjung Village (4 hrs, 3810 m)
Day 5: Khumjung to Tengboche (4 hrs, 3870 m)
Day 6: Tengboche to Jorsale (7 hrs, 2830 m)
Day 7: Jorsale to Lukla (5 hrs)
Flight Back to Kathmandu from Lukla
There is so much more in this trail despite being an Everest view trek. It offers the culture and lifestyle of local Sherpas to marvelous views of several peaks. A family trek here eases for further continuing longer treks in the Himalayas.
6. Langtang Valley Trek
Trek Duration: 8-10 days
Difficulty: Moderately difficult
Best For- Encountering diverse Himalayan flora and fauna in the Langtang National Park.
Langtang valley trek is one of the most family-friendly trails in the Himalayas. Not too easy or difficult, this trek has it all. The drive to the starting point warms you up for the trek. The views in every segment here are unreal. You will be able to spot beautiful birds and animals walking in the National Park each day. Everything changes with the gain in elevation. However, the love and hospitality shown by locals remain the same here. Langtang valley trek can be your stepping stone towards extreme trekking trails in the Himalayas. Together you can enjoy overcoming a few difficult sections and viewing heavenly landscapes.
General itinerary
Day 1: Drive from Kathmandu to SyabruBesi (7 hrs, 1550m)
Day 2: Trek from SyabruBesi to Lama Hotel (6 hrs, 2380m)
Day 3: Lama Hotel to Langtang Village (6 hrs, 3400m)
Day 4: Langtang to Kyanjin Gompa (4 hrs, 3870m)
Day 5: Excursion to Tserko Ri (5hrs, 5000m)
Day 6: Kyanjin Gompa to Lama Hotel (7 hrs, 2380m)
Day 7: Lama Hotel to Syabru Besi (6 hrs, 1550m)
Day 8: Drive back from SyabruBesi to Kathmandu
Langtang is beautiful even in the off-season. You also can join with other groups and families to complete this fantastic trek. A trekking vacation here leaves a beautiful impression on your family.
7. Dhampus village Trek
Trek Duration: 2 days
Difficulty: Very Easy
Best for- Fantastic ecotourism destination with amazing landscape views
If you are in Pokhara for a vacation, consider the Dhampus Village trek for something different. This short trek is amazing in showcasing the ecotourism delights. You have so many reasons to do this trek with your family. First, the trail is short and maintained. The views are amazing with bonus sceneries in clear weather. A night in an Australian camp is great for relaxing. Starting the next day with Yoga here is something the whole family will enjoy. Next towards the Dhampus where you can experience local culture and lifestyle in the lap of Annapurna. You will be able to learn so much about rural Nepal even from this short trek.
General Itinerary
Day 1: Drive from Pokhara to Kande, Trek to Australian Camp (2 hrs)
Day 2: Trek to Phedi via Dhampus Village (3 hrs) Drive back to Pokhara
Organic products are the highlights of the Dhampus village trek. Try some local delicacies and meals without any worries here. Be a part of the local culture while you are here. With so much more to offer Dhampus village trek is a hidden gem in the Annapurna region.
8. Upper Mustang Trek
Trek Duration: 2 weeks
Difficulty: moderately difficulty
Best for- Restricted area trek in the lost Kingdom of Lo in the Himalayas.
Upper Mustang is the ultimate trekking destination for adventure-loving families. It lies in the rain shadow of the Annapurna and Dhaulagiri Massif. The landscape is so uniquely beautiful that the whole trek is surreal. This trek introduces travelers to a different type of world. It is the result of being closed for outsiders until recently. Even if you have trekked in the Himalayas before, Upper Mustang is a different experience to have. The snow-capped mountains in the distance and Grand-canyon-like scenery is delightful. Trekking days might be longer but the segments are less challenging best for family treks.
General Itinerary
Day 1: Pokhara to Jomsom (20 mins), trek to Kagbeni (2800 m)
Day 2- 4: Relaxed trekking days from Kagbeni to Ghami (3520 m)
Day 5-9: Trekking dominantly in the Upper Mustang area with Lo Manthang (3840 m), some rest and exploration days too
Day 10-12 Return to Jomsom (2720 m)
Fly to Pokhara and city exploration
A visit to upper Mustang has been on the Bucket List of families all around the world. So Why not do this amazing trek with your loved ones? A step outside your comfort zone helps you to strengthen your bonds and excite other adventures ahead.
9. Gosainkunda Helambu Trek
Trek Duration: 6-9 days
Difficulty: moderate
Best for- Holy and pristine lake Gosainkunda and cultural experiences in the Helambu region
Gosainkunda Helambu trek is not the easiest trek on our list. However, the experiences and fulfillment are unrivaled compared to other treks in Nepal. Right from the start of the trek, you will stumble upon fantastic views. The trail passes through a different segment of unique vegetation and landscapes. After reaching Gosainkunda you can have a spiritual break with your family. The whole area looks like it is from a fantasy world. Your return trip is one to enjoy with the Local hospitality of the Helambu region. It is a complete escapade for your family.
General Itinerary
Day 1: Kathmandu to Dhunche drive (7 hrs)
Day 2: Dhunche to Thulo Syabru (6 hrs)
Day 3: Thulo Syrabru to Shin Gompa (6 hrs)
Day 4: Shin Gompa to Gosaikunda (7 hrs)
Day 5: Gosaikunda to Ghopte (6 hrs)
Day 6: Ghopte to Melamchigaon (5 hrs)
Day 7: Melamchi Gaon to Tarke gyang
Day 8: Tarke Gyang to Sermathang
Day 9: Sermatang to Melamchi (3 hrs) Drive to Kathmandu (4 hrs)
10. Tsum Valley Trek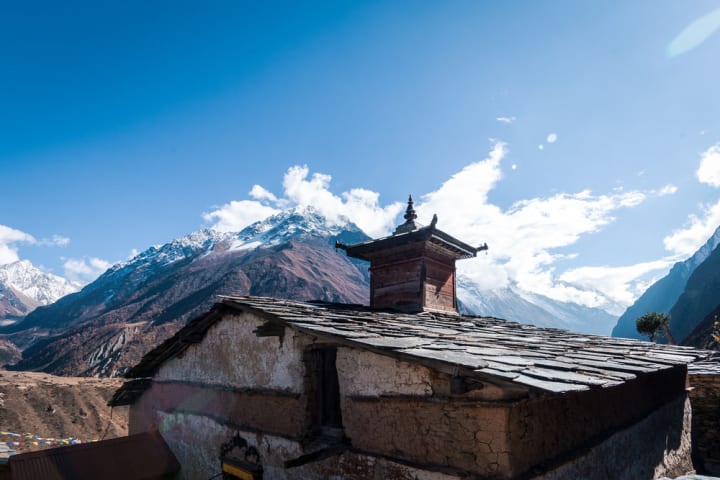 Trek Duration: 9-12 days
Difficulty: Moderate
Best for: Less crowded trail with breathtaking views of Manaslu range
Tsum Valley is another hidden gem in the Himalayas. Recently it has been on top of the list for exotic places to trek in the Himalayas. Tsum valley was opened in the last decade only for trekkers. The whole region looks like it has stopped in time. A family trek here is to appreciate nature and lifestyle without the touch of modernization. The villages of Tsum have locally operated tea houses which are best for a family stay in the Himalayas. Similar to other treks, the Tsum Valley trek is gifted with fantastic sceneries.
General Itinerary
Day 1: Drive from Kathmandu to Soti Khola (7 hrs, 700m)
Day 2: Trek from Soti Khola to Khorla Besi (6 hrs, 970m)
Day 3: Khorla Besi to Jagat (6 hrs, 1340m)
Day 4: Jagat to Lokpa (5 hrs, 2240m)
Day 5: Lokpa to Domje (6 hrs, 2600m)
Day 6: Domje to Nile (6 hrs, 3365m)
Day 7: Nile to Mu Gompa (4 hrs, 3700m)
Day 8: Nile to Chumling (7 hrs, 2375m)
Day 9: Chumling to Salleri (6 hrs, 1353m)
Day 10: Salleri to Machhakhola (6 hrs, 870m)
Day 11: Trek from Machha Khola to Soti Khola
Day 12: Drive back to Kathmandu.
If you want something more for your family, you can also combine it with Manaslu Circuit. A photographer's paradise, you can return with plenty of memories captured from the Tsum Valley trek.
11. Tamang Heritage Trek
Trek Duration: 6-8 days
Difficulty: Easy
Best for- Lifestyle and cultural experience in the Tamang communities of Central Nepal
Tamang heritage tour is an overall cultural trek in Nepal. It leads a trail in the hills north to the Kathmandu Valley. The Landscape views are amazing but the close interaction with the Tamang culture is the main attraction. With your family experience, the Tibetan influenced culture and lifestyle here. Passing by several major settlements help the local economy and enjoy a fantastic time. Each day also provides you different stories and views of the surrounding treasure here.
General Itinerary
Day 1: Drive Kathmandu to Syabrubesi (7 hrs, 1460 m)
Day 2: Syabrubesi to Gatlang (5 hrs, 2238 m)
Day 3: Gatlang to Tatopani (6 hrs, 2380 m)
Day 4: Tatopani to Thuman (5 hrs, 2238 m)
Day 5: Thuman to Briddim (6 hrs, 2239 m)
Day 6: Briddim to Syabrubesi (5 hrs, 1460 m)
Day 7: Drive to Kathmandu
Nepal has an abundance of fantastic trekking trails best for a family vacation. Each trek here has something different to offer you. Plan your family vacation here and unlock the hidden experience in the Himalayas.
Note: The above Itinerary is cited from : HolidayTravelPackage
Reader insights
Be the first to share your insights about this piece.
Add your insights