Will 'Sports Illustrated' Feature a Swimsuit Model with Down Syndrome?
The magazine's bottom line is not female empowerment
Mikayla Holmgren, a young woman from Minnesota, has announced that she sent her audition tape to Sports Illustrated magazine. She hopes to be chosen for the magazine's next Swimsuit Issue.
Holmgren's resume is what you might expect for a potential SI swimsuit model. She has already worked as a model for years. She attended college and is an accomplished dancer. She also participated in the Miss Minnesota USA pageant, where she took home the Spirit Award and the Director's Award. And, she happens to have Down syndrome.
How Society Still Perceives Adults with Down Syndrome
Many of us have limited experience living, working, and socializing with people with Down syndrome. It is a relatively rare condition. According to the Centers for Disease Control, in the U.S. ~6,000 babies are born every year with Down's.
And it's only been in the last couple of decades that people with Down syndrome have been allowed to integrate into society. Even Baby Boomers born with Down's were often institutionalized. Many died very young, without even coming close to reaching their potential. They had neither the medical care nor the social support to do so. Today, things are different. But our collective perceptions have not caught up.
While some health conditions are invisible, that is not the case with Down syndrome. A hallmark of Down's is distinguishable facial features. Unfortunately, some people first notice the Down syndrome before they notice the individual. And, stereotypes still persist.
Our society continues to view adults with Down syndrome as perpetual children. While some adults with Down's do exhibit childlike behavior at times, many others do not. Like the general population, people with Down syndrome have a broad range of abilities and capabilities. Some are going to school, living on their own, having intimate relationships, and pursuing meaningful careers.
Like all human beings, adults with Down's have a sexual side. Yet their sexuality and any expressions of it remain taboo.
The History of the 'Sports Illustrated' Swimsuit Issue
The first Swimsuit Issue was released in 1964. Back then, it technically wasn't even a separate issue. It was a few pages in a travel-focused spread.
But today, even calling it the "Swimsuit Issue" is a bit of a misnomer. In recent years, models have ditched the bikinis for body paint, jewelry, and, perhaps, a macramé plant holder:
The Swimsuit Issue remains safely in the mainstream by pushing erotic photography to its absolute limits: carefully placed hands, creative angles, and tiny scraps of fabric. The magazine is bold, daring, and sexy.
Many former SI models describe posing for the Swimsuit Issue as "empowering." Take a look at this Google search result: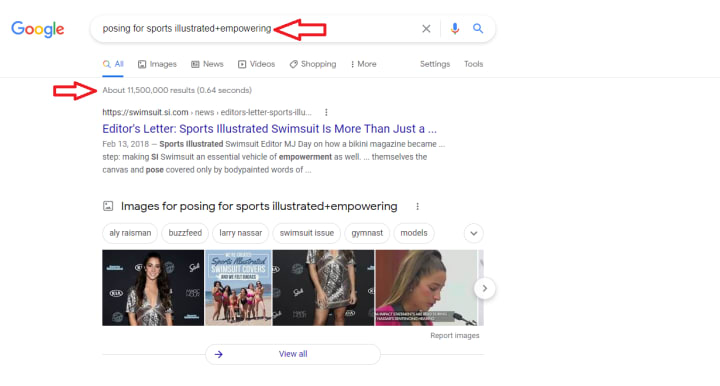 Let's take these women at their word, but don't be fooled into thinking that empowerment is the magazine's primary intent. The magazine exists to make money off of capturing the male gaze.
Since its inception, the Swimsuit Issue has generated over $1 billion in revenue. And let's be frank for a moment. Who is included in the magazine comes down to "who" will sell. From a financial perspective, would a swimsuit model with Down syndrome help or hurt the SI franchise? Is society going to ditch the stereotypes and accept that someone with a disability can choose to look sexy? It's ultimately going to be a business decision.
Does Mikayla Holmgren stand a chance?
The magazine is an expression of female sexuality whose primary audience is men. In that context, would a model with Down syndrome be seen as "breaking barriers"? Or—because of the taboos that society still has—as exploitative?
In 2020, Valentina Sampaio became the first transgender SI swimsuit model. Prior to that, she was featured in Vogue Paris and modeled for Victoria's Secret.
Sports Illustrated wasn't taking too much of a gamble with Sampaio. She had already been endorsed by the world's most famous lingerie brand. But, we can't say the same for a woman with Down syndrome. Or, a woman with any disability, for that matter.
Holmgren made a bold move by announcing that she created and submitted an audition tape. We will know either way what happens. And Sports Illustrated is in the hot seat until they decide. For now, we wait along with Holmgren to see what the answer is.