To All My Big Girls
Encouraging you all to embrace your bodies and love yourself some more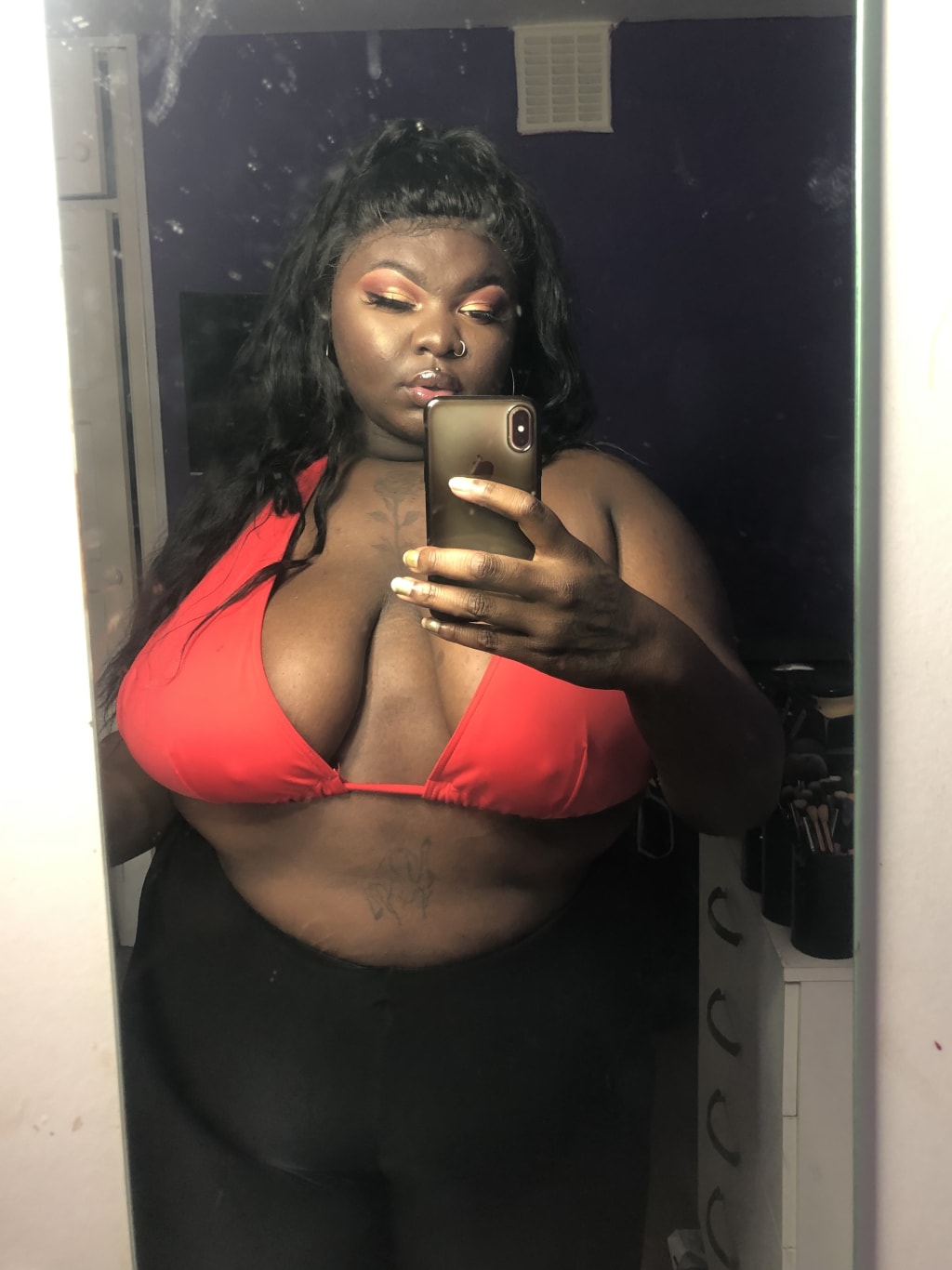 Me: embracing my saggy boobs 
As carnival weekend is approaching very soon, I thought it would be appropriate for me to write some encouraging words to all my fellow big girls. We all know that during carnival season people are often wearing next to nothing as they enjoy the festivities in the warm weather. I know that this could be intimidating for some of us as we may have insecurities with our body. I'm here to tell you girls that it's completely normal and you're definitely not alone. I'm almost certain that even slim girls find themselves refraining from wearing certain items of clothing because they aren't completely content with their body. Self-love and confidence isn't something attained overnight, it's a journey that is different for everyone.
I want to encourage you girls to use this weekend as an opportunity to come out of your comfort zone. For example, if you're someone who usually wears long sleeved shirts, I suggest you opt for a short sleeved shirt. If you're feeling more daring, I'd suggest wearing a pair of shorts if you're someone who usually doesn't show their legs. I'm sure wearing clothes that are more suitable for hot weather would allow you to enjoy yourself more freely. Taking little steps towards embracing your body definitely helps to gain more confidence. After spending a whole day wearing something that you would usually shy away from, you'll realise that it isn't as bad as you predicted it to be.
In the past, when I've worn clothes that I wasn't most comfortable in, I often spent a lot of time worrying about what other people might be saying or thinking about my body. In reality, I'm sure most people were too busy focusing on their own shit to even realise that my fupa was being accentuated by my bodycon dress or that my bralette was showing off my saggy boobs. I wasted all that time worrying for nothing because to be honest, even if people were talking about my body, I'd still have to live with it and go about my day. Nothing useful comes from feeling bad about myself because of how other people view me. As I grew more confident, I realised that people will talk regardless of what I look like so I shouldn't let what others say influence how I feel about myself.
This year, I will be wearing a carnival costume for the first time ever and I'm honestly so excited. Playing mas is something I've always wanted to do but of course I let my insecurities get in the way. Right now, I'm the most confident I've ever been so it was only right that I wear the things I used to shy away from. One of them being a bikini. Early this year, I wore a bikini for the first time ever during my birthday vacation. It felt amazing to wear it without feeling any negative emotions towards my body. The opinion of others didn't even cross my mind which makes me feel so happy because it shows that I've truly become a lot more confident than I was a couple years ago. My self-love and confidence journey wasn't smooth sailing as I'm sure you can imagine and as I said before, everyone's journey is different so I don't feel that sharing my entire journey is relevant. However, I will say that social media did play a huge role in making my journey easier. People often say that social media harms your mental health, which can be true but it depends on what you're consuming. Social media played a positive role in helping me love myself more because I chose to follow women who looked like me and weren't ashamed of it. Following plus size women who unapologetically express themselves everyday inspired me to do the same. It started with me abandoning filters on my selfies to eventually posting full body pictures. Each time I came out my comfort zone, I became a little more confident because of the liberating feeling and the reassurance from other women who resembled me. Of course, there were those few people who had negative things to say but their nasty words barely hurt because I was determined to start living my life unapologetically just like the women I admire and now I can honestly say I do.
All I want is for other women (of all sizes) to overcome their insecurities. Even though the journey towards truly loving yourself and being more confident can be a pain and can sometimes take a really long time, it is most definitely worth it. All it takes is one small step. Once you begin the journey, never look back and you'll see how much more enjoyable life can be.