This Women's Handball Team Was Fined for Rejecting Bikini Uniforms
How astonishingly sexist and ridiculous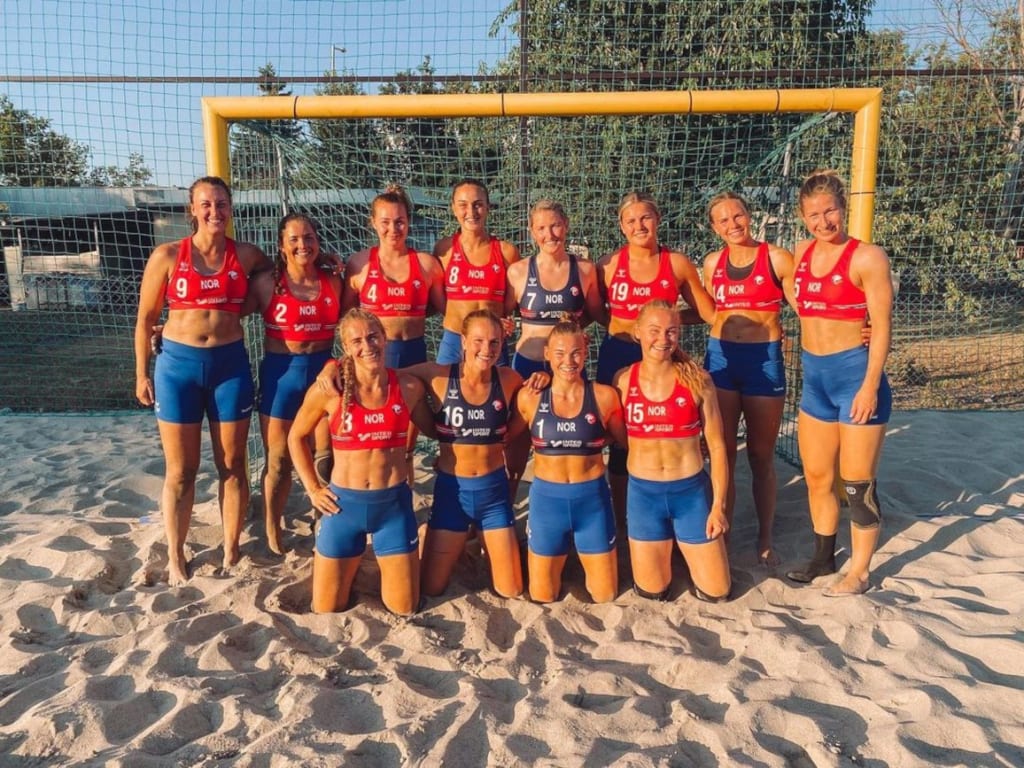 Norwegian team wearing 'improper' shorts at the tournament in Bulgaria, image via Norwegian Beach Handball Women's Instagram
It shouldn't be news to anyone that female athletes' wardrobes are often strikingly sexist. If you've ever watched the Olympics or any other sports event including women, you must have noticed that.
While men's uniforms are often designed for practicality, women's uniforms are designed for… well, for show.
That's why I wasn't surprised in the slightest when I read about the Norwegian women's beach handball team being fined 1,500 euros ($1,700) for 'improper clothing,' according to a statement from the European Handball Association's (EHA) Disciplinary Commission.
The team has refused to play in bikini bottoms - which the sport's Norwegian federation president called 'embarrassing' - during a game in the sport's Euro 2021 tournament. Instead, they wore thigh-length elastic shorts, as shown in the cover picture.
Prior to the event, the team had actually petitioned to wear the shorts its players train in typically, but the EHA threatened them with a fine or disqualification. Still, this didn't stop the women from deciding to make a statement and wear the shorts during their bronze-medal match anyway.
And not surprisingly, the team has received overwhelming support across social media platforms and from their own country.
Some rules are made to be broken
In response to the news that the team had been fined, several of Norway's politicians took to social media to express their disappointment with the rules, including Norway's Minister of Culture, who tweeted:
Can you please stop the forced bikini nonsense at your beach handball games? It is embarrassing, disgraceful, and sexist. You are ruining both the sport and your own reputation.
So what are the rules, exactly?
According to the International Handball Federation (IHF) regulations, female athletes must wear bikini bottoms with a side width a maximum of 10 centimeters (3.9 inches), with a 'close fit and 'cut on an upward angle toward the top of the leg.'
On the other hand, men can wear shorts that are 'not too baggy' as long as four inches above their knees. You can see how the correct male and female uniforms look side to side here.
And is there any reason given to justify different rules for women and men?
Of course not.
But it's not difficult to guess why these rules are so discriminatory.
'We are athletes who just want to be playing our sport'
After 'the controversial shorts' match, one of the Norwegian handball team's longtime members, Elisabeth Hammerstad, commented on why they've decided to make the statement:
When you're wearing a bikini, it's harder to concentrate on the sport. You have to be running, doing gymnastic moves. I don't understand why we have to wear these kinds of clothes when it takes all the focus away from the sport that we love.

We are athletes who just want to be playing our sport.
Judging from the fine, this sport's governing body couldn't care less about what female athletes actually want or what's comfortable and practical for them. Because anything that is so revealing, just for its sake and not for the necessity of the sport, is being mandated for the benefit of viewers - and certainly not female players.
Honestly, the Norwegian team should only agree to wear bikini bottoms while playing if the Handball Federation committee members do the same at the medal ceremony.
I'm sure that many people would just love to see that.
And who cares if it's uncomfortable and demeaning for them, right?
Perhaps we could even spruce things up a bit more and include high heels as a part of the mandatory uniform, too. After all, the Ukrainian army has recently decided to force their female soldiers to march in heels. And no, that's not a joke. Although I wish it was.
The 'sexploitation' in athletic uniforms must stop
Norway has campaigned since 2006 for shorts to be officially considered acceptable in beach handball, but with no success so far. They plan to submit another motion to change the rules in an extraordinary congress of the International Handball Federation in November.
But it's entirely ridiculous and frustrating that 15 years of advocating brought no real change in the sport's regulations.
It's more than misogynistic to force women to wear tiny strips of fabric. The Norwegian team shouldn't be obliged to look like a schoolboy fantasy at the expense of their own comfort.
And why do these sexist dress codes exist in the first place?
According to Cheryl Cooky, a professor of American studies who specializes in gender and athletics, there is a deep-rooted idea that women's sports aren't as interesting to watch as men's sports - and that's because women aren't perceived as 'good' at athletics as men are. So to make women's sports more popular, people in athletic leadership have implemented these kinds of dress codes in sports such as beach volleyball, beach handball, and gymnastics.
But if this strategy would work, beach volleyball would be among the most-watched sports. And it isn't.
As with many other issues, it all boils down to patriarchy and sexism.
Forcing female athletes to align with cultural expectations for women and wear skimpy outfits while holding men to entirely different standards only reinforces the idea that men and women are fundamentally different.
And time and time again, the focus on women in sport is on what they wear - overshadowing their achievements and athletic ability.
This 'sexploitation' of women athletes must stop.
Final thoughts
Female athletes don't work hard to perform at the highest level just to be judged on the length of their shorts or objectified and sexualized in a way that undermines their achievements.
Situations like the one with the Norwegian women's handball team only further contribute to the diminished credibility of female sports. And it can discourage younger girls from even pursuing sports in the first place. Because why would they want a career that forces them into unpractical outfits that makes them uncomfortable?
When it comes to sports, athletic accomplishments should be what comes first and foremost, whether it's a female or male sport.
Everything else last.
Period.
This story was originally published on Medium.
About the Creator
Sometimes serious, sometimes funny, always stirring the pot. Social sciences nerd based in London. Check out my other social media: www.linktr.ee/katiejgln
Reader insights
Be the first to share your insights about this piece.
Add your insights