The Lemon Dress
A little more behind the look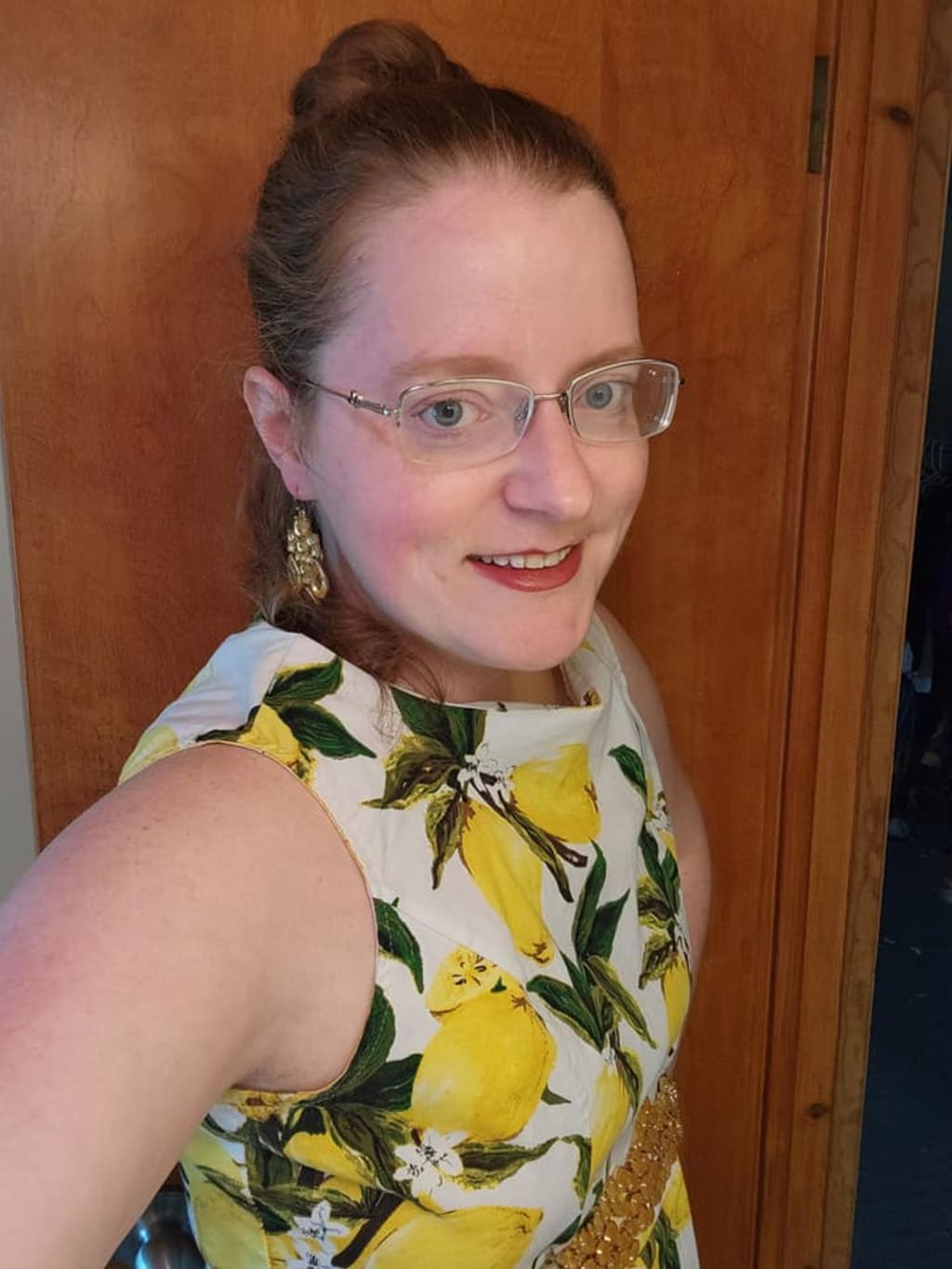 Tinka Boudit - a self portrait.
My mother will tell you I always had my own taste in fashion. I would wear dance costumes to the library. I would wear plaid vests with mixed print clothes, tights, and sneakers. She always let me dress myself and never tried to stop me. There were one or two times in my teen years where she drew the line and said 'no,' and looking back on it, it was for the best and I am grateful for it. My mother and father have beautiful, classic, timeless taste. As I got older, I learned to adhere to a lot of those classic rules: white shoes belong on brides and babies, your shoes should be darker than your legs, look at yourself before you leave in your outfit and take off one accessory, and it never hurts to look your best. No, they did not invent those rules, but they are great rules to live by.
I have also established my own fashion rules, and while trendy fashions come and go, these are my own personal rules, and I will not judge you if you like these things for yourself.
These things are just not right for me: leggings and sweats are not pants in public outside of a gym. I am not a fan of the ballet flat shoe. Shorts should be long enough to cover your genitals. All women's shorts are cut by Satan. All pants should have pockets and all pockets should be bigger. Why are all women's clothes so damn sheer?! It's frustrating!
But I digress from the original point of this article. The story behind my portrait; the origin of the lemon dress.
I am not a big fan of most floral prints. Lots of spring dresses are floral prints. I am super picky about it. When I saw this lemon print on the internet a few years ago, I loved it. I had it originally in a halter-cut but it never fit me quite right, so I gave it to a friend. I ended up buying a second, replacement dress with a slightly different collar. I still have several more dresses, skirts, and other pieces in this print bookmarked for purchase because I love this lemon print fabric so much. Maybe because I'm fair and a red-head, maybe because there is some good greens in there, but I can actually pull off wearing yellow and white in a garment like this. It's one of my favorite dresses in my closet.
I love lemon. Lemon is my favorite fruit. It is bright, it is sour. It can be made sweet or added to savory. It is the Starburst no one wants, but is my first choice. Lemon can go with so much. it does not occur organically in nature. It only exists because people took the time to take the best of other things and create something new. It had to be nurtured. It had to be made by science. If lemons are not properly handled, they will turn your face into a sour puss.
After going through some major bodily transformations: eight surgeries with seven hospitalizations between June of 2020 and March of 2021, I am in a whole new skin; at least that's how it feels. I am happy, I am healthy. I am evolved. My skin is thicker. My flavors are bolder. I am no longer hiding, but those who know me best will tell you I was never subtle or hiding before the surgeries. There were some trials, there were some errors, but I can not say if I am better or worse now because of it. I am safer for it.
I am a lemon.