Slim Girls Can Be Curvy Too
…and just as 'real' as any other woman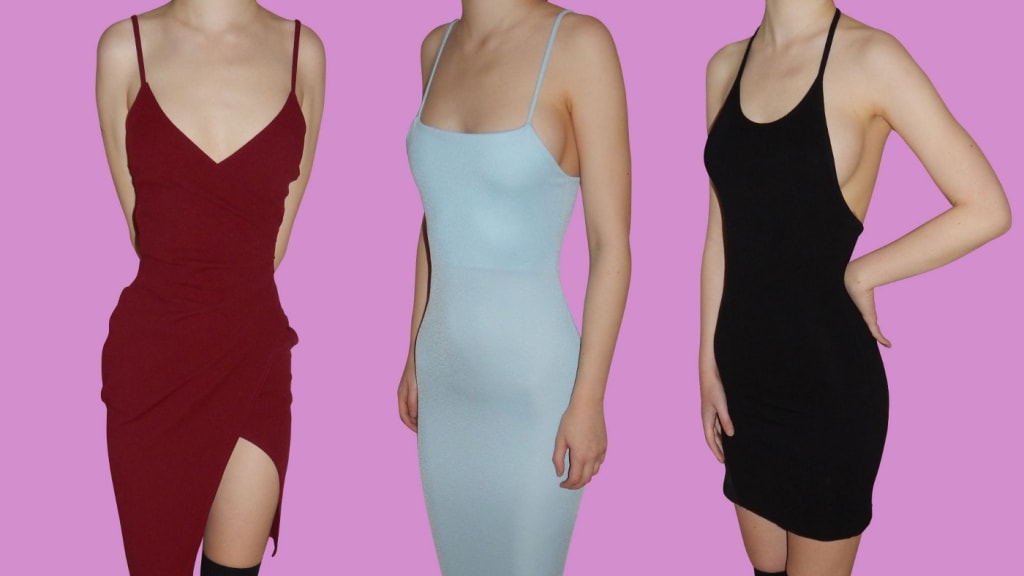 Larger, rounder women who wish to celebrate their beauty and attractiveness, often describe themselves as 'curvy.' Their admirers describe them as curvy. And even people who actively dislike larger figures may describe them as curvy, so as not to appear impolite.
On the whole, this all seems fine. 'Curvy' is a nice-sounding description. And fuller-figured women can certainly be beautiful. I have a friend on this platform who regularly proves this beyond any reasonable doubt.
Yes, many people find slimness appealing. But not everyone. And some people find larger women especially attractive.
It's true that extra weight can be associated with some health problems. And because of this, some people argue we shouldn't shy away from describing people with a lot of body fat simply as 'fat.'
But would I like to be described as fat, if I was fat? No. Probably not. So I totally understand that many larger women wish to be described in more flattering ways, using more pleasant-sounding words.
But I do have one minor complaint:
When 'curvy' is routinely used as a euphemism for 'fat,' this strongly implies that you can't be curvy if you are slim. And that's simply not true.
Me in jeans and a T-shirt: It's not what I would describe as a very flattering image. But it does very clearly show that I am slim. I'm not sure that anyone would argue otherwise.
But if I switch to a different type of outfit…
Me in a dress: you can clearly see that I still have plenty of curves.
There's nothing artificial there. No breast implants. No buttock injections. No extra padding. No push-up bra. And there's no help from Adobe Photoshop. It's all natural.
Of course there are much curvier women. But there's certainly no 'straight up and down' about my figure.
So yes, I'm both slim and curvy. But if I described myself as 'curvy,' people would think that I'm a 'larger woman.' And I'm not.
And I expect there are lots of other slim or mid-sized women who would like to be able to describe themselves as curvy, without other people thinking that's just a euphemism for being fat.
I could also criticise the practice of describing larger women as "real women." We slim girls are real women too. But you get the point.
So how should larger women describe their figures, if not as 'curvy'?
Alternative descriptions for larger figures have been used, before being criticised and discarded one by one.
'Fat' is just not a nice-sounding word. It points to a possible health problem, rather than to a potentially pleasing shape. It's fine as a description of yourself, when you're having a private conversation with your doctor, or with your fitness coach. But it's not the sort of word you want to put on your dating profile.
We had 'plus-sized.' This was widely used for a time, but is now frowned upon by many, after being used to describe anyone who wasn't supermodel thin, thus implying anyone larger than that was somehow 'not normal.'
We're probably stuck with curvy for now. But I would ideally like it to be replaced by a term that describes larger women in a pleasant way, without implying we slim girls have no curves.
Your suggestions are welcome. Would 'voluptuous' be better?
Is this a silly complaint?
Of course it is. In a way. If I want people to know I'm curvy, but not fat, it's easy enough for me to describe myself as 'slim but curvy' — or just post a picture.
But perhaps there is a serious point or two to make here.
It isn't merely misleading to imply that slim and curvy are mutually exclusive attributes. It could be harmful. It could encourage unhealthy life choices, or discourage healthy ones.
There may be some larger women out there who should probably lose some weight for health reasons. (And no I'm not saying all large women are unhealthy.) But they take comfort from having 'impressive curves,' and put that diet and exercise regime on hold — perhaps ignoring the fact that they could still have very pleasing curves if they were rather slimmer.
At the same time, there are slim women desperate to have the curves that are so fashionable and so widely admired these days. To achieve more impressive curves, they might wear uncomfortable clothes — waist-squeezing corsets and padded bras. Or they might take more extreme measures, such as undergoing expensive or risky surgery to have curve-boosting implants installed, or having fillers injected into various parts of their bodies.
Each to her own, I suppose. But personally, I don't view such choices as entirely healthy.
Most slim women are still naturally curvy. To show off their natural curves, sometimes all they need is the right outfit — and it needn't be an uncomfortable one.
Slim and curvy are not mutually exclusive attributes.
Implying that they are may encourage the unhealthy belief that to be curvy, you have to sacrifice being slim, wear restrictive and uncomfortable clothing, or resort to implants and fillers.
The idea that you can be slim or curvy, but not both, is a total myth. And I think it's good to remind people of that fact.
Slim but want to look curvy? Best option: Buy the right dress. It may not work for everyone. But it's definitely worth a try.
body
About the author
Reader insights
Outstanding
Excellent work. Looking forward to reading more!
Top insights
Eye opening

Niche topic & fresh perspectives

Easy to read and follow

Well-structured & engaging content

Heartfelt and relatable

The story invoked strong personal emotions
On-point and relevant

Writing reflected the title & theme

Masterful proofreading

Zero grammar & spelling mistakes

Expert insights and opinions

Arguments were carefully researched and presented

Compelling and original writing

Creative use of language & vocab
Add your insights