Selfies to Save Me in Las Vegas
I respect anyone brave enough to take a selfie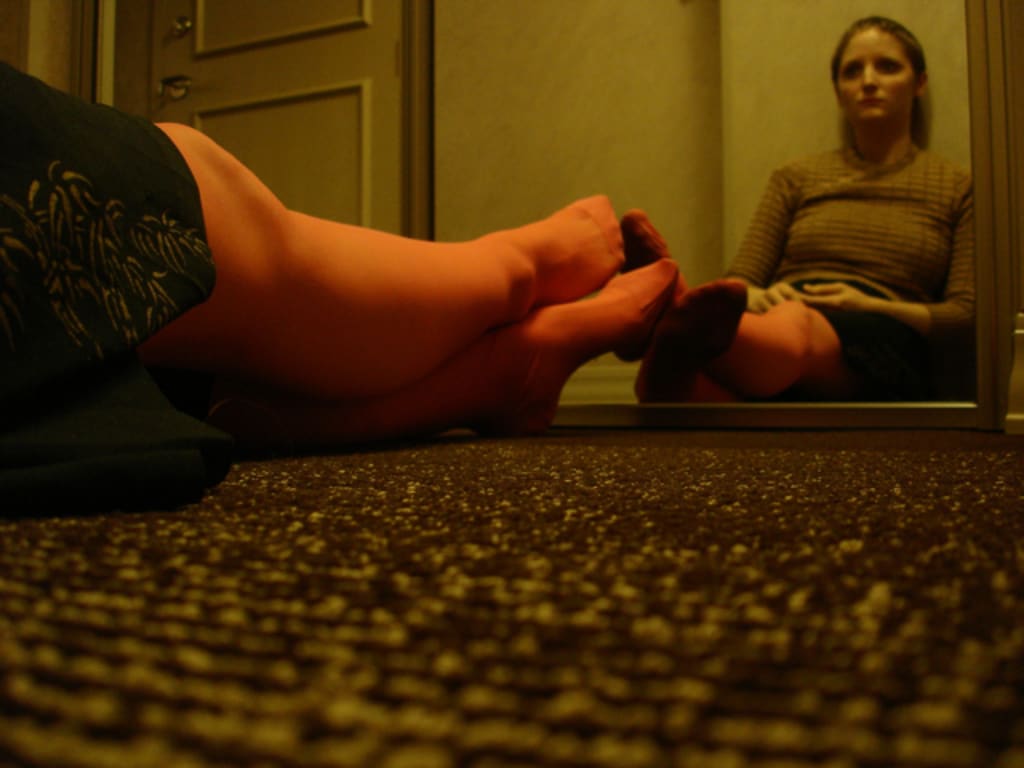 I respect earlier versions of me. The woman I see in photos. She is a sensitive creature. Someone brave enough to shave her head. She is sometimes lonely, and she captures her loneliness by taking moody selfies. When I look at her, I feel transported to a time, to a place, to a feeling. And even though her loneliness can look silly or sad or self-indulgent, I remember how serious she really was. A camera is like a mirror, and a mirror is a portal. One we either enter or run away from.
I respect anyone brave enough to take a selfie. You are creating an opportunity for exposure. And when you do, you are making yourself vulnerable. In this state of vulnerability, you can find connection, or you can find rejection. To take a selfie is to say, "This is me, for this moment, and never again." To take a selfie is to document the ephemeral quality of your identity. Some of your selfies will live longer than you. Some of your selfies will go on to represent you. To take a selfie is to have faith in the future. To take a selfie is letting your destiny unfold beyond your reach.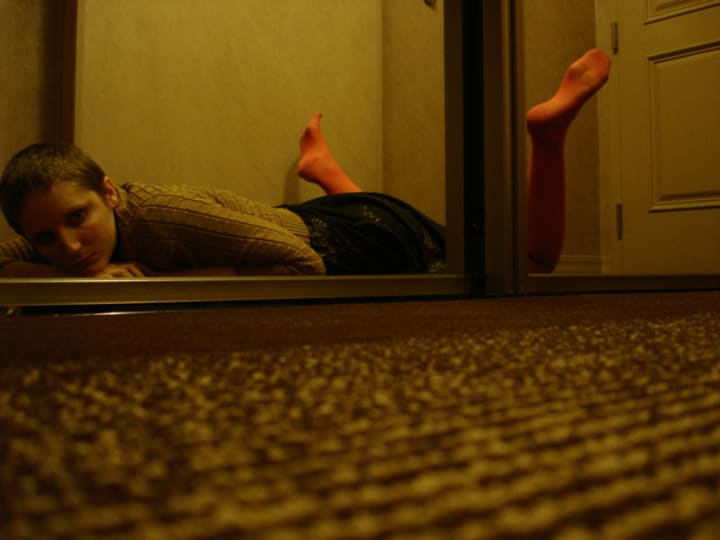 Who is this woman on the floor in a hotel room in Las Vegas? Edward Hopper knows her. She is a lonely character. A woman on the verge of what? This woman is an earlier version of me. She flew from New York City to Las Vegas on a winter night, during a snowstorm. She put her sensitive face all the way down to the dirty carpet. What is she wearing? Vintage clothes, pink tights. A young woman, alone, with a mirror. Does she see what the camera sees? Does she see what Ed Hopper would have seen? A temporary situation that feels inescapable. Doors that only lead to more doors. From a city that never sleeps to a city without clocks.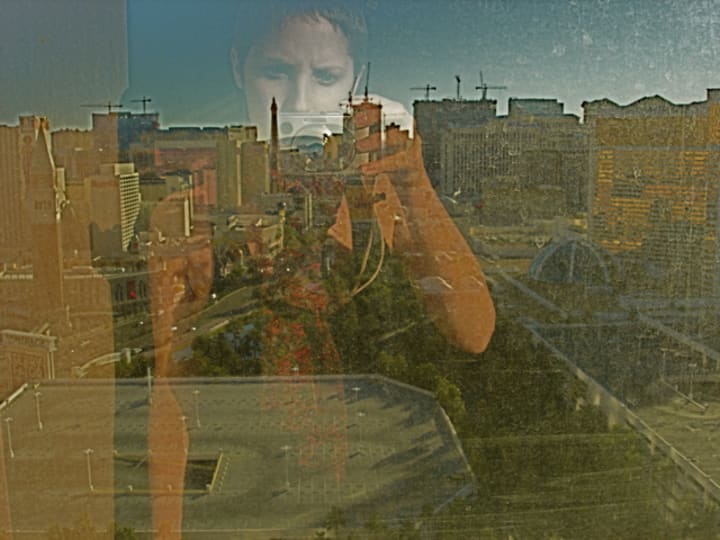 Here she is again, daytime. Her gaze has moved from the mirror to the window. We still see her, in the reflection, but now we also see the city itself. Las Vegas feels as small as her. Or rather, she looks as large as Las Vegas. Her body's outline matches the tall buildings. Hotels. Casinos. Shops. Lounges. Her body is a container for the unknown future, just like the city. Las Vegas contains a multitude of possibilities. The two entities overlap each other in the frame. Woman, city. City, woman. Bodies that contain and release the wonders of the universe.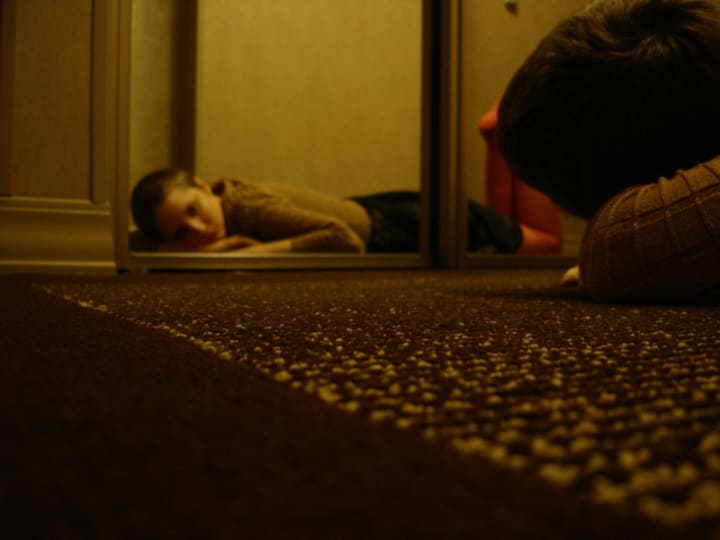 This earlier version of me is still waiting in her hotel room in Las Vegas. She is wondering about the future. Another version of her takes the elevator down to the lobby. Strangers pull on levers. Coins rush out from slot machines. There is a stale odor of time frozen by a timeless mood. This woman with her short hair and her sensitive face, walks out of the hotel and into the sunlight. This earlier version of me is still walking up and down the strip, embodying her loneliness. She can't see the future yet. She doesn't know what she will become.
In a flash, the young woman is on another plane. This time, flying to her hometown in Austin for Christmas. She meets her friends at a club downtown. To check herself, she takes another selfie in the bathroom. There is more than one of her, rippling through space and time.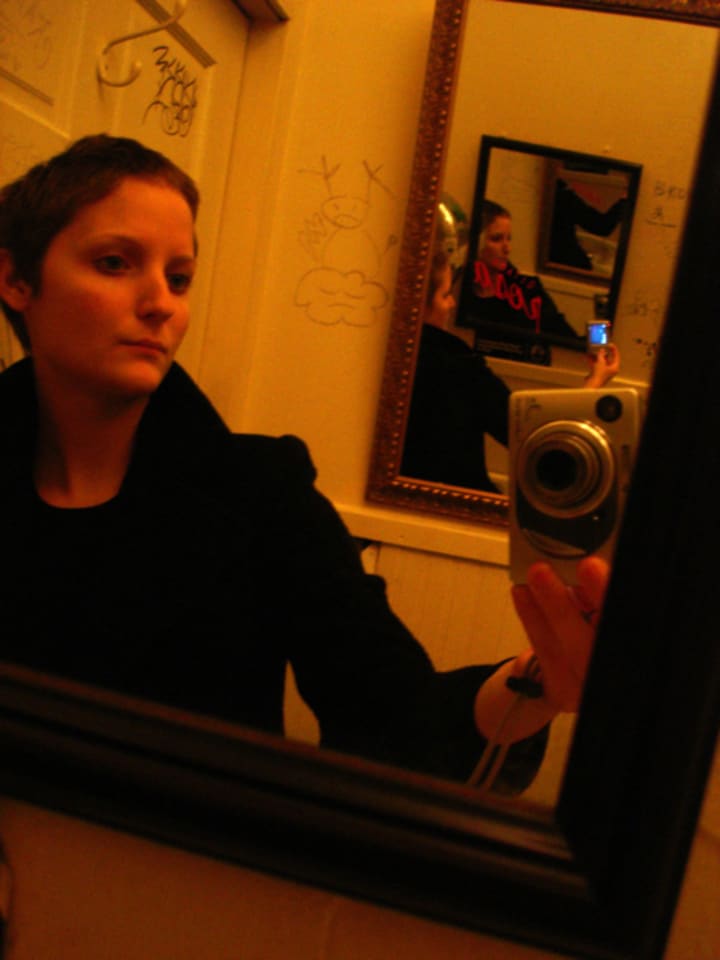 And then, an outward reflection. A stage. A performance. The loss of loneliness. The woman embraces her friends. They dance. To the music. Low lights. No more reflections. Just a complete transformation.