'Priya's Shakti'
A Revolutionary Women's Rights Comic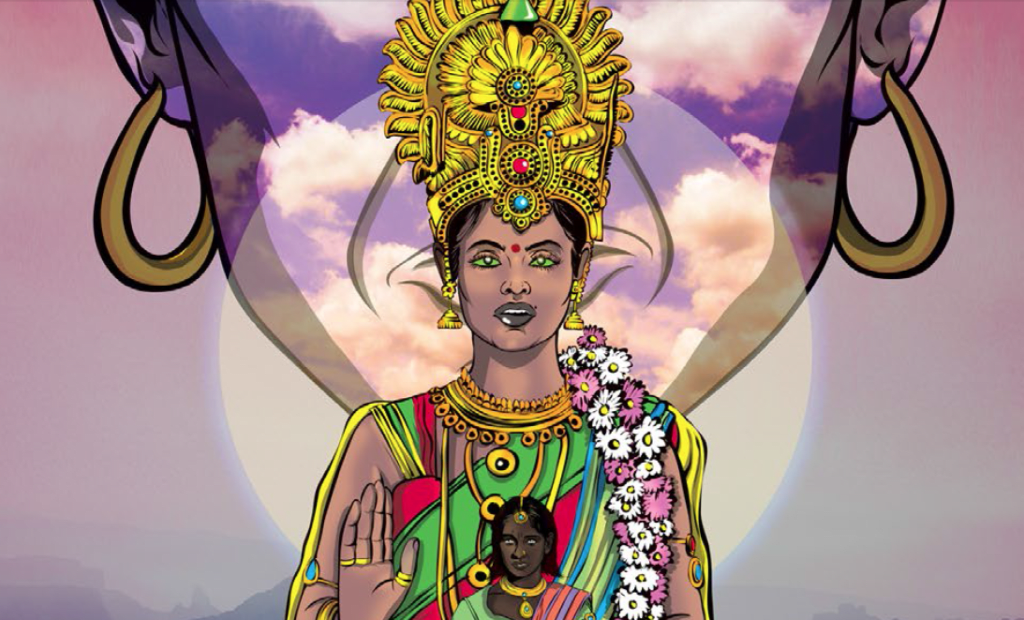 Priya's Shakti, a superheroine online comic from India, stands out in the world because of its impact. UN Women named her a Gender Equity Champion. It's the first comic of its time to confront teenagers with the reality of sexual violence. This free comic is available online, translated into many languages and adapted into many formats at https://www.priyashakti.com .
Priya, a devotee of the goddess Parvati, runs afoul of a gang and is brutally raped. "No one will stop us!" one gang member insists. She was shopping in the market after her father pressured her to give up school. When she reaches home, her father throws her out for shaming the family. Up above, the goddess Parvati "couldn't believe that Priya's family had abandoned her." With this, the author explores all the problematic elements of the culture, and how its patriarchal attitudes doom its women.
In response to society's cruelty, Parvati incarnates into Priya''s body, imbuing her with godhood and showing her blessing and support. She seeks justice and leaps from Priya to punish her attackers. A war among the gods follows, as her husband Shiva seeks to punish all the earth's men. At last, Parvati intervenes with another solution. She comes to Priya in the jungle and teaches her a mantra: "Speak without shame and stand with me…bring about the change we want to see." Riding a tiger, Priya bravely returns to her village and counsels them to see the divine in one another.
An augmented reality app accompanied the comic, helping victims to come forward and tell their story in a way teenagers would hear.
In the sequel, Priya's Mirror, Priya finds her way to a sanctuary for acid attack survivors. As a suitor to one of the young women there tells Priya, it is actually a prison surrounded by a river of acid spit by the demon-king, Ahankar. He keeps the women there dependent, preying on their belief that they're unlovable. Parvati tells Priya, "He has imprisoned these women in their fears." She gives Priya a mirror of love to help the women see their self-worth. The mirror shows the women more than their damage, but their potential as artists, lawyers, and advocates, reclaiming their old lives and standing up for victims. When the women try to cross the moat of acid, it melts into water. This is the illusionary power of the patriarchy, which vanishes when women find courage and confront it. Further, Priya shows the demon the mirror, reminding him of the good person he once was.
Priya and the Lost Girls (Chapter 3) has the heroine return home to discover all the young women have vanished, including her sister. She tracks her to a city of fire, ruled by a volcanic demon. He taunts her that women must serve men in his realm. The women there take drugs and convince themselves they're better off under the demon's protection, in a metaphor for big cities and prostitution rings. These women, too, are convinced the world will not accept them. However, Priya restores the rightful Naga queen and leads the village girls back home. Their families shame them, but Priya's sister retorts that the men taunting them come to the brothels too. Priya shows the villagers how their culture has enabled this, teaching men to beat and control women and overlooking their abuse. "Go tell a girl that you see her! You hear her! You honor her! Teach your sons to do it too."
The trio of comics consider rape culture and its torturing and discarding of vulnerable young women. It not only alerts people worldwide to the problem but also its solutions—learning respect and love for the vulnerable in the community.