Misconception about feminism and its relationship with human rights
By Hamizah Binti Mohd Ariff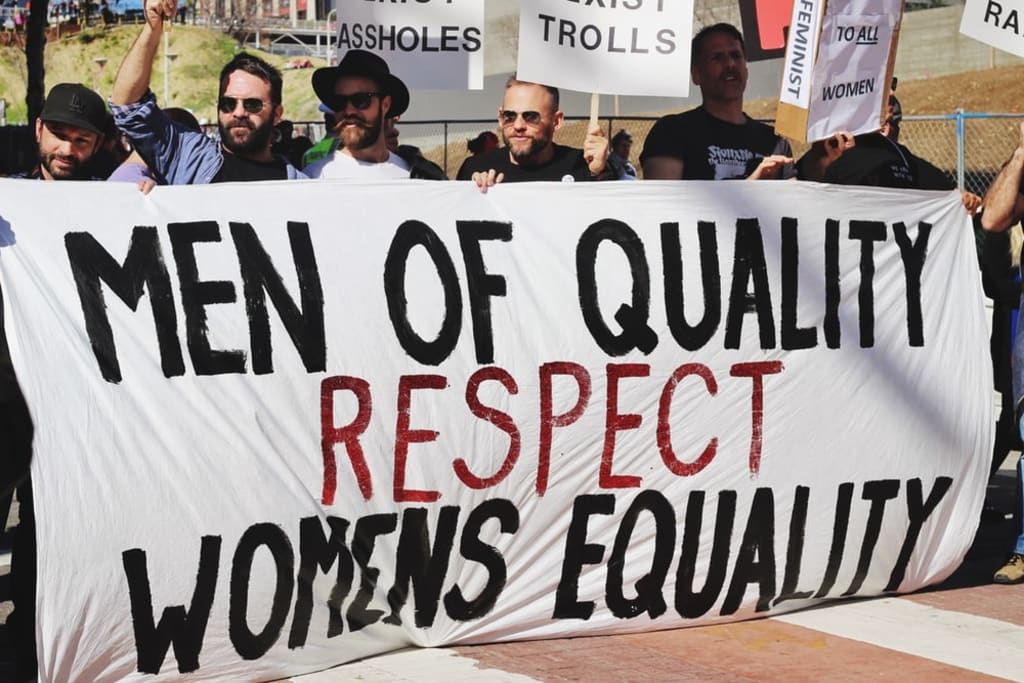 Figure 1.0
Many people assume feminism is all about hatred towards men. Downgrading men to promote woman superiority. A movement that discourage men by pulling out their power. Standing up for womans right and neglecting men that do have a right too. That is not the feminism that supposed to be understand. Feminism is the equality by man and woman in a way both gender receive equal rights. Therefore, feminism is for everybody.
Many are turned-off by the term of Feminism especially men. The definition of Feminism is quite simple; equality rights for both man and woman. Based on the stereotype mindset, man are more eligible to work, man has the highest chance to get promoted and man deserve to be a leader and not a follower. If we talk about human rights, woman are also eligible to work, woman can also has the highest chance to get promoted and woman can also deserve to be a leader and not a follower. It's all about respecting each other's human rights that everybody get the chance to pursue their dreams and get to live the life of their own.
Most men call us weak but all of us are humans right? We all have our own interest and desire that we want to achieve in our life. Don't be surprised if there's a woman become a captain or a commander. Don't be insecure if a woman end up become your boss. Take Lori Robinson as the example, Lori Robinson is the United States Air Force general who served as commander of the United States Northern Command (USNORTHCOM) and commander of the North American Aerospace Defense Command (NORAD) from May 2016 to May 2018. She was the first female officer in the history of the United States Armed Forces to command a major Unified Combatant Command.
With what being said, this is to show that woman are also eligible and capable like man. Why is there a discrimination against woman with their capabilities?
For evidence, Hyde has observed that children also suffer the consequences of exaggerated claims of gender difference for example, the widespread belief that boys are better than girls in math. However, according to her meta-analysis, boys and girls perform equally well in math until high school, at which point boys do gain a small advantage.
Other than that, yes, man and woman are obviously different but according to Psychologist Diane Halpern, PhD, a professor at Claremont College and past-president (2005) of the American Psychological Association, she claims that "Even when differences are found, we cannot conclude that they are immutable because the continuous interplay of biological and environmental influences can change the size and direction of the effects some time in the future."
Here we can tell that both woman and man are humans that can't run away from changes of the size and direction by the continuous interplay of the environment that encompasses all exposures or influences that can affect their well-being. So, if the girl works hard to be a commander and the guy works hard to be a nurse. Each of them deserve their rights for the position even though nurse is meant to be for woman and commander is meant to be for man.
REFERENCE
Hyde, J. S., Fennema, E., & Lamon, S. (1990). Gender differences in
mathematics performance:A meta-analysis. Psychological Bulletin,
107, 139-155.
Hyde, J. S. (2005). The Gender Similarities Hypothesis. American
Psychologist, Vol. 60, No. 6.
R. Michael. Lori Robinson: UNITED STATES AIR FORCE GENERAL.
ENCYCLOPEDIA BRITANNICA. Retrieved from
https://www.britannica.com/topic/University-of-New-
Hampshire