Lucky Number 13
Thoughts on my final marathon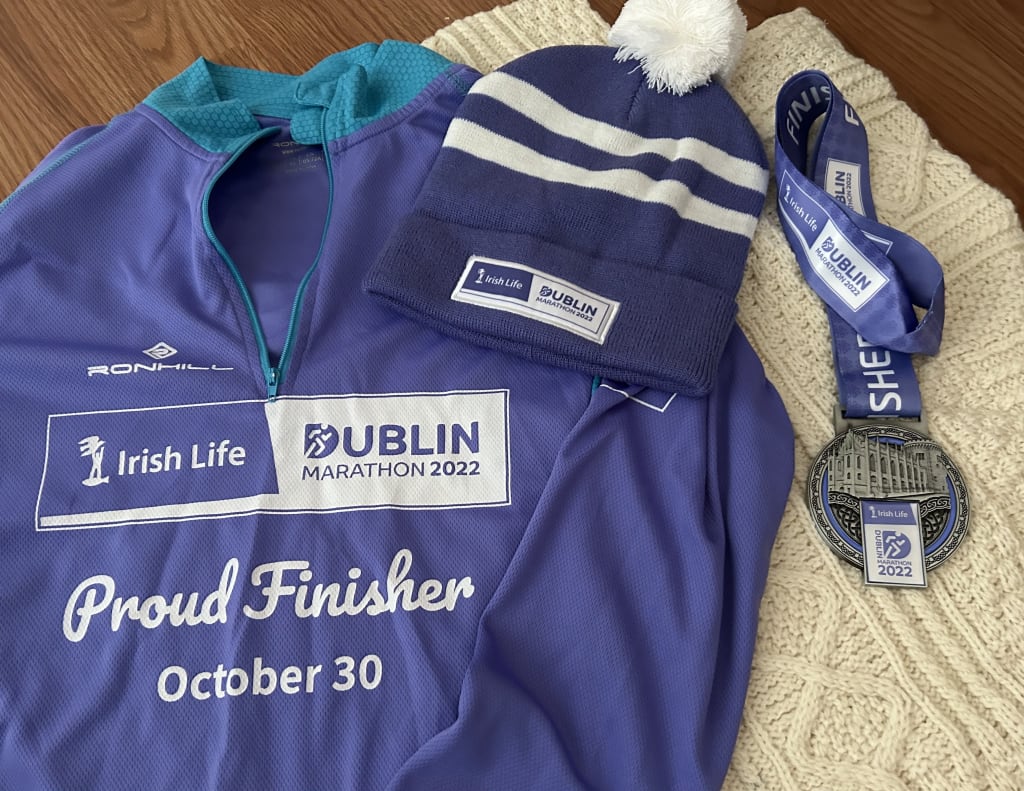 The finishing medal, shirt, and commemorative hat laid out upon a Carroll patterned Aran sweater
It's all Gerard's fault.
He planted the seed: About a year ago, he sent us a picture of himself after having completed the 1998 Dublin Marathon. I sent a text message to Victoria saying that "we should keep this event in mind for some day". Almost immediately, she replied with "How about next year?"
F*ck.
I was not expecting that. But she was right: why put it off?
And just like that, a plan was set in motion.
The earliest we could register would be January and it might prove to be a challenge, given that the event had not taken place in-person in close to two years due to COVID. The deferral pool would be deep as a result.
Yet from the get-go, we were in luck. To accommodate more entries, the race cap was upped to 25,000 participants. To be extra sure though, we submitted our entries through a lottery and were fortunate enough to be selected. To further cement our standing, we signed up for a 3-day tour package specific to Dublin and the marathon so as to secure our accommodations for the event.
And come February, just like that: we were IN! We were doing this. Off to the travel agent we went to book some flights and to sign up for a follow-up tour of Ireland, post marathon.
It was almost too easy… once the wheels were in motion, everything seemed to be coming up Ireland.
I didn't trust it.
For those of you who have followed some of my scribblings to date, you'll know that in spite of 10 previous official marathon completions, I have two unsuccessful marathon attempts on my record - NY in 2016 and Fredericton this past spring. In 2016, my body gave out on me. This past spring, my own mind did me in before I even got started. These two events remain "the ones that got away". I've completed two unofficial do-overs (in October 2020 and in May 2022) to make up for them, but those runs I didn't complete (NY in particular) used to be monkeys on my back - now they serve as AFGOs (another f*cking growth opportunity) and fuel for my fire.
Still… self-doubt is a learned behaviour and a hard habit to break. So we kept our cards pretty close to our chests, not telling very many people what we had in mind. We didn't want the added pressure. Sure, folks suspected we were training for something major, but they also respected our need to keep our plans quiet - at least until we had something to brag about.
Our 16-week training plan went pretty much without incident. For two women who claimed that we didn't care about our time or pace, we were almost religious in our pursuit, nailing our sprints, smashing the tempo runs, and even allowing ourselves some flexibility in our long runs. We may have varied the distances depending on our work schedules, weather conditions, and personal circumstances, but we were consistently race pace or better for the long slow distance runs (which were anything but slow). What's more, we were able to remain injury-free.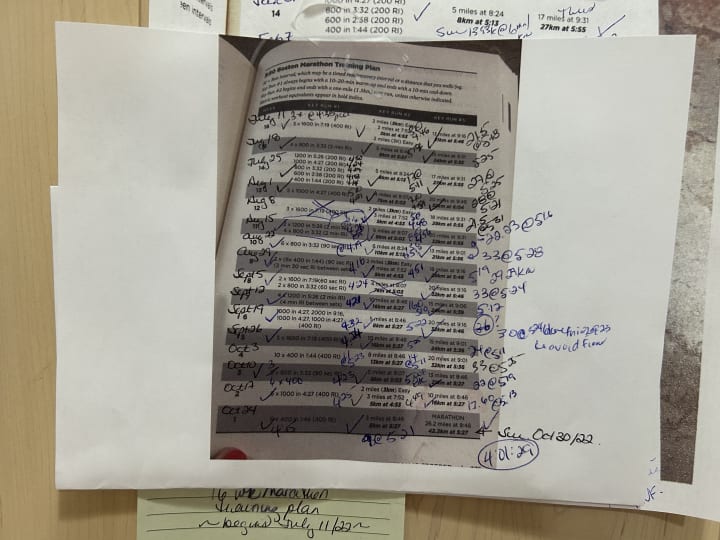 But training for a marathon - or for any distance for that matter - is hard on the body. I'm 49 years old - no spring chicken, but not ready for the senior's home just yet either. And my body made sure to let me know. Every week of training introduced a new level of fatigue. I couldn't combat it; I had to accept it and make adjustments. Rest was balanced with good nutrition and naturopathic supplements.
I won't say that training went fully according to plan. Sadly, Victoria was struck with COVID with 5 weeks to go. And as awful as I knew she felt, I never had any doubts about her conditioning or her drive - she's a beast. I can't say enough about her level of commitment and determination when it comes to just about anything she sets her mind to. It's inspiring to say the least. I know that being down for the count was hard on her. But that's her story to tell and I don't want to cheapen it by speaking on her behalf. All I knew was that I wanted her to rest and get better. Conversely, it provided me with an opportunity to test myself and make sure that I could do what needed to be done without her by my side. It wasn't easy, but sometimes we have to take to the road alone. And a week later, she was back and damn near bionic - better, stronger, faster than before (although she may beg to differ).
Health scare aside, all signs were still pointing directly to Dublin.
Fast forward to race day.
Battling jet lag, time changes, two nights of sleeping in strange beds, poor sleep patterns, and unfamiliar territory, we got up for breakfast that morning and did our level best to keep things normal. We bid our partners Hal and Allan farewell at the hotel and set off for the 2k stroll to the start line. We stopped briefly to line up for the portable toilets only to learn that we were in somewhat of a critical time crunch. Envious of the male runners who could simply drop trow and pee between the fence posts, we got as innovative as we could and served as one another's look-outs while we each peed behind the rows of plumbing structures. With freshly emptied bladders, we headed around Herbert Street to line up.
I wish I could accurately convey the emotion of that time. We were nervous, giddy, excited, scared, and happy. Just being there was a dream come true: we'd survived our training AND the flight there. Really, anything else would be bonus.
There was no lining up. We just followed the crowd, went with the flow, and proceeded through the starting gantry almost three minutes following our wave start. And we were off.
Nothing could have prepared us for this: wall-to-wall runners. Not just for the first couple of kms, but throughout. And just as there were compact groups of runners, the sidelines were just as saturated with spectators all the way through. I wish I could have captured more of the sights, but we really had to pay attention to our footing so we wouldn't trip and fall. And even so, I wouldn't change a thing. The energy was palpable. We were all in this together - to get through it, to celebrate our training, to revel in being out and about in the fresh air, and to get to the finish line.
I know it's cliché, but we really did carry one another through the streets of Dublin. We were never alone. And for a change, Victoria and I spoke very little. Usually we gab and solve all of the world's problems as we run. But on that day, we absorbed it all. We took it all in. We told each other we loved each other, we gave praise to our husbands for their patience with us, we sought and found similarities with other runners who reminded us of some of the folks back home, we smiled, we did not cry, we thanked the fans and volunteers, and we cheered on the other runners.
And somewhere along the 34th kilometre, I thought "what the f*ck am I doing? I am tired. I am hungry. I am thirsty." And I informed Victoria that I had to walk for a bit. I told her to go on without me. Without missing a beat, she walked too. She reassured me they we were in this together. And what's more, she told me that we'd be walking up the unfortunate and inconvenient bastard of a hill that we'd be facing in the coming miles.
If that's not a friend, I don't know what is.
So that's what we did. We kept going. We were gentle with ourselves. We walked from that point onward if and when we had to, and we ran like stink when we could.
They said our names. As we moved, the sideline crowds would say "Keep going, Shelley! You got this, Victoria!" They noticed the Canadian flags on our shirts and told us "we love Canada!". We were supported throughout. Not just from each other, but from all around.
Magical.
We saw a rainbow. We went for it. I want to believe it ended at the finish line. I couldn't say for sure. I just knew those last 400m were electric and loud and quite possibly the longest f*cking 400m I've ever covered in my life.
But also the most rewarding.
And in the blink of an eye, we did it. We crossed the finish line.
Number 3 for Victoria; and Lucky #13 for me: 4:01:29.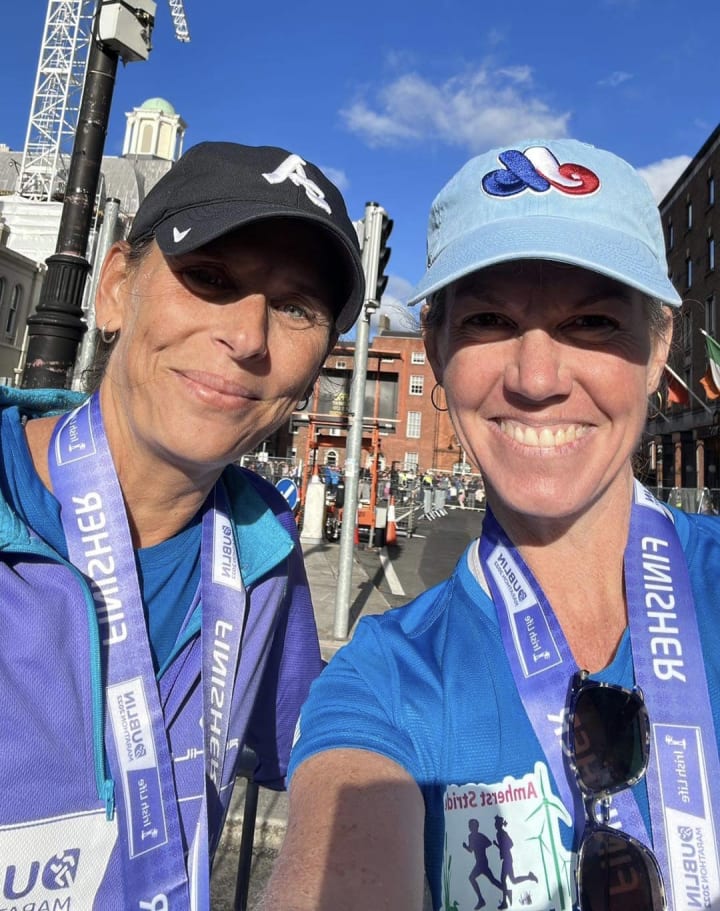 It's sooooooo much more than a number.
Dublin was truly personal and in so many ways. It may not have been my personal best, but it is absolutely and sincerely a personal triumph. We never stopped but we did walk a few times - deliberately and strategically - and we STILL finished it: with a phenomenal time AND upright and smiling.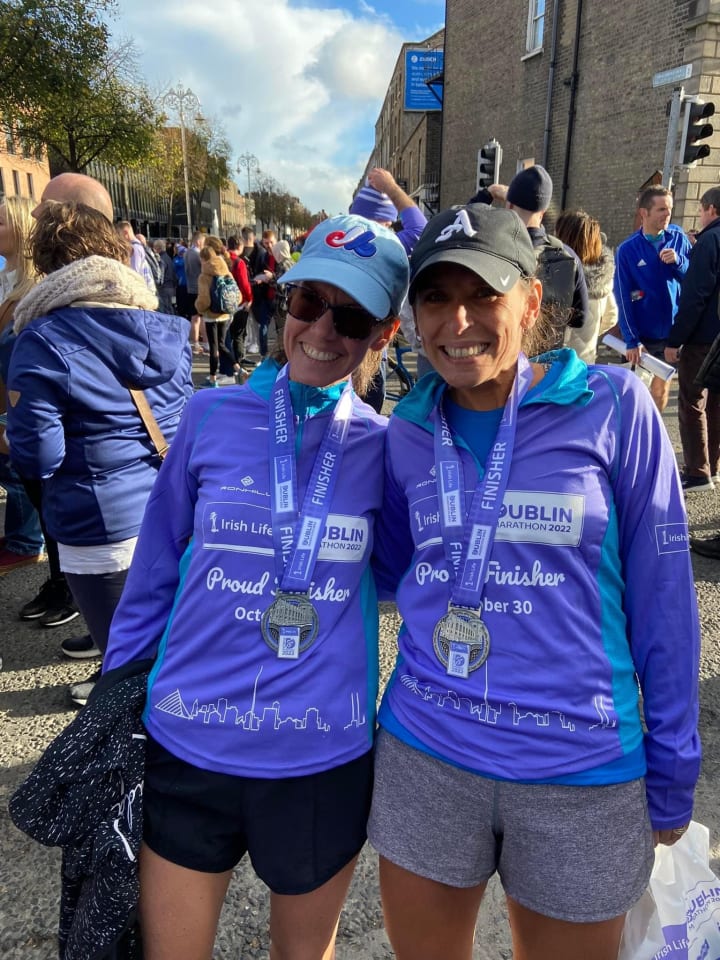 It will remain one of my most memorable runs and will always tug at my heartstrings. So it's the perfect note to end on, as I can't think of a better "finish line". My body came through for me. My sister-from-another-mister was right there with me from start to finish, heart and soul. I ran in mutha f*cking DUBLIN with a crowd AND the spirit of every Irish ancestor I can imagine holding me up.
That can't be topped, so I'll not tempt Fate and borrow trouble.
I'll never say never (never is a long time!), but I am quite comfortable in stating that I'm retiring from the marathon distance. And I will do so with zero regrets.
So thank you, Gerard.
Thank you, Victoria - for making this happen, for literally being there with/for me every step of the way, for being strong on those rare occasions when I had doubts, and for reminding me a couple of times (during training runs and during the actual event) that I could run or I could cry but that I'd have to choose as I couldn't do both.
Thank you to Hal and Allan and Ronnie and Ken and Bonnie and Mom and Dad and Amy and Kaitlin and all of the Striders and of course to KKB and ACK and everyone else who offered us such support and enthusiasm while respecting our desire to keep this low-key and pressure-free.
Because of YOU:
I have fought the good fight, I have finished the race, I have kept the faith.
2 Timothy 4:7
In fact, I found the faith that I'd previously lost. Running is restorative, after all.
Blessed be.
About the Creator
Ms. Carroll is a 40-something year-old veteran public servant and mother of three adult children. She and her partner Hal live in Amherst NS with a sweet, anxiety-ridden rescue dog. Shelley loves running, red wine, and laughter.
She/Her
Reader insights
Nice work
Very well written. Keep up the good work!
Top insights
Easy to read and follow

Well-structured & engaging content

Excellent storytelling

Original narrative & well developed characters
Add your insights