Hidden Figures
Jean Harlow
The First Blonde Bombshell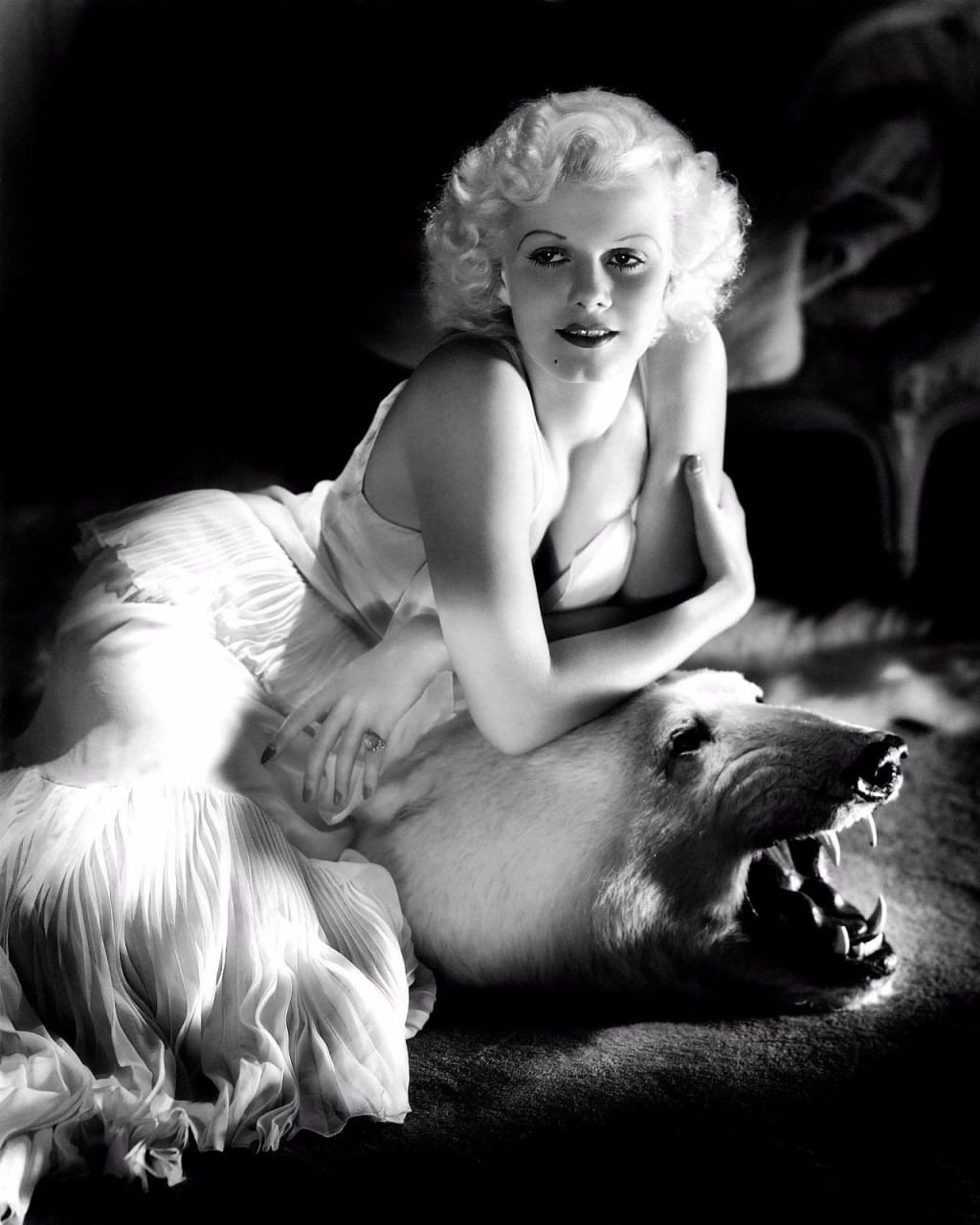 "I wasn't born an actress... events made me one." (Source)
These days, when people think of a "Bombshell," they immediately think of Marilyn Monroe, or the recent Netflix documentary about Hedy Lamarr. However, we're focusing on the blondes. And while Marilyn is equally talented and gorgeous, she had a blonde bombshell predecessor... Her name was Jean Harlow.
Unlike Marilyn, she was a natural ash blonde with green eyes and a figure to die for. To top it off, Jean was a recorded sweetheart who didn't have a mean bone in her body. Unfortunately, this same trait may have led to her death and downfall. At the mercy of her mother a.k.a. "Momager," Jean lived a life she never wanted in the first place. Her outlet: excessive amounts of alcohol. All Jean Harlow wanted was to be a housewife, the opposite of what young girls wished for as they watched their Hollywood idols on the silver screen. This article explores the life, myth, and death of America's first blonde bombshell.
1. Baby Harlean
Jean's real name on paper is "Harlean Harlow Carpenter." She was born in Kansas City on March 3, 1911 to her mother, "Mother" Jean Harlow and a dentist, Mont Carpenter. Mother Jean wanted to give her daughter the same name as herself. However, Mother Jean's father, a controlling and ill-tempered individual, would not have it. (Why Harlow's grandfather had a say in the first place, who knows...) An agreement for "Harlean" was reached. However, little Jean was called "Baby" up until she was five years old. It was only then, when she attended school, that she learned her name was "Harlean."
Jean's parents divorced in 1922, and Mother Jean moved them to Hollywood so that she could pursue a film career. However, while beautiful, Mother Jean was too old. She could have turned to her daughter, who was already a "beautiful baby," but Mother Jean was far too selfish to notice. Little Jean, meanwhile, had no interest in becoming a film star. She liked reading and writing stories rather than being the center of attention. While in Hollywood, Jean attended the Hollywood School For Girls. Here she met *Douglas Fairbanks Jr., *Joel McCrea, and Irene Mayer Selznick. Her peers described her as "beautiful, nice, and not conceited" despite her looks. Often, it appears Jean "was not aware" of her beauty. If she was, she was almost embarrassed of her looks. Meanwhile, friends of Jean found Mother Jean to be "horrid," and "just awful" in her manipulation and smothering nature towards her daughter. Harlean "Jean" Harlow was reported to have always been beautiful, even as an infant. Despite popular belief, her white-blonde hair was natural, though Hollywood would bleach it to make it even whiter, which would later damage her hair immensely.
*(Why Douglas and Joel attended a girl's school, I have no idea.)
2) Marriage, a Dream Come True
Jean met her future husband, Chuck McGrew, in 1926 while on a blind date with a friend. They fell in love instantly and married only a year later in 1927, much to her greedy mothers' dismay (she wanted Jean to marry her boyfriend's millionaire friend instead). It's not like Chuck was short of cash. He received the first installment of his inheritance when he turned 21, making Jean a millionaire socialite overnight. They both drank heavily, though it was said Jean couldn't keep up with her husband. Chuck was rumored to have stayed drunk for two days after a party.
To get Jean away from her ever invasive mother, Chuck moved them to Beverly Hills. However, true to her nature, Mother Jean followed them out west with her boyfriend-turned-husband, Bello. When Jean got into films, her greedy mother and stepfather pushed her further in that direction, sparking a chain of events that later forced Chuck and Jean to separate. Chuck McGrew, according to Jean Harlow's biographer, never forgave Mother Jean. He would blame her for the rest of his life as the catalyst that destroyed his marriage and first love.
3) A Wager
Jean Harlow never wanted to act in the first place. She wanted to be a wife and mother, and only started acting because of a bet. Jean drove a friend, Rosalie Roy, to FOX studios in 1928 for an appointment. While there, Jean was "spotted" by executives who asked if she wanted to be in pictures. Jean politely declined, but they were dumbfounded. They had a letter of introduction written for her to FOX and the Central Casting Bureau. Harlow thanked them, shoved the letters somewhere, and forgot about the incident.
Rosalie told the incident to friends, who all wagered that Jean was too shy to even go for a casting call. Jean, eager to rise to the challenge, woke the next morning and headed into FOX. She found the entire experience exhausting, signed in under her mothers' maiden name, "Jean Harlow" instead of her birth name, "Harlean Carpenter," and once again forgot about it, seeing the wager won.
However, FOX kept calling, asking for "Jean Harlow," her mother, to which Jean replied they had the wrong number. When she realized they were calling for her and offering work, she politely declined again. When Mother Jean and Bello heard of this, however, they insisted Jean accept her next offer, leading to Jean's extra work starting with a film called, Honor Bound. Jean Harlow made an impression on the set despite only being an extra. At the time, there had never been a woman or actress like her.
Hal Roach was one of the first to see her star potential, and he offered her a five-year contract. Harlean "Jean Harlow" Carpenter reluctantly accepted under the eyes of her mother who, Roach quickly discovered, "made all of Jean's decisions for her." Despite Mother Jean's terrible business "management," she and Bello were always present.
Shortly after signing with Hal Roach, Jean went with Chuck McGrew to San Francisco, where she fought and "he drank." Jean threatened divorce, but soon asked that Hal Roach tear up her contract, saying, "It's breaking up my marriage, what can I do?" Remember, Harlean "Jean" Harlow never wanted to be an actress and was content with being a wife and wealthy socialite. It was Mother Jean's persuasion and cunning that would push her "Baby" into an industry Jean just wanted no part in whatsoever. However, Jean discovered with joy that she was pregnant. She hoped this would save her marriage and relieve her from the stress of a potential life in films. Of course, Mother Jean had other plans, telling Jean cruelly that: "A baby can wait, your career can not."
Mother Jean had her husband, Bello, schedule an abortion. Jean Harlow was devastated, later confiding that she wanted the child that had been stolen from her. Had she given birth to Chuck McGrew's child, her "whole life would have been different."
Chuck Mcgrew and Harlean "Jean" Harlow officially separated in 1929. It is unknown if Chuck ever knew about the baby, let alone the abortion. What is known is that Chuck blamed Mother Jean one hundred percent for his failed marriage. Suddenly alone and without money (Chuck did not give Jean a cent, knowing that both Mother Jean and Bello would be lining their pockets), Jean had no choice but to do extra work in films. Unfortunately, because of her break from Hal Roach, she was back at the bottom, taking up any work she could get. Not only was Jean supporting herself, but also her Mother and worthless stepfather, Bello, who would drink away his stepdaughter's money while having numerous affairs. Mother Jean would part with Bello briefly but returned to him when he threatened to ruin Jean's career.
4) Clara Bow
Hollywood's biggest star at that time was Clara Bow. Jean landed her first speaking role alongside the "IT" Girl in The Saturday Night Kid. Bow, upon seeing Jean, was furious and demanded that Harlow be thrown off the set and out of the film. Her request was ignored, and eventually Bow warmed up to Harlow, saying she reminded her of herself in the early days of her career. Bow even gave Jean her dress for the film, which was too small for Bow to wear.
There are some striking similarities between these two stars. Both were kind, "regular kids" who gained the respect of stage crew and tech hands because neither of these actresses were stuck up. Both were used by their families who squandered their income, and both were open to ridicule for their "promiscuous behavior" on screen, both were labeled as a "hussy" by the Hollywood set. Both Harlow and Bow were newcomers to Hollywood, and despite their public popularity, they were not widely accepted by the Hollywood elite. While Bow had always wanted to be an actress, Harlow didn't. Yet they would each grow weary of their onscreen sex symbol counterparts, and each would yearn for a peaceful life away from Hollywood. Sadly, only one of them would obtain this dream... the other would die in it. (See my article on Clara Bow for more on the first on-screen sex icon.)
5) A New Icon for a New Age
It wouldn't be until Howard Hughes hired Jean Harlow for his film Hell's Angels that Jean would become an overnight sensation. She had been called the "worst actress in history" with "looks that made up for it." Jean was so embarrassed by her work in Hell's Angels that she was sure to be finished in pictures forever. However, Harlow's appearance, despite her lukewarm performance, did not go unnoticed. She became the new sex symbol of the 1930s, branding a new kind of visual sexuality that had never been seen before. Though Harlow had no inhibitions about her body and/or nudity, she was devastated with the kind of fame being a sex symbol brought, disgusted with being an on screen "tramp."
To stir up publicity, it was rumored that Jean and Hughes were having an affair. Furious, Jean, who hated Hughes (Hughes also is rumored to not have been a fan of Harlow), publicly denounced these claims. Clara Bow's former lover, New York City showman Harry Richman, made headlines when he claimed to be engaged to Jean Harlow. It was just another stunt to get his name in the papers.
6) Hollywood Blues
Chuck McGrew was one of the few people who knew how much Jean resented her new life and career in Hollywood. He also knew how humiliated she was with being treated as a sex icon. Because of this, Chuck was determined to win back his wife. Mother Jean intervened again, however, interfering with his telephone calls and going so far as to change Jean Harlow's phone number. McGrew appealed to Jean's aunt who pleaded with Mother Jean that if Harlow didn't receive love other than her mother's, Mother Jean would live to regret it. Mother Jean didn't care what her daughter wanted. She was too concerned with living off and through Jean.
The couple officially split when, with tears flowing, Jean Harlow gave into her mother. Defeated. Chuck McGrew eventually gave Jean an ultimatum: She could let go of a life in movies she didn't even want and return to Chicago with him, or, she could stay with Mother Jean in Hollywood without him... and they would divorce.
As far as we know, Jean did not give an official answer before her meddling mother called a divorce lawyer, who promptly handed Chuck divorce papers. As Chuck left for Chicago, alone, Jean depressingly stated to her aunt that fighting Mother Jean was useless. That nothing was worth fighting for when she didn't let her mother "dominate."
7) Blonde Ambition
Though Harlow's acting was poor early in her career, her image was not. Women flocked to beauty parlors to bleach their hair white blonde like hers, ruining their tresses in the process.*
*If you think bleaching your hair is bad today, thank your lucky stars you weren't trying to go blonde in Harlow's day. Her roots were "touched up" with ACTUAL Clorox bleach, ammonia, and lux soap flakes... WEEKLY. *
Though Harlow was already a natural ash blonde, Hollywood "altered" it for her public image. Howard Hughes had his publicists construct a term for Harlow that would be as effective as "Americas Sweetheart" had been for Mary Pickford and "IT Girl" had been for Clara Bow. The result was "The Platinum Blonde"... and Jean hated it. Until Jean Harlow, the term (even the color in the beauty world) "platinum blonde" had not existed.
Jean Harlow also made bell bottom pajamas popular, as well as the song "I Surrender, Dear," which she sings to her co-star in The Public Enemy to seduce him.
8) Running with the Gang
After meeting Al Capone and mobster Abner "Longy" (sometimes spelled Longie) Zwillman while on a publicity tour in Chicago, Jean Harlow became Zwillman's mistress. His bootlegging gang included notable members like Lucky Luciano. Longy, a.k.a "The Al Capone of New Jersey," was described as a charming, "regular" guy who showered Jean with expensive gifts. However, he's said to have spoken of her in vulgar terms to other mobsters. *I'm not certain how accurate this information is, but it could have been out of resentment after Jean Harlow left him to marry Paul Bern. *
Mother Jean balked at this relationship, seeing that she had no control over her daughter with Longy involved. However, Longy also secured a two-picture deal for Harlow at Columbia Pictures. At this time, Harlow's mother became involved with the Church of Christian Science to deal with the anxiety of her daughter's newfound independence and her husband Bello's numerous affairs.
9) A Godsend
When Jean Harlow landed the role for Redheaded Woman, she had her maid serve doughnuts and coffee to the entire set each morning. This habit lasted throughout her career and made her popular among stage hands and technicians. Jean was kind and humble in the same way Clara Bow had been towards those considered inferior on the set. Harlow would also hang out with the crew after takes, much like Bow had before her.
10) Dear Darling! The Mysterious Death and Marriage of Paul Bern
After a dinner party where Jean Harlow emotionally rested her hand on the pregnant belly of Irene O. Selznick, Jean Harlow ran up to Paul Bern and said: "You know, I may really marry you. I want a home and a family like Irene!"
Just before their official announcement, Douglas Fairbanks Jr., freshly divorced from Joan Crawford, claimed that Jean Harlow was playing "footsies" with him under the dinner table. Then, Paul Bern stood up and announced their intent to marry. Angry, Douglas Fairbanks Jr. stayed away from Jean for good. *This is another "fact" that I'm not sold on, as Douglas Fairbanks wouldn't divorce Crawford until 1933... And Bern and Harlow would announce their engagement in June of 1932.* Besides, Jean was hardly as free in the bedroom as would be believed and was more willing to settle down than have a strewn line of lovers. Since Harlow was not accepted by the Hollywood set at this time in her career, it is possible that this is an entirely fabricated story.
While the public congratulated the new couple, the Hollywood set snickered. No one could decide who was unluckier, the "Platinum Bombshell" or the "pansy eunuch." Upon hearing of the sudden engagement of his mistress, Zwillman had Paul Bern investigated. Bern and Harlow had never slept together, and Zwillman informed Harlow of Bern's having never slept with any of the beautiful women he surrounded himself with. Zwillman suspected Bern was a closet homosexual, to which Harlow replied that she would marry Bern anyway.
Adela Rogers St. Johns, though a well-known gossip and embellisher, told Jean a similar tale. Harlow replied with the same response she had given Longy. She even sobbed to Adela, saying that by marrying her, Paul Bern proved once and for all that he truly loved her for herself... That this was the "highest compliment" that anyone had given to her.
Now the question still burns today: Was Bern actually gay? The fact is that there is no evidence that Paul Bern slept with anyone, man or woman, especially in Hollywood. The reason for this may be because of a deformity that plagued him and was described almost cruelly by Barbara La Mar, (who Bern had proposed to years earlier and attempted suicide when she rejected him) and Leatrice Joy. La Mar's official words are lost, but she stated that Bern was not "fit" to marry a woman. Meanwhile, Leatrice Joy accidentally stumbled upon Bern in the nude when she was visiting her ex-husband John Gilbert. Leatrice Joy said only that his "penis was the size of my pinky." To put it bluntly, Paul Bern had a micro-penis. As a result, his marriage to Jean Harlow would remain unconsummated.
Paul Bern was also reportedly bi-polar, which would explain his eccentric behavior and later, his verbal abuse towards Jean Harlow. He would often remind Jean of her intellectual failures both in private and in public. This was emotionally crushing for her, making Jean feel ignorant and insecure. Though, Jean was not completely innocent either. She would often remind Paul of his sexual failures, taunting him about their lack of sex. This added to Paul Bern's depression, which also prompted him to increase his drinking habit. He also purchased a new handgun that he began to keep in his coat pocket and had a new will drawn up.
On September 5, 1932, Paul Bern was found dead in his dressing room. He had stripped naked and shot himself... or so it seemed. Bern's body was found by his butler, and the cook called Mother Jean Harlow—who, instead of informing her daughter, called Louis B. Mayer. No one, yet, called the police. Harlow was not home that night with Bern; instead she was staying with her mother and stepfather, Bello, because she was shooting Red Dust, and Mother Jean convinced Harlow to stay the night since their home was closer to the studio. Harlow had invited Bern to her parents' for dinner, but instead, according to the butler, they fought.
Bello and Mother Jean were leeches living off Jean Harlow from the very beginning. Bello did not have a job the entire duration of their stay in California. Similarly, to Clara Bow's father, Bello would use his stepdaughter's money to invest in ridiculous (and failed) ventures. The latest was Bello asking for Harlow and Bern to invest in a Mexican goldmine. Meanwhile, Mother Jean was pressuring Jean to talk Bern into giving the deed to Harlow's home to her parents. Paul Bern, like Chuck McGrew before him, refused to give in to his in-laws demands. This whole scenario was the core of the argument, and Bern refused to join his wife for dinner with the Bello's. So, Jean offered to stay home. Instead, Bern told Harlow to leave and she did, sobbing to her maid, "He wants me out of here!"
The next morning, the news of Bern reached Irving Thalberg and wife Norma Shearer, David O. Selznick and his wife Irene through Louis B. Mayer's wife. All close friends of Paul Bern, Irving Thalberg was so shocked that Norma feared he was suffering a heart attack. Meanwhile, near collapse, Irene O. Selznick shouted that she would "kill" Jean Harlow... already blaming the Platinum Bombshell for Bern's death. Nearly an hour after Bern's body is found, no police had yet been notified and Mayer called an MGM security chief and a photographer, Virgil Apger, to arrive at Bern's home. Virgil was ordered to take photos of Bern's body, which he thought odd (why not the police?) and shortly after, his pictures were confiscated by the studio. He never saw them again.
MGM's Head of Publicity also arrived, looking for "clues" (ummm, what?) which resulted in the apparent discovery of a suicide note in Bern's journal:
"Dearest Dear,
Unfortunately, this is the only way to make right the frightful wrong that I have done you and to wipe out my abject humiliation. I love you—Paul
P.s. You understand last night was only a comedy." [D. Stenn, Bombshell p. 107]
Mayer orders that the note be destroyed, but is persuaded that without the note, Harlow would become suspect to murder and her career ruined. Around 1 PM, Irving Thalberg and Norma Shearer arrive with David O. Selznick. With still no one calling the police, another hour passes... To this day, on Sept. 5, 1932, between 1 PM and around 2:15 PM, no one knows what happens inside Paul Bern's home. A studio cover-up is believed to have taken place. At 2:15 the police are finally called, and they arrive at the home around 2:30 PM. No one has yet informed Jean Harlow... not even her mother. Irving Thalberg drives to the Bello's home and when he tells Jean, she crumples to the floor in hysterics. Mother Jean has her sedated (...excuse me?).
Oddly, Bello was fishing with Clark Gable (a friend and co-star of Jean's) near Catalina Island. Gable hears of Bern's death on the shore, and informs Bello, who is "emotionless." They gather their things and return to Los Angeles.
When the police question the staff at Bern's home, the butler, who told the story of the argument between Harlow and Bern, reported their union to be "blissful," while the gardener said otherwise. The gardener also claimed to see a limo arriving at the home with a woman in it that he did not recognize the night before. A neighbor reported witnessing the same car speeding down the drive. When Bello arrived home and was questioned about the goldmine and the deed, he denied the claims, stating he had "more money than Paul Bern ever did," which, of course, was a total lie. He also said he knew nothing about Paul Bern's death until he got home... something Gable knew he was lying about but said nothing simply because Gable did not want a scandal on his hands.
Authorities attempted to question Harlow, but Mother Jean would not allow it. In doing so, Mother Jean put her daughter at risk, and Harlow was indicted for murder. Many were already holding Jean responsible, suicide or not.
Jean was confused, both about the circumstances and the suicide note. She claimed that their marriage was a happy one and nothing could have prompted Bern's suicide. In private, Louis B. Mayer asked Jean to admit that her marriage to Bern was neither happy nor consummated. That doing so would save her public image and ultimately her career. Instead, Jean responded by running for the balcony, attempting to jump. Mayer stops her in time. *How true this is, is debatable, considering Jean's bedroom balcony was not at a devastating height. *
Eventually, an autopsy was performed on Bern's corpse. The results state that his genitals were "underdeveloped." Rumors spread like wild fire that Bern was a hermaphrodite. And, in short, the trial goes something like this:
Irving Thalberg lies under oath about the time stamp, claiming the police were called at 1 PM, the neighbor to Bern and Harlow is never brought in as a witness to back up the gardener's testimony about a limo; not that it matters, being that the gardener recants his testimony and says that Bern and Harlow were "happy." Neither does the gardener mention the woman or the limo. Meanwhile, Paul Bern's brother, Henry Bern, denies the rumors of his sexuality and his "underdeveloped" organ... bringing to light that Paul Bern has a common law wife... Dorothy Millette.
Mrs. Dorothy Millette-Bern
Paul Bern and Dorothy never officially married, but Bern had listed Dorothy as "his wife" in his will. However, Dorothy was seriously mentally ill, so Bern hid her from family and friends. Their relationship became taxing to Bern, who grew up taking care of his mentally ill mother, and he paid for Dorothy to live at the Algonquin Hotel in New York before Dorothy moved to San Francisco. Until Bern's death, Dorothy lived as a complete recluse...
At the onset of Henry Bern's testimony, the media was in an uproar. A wild search was carried out for Paul Bern's "mystery" wife, Dorothy Millette. Instead, they found Dorothy dead in the Sacramento River. It was estimated that she died as a result from leaping off the Delta King ferry and drowning. Her death was also ruled a suicide.
Jean Harlow, who by now had returned to work on Red Dust to distract herself and get away from her mother, paid for Dorothy Millete's grave. She had it etched with: "Dorothy Millette Bern," unknowingly giving Dorothy's sister enough to sue Harlow for half of Bern's estate. But, like Bern had hid Dorothy, he had also hidden an enormous amount of debt unknown to Harlow until his death. She quietly paid Bern's debts without a fight. With the public knowledge of Paul Bern's secret wife, Jean Harlow won the sympathy of fans and the Hollywood elite. Her career was saved, much to the relief of the studio.
Now... there are so many unanswered questions in this case, wot to mention so many things that just don't add up... It's just as plausible that Paul Bern killed himself as it is that he was murdered. The truth is, the case is so botched from the beginning, there's no way it could have been solved by police. The crime scene was contaminated almost immediately! First, it's suspicious that neither the cook, butler, or the gardener called the police when they found Paul Bern's corpse... I mean, Mother Jean Harlow? Really?...that's who you called first!? Why?
Longy Zwellman is a likely suspect as well, and he willingly took credit for having Bern killed off. Meanwhile, Henry Bern claims his brother was killed by a professional hired by the Bello's. Both theories are just as likely; it was Mother Jean who persuaded Harlow to spend the night at her home, which is something I find curious. With Bern dead, the Bello's would be able to persuade Jean to invest in a goldmine and hand over the deed to her home. Meanwhile, her jealous and resentful ex-lover, Longy, is just as likely to have been resentful enough to have Bern killed. Evidence that Paul did not commit suicide is shown by those who knew better pertaining to the "suicide" note. Rather, it's theorized this note was meant to be an apology letter to be delivered to Harlow with flowers the next day. Something Bern often did for her.
Later, after many of the accounts of Bern's staff had been repressed, his butler admitted that Harlow had been there the night before. She found Dorothy Millette who had come to Hollywood to confront Paul Bern about his recent marriage to Jean. This, possibly coupled with the deed and goldmine sought by the Bello's, was the true argument that transpired. Harlow left for her mothers, stating that Bern could contact her when he decided who he was married to.
The following morning, the cook discovered a bathing suit and cap by the pool that did not belong to Harlow (they were not her size) and later upon investigation, it was discovered a bathing suit and cap matching their description had been missing from Dorothy Millette's trunk on the Delta King. When Bern's gardener was shown a photo of Dorothy, he said that was the woman he had witnessed. The cook also confirmed this, stating that was the women fleeing from the home after Bern shouted: "GET OUT OF MY LIFE!" The Butler also stated that after both Harlow and Dorothy left, he penned the "suicide" note which was an apology for Harlow. Bern, according to his butler, planned to send Harlow flowers the following morning. Instead, Dorothy returned and shot him in cold blood. The studio covered up the entire escapade.
Other theories cropped up, however. One of them was that Paul Bern had not only a secret wife, but also a secret mistress. This mistress, rumor has it, Paul liked to occasionally beat and watch her in the nude. His secretary was rumored to be this mistress, who is said to have become jealous when Bern married Harlow. So, his mistress telephoned Dorothy Millette to inform her of his wedding. His secretary later denied that she was his mistress, as well as Dorothy being the one who shot him. Other than that, she said nothing other than Dorothy was "too sweet natured" to kill, though she was upset about his marriage to Harlow. His secretary also said that Harlow was aware of Dorothy's existence.
Another account from Howard Strickling, head of MGM publicity, says Harlow was there the morning Bern shot himself. Once he had, she telephoned Strickling in hysterics, and Strickling drove her to the Bello's where he told Mother Jean of the event. Harlow was given the instruction to give the best performance of her life. If this is true, that's exactly what she did.
There are so many possibilities that it makes it impossible to discover the truth. I think it's important to add that Paul Bern was cremated, making any claims about his "underdevelopment" impossible to prove or disprove. Even with his common law marriage to Dorothy, there is no proof as to whether this union was platonic or physical in nature. Did Longy Zwellman kill off his former lovers husband out of pure resentment? Did Dorothy Millette kill him off for the same reason? What about the staff? A hitman hired by Bello? or...even Harlow herself? Very plainly, it could have been exactly what we're told: a suicide. If it was exactly that, since there are claims that Jean Harlow was a victim of Bern's verbal and emotionally abusive nature. The theory that Bern intended to crush her emotional state by killing himself, ruining her career, and having Harlow inherit his debt, stems from these facts of his abuse. Which, to some of his closest friends is also very, very likely.
Whatever happened, Harlow came out on top. This was record breaking, she was the first star to survive a scandal of this scale. Coming out of it more popular than ever before. Not to mention, the release of Red Dust was her first acting hit. People were clamoring for another Clark Gable and Jean Harlow picture. Even the Hollywood elite, who had blamed Harlow for the death of Paul Bern in the beginning, now saw her as an amazing heroine.
Despite her public success, Jean Harlow was emotionally ruined. She hated her life in Hollywood, her first love and marriage were taken from her, and now so was her second. Harlow found solace in the only place she could, drunken oblivion. In a fictional perspective, Harlow is quoted as saying:
"I've got to have a drink," and "I have to have something to keep me going. If I were leading a normal life, I'd drink only to be sociable." [D. Stenn, Bombshell, p. 135]
11) Bombshell!
Victor Fleming took inspiration from his former lover, Clara Bow, and penned a comedy for Harlow. The result was Bombshell and would end up being Harlow's favorite picture throughout her career. This comedy also inspired the comedic style that would later become a staple in Hollywood. Fast paced, wise cracking, and screwball.
In Bombshell, Harlow plays the fictional actress Lola Burns (based on Clara Bow, which, again is eerily fitting and relevant to each actress). Burns is overwhelmed with her life as a big star and being used by her drunk father (based on Robert Bow, Clara's father), alcoholic and fraternizing brother (probably based on Clara's cousin who lived with her for a time), and her backstabbing secretary (based off Clara's former friend and secretary, Daisy DeVoe, whose scandal nearly ruined Bow's career). Only Lola Burns' maid, Loretta, is loyal to her (Bow spent many nights alone playing cards with her maid and butler.) Burns also despises reading about herself in the papers and hates her "blonde bombshell" and "It Girl" (Clara Bow was the "It" Girl) image fueled by publicity man "Space" Hanlon (a.k.a. B.P. Schulberg and/or Howard Strickling. Schulberg grossly overworked, underpaid, and exploited Clara...)
In the film, after failing to adopt a baby thanks to "Space" Hanlon's meddling, Harlow's acting explodes through her character, Lola, with remarkable talent and emotionally felt truth:
Lola Burns: "Get away from me, all of you! You're nothing but a pack of leeches!"
(To her father, when he grumbles about being mistreated after "handling her affairs") "And what about my affairs!? Where are they!? Why aren't my bills paid!? Where does my money go!? I never see any of it!"
(To her secretary) "And what are you mewing about!? Don't think I don't know about your stealing and the cuts you get from the stores!"
(To her brother) "And you who haven't had a job to your name for three years! And bringing her (a hooker) in here like it was a hotel for traveling salesman!"
(To all) "I've only stood it because it's the only home and family I've got, but I'm sick of it, do you understand!? There's only Loretta and the dogs that ever do a single thing for me. All the rest of you are just out for what you can get!, and I'm pretty tired of being a golden goose, or whatever ya call it!"
("Space" Hanlon applauds her, but Burns (Harlow) snaps back to him) "A glamorous bombshell, eh? A glorified chump is what I've been! Well I'm through, you understand!? With the business, with everybody! You can get yourself another "If girl," or "But girl" or a "How, when and where girl,"—I'm clearing out!"
(Again, to All) "And you can all stay here in this half-paid for car barn and get somebody else to pull the apple cart! I'm going to get some peace and quiet and if any of you try to interfere with me, I'll—I'll complain to the authorities!"
The role was practically made for Harlow herself, and many people drew parallels between Burns and her "pack of leeches" to Harlow and her manipulating, squandering Bello's.
Meanwhile, Bombshell shed light on Harlow's talent potential. At the time, no other actress was as fast or comedic, and Harlow paved the way for this form of screwball comedy. Harlow's amazing ability to memorize lines probably contributed to her strong sense of monologue. Harlow reportedly never read lines, she'd glance at the script and be done...and the results were flawless. The New York Daily News claimed that in Bombshell, Harlow was "Clara Bow and herself rolled into one grand role." They were right.
12) Max Baer and Hal Rosson
Harlow had an affair with her co-star, Max Baer in The Prize Fighter. Mrs. Baer knew of the affair, and thanks to gossip columnist Louella Parsons, filed for divorce on the grounds of adultery, claiming Harlow to be specifically responsible. The studio, sensing another scandal, arranged a "studio" marriage and ordered Harlow to act quickly. She had survived the scandal surrounding Paul Bern's death, but she could not afford another. Harlow chose a close friend, Hal Rosson. Poor Hal had no clue it was a studio marriage... Harlow walked right up to him on the set and proposed. Her sudden marriage worked, Mrs. Baer filed for divorce, but Harlow was not named.
After seven months of marriage, they separated on the claim of "incompatibility." Rosson never spoke of his marriage to Harlow publicly, but later confided that Jean was captive to the Bello's, specifically, Mother Jean... Like McGrew and Bern before him, Rosson had unsuccessfully tried to pry Harlow away from the manipulation of her mother. Like McGrew, Rosson claimed that Mother Jean destroyed his marriage to Harlow.
By the age of 23 years old, Jean Harlow had struck out three times in the marriage playing field. She began to feel insecure about herself, a void of some kind that she had no idea how to fill... She even claimed she never felt like "me", and would often sign her name: "Me."
Mother Jean penned many of her daughters' autographs, letters, telegrams, etc. to studio heads and fans... sadly many of these signatures have circulated as claiming (unknowingly) falsely to be Harlow's, when in fact they are not. Finally, however, she would meet the man that helped her take control of her life for the very first time.
13) William Powell
William Powell had the brains of Paul Bern, Hal Rosson's sense of comedy, and all of them resembled the father-figure of Mont Carpenter. Harlow made Powell into the father figure she never had, as well as the lover she needed. The two began dating after Rosson and Harlow officially split, though they claimed to be friends for the beginning of their relationship. Despite two years of dating and Powell's "rescuing" of Jean's life, there was no sign of an engagement between William Powell and Jean Harlow, much to her dismay... Finally, after both Powell and Harlow's share of failed marriages, Harlow decided she did not want to be a wife while in pictures.
With her relationship to Powell in inevitable limbo, Harlow developed a crush on her doctor, Dr. Chapman. Eventually, he refused to see her as a patient out of respect for his insane bride-to-be... something that would prove fatal down the road. Around this time, Harlow did the unthinkable, and changed her legal name from "Harlean Carpenter McGrew Bern Rosson" to "Jean Harlow," executing whatever was left of her identity... proving to the world that "Jean Harlow" was a third-party character created by both herself, and mostly, her mother. This also proved to Powell that he had been unsuccessful in removing Mother Jean's influence from Harlow's everyday life. Powell, meanwhile, was afraid to marry Harlow. He had a nasty divorce from actress Carol Lombard, who had destroyed him as a man (Carol was reported to be fiercely blunt, independent, and aggressive in nature). Powell feared that marrying another big star would cripple him all over again. Sadly, he failed to see Harlow was very different in nature than Lombard and he would later regret his decision.
An example of Powell's crippled masculinity is his statement regarding Harlow's excitement upon a gift received from him: A gigantic sapphire ring. Harlow would wear it on her right hand, (the wrong hand for engagement/wedding bands). When confronted by the press, Harlow happily confirmed their engagement... while Powell stated:
"I knew she'd like it. It's so vulgar."
It's unmistakably hurtful towards Jean... who once again felt inferior and stupid compared to her male counterpart. Jean was far from stupid, but she passively (like everything else in her life) allowed herself to feel such a way. Had she been gifted with the back bone and strength of other actresses, she may have never led the life she was so unhappy with. Another grievance came in the guise of an unwanted abortion... the baby was Powell's... but due to his faulty commitment, Harlow did not have the child.
14) 'Today Is Tonight'
Harlow hated her stepfather, and often referred to him as the "Italian Pimp." Meanwhile, Jean adored her father Mont Carpenter, but of course her mother refused contact between the two of them. Mont was as passive as his daughter and let Mother Jean rule just as Harlow did. Harlow was furious and disgusted when rumors flew through Hollywood that Bello was "more than a stepfather" to her. This was cemented in the terrible 1965 film, Harlow, about the Bombshell's "life." However, this movie is grossly inaccurate. When Bello demanded a raise for Harlow from MGM, they refused. Bello, acting as her "business manager," pressured Jean not to report to work. Since the Depression was in full motion, the press did not sympathize with Harlow.
During this time, banned by the Bello's from working or drinking, Harlow wrote a novel titled Today is Tonight. The heroine was based on Harlow herself, and it was also her dream role. She not only planned on penning a novel but adapting it to the screen. Bello, bragging to the public, announced that Harlow was "writing a novel." This was followed by a slew of publication offers. Bello went to every studio, except MGM, submitting Harlow's story. This was a bad move; Louis B. Mayer placed a clause in her contract that stated any work produced by Harlow would have to first be approved by Mayer... Thanks to Bello's bragging, Harlow's novel and potential dream role, were shelved. Today is Tonight would not be published until long after her death.
Like the men before him, Powell hated the Bello's and how grossly they leeched off Jean. Powell had Bello investigated and it was discovered that his "goldmines" in Mexico were, in truth, a Mexican mistress. Mother Jean was urged by Powell and Harlow to kick Bello out and divorce him, to which Bello demanded a settlement, which turned out to be every cent Harlow had. MGM aided Jean, however, by taking out a bank loan for her. Not only did Powell help Jean take back her life, he also helped her take back her finances.
15) Mommy Dearest...
When Mother Jean would unleash her tyranny, Harlow would joke: "Why waste all that energy when you could get $3,000 a week for it?"
Mother Jean eventually took her daughter seriously and requested a screen test. Harlow interfered, begging her mother not to embarrass her. The test was not made. Shortly after Bombshell was released, the Bello's used Harlow's money to build a gigantic mansion. Harlow hated it, calling it "ridiculous" and the "whitest house in the world." In in, Mother Jean took direct inspiration from the bedroom Lola Burns possessed in the film, duplicating it for her daughter.
Harlow hated this and used the adjoining parlor to store her vast book collection. No one knew it was there... Jean also knew that if anyone saw it, no one would believe that she read them. William Powell would later advise Harlow to sell the house on Beverly Glen, "the whitest house in the world," which her mother greatly resented.
Despite having changed her legal name to "Jean Harlow," towards the end of her life, Harlow would explode in drunken rages at her mother, shouting at her for her manipulation and meddling with her life. From sabotaging her marriages to squandering her money. The more Harlow drank, the more she despised Mother Jean.
16) Failing Health
Friends noticed a change in Jean Harlow. As her drinking increased and her health declined, she resented Powell bitterly. She confided to her friend, Dorothy Manners, that he was driving her over the edge, while she "hated" her mother whose sabotage she could no longer stand.
Harlow's cousin, Don Robinson, would buy her a bottle of gin and the two would drive to some remote area to drink. Every time, Harlow would be emotionally slumped, sobbing that her life would have been different if she had left with Chuck McGrew and had his baby... Harlow was not only increasingly reliant on liquor, but her skin was pale and grey. Harlow was often exhausted and while visiting friend Jeanne Pope, whose husband was a doctor, asked him to examine her. He noticed Harlow's pulse was "irregular," and Harlow promised she'd return to see him for a full examination. She never did.
She began to suffer from a great deal of sweating, exhaustion, insomnia, and severe mood swings that were very unlike her. She also began to appear bloated. The assistant director on Saratoga, noticed Jean's condition and knew instantly that it had to be fluid retention. Harlow began complaining of severe stomach pains; she was advised to go to the hospital. Harlow was dismissed from shooting that day, and she stopped by the set of Double Wedding to see Powell, telling him she was going "home" (a.k.a. Powell's mansion) because she didn't feel well. Onlookers claim Powell did not seem concerned. He thought Harlow was suffering from the flu, but after a few days, with her condition worsening, he called Mother Jean. Mother Jean had been on Catalina Island with a new beau, but quickly returned home.
Since Dr. Chapman refused to see Harlow, Mother Jean consulted Dr. Fishbaugh. He diagnosed Harlow with cholecystitis, which was a drastic miscalculation. Realizing that her daughter was getting worse, Mother Jean frantically called Dr. Chapman, begging him to see Harlow:
"This doctor is killing her!" She cried.
Louis B. Mayer, meanwhile, concerned, offered his personal physician to see Harlow. But Mother Jean, to his fury, rejected his offer. Jack Conway, who called Harlow's home several times to persuade Mother Jean, would be greeted from her with:
"WE ARE CHRISTIAN SCIENTISTS!"
Before Mother Jean would hang up. This led to the long-held belief that Mother Jean was refusing medical treatment for her daughter, which isn't entirely true, though it is true she barred anyone from seeing Harlow for several days.
Finally, at the behest of a nurse, Dr. Chapman went to see Harlow at her home. He nearly collapsed at the sight of her... Harlow's kidneys were failing and after Dr. Fishbaugh gave her dextrose injections, (a.k.a. MORE fluid) he had unknowingly hastened her demise. Harlow needed diuretics. For many years, Chapman would hide this from the public to protect his colleague. He claimed Fishbaugh was not a bad physician, that he happened to make a terrible mistake on a high-profile client... was unfortunate.
There were rumors that Jean Harlow returned to the set of Saratoga, but she was actually suffering from uremia brought on by kidney failure. When Clark Gable went to visit her, he kissed her and compared it to "kissing a dead person." He also stated she smelt of urine... meanwhile Harlow was in extreme pain. Dr. Chapman could not save her—without antibiotics, dialysis, or transplants, there was nothing he could do.
Dr. Chapman also concluded that Jean Harlow had no will to live whatsoever... stating she "didn't want to be saved." Without any conclusive medical records, thanks of course to Mother Jean, it was difficult for Chapman to trace her medical history. He was, in fact, able to conclude that Harlow had been stricken with glomerulonephritis after contracting scarlet fever when she was 15. This is a post streptococcal kidney infection that induces high blood pressure, hypertension, and nephritis. Her kidneys had been slowly deteriorating for years...
Harlow was placed in an oxygen tank at Good Samaritan Hospital. By now, her skull had swelled with fluid and was so bad, Dr. Chapman considered drilling holes in her temples. However, the risk was too great as they feared brain leakage. Something Harlow would not be able to withstand.
While Mother Jean claimed William Powell remained at Jean's side devotedly, this was false. Powell had been busy filming "Double Wedding" and dating actress Bernadine Hayes. Despite his selfishness, he finally visited Harlow at the hospital, bursting into tears at the sight of her. Jean Harlow's aunt begged her to hold on, but Harlow, winking, said she didn't want to... Jean Harlow's last words were: "Where is Aunt Jetty? Hope she didn't run out on me..."
Harlean "Jean" Harlow Carpenter died on June 7, 1937 at 11:38 AM.
17) Our Baby
Jean Harlow was given the largest Hollywood funeral in history at that time. *Rudolph Valentino's funeral was in New York City and Irving Thalberg was not a public figure. *
"The day the Baby died, there wasn't one sound in the MGM commissary for three hours." —Harry Ruskin, screen writer
At the funeral, Virgina Conway was seated beside Mother Jean, and said Mother Jean Harlow smiled with her chin high and not a single tear on her face. William Powell was shaking uncontrollably and sobbing, breaking apart.
Rumors would spread that Jean Harlow died from everything concerning an abortion, to cancer, heart disease, syphilis, and peroxide "seeping into her brain" over the years. While the cause was debated, everyone blamed Mother Jean for killing her by withholding treatment until it was too late... Skip Harlow, Jean's grandfather, suggested that she be buried in the family plot. Even in her daughter's death, Mother Jean would not let go of her power. She made a public statement that a "sanctuary" would be made for her Baby at Forest Lawn Cemetery... which William Powell offered to pay for.
William Powell could hardly protest, though he nearly keeled over after he saw the price tag. The "Sanctuary" included a space for Mother Jean as well (duh). The tomb is crafted in marble, and chiseled into it, is:
"OUR BABY"
Finally, Mother Jean would share Harlean with the world. Because of her death, Saratoga was set to be recast, but the public clamored for Harlow's last film. Saratoga did better than any film Harlow had shot previously.
In life, Jean Harlow lived to please others, suffering dearly for it. She appeared as fallen angel, who was just an innocent cherub, bouncing along MGM like an ethereal flicker on the silver screen, passively accepting her fate that was seemingly crafted for her. In the end, she saw her freedom only in death as it swept her from a life of inevitable slavery to her mother and emotional abuse endured from those she wished to love.
*References:
"Bombshell: The Life and Death of Jean Harlow" by David Stenn