I am not a Victim but like #MeToo
*Trigger Warning*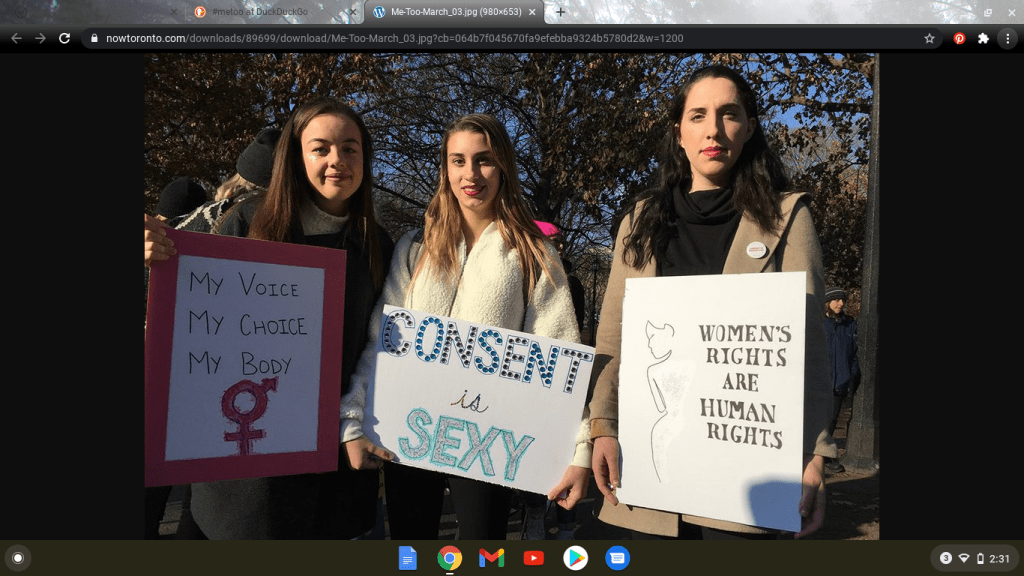 I'm not a Victim but like #MeToo
If you were to ask me ten years ago to write my story, sorry no. If you were to ask me to write about the trauma I had went through as a maturing pre-teen, I would have told you to shit bricks,.. oops is that language even allowed here? Apologies. In my defense ten years ago, I was fifteen years young, filled with anger and trauma. I've honestly had this tab sitting open. Not knowing where to start. As you can tell by my picture, it's 2 a.m. A normal person would be sleeping at this time. Here I am rambling about things that don't really matter, so I will get started, the first time it happened.
November 18. The day before my birthday. Actually, when it happened it was hours before my birthday. I was ten, going on eleven. I guess you could say I was misbehaving that day. My mother was outside smoking a cigarette. Did you know it only takes seven minutes to smoke one cigarette? Well I guess during that one cigarette break a lot can happen. My step father at the time, well he was disciplining me for my poor behavior. Looking back I don't remember what I have done, truth is I was always in trouble. Every-time I would get disciplined I would ignore everything, take my mind elsewhere; the lecture, the yelling, the beating, and I guess it aroused my step father. Before mommy's cigarette break she was disciplining me with one of my belts, she had me choose from. I chose the pretty glitter belt, that had multiple strings. I didn't budge. I didn't fight. I didn't cry. I didn't shout. After a while, my mother had enough. She had left the room, to the outside porch for a cigarette. I thought it was over with until I heard my step fathers voice stop me from putting on my clothes. Come to find out, my step father was watching my mother spank. No beat. Beat me with my belt, with out any clothes on. He said; you're not done, keep your clothes off, and remain in the position your mother left you in. The position was bent over the edge of my bed, with my knees on the ground. Than he said; only this time.... spread your legs apart. While rolling my eyes, I did exactly what he said. Everything was silent, so I could hear him grabbing the belt my mother had left on my dresser. As I predicted in my mind, he started disciplining me with my belt. I never felt the pain, but this time I was nervous that I felt every lash hitting against my skin. By now it's probably been about four minutes since dear-mommy left. As I'm trying not to budge I started feeling his skin against mine. Oh no. I felt his fingers going up the inside of my thigh.. and into. I started fighting against it because I was scared. But than he had shoved me down, and next thing I know my insides are getting stretched. Like any other time I was disciplined, I had taken my mind elsewhere; The park maybe? No. Not this time. I needed a real escape. So I took my mind to my grandpa's. Yeah. That's it. I'm visiting my grandparents, on a Sunday morning. Brunch sprawled out onto the table. sliced and half peeled oranges, grapes, sliced cantaloupe, sizzling bacon on the burner still, fresh eggs, fluffy pancakes, jar of crunchy peanut butter, butter, toast, milk for my cousin, tea for my grandpa, grandma is still currently cooking and my favorite orange juice where my plate setting is. Oh no. My mind had felt some goo racing down my legs. Now I'm awake hearing, - go to the shower now, are you listening to me. Get in the shower. As he is trying to get me up onto my legs. He said; now I don't want to have to discipline you like this again. Go to the shower, I'll speak with your mother. I'm in the bathroom. Lost. I didn't know what anything was anymore. I felt ashamed, horrible, heartbroken and nothing all at once. I didn't know how to process everything that had happened in those long seven minutes. I hear my mother opening our loud front door. She must've finished her cigarette. As I'm showering, washing my legs and everything in between, my mother comes in and ask's me; Will you start behaving, we're so tired of disciplining you. I reply with a yes. Only it wasn't the last time but that doesn't matter right now. And that is all I remember from that day, hours from my eleventh birthday. This is all I can revisit for now.
I titled this; I am not a Victim but like #MeToo because, I no longer feel like a victim. Not to mention I always hated the word Victim. I've spent all of my teen years in therapy. Well almost. Fourteen through nineteen, on and off. I've met at least a dozen therapists. Literally. I am 25 years young, to this day I still feel the need for a therapist to hear me out, and help me organize a permanent mess. I've had four years of sexual abuse, many years of abuse, and even a toxic relationship filled with manipulation, domestic violence, and an unwanted pregnancy. I have more stories to share, when I'm feeling up to it. For now, Thank you.