How Two Chicks Started a Fashion Label
"We are not ones to let things run out."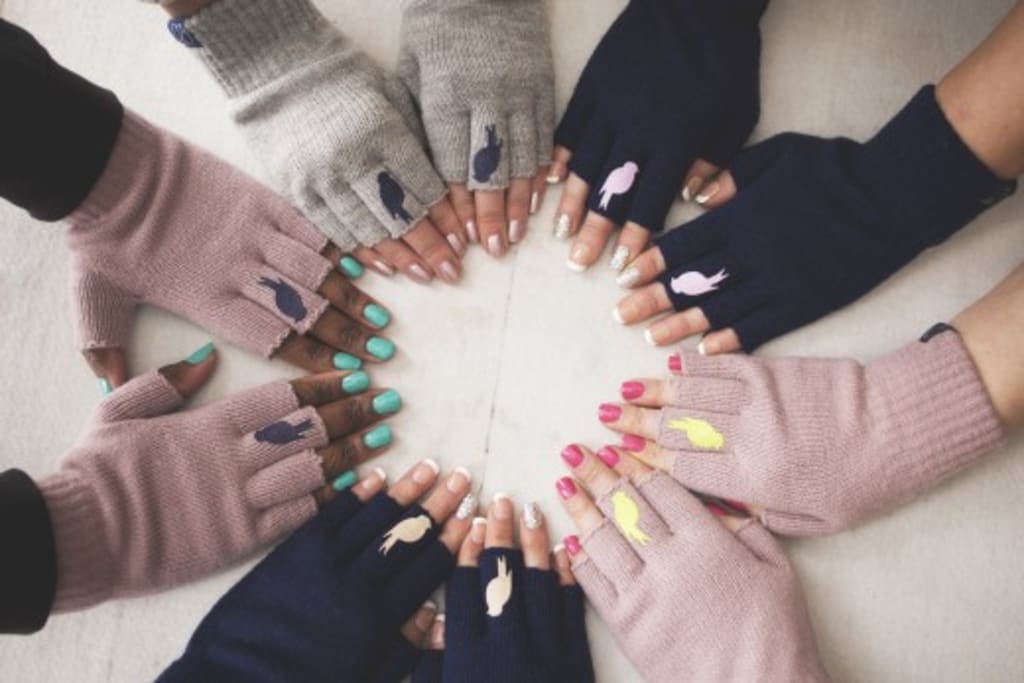 Image Credit; Photographer: Mary Wangen
It wasn't that long ago when two women who like accessories who manage to turn a dream—and humor—into a fashion label. "When you don't have the words," said Susie. "Let your gloves say it for you."
Early in January, Susie Moschkau and Natalie Buckman launch 'Swearing is Caring,' where a portion of the sales will be donated to various organizations which eliminate things (include mental health stigma, lack of care towards the planet, fairness in the workplace and schools).
Back in 2018, the duo combat the day to day bullshit at their corporate jobs, and upon them echoes a movement, in a fashionable: a glove that promotes itself as the one and only line with a bird— literally Flip 'em the Bird was hatched(no pun intended), and the idea of producing gloves that are, you know, stylish. For Moschkau and Buckman, whose vision was packed with budgeting, phone calls, and email sent outs.
Within a few months released a line of shirts, hats, and of course, gloves.
"No accessory is off the radar," says Moschkau.
The founders, Moschkau and Buckman, are proud members of the MAIA Community which discover businesses that are fifty percent or more woman-owned.
The two met in junior high but didn't instantly become friends. It was a classic story— they bonded while attending the University of Minnesota Duluth.
"We lived in the same dorm," said Moschkau, "and end up having a class together." But after decades of friendship, the pair decided to put their sass and fashion sense to the mass. "When we were in our twenties, we would go out, " says Moschkau, "and vision what our future would be."
Late in January Moschkau took to Twitter to share how less than one year ago she and Natalie were just two chicks tired of the bullshit. Today, Flip 'em the Bird is officially a trademark.
"This phrase motivated us to bet on ourselves," says Susie. "We are the middle-aged Grace and Frankie(minus the exes)."
Susie and Natalie have strategies on success, feminism, fashion, and more.
Success isn't an end goal.
"Success is something that evolves: 'you can't just sit still and thrive on learning— it's about satisfaction than being scared'."
The Trail of Feminism
"Mentioning the word could label you as a man-hater which could hurt you socially, politically, and economically: 'there's one side who thinks we should be thankful but the other side would think feminism could be so much more and we have to work to get there'."
Today's Workplace Attire
"It's less about power suits and more about the polished and comfortable style. Diversity is something that more workplaces are embracing: allow people to express themselves, whether its piercings, tattoos, hair color— so employees feel confident to bring ideas to the table."
What are five things women should have in her wardrobe?
"Amazing sleepwear (include pillowcase and sheets), matching bras and panties, a set of Flip'em the Bird fingerless gloves, and whatever makes you feel confident."
A Massive Evolution in Maturity
"Our twenties is the age where we learn how to make decisions, and we take that for granted."
Celebrate the Small Milestones
"People want to know what's going on and want to help. Some people will get annoyed but the supportive ones keep cheering, and there will be days when you are overwhelmed and feel out of depth."
On a Mission to the Maldives
"It's the small milestones that you need to be thankful for, and you may want fast results but enjoy the journey with gratitude."
Half Glass Full, Empty or Between
"Of course, half glass full. This is how we answer after a glass of wine but half empty is how we see it with an immediate and devised a plan."