How a Little Mexican Girl Conquered the Patriarchy-Loving Music World
The Legacy of Queen of Texan Music: Selena Quintanilla-Pérez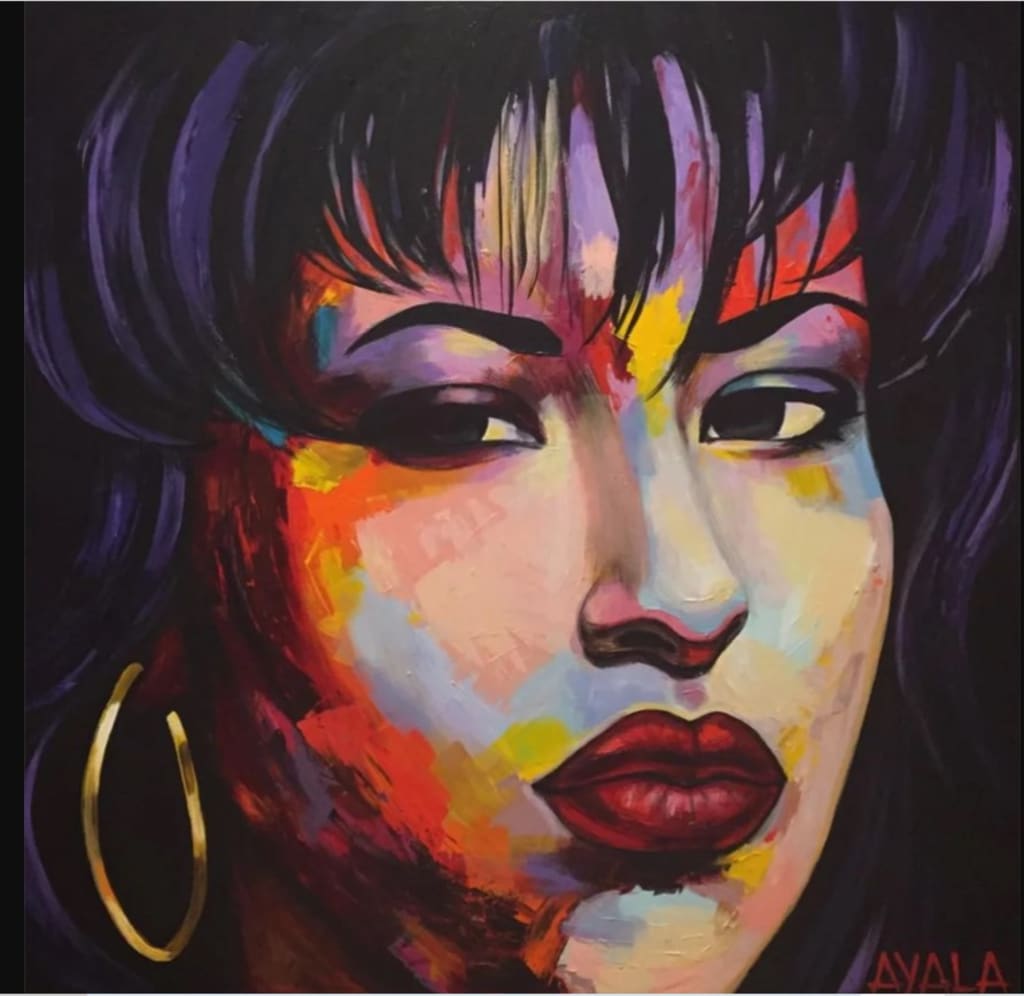 Image Courtesy — Selena Quintanilla-Pérez's painting by @artbyayala
If you have a dream, don't let anyone take it away. — Selena Quintanilla
She was a little girl with a beautiful voice who loved singing and dancing, who grew up listening to older men and young white girls. Even though she wasn't like her idols, she aspired to do the same thing they did. In the late twentieth century, a brown girl who didn't have blue eyes and wasn't even skinny, could she step into the male-dominated music industry? I don't think…
Oh, yeah, she did it. I kid you not.
Even if this girl didn't get the right shoes, she conquered the world. It was definitely challenging to do so (bloody challenging!), but is there anything queens can't do?
Today, Selena Quintanilla, the woman we're talking about, is known as the Queen of Tejano Music (Texan Music) and is one of the most renowned and beloved Mexican-American entertainers of the late twentieth century remembered by fans for her music and fashion. She is on the list of most influential Latin musicians of all time and is acknowledged for catapulting a music genre into the mainstream market.
And in today's date, go ahead, say the word "Selena" to any Hispanic, and the first person who'll spring in their mind is not Selena Gomez, but Selena Quintanilla. (Fun Fact: Selena Gomez's mother named her after Selena Quintanilla, because they were fans too.)
Who Is This Mighty Queen?
This mighty queen, Selena, was born in 1971 to Abraham Quintanilla, a former musician, and Marcella Samora, a homemaker, in Texas. Her father saw the talent in her when she was six, and since then, she began learning music in English and Spanish.
Abraham created a family band: "Selena Y Los Dinos," in which Selena (the youngest kid) sang, her elder brother, Abraham III, played the guitar, and her sister, Suzette, played the drums. It played early rock and roll songs fused with traditional Mexican music, which is now popularly known as Tejano Music throughout the southwest United States and Mexico.
The below video features Selena singing "La Tracalera" at the age of eleven (1982) with her family band, "Selena Y Los Dinos".
When her record "Entre a Mi Mundo" spent 32 weeks at the top of the "Regional Mexican Albums" list, she began to take over the limelight. One of her signature songs was the hit "Como La Flor." In 1990, Selena released her second studio album 'Ven Conmigo.' 'Baila Esta Cumbia,' became one of the most popular songs from the album. Her album "Live!" received the Grammy Award for "Best Mexican-American Album," making her the first female Tejano artist to get one.
Her fourth album, 'Amor Prohibido,' was released in 1994 and became a best-selling Latin album in the United States. Being passionate about fashion as well, she also started her own clothing line and opened two boutiques in two Texan cities called "Selena Etc", even though her father wanted her to focus more on her music career.
Selena's Death
At the age of 23, she was at the peak of her career and also had found the love of her life, Chris Pérez, and planned to have kids with him soon, but then… tragedy struck (and a maniacal woman struck too). Yolanda Saldívar, the founder of her fan club and an obsessed fan, shot her.
Yolanda urged Abraham to start a fan club, and he appointed her as the president in 1991. She was later designated as the manager of Selena's boutiques and left her job as a nurse. But soon, they started receiving complaints about Yolanda's management and also received accusations about the fan club from disappointed fans who weren't getting the merchandise they paid for. When Selena confronted her in Days Inn hotel, she shot Selena.
You can watch the video below to understand each and every minute detail of Selena's last days. Selena's last words were Yolanda…Room 158 (the name of her killer and the room in which she was killed).
Selena's Legacy
The Tejano community was shocked and intensely affected, and many fans traveled to Corpus Christi, her hometown. They couldn't believe it was for real. Two weeks later, the then-Texas governor announced her birthday as "Selena Day" (thank you George W. Bush!).
Dreaming of You, Selena's fifth and last album, was released on July 18, 1995, four months after her death, and went on to become one of the best-selling Latin albums of all time, selling more than double platinum.
Also, Selena's life was adapted twice, once in a 1997 film and then in a two-part Netflix television series in 2020. She was posthumously honored with many awards, including a lifetime achievement award in the 2021 Grammys.
She was dead, but not so much in her fans' hearts.
Why She Matters
Some people think Selena was just another girl who sang and danced and attracted attention, and her savage assassination gave her the 'legend' status. They couldn't be more wrong because at that time they weren't many women of color artists like we have now, and hogging the spotlight was extremely challenging, and Selena was freaking thriving.
When society expected young girls to stay at home forever and they didn't have many strong women icons to look at, especially the women of color, Selena was with them. She was one of the talented, ambitious girls born in conservative families, who inspired the other ones to break free.
And because of her, many women of color were encouraged — they're now the greatest icons such as Becky G, Beyoncé, Jennifer Lopez, Demi Lovato, Selena Gomez. She not only broke barriers but paved the way for others (queens support queens!).
People like Selena never die; They're in our hearts forevermore.
Although Selena is no more with us, she's still with us…in our hearts. We'll always remember her as a positively-influential, powerful figure in the music industry. People like Selena never die; They're in our hearts forevermore.
Here's a music playlist with Selena's greatest hits.
Originally published on Medium.