Why Your Sports Team's Loss Is Bad for You
Fans are less productive and make unhealthy choices after a loss.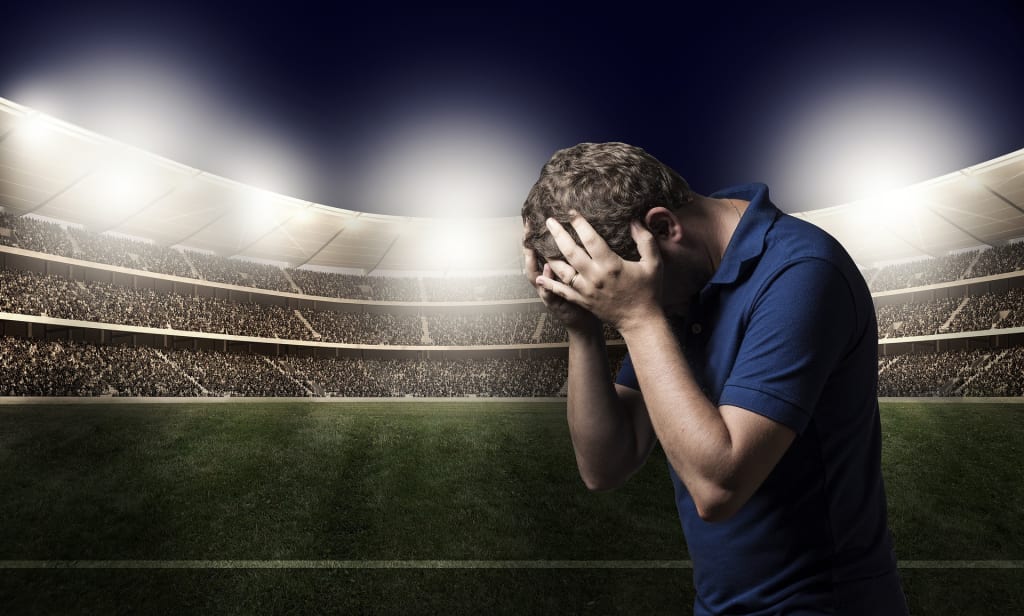 Photo: Daniel Reche
This might be considered a character flaw, but I'll admit it. My mood depends mightily on the successes (or failures) of the University of North Carolina's sports teams. During the fall, I'm elated when the Tar Heel football team wins on Saturdays. In the winter, I'm crushed when Carolina's basketball team drops a game that ought to have been a victory (especially when the Heels lose to the despised Duke Blue Devils). Finally, as temperatures rise and college baseball season progresses, my hopes of another trip to Omaha's College World Series are aroused. Perhaps I shouldn't allow 19-year-olds to determine my emotional well-being, but that's not likely to change any time soon.
When Carolina wins, I feel happier and more energetic. On the other hand, after a Tar Heel loss I tend to be grumpy and lethargic. Fortunately for me, UNC's sports teams tend to prevail more often than not. When the Tar Heels let me down, however, it can be difficult to function as effectively as normal.
Perhaps you find yourself in a similar situation. When your baseball team sweeps a series, you're on cloud nine. On the other hand, you've lost the will to live after your football team surrenders a huge lead and blows a game the whole world thought it had won (sorry, Atlanta Falcons fans).
Recent psychological studies have focused on the impacts that a team's successes and failures can have on fans. Their findings have intriguing implications for homes, schools, workplaces, and public health. One team of researchers explored how soccer games in Greece might affect worker productivity. The researchers hypothesized that fans' heightened emotions on game day would carry over to the workplace. If a team played well, workers would feel enthusiastic and vibrant. Following a poor showing, however, employees would be withdrawn and morose. The results of this particular study were in line with these hypotheses. Fans who were satisfied with their team's performance in a game showed little change with regards to mood, work engagement, and productivity. Those who were upset with the way their team played, however, had more negative moods and lower levels of engagement and productivity.
Another study found that sports team losses can actually be harmful to your health. Researchers investigated the relationship between NFL game results and food consumption in over two dozen American cities. They predicted that fans of losing teams would experience "self-regulation failures" that drove them to consume unhealthy food. Supporters of winning teams, in contrast, would make healthier eating decisions. Again, the results of the study mirrored its hypotheses. Results showed that people in cities whose football team lost on Sunday ate 16 percent more saturated fat the next day. Conversely, residents of cities whose NFL teams won ate about nine percent less saturated fat than normal.
These studies illustrate some surprising impacts of our addiction to sports. Victories increase our brain power and lead us to make healthier decisions, while losses make us less productive and more susceptible to unhealthy behaviors. In our families, classrooms, and offices, we should realize that external factors like sporting events can influence our moods and abilities to perform. By practicing happiness habits including gratitude, kindness, mindfulness, and laughter, we can get ourselves back on track. Even if Carolina loses (gulp) to Duke.
Source: Psychological Science
Mike Ferry is the author of Teaching Happiness And Innovation and a mental conditioning expert. As an online educator, Mike helps parents form stronger relationships with their teenage children. As a speaker, he works with businesses and non-profits to boost creativity and productivity. For more information, visit his website - here.
About the Creator
Teacher, author, speaker. Featured in Washington Post, Huffington Post, Christian Science Monitor, CBS, NBC, Newsmax, and radio shows and podcasts around the world. Web: www.happinessandinnovation.com. Twitter: @MikeFerry7
Reader insights
Be the first to share your insights about this piece.
Add your insights