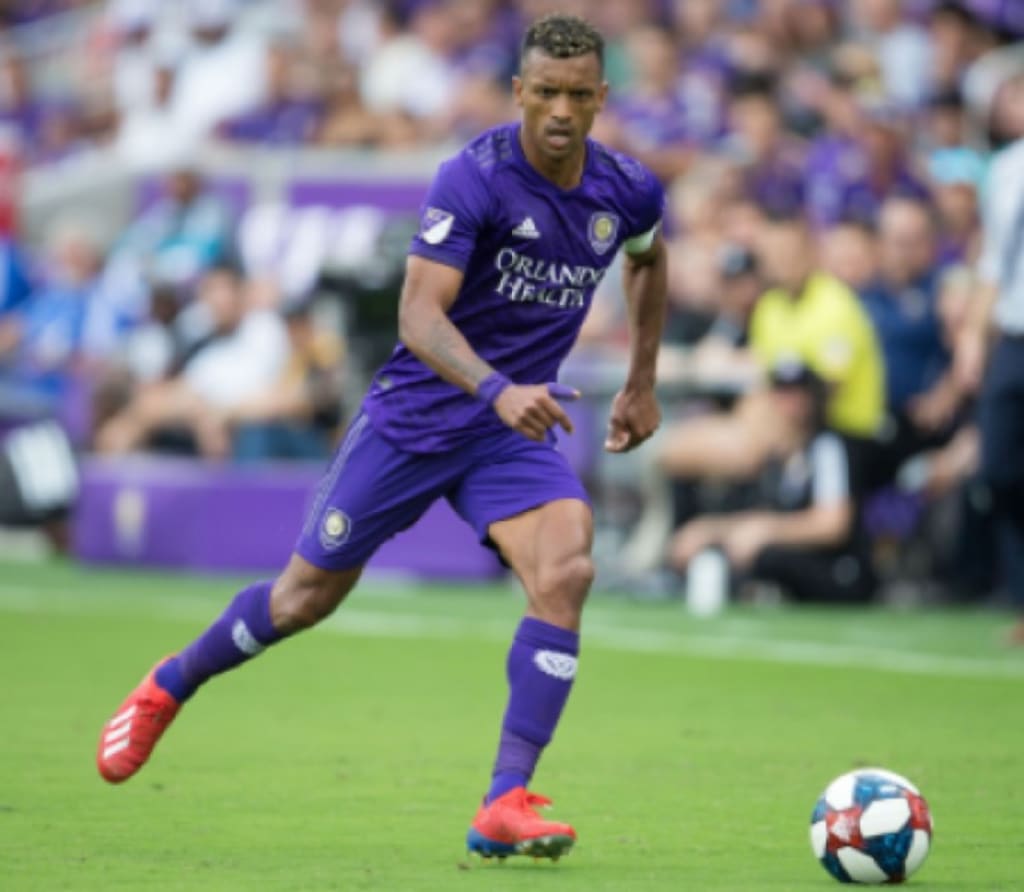 Luis Nani during the 2019 MLS Season (photo via Matt Stamey/USA TODAY Sports)
While it seems like only yesterday Orlando City ended the 2019 season with a 5-2 loss against the Chicago Fire and a swift sacking of James O'Connor, it was over four months ago. At the time of writing it's now just over a week before the start of a new season, with new players and a new Head Coach in Óscar Pareja. Here's why we can not only be excited, but also optimistic about the upcoming season for our Lions.
1. Óscar Pareja
Firstly, let's talk about our new gaffer. Boasting 183 MLS appearances across 7 years and two teams. Not to mention 6 years as a head coach between the Colorado Rapids and FC Dallas respectively. Pareja is no stranger to the league. He's already admitted he wants to play an "Aggressive" style, with focus on scoring goals. This is rather different to JOC's approach of stacking the midfield with 5 players and relying on a quick counter-attack. Of course, we'll know more after the first few games but be sure to expect a different tactical set-up. That'll be one that'll rely on a creative midfield and fast wingers rather than a preference of finding a target man that was custom last season. if things go to plan, this team will be much more exciting to watch compared to last season. Pareja's already had success with this style in the MLS, and there's no reason he can't again.
2. Fresh Faces
There have certainly been a few changes in terms of personnel. Pedro Gallese, Júnior Urso, Rodrigo Schlegel (loan) and first-round draft pick Daryl Dike are just a few of the new faces we'll see in purple. When considering that Pareja hand-picked these players and the club declined options on a range of names from last season, there's a clear suggestion the club recognizes things have to change in 2020.
Something I'm excited to see is how these new players complement the talent we already have. We've kept important Defenders in Jansson and Ruan. While Chris Mueller is only going to get better with increased game time. A question mark still sits beside Dom Dwyer's name. We know he has talent, we know he works hard but admittingly things didn't go his way last season. However, we have new resources on and off the pitch and a fresh start. Overall, we can be optimistic that if things pay off for Dom, we'll see success this year.
3. Home-grown Prospects.
An important aspect of European football that isn't overly focused on in North America is local development. The idea of seeing a player in the team that is from the same area as they play. Step forward Benji Michel, who played for the Orlando City U18s before college and signed a deal with the club in late 2018. Last year he managed 5 goals in 17 games, Increased game time towards the end of the season showed promising signs for Michel, including 2 goals and an assist in the final 2 games. This year provides an opportunity for the 22-year-old to step up, especially with first-rounder Dike competing for minutes.
4. New Coach, New Players, Same Fans.
Honestly, I couldn't write a piece about the new season without giving a mention to the fans. Here in the UK, we are over halfway through our season; Liverpool might as well lift the trophy now, in Scotland the Old Firm 2 are the only teams close to the top and in my home-country Northern Ireland, it's still all to play for. To now begin a new season at this time of year for a community where the sport means so much is exciting as a football fan. I'll be joining the rest of our UK family in staying up to all hours of the night to follow a team that plays 4,000 miles away. Every season our fanbase seems to get even more passionate despite the least pleasing results we've seen. Now it's time to buy into the process and be the 12th man on the pitch. Given my experiences standing in the wall over the last four years, we can create a fortress and make it a difficult place for opposing teams
Final Notes
After reflecting on last season, we weren't so far off at times. It's a positive sign that we've kept key pieces to the team while adding talent. So if you're still feeling frustrated or saddened by last season, scrap it. We start again and let's be honest, can it get much worse? Absolutely not. We've reformed the team, refreshed the coaching setup and we've every reason to be hyped about following the Lions for another season. So whether you're a season ticket holder who won't miss a game or someone who'll be drinking 10 cups of coffee just to make it to half time, there's one thing we can agree on. Vamos Orlando!
Reader insights
Be the first to share your insights about this piece.
Add your insights