Unbalanced Trade Deadline Series: Yu Darvish
Where might the Texas ace go?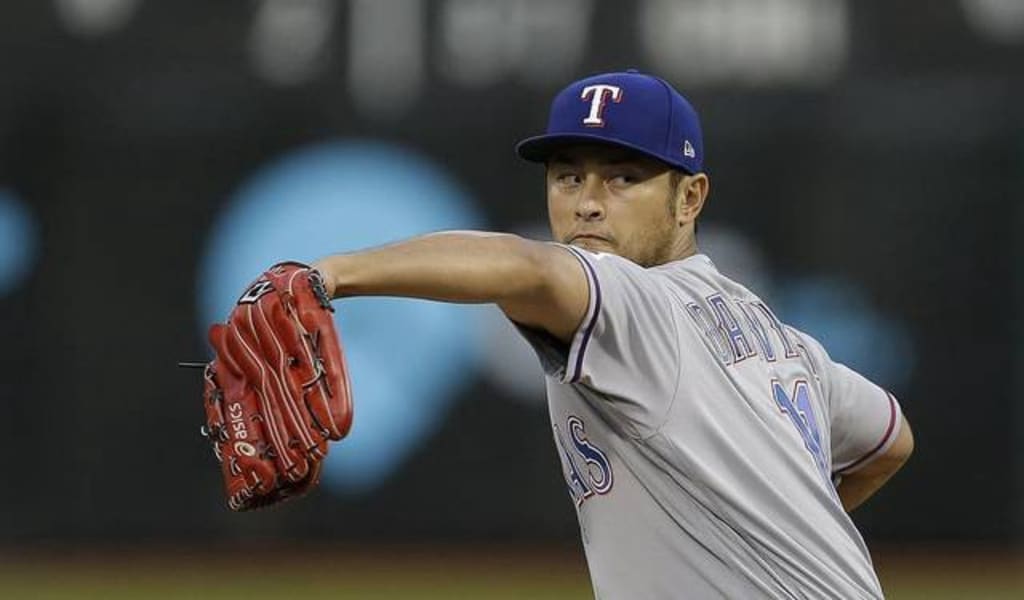 (Star-Telegram)
It's almost the time where the Rangers are all but done. In an AL Wild Card race that is still as crowded as hipsters at a cold brew coffee shop, the Rangers find themselves outside the race despite being 3.5 games back. Competing is a long shot because of the quality of the teams that stand in front of them and it's hard for anyone to envision jumping up and catching the Yankees or Rays when your starting pitching is suffocating your chances. The farm system is barren and they have to capitalize on trading pieces while they can, retooling at the least.
Cole Hamels and Jonathan Lucroy are certainly in play but they are long shots to be able to move. Everyone would love a good pitcher and Yu Darvish is the best pitcher available. He's an ace, but he's a rental as well. The going rate on rental pitching hasn't really been set, but the best rental bat in J.D. Martinez went for next to nothing while Marco Gonzales just went for the Mariners' №2 prospect, Tyler O'Neill. Putting a value on what the Rangers should receive is difficult because the market hasn't quite reacted to starting pitching rentals.
But before I get into potential trade targets, more on how Darvish himself has been doing this year.
In his most recent start Darvish went 8.0 IP with 5 hits, 3 earned runs, a walk, and 12 K's.
He was downright disgusting and showing off all of his non-eephus tricks. This year Darvish has posted a 17.4% K-BB% along with a 76 ERA- and 84 FIP-. He's damn good. If you paid any attention to the flame-breathing velocity tracker in the clip above, you can see that Darvish is certainly throwing hard. The fastball is moving well with an average velocity of 94.6 MPH and more "rise" (vertical movement) than Luis Severino and Jacob deGrom. The slider moves like a damn frisbee and it's Darvish's best offering and go to off-speed pitch. As of late Darvish has seen himself fill up the zone more often with his walk rate dropping and his K rate holding steady.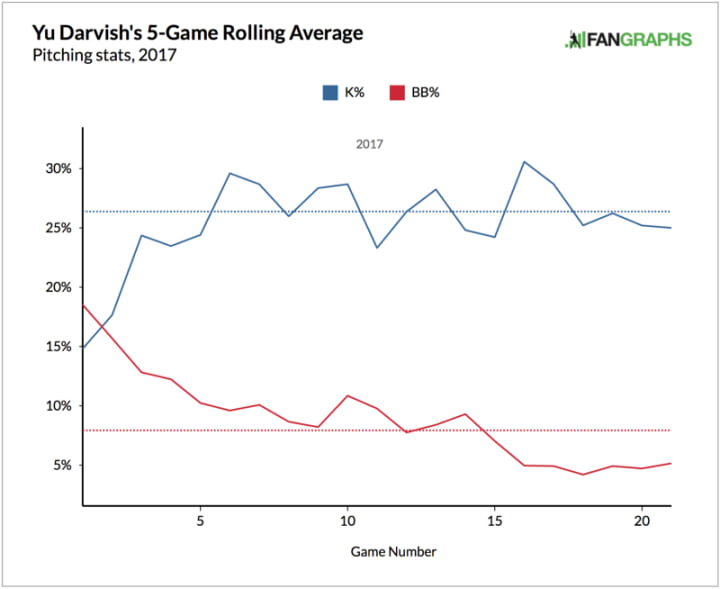 Generally when we see a power pitcher like Darvish increase their K-BB% it's in part because they've been able to get hitters to chase out of the zone more but oddly enough a more aggressive approach has done Darvish wonders as of late.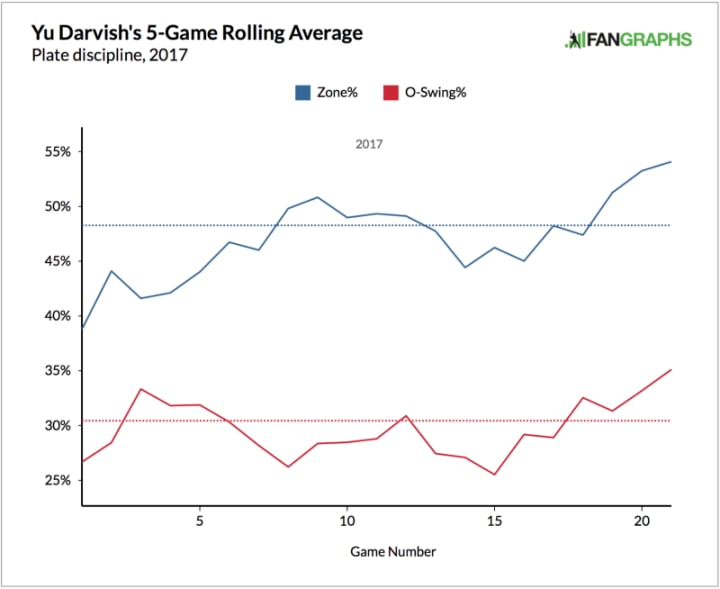 Darvish is already putting up his highest Zone% of his career and it doesn't seem to be hurting his contact quality either.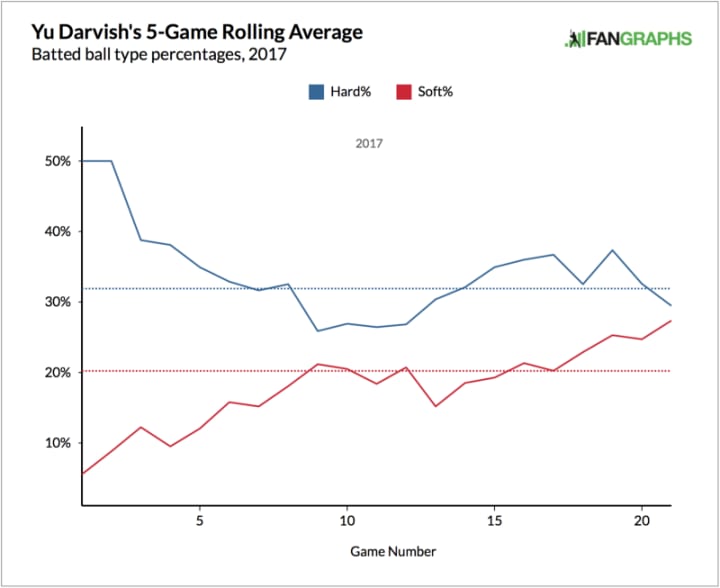 Darvish is hitting his stride right now, he's healthy, and he's the best talent on the market. This is an ace for sale, and a huge boost for whoever needs him.
Yankees
So the Yankees made their big trade and have a super bullpen on their hands after acquiring Tommy Kahnle and David Robertson but there's still a hole in the rotation that can be filled. They still have the guys to get a deal done for Sonny Gray, but it would be a substantial blow to their farm system after just two trades so Cashman may want to hold back. Enter Yu Darvish. Sure we don't know how expensive he'll be, but with each passing start he becomes cheaper and Jon Daniels knows that. If you're the Yankees you'd hate to have to spend on a rental but you still have a Wild Card race to win. They've underperformed their BaseRuns record by a substantial margin, but at this point in the year the actual record is what dictates moves and Cashman may want to add on in a guy like Darvish to be sure they'll lock up a Wild Card spot or even catch the Red Sox.
Astros
The Astros are certainly looking for another pitcher to bolster their playoff rotation, but it makes more sense that they'd make the harder push for Sonny Gray rather than a rental of Yu Darvish. But if they manage to lose out on Gray I would most certainly expect them to make the push for Darvish as he is a sure bet to be traded rather than other guys like Gerrit Cole or lesser rentals like Marco Estrada. However if Darvish is too expensive, it would certainly lead the Astros to look elsewhere
Dodgers
There is no need for the Dodgers to do this whatsoever, but it's still a relevant possibility.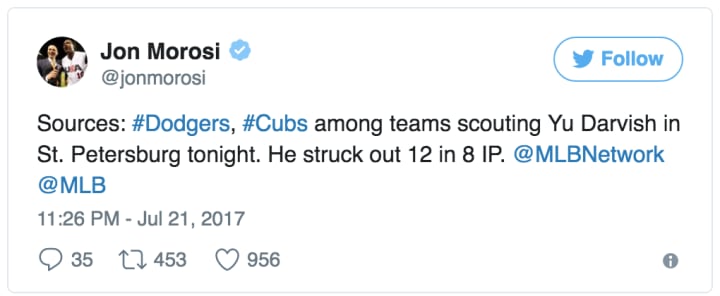 I think this trade would come about if Darvish somehow went to the very last second and Jon Daniels had to give him up for little to nothing.
Or Farhan Zaidi and Andrew Friedman play the ultimate high stakes game of "You won't" or "Bet!" like they're ten-year old boys.
I can't see something like this happening unless the Dodgers think that Hill, Maeda, McCarthy, or Wood are going to break down. This one is a long shot.
Cubs
As you saw in the tweet above, the Cubs are still most definitely interested in adding to their rotation. And it makes sense as they still have a division to try and win. This isn't the time for them to wait it out and see if any of Arrieta, Lackey, or Hendricks still has it in them to dominate as they did last year. It's time to make noise now and have a team that's ready to go come playoff time. They've blown up the farm system, so they might as well commit to here and now. The problem is, they don't have very desirable pieces to send to the Rangers. If it's a case of sending minor leaguers then the Cubs' best offer might be no better than a weak offer from the Yankees. They have to put some of their major league talent in play if they want this to work out and I'm sure Jon Daniels is going to use that kind of leverage.
Royals
Look, it's been a weird one for KC. Everyone thought they'd be definite sellers because their whole roster is seemingly due to leave at the end of the year, but they're right in the thick of this at 49–47. And they aren't just in the Wild Card hunt, they're 1.5 GB behind the Indians too. I don't really know why they'd want to burn more of their farm system at this point, but they just might.
Indians
So Cleveland is perfectly fine with their rotation but should they believe that one of either Carrasco or Salazar won't be healthy enough to pitch in the postseason, then Darvish would be a suitable option. But on its own, Kluber-Carrasco-Salazar is a dirty combo and having Clevinger behind is nice too.
Orioles
Alright this is where we get weird.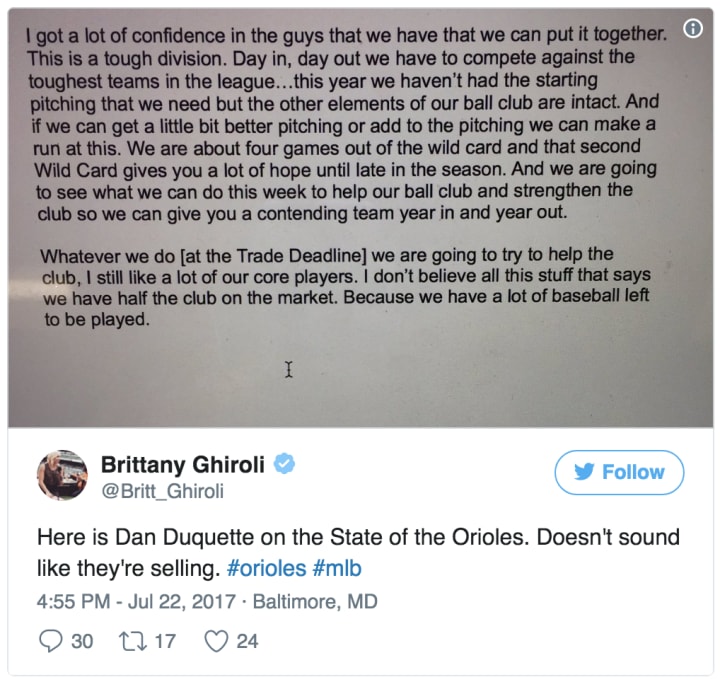 In what world is this an okay decision to make I don't know. How many guys the Orioles can get to try and fix their situation I don't know. How they would get Yu Darvish I don't really know. It's just technically a real possibility at this point and the Orioles would be weird enough to go for it.
How much is Yu Darvish going to cost a team this year? I really don't know. If he's going at a rate similar to what J.D. Martinez just went for then I can include every other major league team as a trade candidate because that'd be table scraps. I don't expect it will be to that extreme but it seems that an ace like Yu Darvish will be more easily attainable than I or I'm sure many others previously thought. There's an ace on the market and he'll easily slot into your team as the best or second best pitcher. That'd be pretty nice to have for a playoff push.
Reader insights
Be the first to share your insights about this piece.
Add your insights