Unbalanced Trade Deadline Series: Gerrit Cole
Where might Pittsburgh's ace land?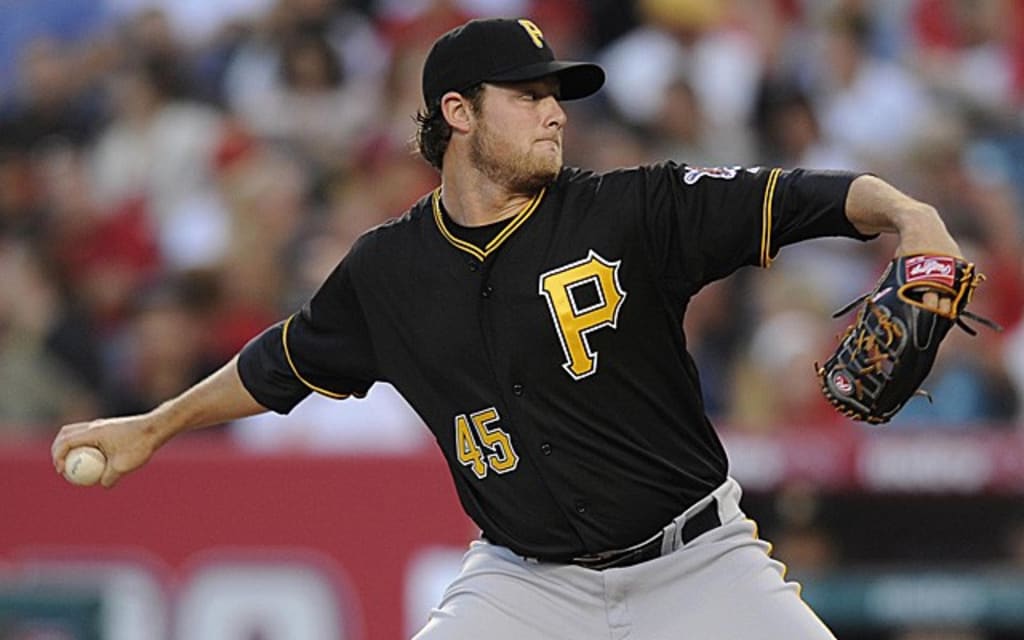 (CBS Sports)
We are in full swing this trade season! After the relatively surprising bombshell that was the Jose Quintana trade, the relative price has been set on starting pitching (pssst, it's pretty high). While there are a bevy of names being floated out there, few on the trading block carry as much value as Gerrit Cole.
The 26-year-old Pittsburgh ace is locked up through 2019, with his salary this year at $3.7 million and the next two coming in as arbitration years. He's a fairly durable pitcher who has turned in a 5 WAR season as recently as 2015, and has accumulated 12.7 fWAR from 2013–2016, sandwiched between Chris Archer (12.8 fWAR) and Rick Porcello (12.6 fWAR) over that span. He's been a great pitcher ever since he came up.
This year he's been underperforming, with a 4.35/4.44/3.95 ERA/FIP/xFIP, a 20.5% K%, and 5.7% BB%. He's been bit by the home run bug though, seeing his HR/FB% jump to 17.5%, with a league average of 13.7% and a career norm of 9.5%. It's a problem, but there's nothing in Cole's batted ball profile to suggest he's gone through some major change.
Home runs aside, Cole isn't striking out batters like he typically does.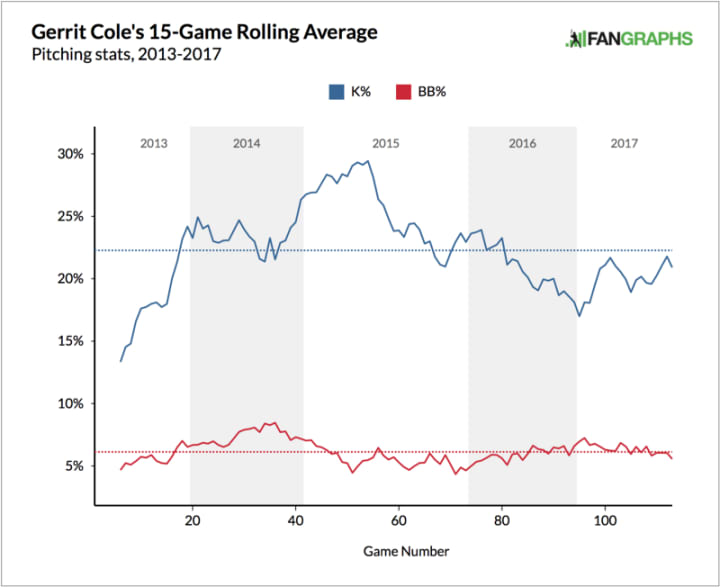 Cole ran K rates of 24.2% and 24.3% in 2014 and 2015 respectively, then things started to drop in 2016, where he posted a 19.4% mark. Part of this decline is because he's missing fewer bats and generating fewer chases. His 8.6% SwStr% is down from his 2015 and 2014 levels, but it's still fairly close (9.6%, 10.2%).
Whatever issues he might be having, they are more concerned with pitch sequencing or pitch movement, as Cole still has the same fastball velocity that makes him so coveted. His average fastball velocity amongst starters ranks third in all of baseball at 96 MPH, and the fastball is still his bread and butter. It still has the same movement as it's always had, but Cole's curve and slider don't quite move like they used to. Regardless he still looks mighty good, especially here in a recent start against the Phillies.
There's no particular reason to be picky here; Cole is healthy, and whoever is trading for him understands they're buying him for the next two and a half years. His talent still makes him somewhat of a raw pitcher — at least in the sense that he has plenty of room to get better, especially if he were to improve one of his off speed offerings.
Should Cole be moved, he would bring back a hefty package, similar to the one the White Sox received for Jose Quintana. So no, it does not necessarily bring a top 5 prospect, but it could surely bring upwards of 3 50+ grade prospects or 3 of an organization's top 20 prospects (not every organization, but emphasis on the ones I'm listing below).
Yankees
The Yankees are one of the few teams that have the prospects to get a deal done. There's a definite need, as they're pushing for the Wild Card this year and Michael Pineda just went down. The Sonny Gray trade makes a lot of sense as well, but if the Astros play more aggressively on Gray, you aren't really getting much less with Cole. But there's no particular reason the Yankees would want to spend big on a pricey rental like Yu Darvish. Sure the need is actually there, but there's a young core in place and there's all the incentive in the world to get a starter for multiple years. There's no point in hoping you make the playoffs this year and signing a starter in the offseason. Kill two birds with one stone, pay up, and get yourself an elite, controllable starter.
Astros
The Astros are going to make the playoffs. They are the juggernaut of the American League with an offense so ruthless they could probably win games with position players pitching the entire time. Regardless, the Astros have a rotation anchored by Lance McCullers and Dallas Keuchel, but they're looking for a third guy so they can match up with any other three headed beast they might run into in the playoffs. The Red Sox have Sale, Price, and Porcello, so the Astros want their own unstoppable three man combo. They don't really need to get better, but the Astros want to be sure, and they sure have the prospects to get a deal done.
Brewers
Yes, the Brewers become real contenders more and more by the day. Whatever happens from here on out for them doesn't totally matter because they've turned what was supposed to be a rebuilding year into a contending year, and it's been amazing. But it's important to keep in mind that they are still building up to be a stronger contender. The kids on the farm are developing, so there's no need to go all in or even buy a rental. There are matters of contending against the Cubs as well, but acquiring a guy like Cole is certainly still ideal because of the length of the contract. This one is an even longer shot because teams don't like to trade within the division.
Cubs
The Cubs still have a pitching problem to address. After acquiring Jose Quintana, there is still a long-term hole coming up. After this year, Jake Arrieta and John Lackey are free agents. I'm sure the Cubs are interested in re-signing Arrieta, but he's a Boras client, so he'll most likely be wildly overpriced. Enter the multi-year rotation solution of Gerrit Cole. It'll cost big league talent this time, however, as the Cubs don't have the minor league depth to put together a deal. I'm sure this is where the Cubs worry; they surely don't want to get rid of Schwarber, Almora, or Baez as they enter the playoff push, but it might be something they have to sacrifice in order to win for the coming years.
It's important to remember, though, that the Pirates hold Cole for a few more years, so they might be inclined to just hold on and wait for a better market to show itself. But with a starter having a track record of injury (especially elbow injuries), there might not be a better time to sell him. Gerrit Cole is an enticing commodity for a number of good reasons, and there is certainly a market for starting pitchers. T hot stove is just getting heated up, and this might be the biggest blockbuster of the deadline.
Reader insights
Be the first to share your insights about this piece.
Add your insights