Track & Field 2k21: Sturgis Owns NCAAs
NCAT's sprinter wins 100 & 200 titles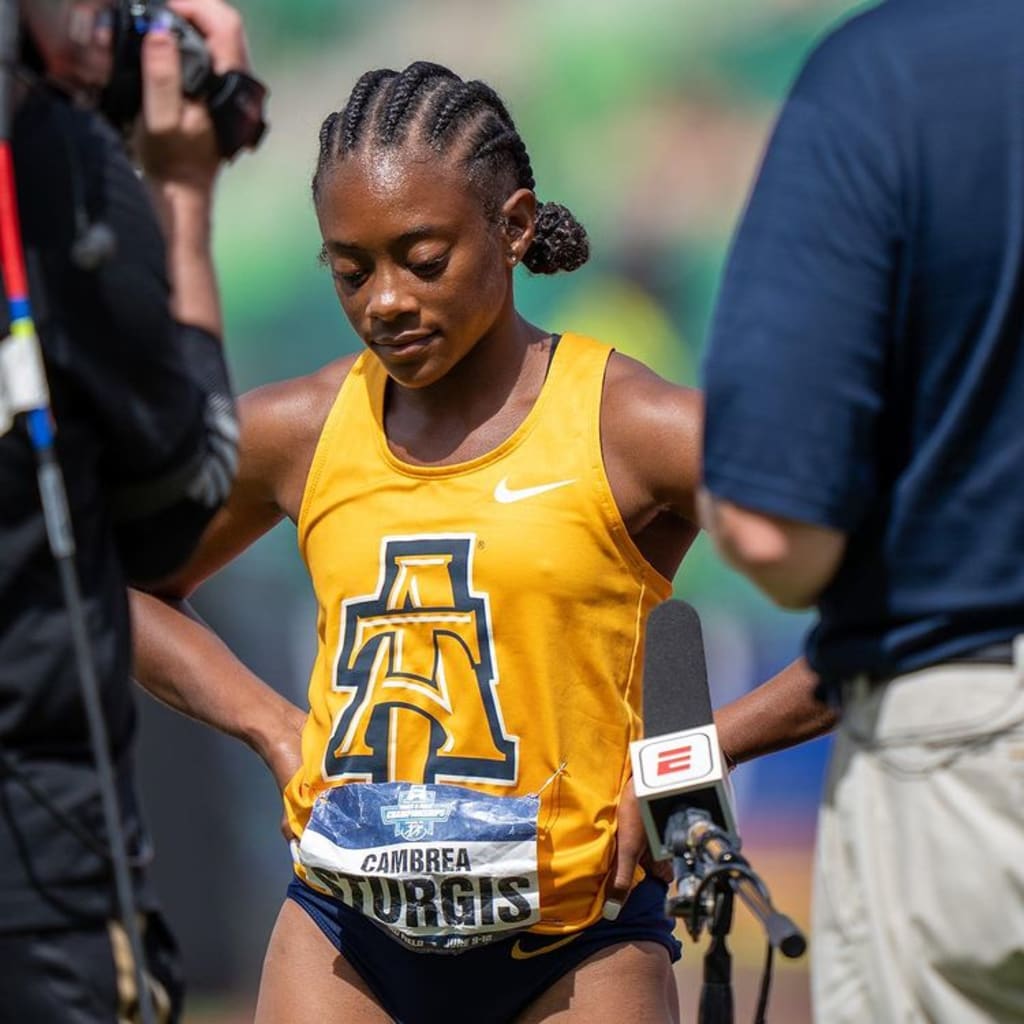 Cambrea Sturgis of North Carolina A&T.
Last week we announced our All-Amazing Honors list for the outdoor season and North Carolina A&T's Cambrea Sturgis was named Athlete of the Year.
At the time some may have seen it as a bold move, picking the speedster from a much smaller school than athletes like Tamara Clark of Alabama, Twanisha Terry of USC or Tyra Gittens of Texas A&M who compete for powerhouses in major conferences.
We've been watching Sturgis since her first season at North Carolina A&T back in 2019 and it was evident then to us that the future of sprinting in the NCAA was competing in Greensboro, North Carolina and North Carolina A&T was ahead of the pack when it came to selecting the best of the best.
Sturgis made Winners Only appear to be genius at the NCAA Divsion I Championships, June 12, when she took both the 100 meters and 200 meters races. In Eugene, Oregon, Sturgis entered the final with the fifth best time in the prelim round. She ran in the third heat and placed second (11.20) behind Oregon's Kemba Nelson (11.13). In the final Sturgis sped through the finish line at 10.74, ahead of Terry's time of 10.79 and Clark's 10.88. Nelson was fourth at 10.90. The only unfortunate thing for Sturgis is that her time was wind assisted at 2.2 so it won't count as a legal personal best.
In the 200 meters final Sturgis didn't have that issue. She won that championship at 22.12 which is also the fastest time in all of the NCAA for the entire season. In that race she topped Clark who finished at 22.17. Ohio State's Anavia Battle placed third at 22.42.
Sturgis grabbed a bronze medal after a third place finish in the 400-meter relay with teammates Kamaya Debose-Epps, Symone Darius and Jonah Ross. That race was won by USC's foursome of Jasmine Jones, Anglerne Annelus, Lanae-Tava Thomas and Terry who won at 42.82. North Carolina A&T ran 43.03 behind runner-up LSU's time of 48.84.
100 Meters Final
Cambrea Sturgis, North Carolina A&T, 10.74
Twanisha Terry, USC, 10.79
Tamara Clark, Alabama, 10.88
Kemba Nelson, Oregon, 10.90
Alfreda Steele, Miami, 11.11
Jayla Kirkland, Florida State, 11.22
Lanae-Tava Thomas, USC, 11.24
Celera Barnes, Kentucky, 11.31
Ackera Nugent, Baylor, 11.37
200 Meters Final
Cambrea Sturgis, North Carolina A&T, 22.12
Tamara Clark, Alabama, 22.17
Anavia Battle, Ohio State, 22.42
Favour Ofili, LSU, 22.45
Twanisha Terry, USC, 22.69
Anglerne Annelus, USC, 22.72
Alfreda Steele, Miami, 22.77
Kevona Davis, Texas, 22.78
Cassondra Hall, UNLV, 22.94
USC's Cockrell wins 100-hurdles, 400-hurdles
USC senior Anna Cockrell captured her fourth and fifth career NCAA championships. She won the 100-meter hurdles at 12.58 and the 400-meter hurdles at 54.68. In the 100-meter hurdles she was one of four seniors in the final but the only one to place in the top three. Central Florida's Rayniah Jones was second at 12.82. Baylor's Ackera Nugent was third at 12.84.
In the 400-meter hurdles Cockrell won at 54.68, in front of Arizona's Shannon Meisberger (55.70) and Andrenette Knight of Virginia (55.81). Cockrell's wins gave USC 20 of its 74 points which it needed to place ahead of Texas A&M which finished second with 63 points for the overall team national championship.
100-Meter Hurdles Final
Anna Cockrell, USC, 12.58
Rayniah Jones, UCF, 12.82
Ackera Nugent, Baylor, 12.84
Grace Stark, Florida, 12.89
Madeleine Akobundu, North Carolina A&T, 12.90
Masai Russell, Kentucky, 12.97
Cha'Mia Rothwell, Duke, 13.14
TeJyrica Robsinson, North Carolina A&T, 29.11
400-Meter Hurdles Final
Anna Cockrell, USC, 54.68
Shannon Meisberger, Arizona, 55.70
Andrenette Knight, Virginia, 55.81
Masai Russell, Kentucky, 56.18
Milan Young, LSU, 56.23
Faith Ross, Kentucky, 56.49
Ashton Lindley, South Carolina, 56.74
Stephanie Cho, Washington State, 57.48
Brittley Humphrey, LSU, 57.51