THE DAY I KISSED MIKE TYSON
The good, the bad and the bite.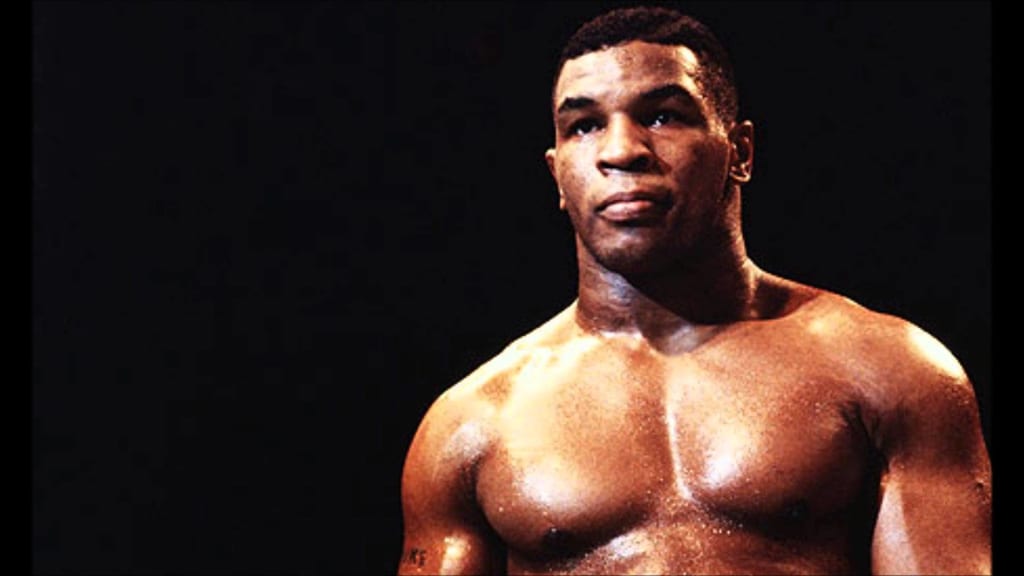 Known as the best heavyweight boxer of all time, Iron Mike boxed from 1985 to 2005. He is the youngest boxer to win a heavyweight title at the age of 20. He won his first 19 professional fights by knockout, 12 coming in the first round. In fact, in one fight on June 27, 1988 in Atlantic City, he knocked out Michael Spinks in the first 91 seconds of the opening round.
I have been following Mike Tyson's career since he began boxing. I can honestly say that I have seen every professional Mike Tyson fight. I believe him to be a ferocious fighter who overcame insurmountable odds.
Mike did not have an easy childhood. Born in Brooklyn, New York, his mom was a prostitute who died when Mike was only 16 years old. Mike claims they did not have a good relationship, and years after her death he exhumed her body to rebury it in an expensive coffin. He claims he was a bad son and he always felt guilty for causing his mom pain. Mike never knew his father who apparently was a pimp.
Tyson has unequivocally provided years of entertainment to fans who love the sport.
The boxing industry is enormous and due to Tyson's years of involvement, he has contributed immensely, via revenue generated by ticket sales, pay per view events and showcases. This has trickled down to the employment of many people, providing them with jobs that supported their community and their families. Tyson's major contribution to boxing is indisputable.
In his boxing career, Tyson has had 50 wins (44 by knock out), six losses and two contests. These are impressive stats. He is inducted into both the International Boxing Hall of Fame as well as the World Boxing Hall of Fame.
His more notable fights include his fight against Marvis Frazier on July 26, 1986 in New York. Marvis' father, the notorious Joe Frazier, created a lot of hype about his son winning; however, Mike knocked him out in the first round. His fight with Razor Ruddock at the Mirage in Las Vegas on March 18, 1998 was one of his longer fights, lasting until the seventh round with both men fighting hard, but Tyson ultimately knocked him out as well.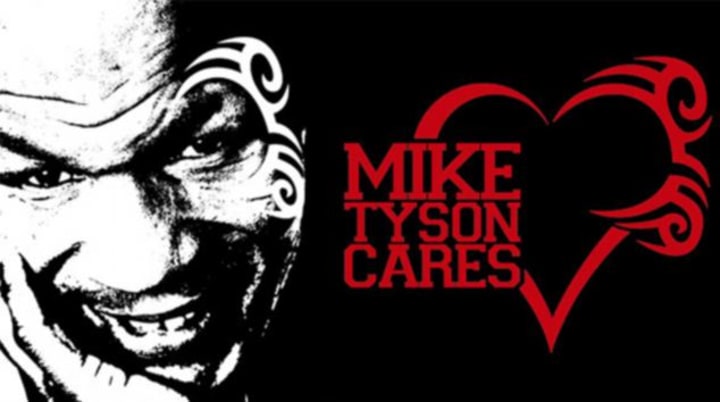 In late 2012/early 2013 Tyson launched a charitable foundation: Mike Tyson Cares. His mission: "To give kids a fighting chance." It is also reported that he gave most of his ten million dollar winnings, from his fight with Roy Jones Jr, to charity.
Tyson has a love for exotic pets and has owned several tigers. One tiger, Kenya, he had for 16 years.
Tyson, however, has also created and endured a lot of controversary during his extensive 20-year career.
In 1988 he married Robin Givens only to have that union end in divorce in 1989 due to alleged spousal abuse. Unfortunately, this would not be his only unhappy marriage.
On July 19, 1991, Mike was accused of rape by an 18-year-old beauty pageant contestant, Desiree Washington. They met at a rehearsal for Miss Black America and Desiree went back to Mike's hotel room where she attests the crime occurred. Despite his claims of innocence, Mike was convicted of rape and sentenced to six years in prison. He was released after three years. He did have a lot of public support but ultimately had to register as a Tier II sex offender under federal law. I was literally heartbroken over the accusation and subsequent conviction; however, I wore a Free Mike Tyson t-shirt often to show my support.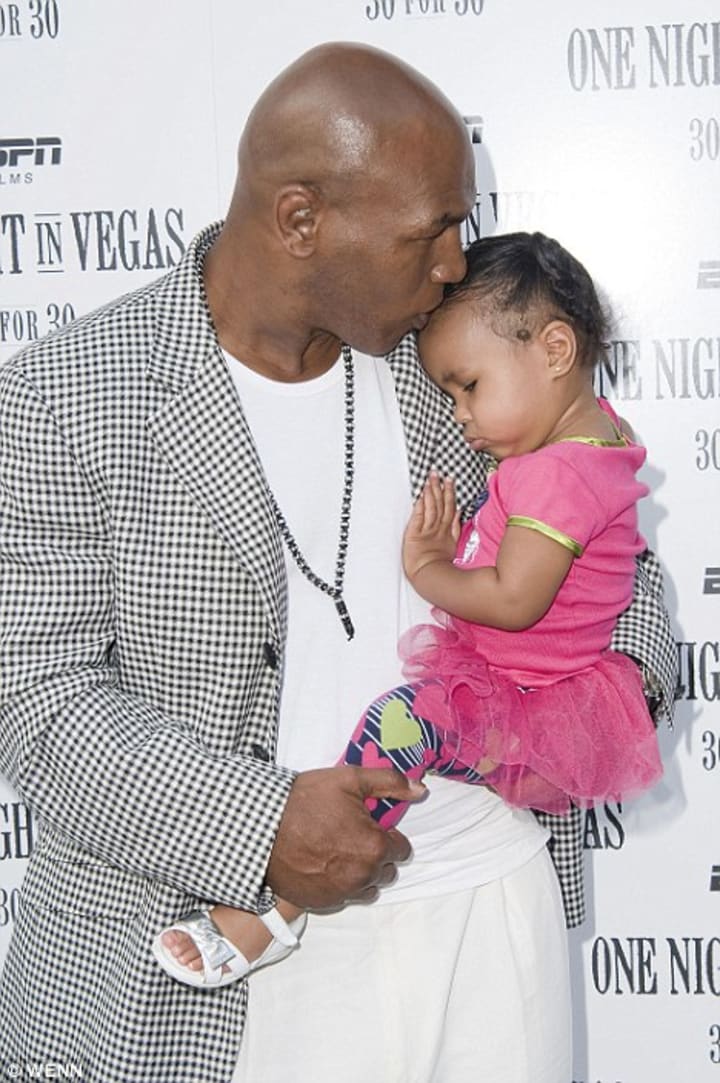 Sadly he lost one of his eight children, Exodus age four, in 2009 to a tragic accident. "There are no words to describe the tragic loss of our beloved Exodus" he said in a statement to the press following Exodus' death.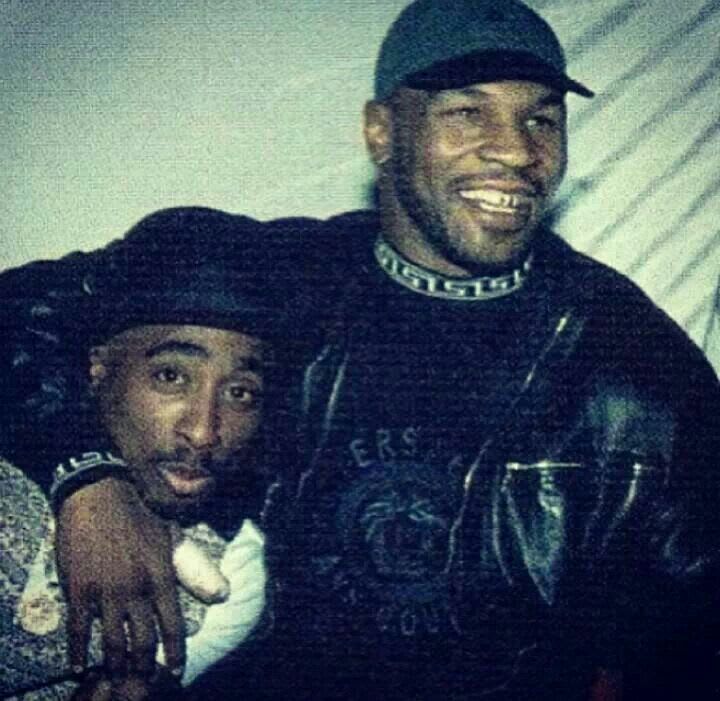 On September 7, 1996 Tyson was fighting Bruce Seldon at the MGM Grand in Las Vegas. Tupac Shakur was there that night. Tupac was shot in a drive-by hours after watching Mike Tyson fight. He died of his injuries six days later on September 13, 1996 at the young age of 25. Tupac was considered by many to be one of the most influential rappers of all time. Many were devastated by his death, including Tyson who considered Tupac a friend.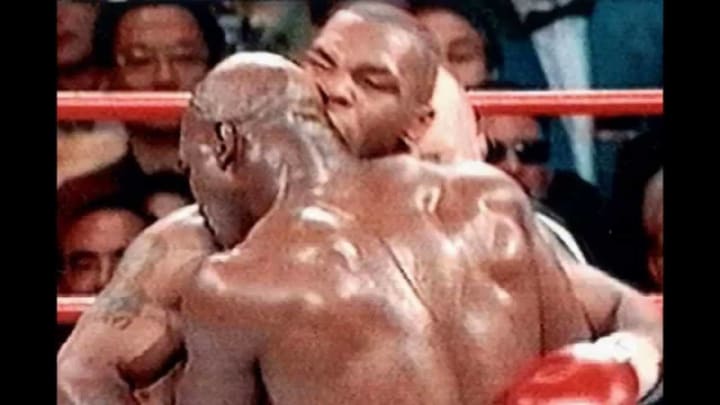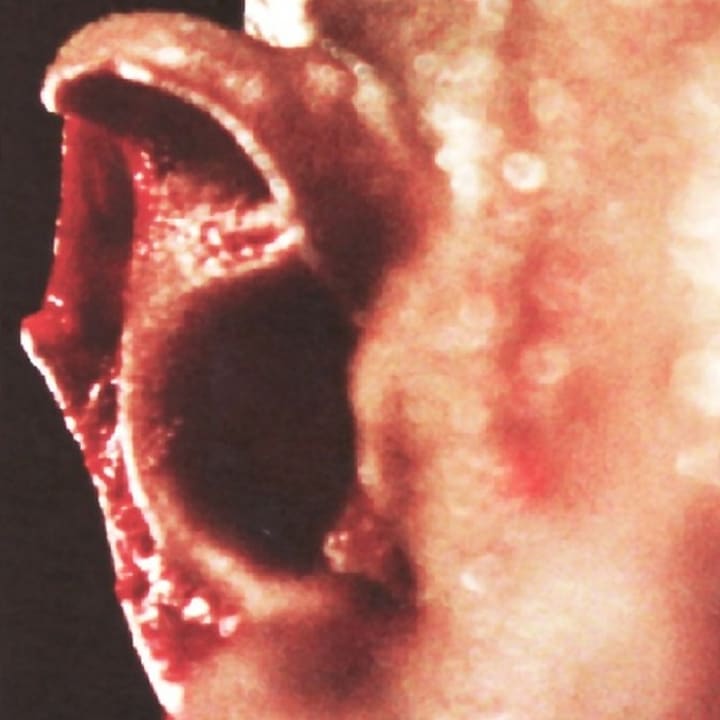 June 28, 1997 was a dark day for the sports world when Mike bit off a portion of Evander Holyfield's ear. They were fighting at the MGM Grand in Las Vegas. Even I had trouble defending him with this one. Mike would become the butt of late night jokes and comedy routines for years to come.
In 2015 I was elated to hear that Mike was coming to the Fan Expo Convention in Toronto at the Metro Toronto Convention Center in Canada. I could not buy my tickets fast enough.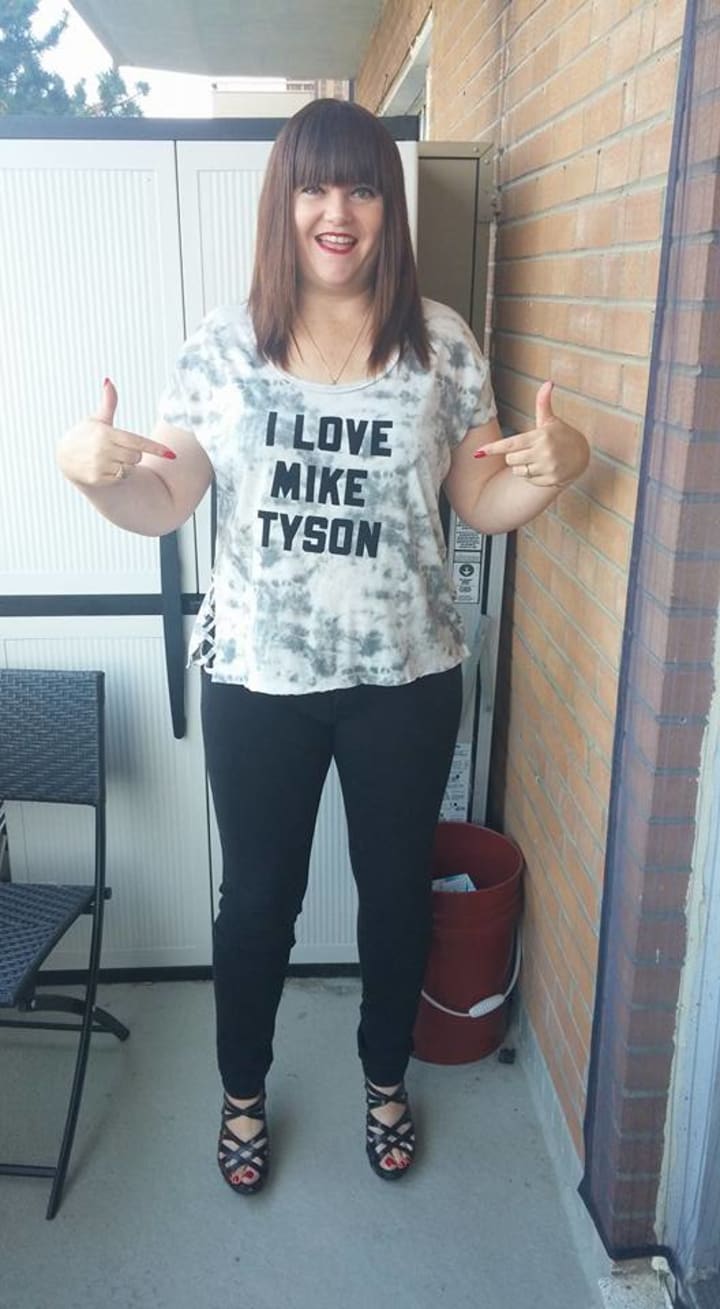 I even went out and purchased a custom-made shirt to wear to the event.
On the day of the Expo, there were many celebrities/personalities, but the only one who had a massive crowd was Mike Tyson. People stood for hours waiting for him to arrive. I was one of those adoring fans biding my time as the bustle of the Expo played out around me.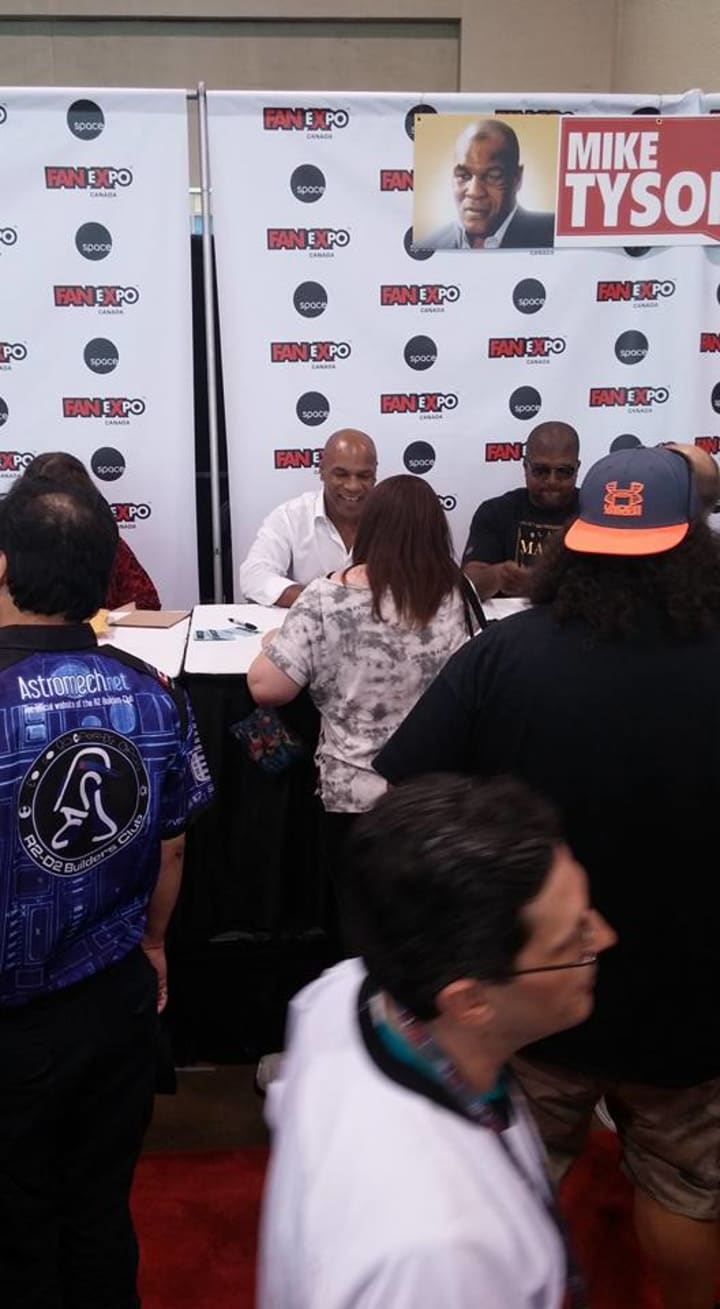 He arrived and it was finally my turn to meet him. I was so nervous . I approached the table and he was all smiles, just as I had imagined he would be. He actually held my hand and asked my name. Mike Tyson, the greatest heavyweight boxer of all time, wanting to know my name!!! I could barely contain myself.
My day wasn't over yet, though, as I had a photo op scheduled and I made my way to the next long line up.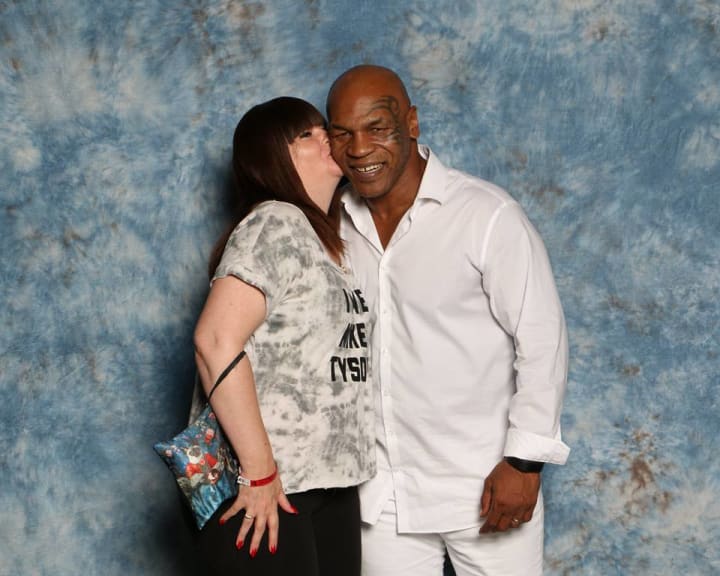 Not only did I get a picture standing beside this legend, I was also able to kiss the man I had come to "love."
By far the greatest day of my life. Thanks Mike!