The 10 Best Basketball Movies of All Time
Almost all of the best basketball movies are based on real life.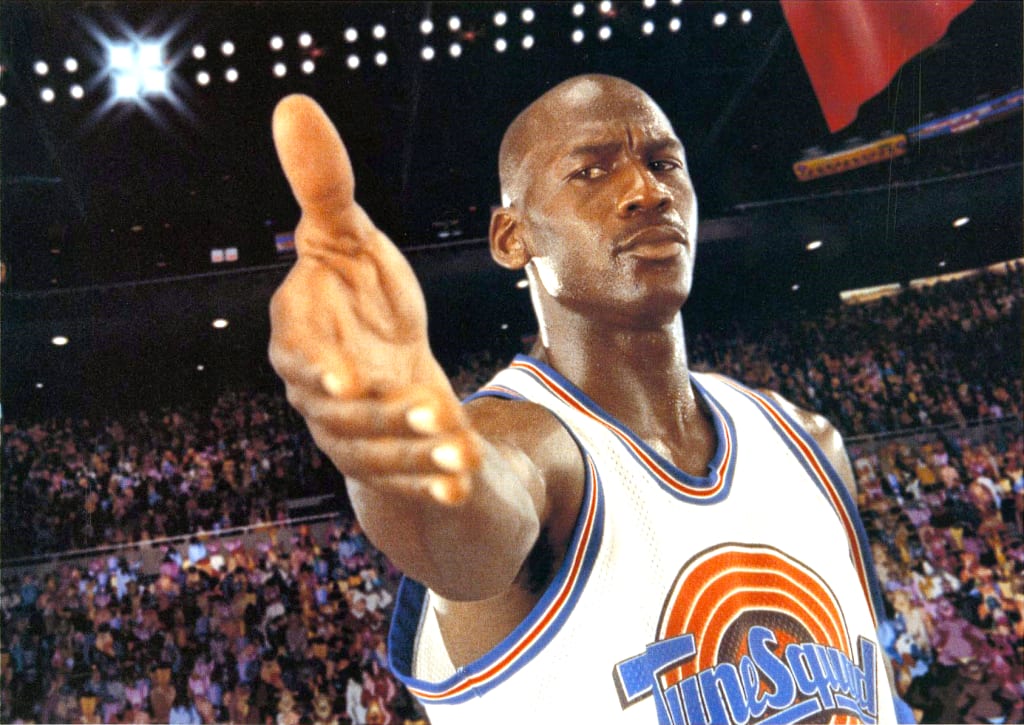 The best basketball movies revolve around the love of the game. Whether it's the little guy overcoming his own personal struggles to reach victory, a basketball team down on their luck, or even an intergalactic basketball challenge these films are sure to shift your thoughts on the NBA season so far and on the game as a whole.
This is a classic David vs. Goliath basketball movie set in a small town Indiana high school. This school is so small they barely have enough players to compete in the State's tournaments. This movie isn't just a redemption movie, it is also a movie about the comeback of a basketball team coach, the Hickory Huskers coach Norman Dale, played by Gene Hackman. Everyone in this movie seems to be trying to start life over, and basketball is just the vehicle to get them there.
In White Men Can't Jump, we meet Billy Hoyle (Woody Harrelson) a white guy who can play basketball better than almost anyone else he's played against. He meets his rival Sidney Dean (Wesley Snipes) when he moves onto Sidneys' territory. They first become rivals and then partners, conning unsuspecting basketball players of out hundreds of dollars. Things go south when Sidney steals Billy's money, and then Billy loses his money in a stupid bet while also facing the loss of his one love, Gloria (Rosie Perez). To make it up to her, he comes up with a crazy plan to help her win Jeopardy! in order to set things right with some mobsters who are tracking him.
Glory Road is one of those feel-good basketball flicks based on real events. In 1966, Texas Western basketball team was the first team in history to field an all African American starting line-up in a NCAA title game. The players faced an all white team from the University of Kentucky.
Texas Western's coach Don Haskins (Josh Lucas) was white, and he is a pivotal character in Glory Road. It's the story of how this one coach changed the history of basketball with his team's triumphant victory.
Be sure to watch this one all the way through; as the credits are rolling, you'll hear some words from the real team, including Coach Haskins and Pat Riley.
Space Jam is all fun and a little silly. We find out that Bugs Bunny has gotten himself and the rest of the Looney Tunes gang into a bit of jam by facing off against the Nerdlucks, tiny space creatures who land on Earth. The Nerdlucks, are sent by their boss, the ruthless and very stubborn Swackhammer, to Earth to kidnap the Looney Tunes gang and bring them back to Moron Mountain, Swackhammer's failing theme park on the Nerdlucks' boring planet. Bugs has challenged the small, weak aliens to a fateful basketball tournament: If the Looney Tunes win, they'll remain on Earth. If the aliens win however, Bugs Bunny and the rest of the gang will head to Moron Mountain. Bugs quickly realizes that he's up against a bigger threat than he thought, and seeks out some serious help in the form of some of basketball's best players. Bugs, of course, just happens to know one player in particular who can help. Will the Nerdlucks win? Or will Bugs and the gang, with an assist by Michael Jordan prevail? You're just going to have to watch to find out.
A lot of sports movies follow a familiar storyline about going from the bottom to the top to win some championship. This is not, however, the plot of Blue Chips, making this movie a stand out example in this genre, attempting to be honest and unique.
Coach Pete Bell of Western University (Nick Nolte) is having the worst season of his coaching career. After more than 10 years of winning, his team, the Western Dolphins, just don't have the talent, so he sets out to fix this by getting a number of blue-chip players to fill out the roster. Coach Bell singles out three (Shaquille O'Neal, Anfernee Hardaway, and Matt Nover). They all like Western U, but two will only come on board if there is a little extra something for them "under the table," which goes against Coach Bell's principles. Faced with another losing season, he is forced into a moral dilemma, and fallout from the choices he makes.
Rap star Lil Bow Wow plays Calvin Cambridge as an orphan, who lives in an orphanage run by a meanie named Bittleman (Crispin Glover). Calvin always seems to have a sunny outlook and determination that, despite his circumstances, sustain him. The one thing he wants more than anything is a family to call his own. His best pals are Murphy (Jonathan Lipnicki) and Reg (Brenda Song). Ox (Jesse Plemons) plays the bully, always pushing Calvin around. When a pair of used sneakers with the initials MJ turn up in a box of donated clothes, Calvin gets excited, thinking they once belonged to a famous basketball player. Ox, being the bully, throws them onto a telephone wire, but Calvin gets them down in the middle of a lightning storm. When Calvin and the shoes are hit by lightning, something extraordinary happens. When Calvin wears, arguably, the best basketball shoes for shooting, he can play "like Mike." Calvin ends up playing professional basketball for the Knights, initially as a publicity stunt, and eventually as a real member of the team. Watching this movie, I couldn't help but think it was basically Annie meets basketball. It was a fun watch.
The movie opens 1981 in Los Angeles, and our Monica (played first by Kyla Wood and then by Sanaa Lathan) has just moved in next door to Quincy (Glenndon Chatman and Omar Epps respectively) . They're both 11, and they both want to play professional basketball. We follow their love-hate relationship from middle school, all the way up into high school. When Quincy crawls through Monica's bedroom window to escape a fight, his parents are having, their relationship changes and they become a couple. Now at USC and both playing basketball, Quincy's relationship with his father once again strains his relationship with Monica and they break up as a result. Fast forward a few years, and with their pro careers at a pivotal point, they meet again. They have a high stakes final game of one-on-one, the outcome determining their future.
How can you help but not love this sports comedy? It's got Will Ferrell in it and Woody Harrelson. Semi-Pro tells the story of a team heading in the wrong direction and on the verge of collapse. When one of their former benchwarmers returns to his hometown of Flint, MI, to get his former team into shape for the playoffs. Semi-Pro is the story of a 1970s-era basketball player (Will Ferrell) who doesn't really have that much luck in the NBA, but is determined to leave his mark on the sport by coaching the Flint Tropics. When the upstart ABA league agrees to be absorbed by the NBA, only four teams will be allowed in. Jackie Moon (Ferrell) must orchestrate a successful season both on the court, and financially off the court, with the help of many strange but very funny promotional events to remain in the sport he loves.
Jesus Shuttlesworth (Ray Allen) is one of the best high school basketball players in the country. All of the top college basketball programs want him. His father, Jake (Denzel Washington), now a convicted felon, is serving time for accidentally killing his wife, Martha, and Jesus' mother sometime earlier. We find Jake temporarily released from prison with a deal from the the governor for a reduction in his sentencing if he can do one thing: He needs to convince his son Jesus to sign with "Big State," which happens to be the governors' alma mater. Jesus, of course still bitter and unforgiving of his father, immediately rejects his father's presence in his life. Repeated attempts by Jake only work once he comes clean and tells Jesus everything, but at what cost and how will it affect his relationship with his son and the mayor?
Coach Carter, the 2005 American biographical sport's drama directed by Thomas Carter, is probably the most well-known basketball movies ever made. It is based on the true story of Richmond High School basketball coach Ken Carter (portrayed by Samuel L. Jackson), who in 1999 made headlines by suspending his undefeated high school basketball team due to poor academics. This is the story of how coaches can make a far-lasting impact on their players lives beyond the basketball court. Throughout the movie, there are life lessons for each of the characters that they must overcome; and with the help and strong discipline of coach, they find their way to each becoming better versions of themselves than when we first meet them. It turns out, the best exercises for basketball players also include mental exercises.
basketball
Love sports and travel! Fan of almost every major sport and a soon to be world-renowned traveler (mostly interested in the food and drink of other cultures!)
Receive stories by Connor Brighton in

your feed